以下英文評價是其他國家/地區的旅客發表的
Best Hotel in Rome.
The staff were Incredibly friendly, provided excellent advice and the room was in a fantastic location!! We wanted to explore Rome but didn't want to pay extortionate money for a hotel and pay for services we were not going to use. The room was comfortable and had all the amenities we required. I would recommend to anyone.
Hotels.com 旅客真實評價
Up with Relais Leone
Excellent small boutique hotel in great location. Both Regina and Drita were exceptionally helpful in making reservations, providing directions, etc. Would definitely stay at Relais Leone next time in Rome.
Hotels.com 旅客真實評價
Great location
The location was perfect for our needs. Close to the Spanish steps, the pantheon and Piazza Navona.
Hotels.com 旅客真實評價
Excellent all round! Will stay again.
Hotels.com 旅客真實評價
Great location, beautiful room! We got a room with the claw foot tub and absolutely loved it. A great amenity for relaxing after a long day walking through Rome.
Orbitz 旅客真實評價
Perfect place and central
It was definitely the place to stay. Everything was walking distance and super safe. Nice and clean but a paint job would make it look a lot better in the rooms.
Hotels.com 旅客真實評價
回應者:Regina
Dear Angeles, thank you very much for this review. We will be happy to accommodate you again in the future. Regards
Great service and location
Great service and location
Hotels.com 旅客真實評價
回應者:Regina
Dear Tamara, thank you very much for this review. We will be happy to accommodate you again in the future. Regards
Everything was great but the location was fantastic definitely stay there again
Hotels.com 旅客真實評價
Pre/Post cruise stay
The girls at the desk went above & beyond for us, they made all our travel arrangements to/from airport and cruise pier, had our room ready early, let us store our luggage prior to room being ready, gave excellent restaurant suggestions, were exceptionally courteous - we can't say enough good things!!! We'd stay there again without hesitation.
Hotels.com 旅客真實評價
Unfriendly staff, inflexible. Was not happy at all
Expedia 旅客真實評價
Lovely little hotel however room a little tired
Lovely hotel near to the Spanish Steps. As the hotel is small we never bumped into any guests, however they don't tell you at the time of booking that there will be no hotel staff available after 6pm in the evening till 9am the next day. The rooms are great and comfortable however quite tired in places and the cleanliness is not up to the standard that I would expect for a hotel of this quality. Also make sure that if you need to book a taxi etc you do it within the working hours, even though there is a number provided it is very difficult to get hold of anyone after working hours!
Expedia 旅客真實評價
Recommend this hotel, great location.
Great location,comfortable room, friendly staff, close to Metro,shopsand restaurants. Only the lift not working hard with luggage up the stairs. Would recommend this hotel.
Hotels.com 旅客真實評價
Honeymoon Italy Trip - Rome Days
We loved our stay in this quaint, lovely room. The shower and bed were wonderful - important things! We loved being within walking distance of everywhere we needed to go, and the staff was helpful to obtain a taxi to the airport for us on our departure. They helped with luggage...which was great considering the elevator to that floor was out of service. Our only difficulties were with a late check in and missing an email with instructions, and not knowing we couldn't use the elevator to get our crazy heavy luggage all the way up. We took the tiny elevator up to the 2nd floor and carried them up a couple flights of marble steps to the 3rd. We loved the room though, so we were happy.
Hotels.com 旅客真實評價
They were awesome and in the PERFECT location!!clean and safe.
CheapTickets 旅客真實評價
If I will go back to Rome I am definitely staying at Relais Leone again. It was the best location ever, everything walking distance and metro station minutes away plus only 2 stops from Vatican. The room was big , clean and fresh. And I would say that we had the best girls Rosella and Marican at the front desk, Marican was so friendly and so helpfull wish all the business would have a girls working for them like her, she made our stay even better. Rosella we met last day and she is a sweetheart. Best location, beautiful room, best service.
Expedia 旅客真實評價
Great location
Great location. A little noisy as room next to entrance.
Hotels.com 旅客真實評價
very classy suite in central location can be a bit noisy in the morning
Expedia 旅客真實評價
Love the place!!! It was great, the room was very nice!!! Would stay here again
Expedia 旅客真實評價
they need to fix the main door!
Expedia 旅客真實評價
Amazing location
Expedia 旅客真實評價
A 10/10!
I loved the place Girls at front desk were wonderful and very helpful My room was beautiful Very clean!
Hotels.com 旅客真實評價
回應者:Maricar
Dear Mrs Kimberlyng, Thanks a lot for the kind review! We appreciate that you enjoyed our service. Hope to have you again here in Rome with us! Regards Maricar
Amazing beautiful hotel
Omg amazing !!! What a nice hotel, the staff was great, perfect location, and the room was impressive, clean, big, simply perfect !
Hotels.com 旅客真實評價
回應者:Maricar
Dear Mr Michel, Thank you for sharing your opinion about your staying with us! We appreciate it very much! Hope to have you again here and why not try the other rooms! Kind regards
Fun in Rome
The room was nice, modern and very conformable. Our room overlooked the plaza. The staff was friendly and very helpful.
Expedia 旅客真實評價
回應者:Maricar
Dear Guest, Thank you for taking the time to share your feedback. I really hope that i fulfilled your vacation from the moment you arrived until the check-out. Hope to have you here again!
Amazing little nook in heart of Rome!
I only stayed one night but wish I had stayed longer. I had been traveling for one month and I stopped in Rome on my way home. I had been in Rome earlier in the month and wish I stayed here. This little boutique hotel was so wonderful and refreshing. The staff was not there when I checked in but don't let the fact that they are not there at the front desk 24/7 scare you as they are available by phone and email. It is very clean and spacious. It is very central and walking distance to many sights. It is a hidden gem!! I highly recommend this hotel! If it's still around I will come back for sure!!
Expedia 旅客真實評價
Excellent
Staff went out of their way to accommodate our needs and request.
Hotels.com 旅客真實評價
Best stay on our Euro Trip!
This is a small hotel near the Spanish Steps in Rome. The host greeted us when we arrived and provided recommendations on the area such as sites to visit and restaurants. The room had AC and was cleaned every day. Our room was very comfortable and quiet at night. We stayed at 5 places on our trip to Europe and this was the best stay.
Expedia 旅客真實評價
以下評價來自其他國家/地區的酒店房客
子連れで利用させて頂きました。 場所は少し分かりにくいですが立地条件は最高で子供の足でも歩いてパンテオンやトレビの泉、スペイン広場などの観光は出来ました。クリーニングサービスがあるとこのホテルにしましたが無かったのが残念ですが、アメニティも整い部屋もオシャレで綺麗で申し分無いぐらいでした。クリスマスに宿泊したので部屋にホテルからお菓子やケーキのサプライズプレゼントがあり感動致しました。またローマに来る際は絶対にこちらを利用すると思います。
Expedia 旅客真實評價
Não indicaria!
A localização é ótima, mas o Relais está bem descuidado. Não é exatamente um hotel, é simplesmente um andar de um prédio muito velho com alguns quartos, sendo que os mesmos estão bem detonados. A recepção só funciona até um certo horário e a recepção parece que fica dentro do nosso quarto, som vai todo para dentro do quarto. No banheiro tinham traças pelos cantos.
Hotels.com 旅客真實評價
Skøn beliggenhed!
Dejligt værelse med fantastisk beliggenhed. Vil helt sikkert anbefale det til andre :).
Hotels.com 旅客真實評價
Nice rooms
Not a hotel, but a series of rooms on one floor of a building. Big, high-ceilinged rooms, very clean. Friendly staff. GREAT location in the middle of the city. Just a short walk to everything, yet the street was quiet. Good place to stay if you just need a nice room in a central location, and not hotel facilities. There is a nice place to have breakfast and lunch in the plaza right next door, so the lack of a hotel restaurant did not bother us.
Hotels.com 旅客真實評價
Gut gelegen sehr gutes Preis Leistung
Stadt Reise
Hotels.com 旅客真實評價
Bra beliggenhet.Mye folk og trafikk.
Hotels.com 旅客真實評價
回應者:Regina
Dear Guest, thank you very much for this review. We will be happy to accommodate you again in the future. Regards
Rom ist immer eine Reise wert!
Hotels.com 旅客真實評價
回應者:Regina
Dear Andreas, thank you very much for this review. We will be happy to accommodate you again in the future. Regards
Die Lage der Unterkunft war hervorragend. Zentral aber nachts dennoch sehr ruhig. Besonders war die Nespresso-Maschine mit den zur Verfügung gestellten Kapseln.
Expedia 旅客真實評價
Stay for two
Fantastic, unbeatable location! The hotel is tiny, only 5 rooms, but good and helpful staff. No breakfast or breakfast facility, but plenty of little cafe and breakfast places right at the doorstep. Cleaning available only until 11am, so be out the door by then if you want room service. Reception open 9-18. Pretty noisy by day, walls made of paper. However, mornings and nights were silent. Overall, good experience, would stay again.
Hotels.com 旅客真實評價
Το ξενοδοχείο ήταν κεντρικό σε μια από τις καλύτερες περιοχές της Ρώμης ,το προσωπικό εξυπηρετικό Κ ευγενικό Το δωματιο ήταν καθαρό ,ακριβώς όπως ήταν στη φωτογραφία η και καλύτερο. Το μόνο μειονέκτημα ήταν ότι είχε πολυ θόρυβο!
Hotels.com 旅客真實評價
Du très bon et un problème
Du bon et un gros défaut. Le Relais Leone n'est pas un vrai hôtel mais des chambres haut de gamme avec un réception. Nous avons eu une chambre spacieuse avec une déco soignée et design. Un lit excellent et un calme absolu nous donnons sur la cour intérieure. Le Relais est très bien situé, dans la zone piétonne à proximité de la place Spagna. Le seul gros problème est l'insonorisaton intérieure. Le bruit de la porte principale face à la chambre vous réveille à l'arrivée du petsonnel le matin. L'utre défaut est le personnel lui même assez bruyant et qui finisent de vius réveiller. Sans ce défaut ce serait très bien. Attention pas dr peit déjeuner mais café et thé dans la chambre. Sinon personnel sympa.
Hotels.com 旅客真實評價
posizione invidiabile
albergo con posizione invidiabile, in realtà relais, quindi affitta camere.... camere molto belle, unico neo l'ascensore che non arriva al piano, dopo un momento di panico ci siamo abituati ad arrivare da un piano in più e partire da uno in meno...
Hotels.com 旅客真實評價
Sehr gemütliches Hotel an top Lage
Hotels.com 旅客真實評價
5 netter i Roma. Veldig fint området å bo i, mange gode restauranter og butikker / mest kjente handlegata i nærheten. Veldig sentralt, lett å komme seg til de viktigste plasser til fots. Veldig fint rom,god seng. Kjøleskapet virket ikke og selv om vi sa i fra første dag, ble det ikke ordnet. Ellers veldig bra servise. Det eneste jeg ikke likte var at det var veldig lytt ,man får med seg alt som skjer i gangen. Man må bare håpe at det ikke er lik andre veien.rask wi-fi.
Hotels.com 旅客真實評價
Les horaires d'accueil n'ont pas une amplitudes assez importante
Expedia 旅客真實評價
Muy tranquilo y muy bien ubicado
Súper recomendable. Muy bien ubicado, tranquilo, limpio y muy agradable.
Expedia 旅客真實評價
Fint och bra läge.
Läget var kanon. Fina rum, rent och fint. Den enda som jag anmärkte var en speciell lukt i rummet. Jag tror att det beror på att golvet var behandlat med olja.
Hotels.com 旅客真實評價
Hôtel exceptionnel
La chambre est juste magnifique avec un package romantique qui fait son effet à l'arrivée... emplacement royal a 15 min de tout les lieux touristiques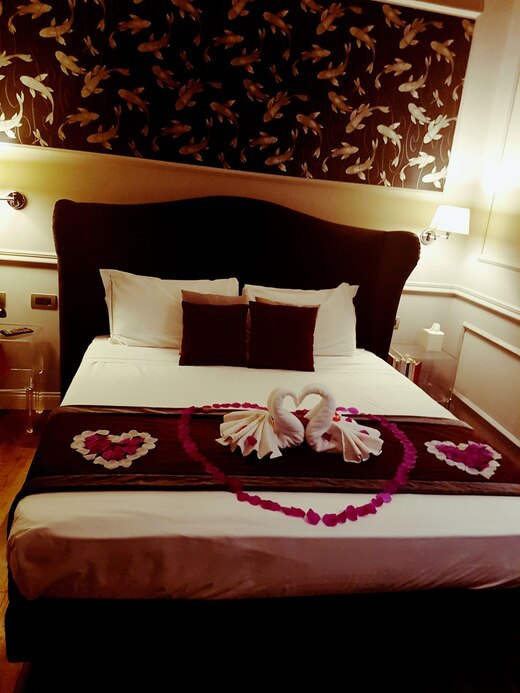 Hotels.com 旅客真實評價
Semaine à Rome
L'hôtel est super bien situé, les deux femmes de la réception étaient aux petits soins. Petit point négatif pour l'eau qui a du mal à etre chaude et pour le bruit de l'aération sinon c'était top.
Hotels.com 旅客真實評價
Gute Lage, nett, ruhig sehr zu empfehlen. Zentral und trotzdem ruhig.
Ebookers 旅客真實評價
本網站內的評價及評分均為旅客及供應商的主觀意見,其並不代表或反映 Hotels.com 的立場。如因使用有關評價而造成任何形式的損害,Hotels.com 及提供評價內容的相關各方均毋須承擔責任。