The Walt Disney Family Museum aims to capture the life, work, and journey of Walt Disney, the man, and the legend. The museum features interactive galleries, including exhibits narrated in Walt's voice, with early drawings, cartoons, films, music, and more. The museum is located in the Presidio in San Francisco, which was claimed by the United States government in 1846 and used as an active army base until 1994. Today, it is a national park and home to a lovely park and other sites, such as the museum.
The main museum building rests in what was formerly referred to as Barracks 104. Built in 1897, it was a row of brick army barracks until it was stripped of its historic interior walls, ceiling, and finishes by the army. Years later, the museum moved into the building to revive a once-forgotten space.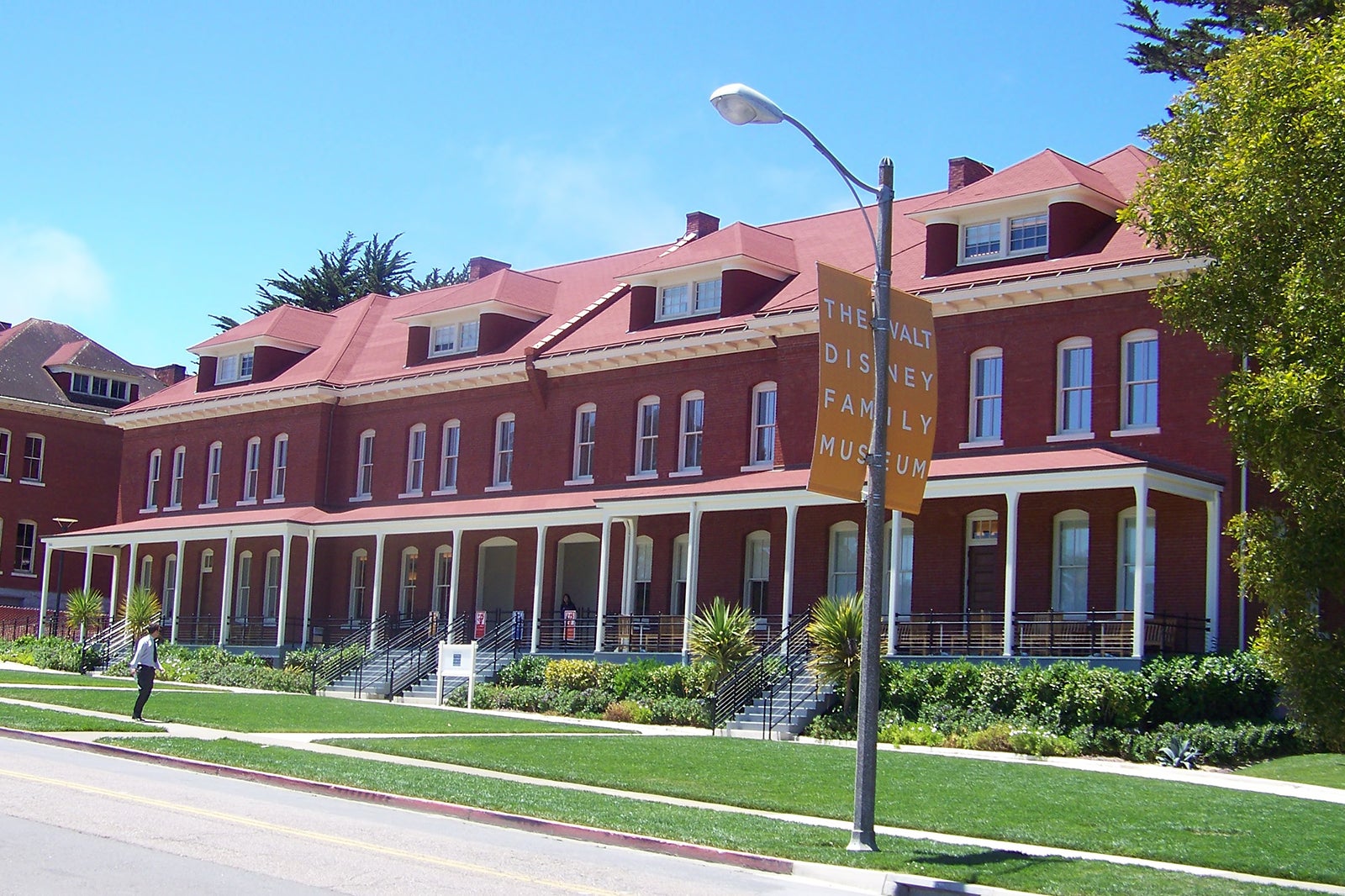 Highlights of the Walt Disney Family Museum
The Diane Disney Miller Exhibition Hall is home to the museum's rotating and primary exhibitions. The Hall is named in memory of Diane Disney Miller, Walt Disney's daughter, and the museum's late founder. The museum moves through 10 galleries, each representing a chapter of Walt's career and life, capturing the highs and lows along the way to his success. Additionally, a great deal of the museums emphasises Walt's dedication to his family.
There are always new exhibitions at the Walt Disney Family Museum, and you can check out their site to see a list of past, present, and future exhibitions. Past exhibits include titles such as "Walt Disney's Nine Old Men: Masters of Animation," "A Powerful Force, Working to End Homelessness Through Art," and "Mickey Mouse: From Walt to the World." Exhibits approach Disney's work from unique, engaging perspectives and angles.
Things to see and do near the Walt Disney Family Museum
Check out the Golden Gate Promenade for a nice stroll and enjoy views of the Golden Gate Bridge, Marin Headlands, and Alcatraz. For more sunny outdoor experiences, head over to Crissy Field for sightseeing, picnicking, and more. You could also take a tour of the Palace of Fine Arts Theatre, a golden building designed to look like a Roman ruin.
If a glance across the water to Alcatraz isn't enough, you can book tickets for a tour from park rangers and hear tales of the prison's history, including stories of iconic prisoners, such as Al Capone. Lombard Street, one of San Francisco's most infamous streets, is only a little over 2 miles away. Head over to behold what is considered by some to be the "most crooked" street in the world, plus the ridiculously steep hills, curves, and vintage Victorian mansions.
Good to know when visiting the Walt Disney Family Museum
If you're on the hunt for Disney souvenirs, the museum has a well-stocked gift shop, along withe a café for snacks and refreshments. If you'd like to check out the exhibitions in the Diane Disney Miller Exhibition Hall, plan for additional fees.
It's not a bad idea to plan on grabbing lunch, and there are quite a few options to choose from; whatever you're in the mood for, it's likely offered nearby. Presidio Social Club Exchange has local and American cuisine and would be an ideal brunch spot. Baker Street Bistro has French fare, while The Commissary provides the perfect ambience for a cosy dinner. If you're in the market for something particularly family friendly, check out Mel's Drive-In on Lombard for burgers, soups, salads, and sandwiches.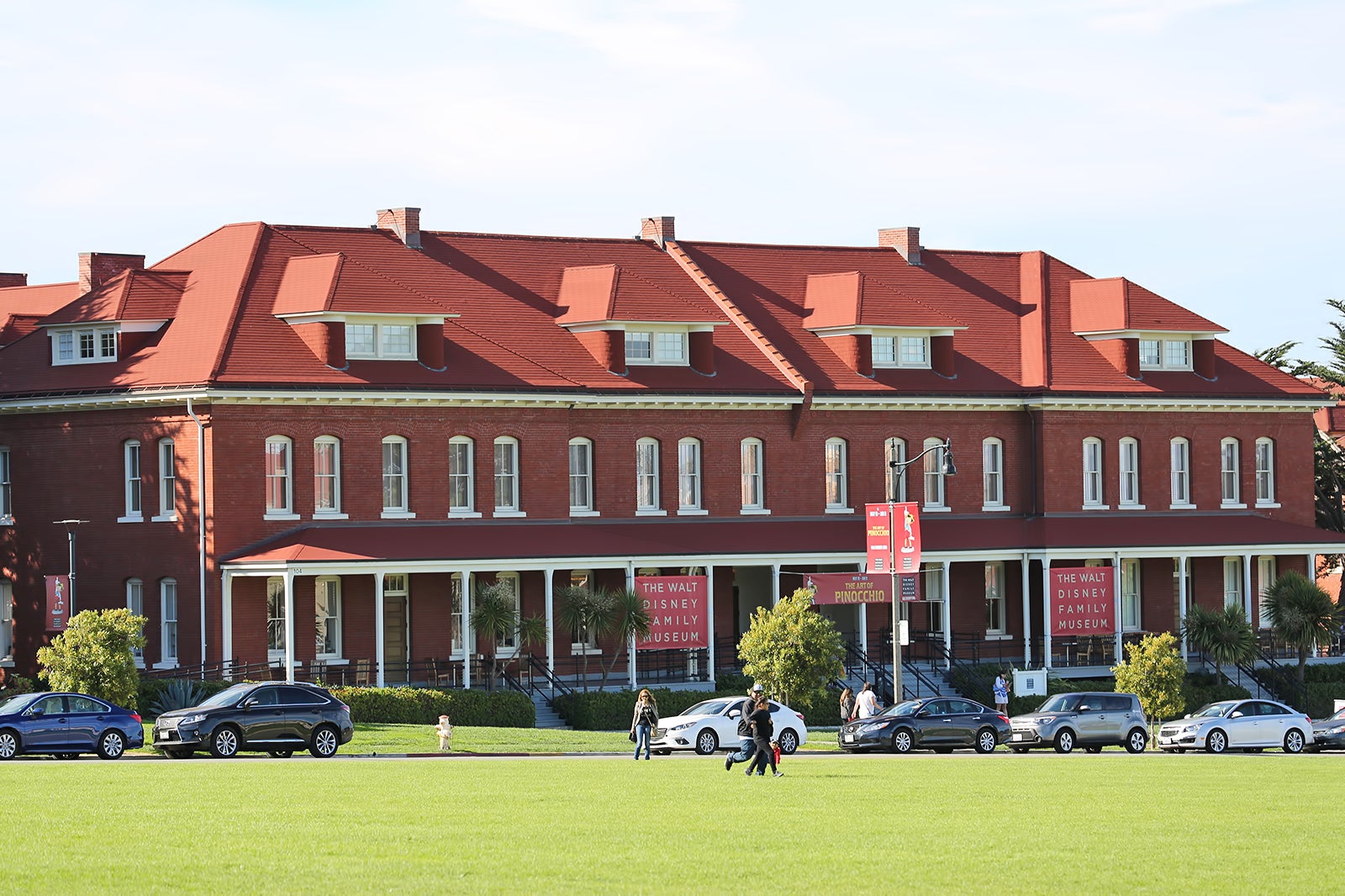 Walt Disney Family Museum in San Francisco
位置: 104 Montgomery St, San Francisco, CA 94129, USA
開放時間: Thursday–Sunday from 10 am to 5.30 pm
電話: +1 415-345-6800
返回頁首