10 Best Beaches in Outer Banks
Discover the Top Beach Areas in Outer Banks
The Outer Banks is one of the top coastal destinations for a beach retreat, thanks to places like Corolla Beach and Hatteras Island. The beaches in Outer Banks offer unspoiled beauty, wide-open spaces, and no shortage of exciting watersports and activities. You can fish, surf, paddleboard, kayak, or simply relax on the shores taking in the sun and building sandcastles with the kids. Whether you're planning a family beach trip, a solo adventure, or a romantic holiday, here are the 10 best beaches in Outer Banks to make the most of the experience.
1
Corolla Beach
See the wild Spanish mustangs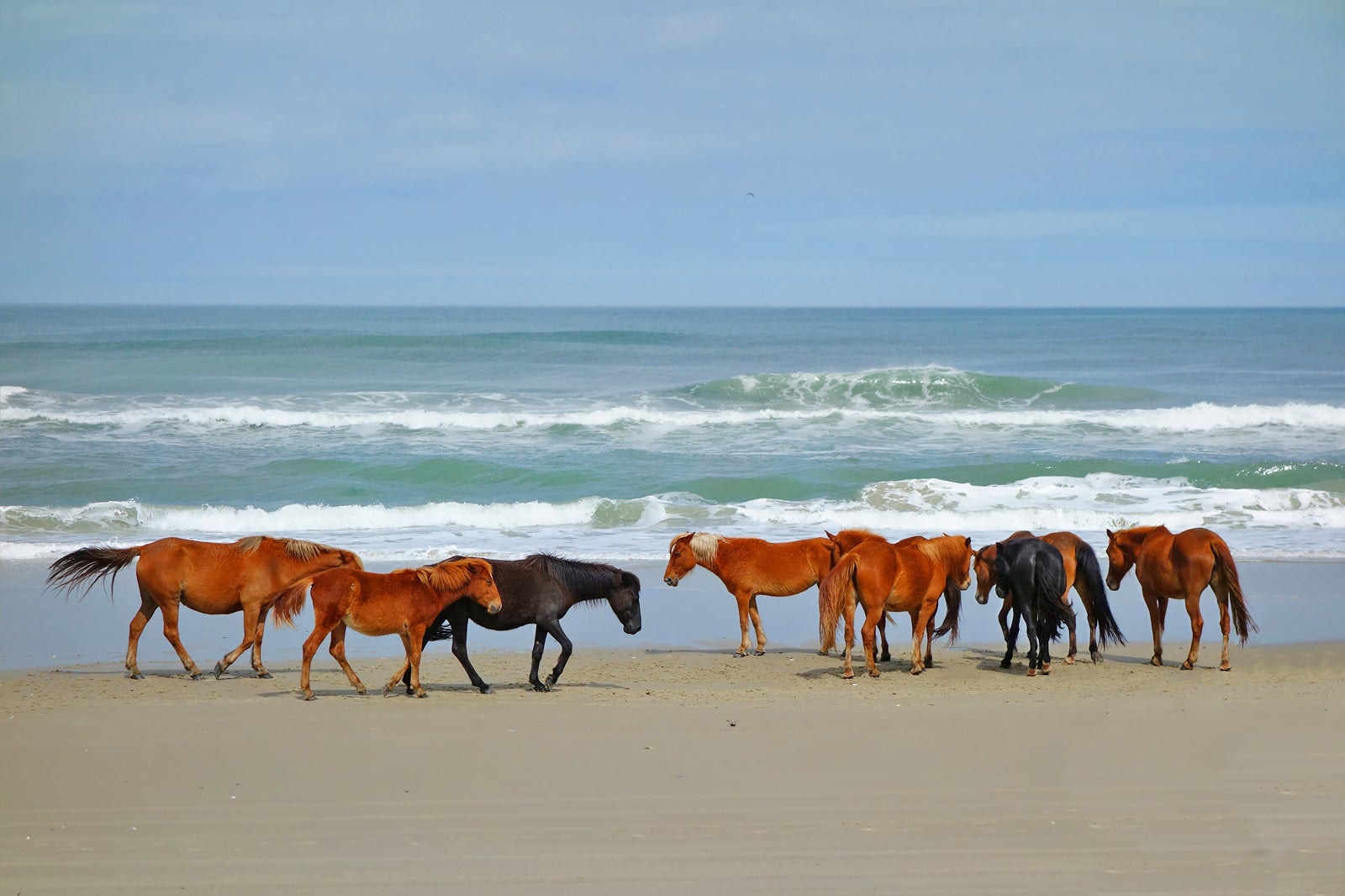 Corolla Beach is one of the most popular beach areas in the Outer Banks, thanks to its herd of wild Spanish mustangs. The scenic beach provides a roaming area for the unique Corolla wild Spanish mustangs that have been in the area since the 1500s. Corolla also has miles of pristine off-roading beaches for a little adventure, and charming seafront communities with local restaurants and shops. During your stay, be sure to visit the Whalehead Club historic home to see its gorgeous art nouveau architecture and furnishings.
位置: 601 Ocean Trail, Corolla, NC 27927, USA
開放時間: 24/7
2
Coquina Beach
Unwind on a quiet shoreline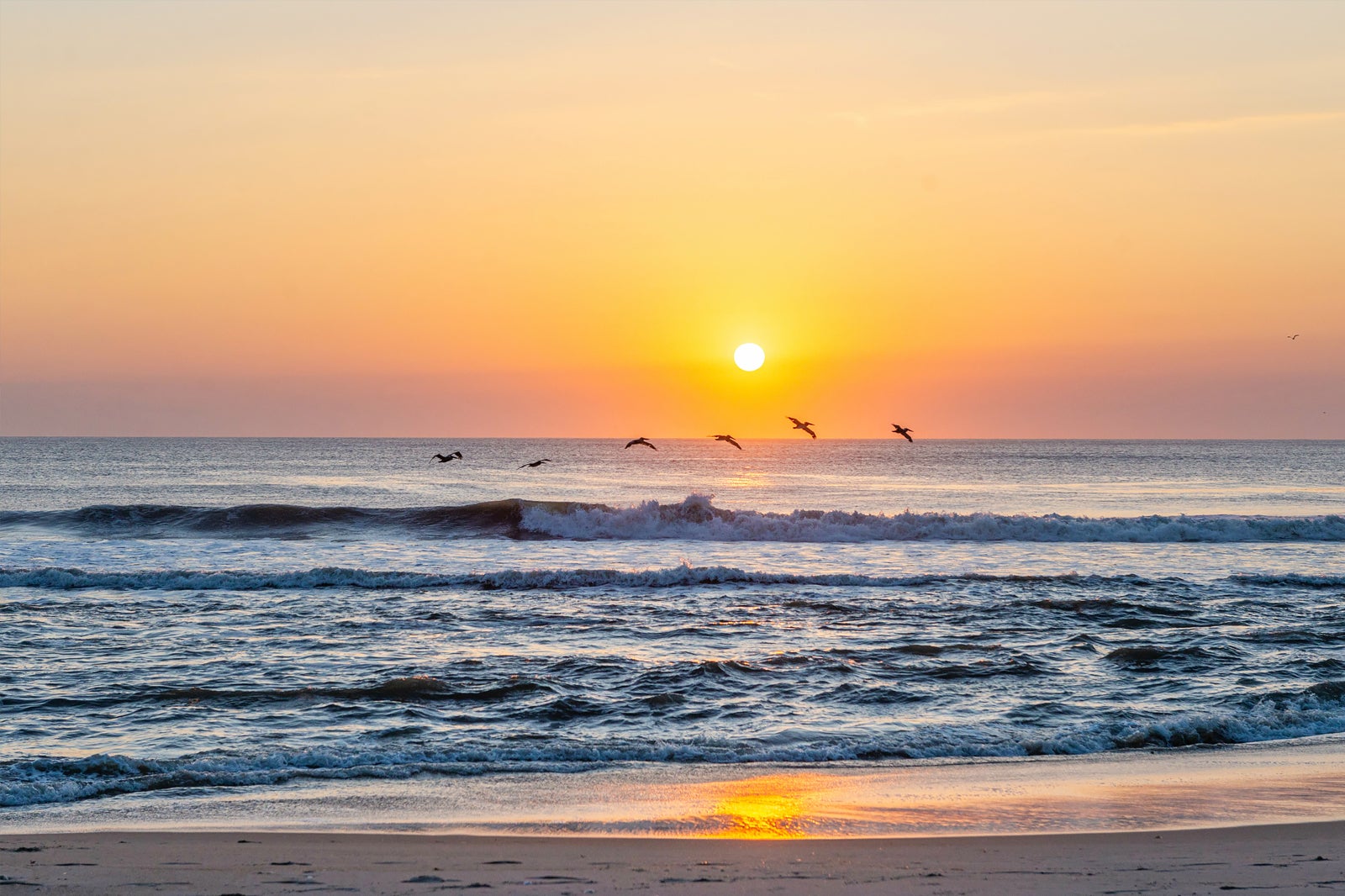 Coquina Beach is a scenic beach area on the Cape Hatteras National Seashore. As part of the protected seashore area, Coquina Beach has unspoiled, undeveloped beach areas and charming local amenities, such as family-owned restaurants and shops. Plenty of outdoor activities are available at Coquina Beach, such as off-roading, beachcombing, shelling, bodyboarding, and surfing. The beach is also well known for its surf fishing for bluefish and mullets. Coquina Beach provides a habitat for numerous types of shorebirds as well, such as plovers, sandpipers, gulls, and cormorants.
3
Rodanthe Beach
Find adventure in the water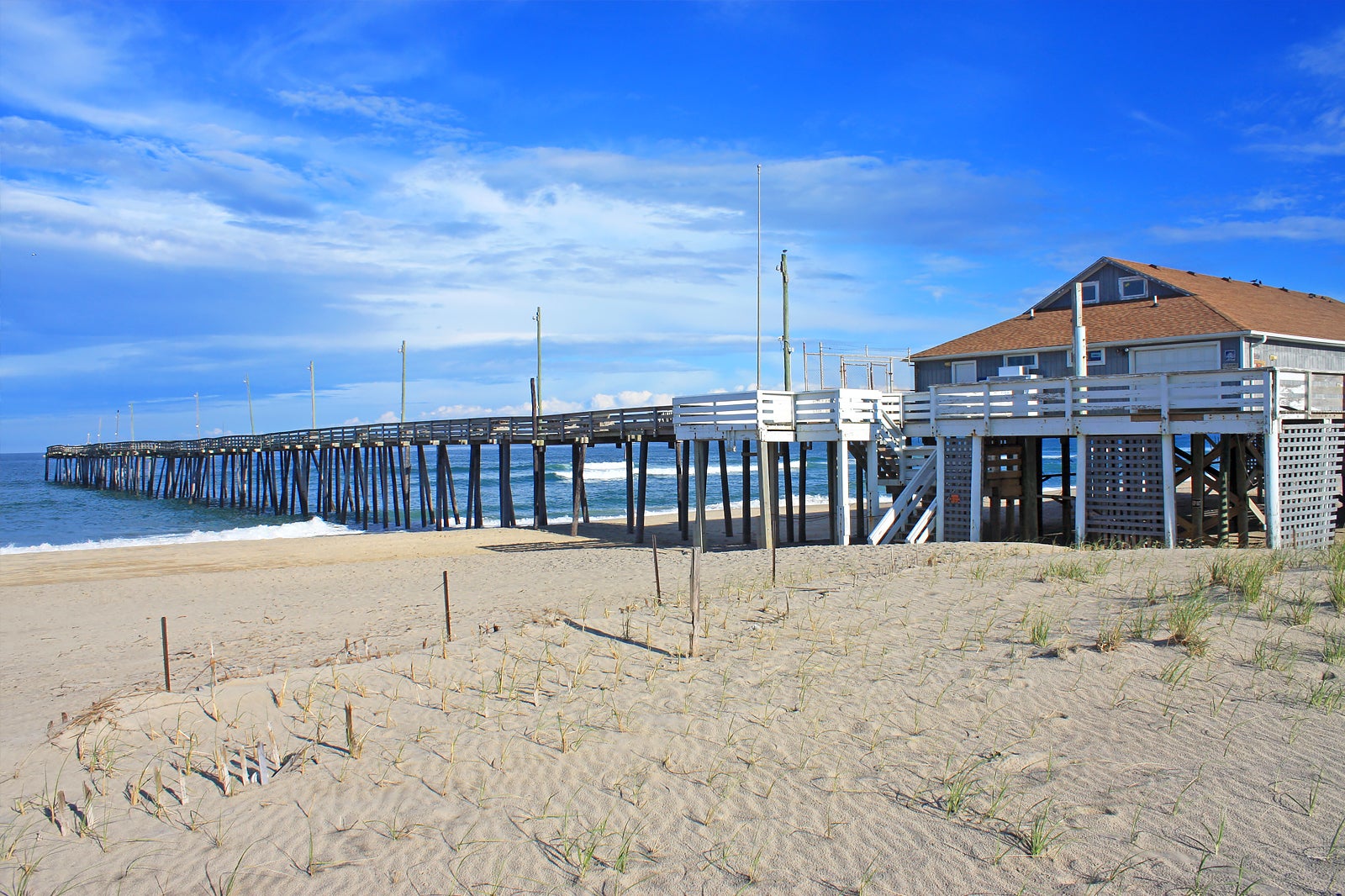 Rodanthe Beach is part of the Cape Hatteras National Seashore and offers access to both the ocean and the sound. Many visitors come to Rodanthe for sunbathing, swimming, and family days on the calm, clean beaches, but you'll also have plenty of opportunities for water sports. Surfing, kiteboarding, sea kayaking, windsurfing, and sport fishing are just a few of the activities you can enjoy at Rodanthe. If you want to explore the outdoors, Rodanthe borders the Pea Island National Wildlife Refuge, a stunning wilderness area with migratory birds and rare shorebirds such as white pelicans and great blue herons.
4
Kitty Hawk
Relax in a scenic beach area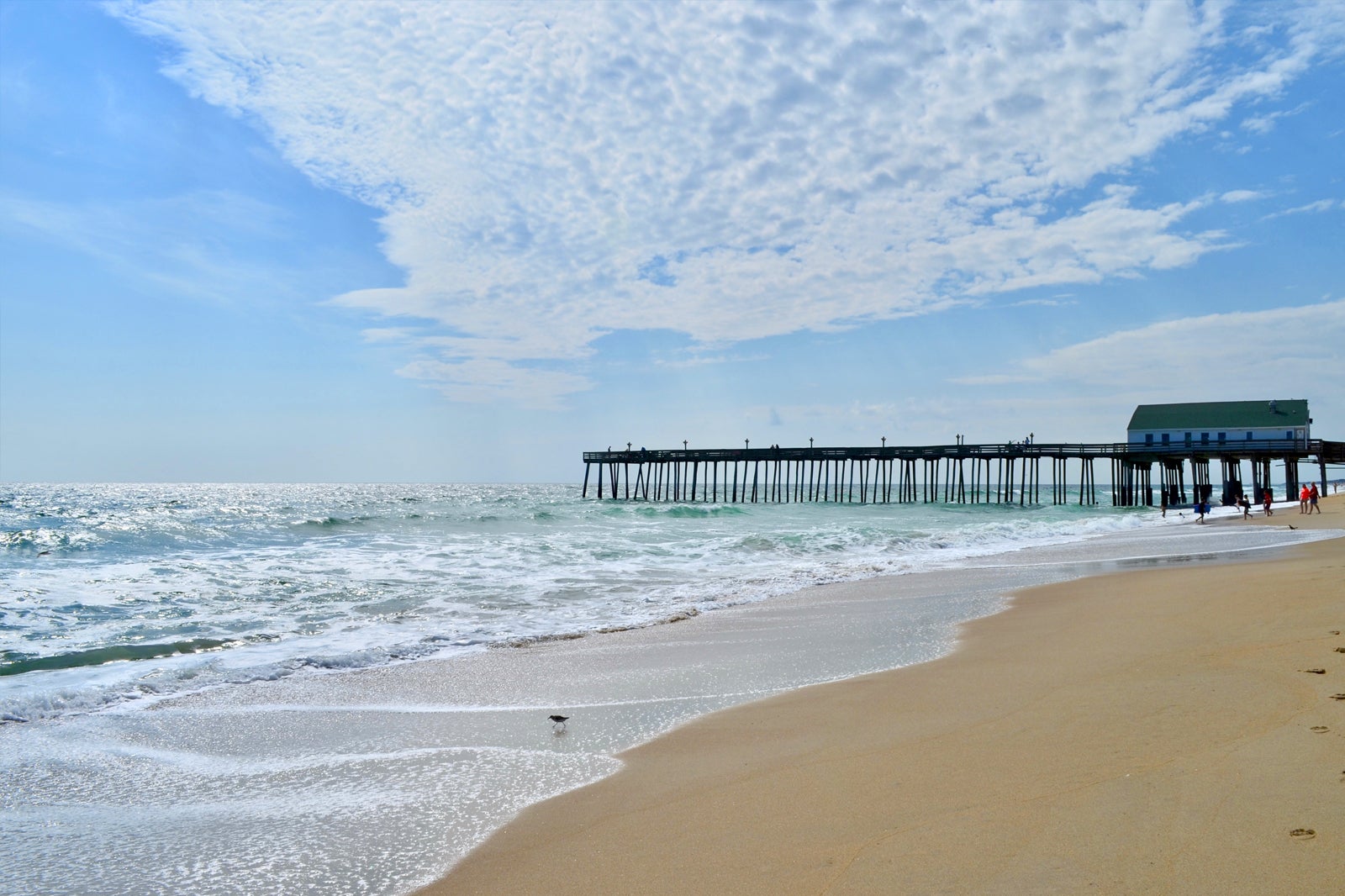 Kitty Hawk is a charming beach town with plenty of pristine beach areas, a coastal reserve, and numerous attractions in towns. The Kitty Hawk Woods Coastal Reserve is one of the top attractions near the beach and is a great spot for nature walks and wildlife viewing. You'll also find many beaches and fishing spots, such as Avalon Fishing Pier, Sandy Run Park, and Kitty Hawk Pier. If you want to try out some watersports, you can book tour operators at the pier and experience surfing, kiteboarding, sea kayaking, and other fun activities.
5
Nags Head
Enjoy seaside trails and amusements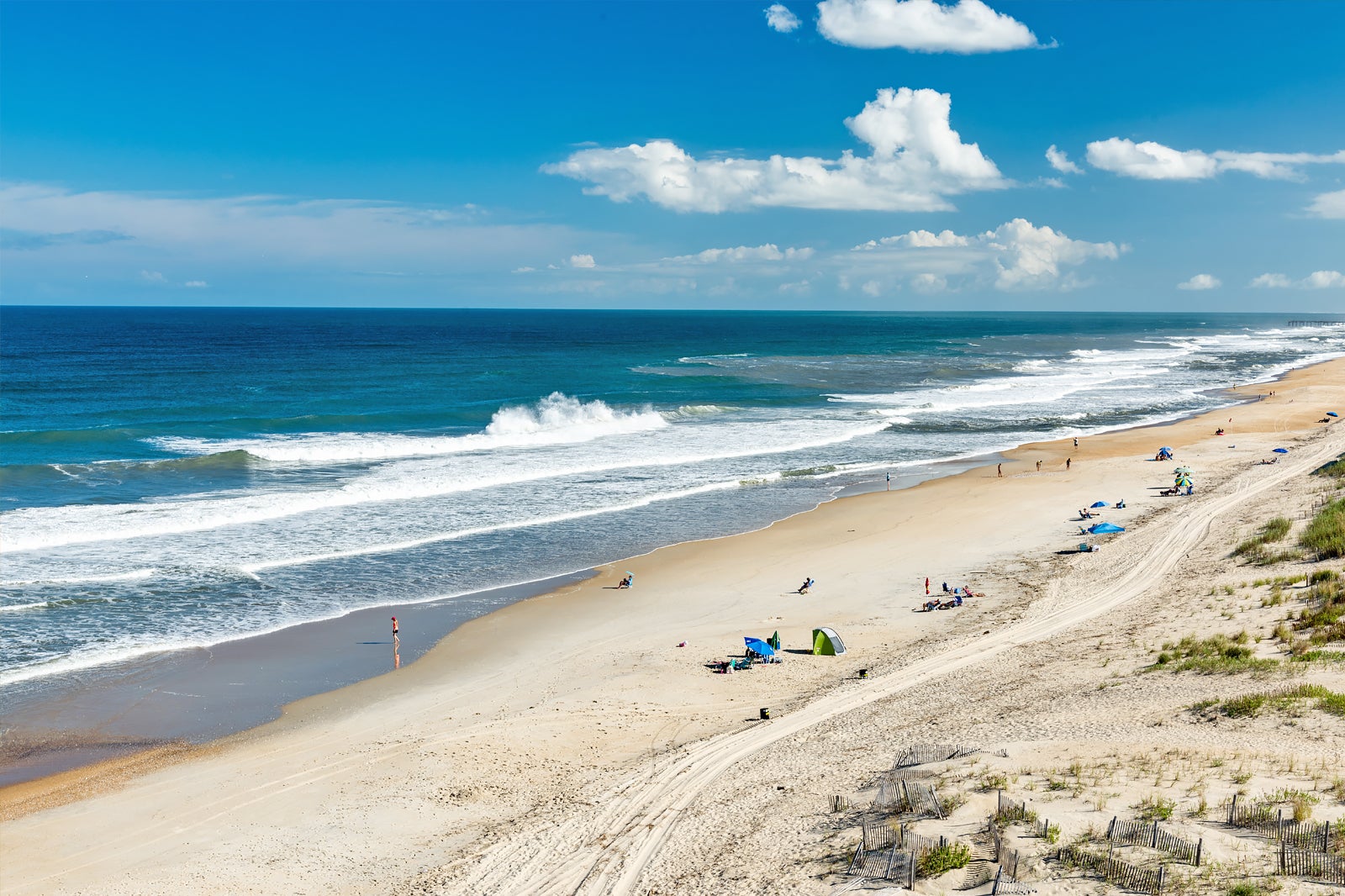 Nags Head is one of the prime beach destinations in the Outer Banks, thanks to its pristine shoreline and abundance of seaside amenities. You'll find a bit of everything in Nags Head, from the 1870s Bodie Island Lighthouse landmark to the wildlife and nature trails of Nags Head Woods Preserve. If you want some adrenaline, visit Jockey's Ridge State Park to go off-roading on the sand dunes. Near the beach, you'll find amusements like go-kart tracks, mini golf, restaurants, and ice cream shops.
6
Kill Devil Hills
Sunbathe with the kids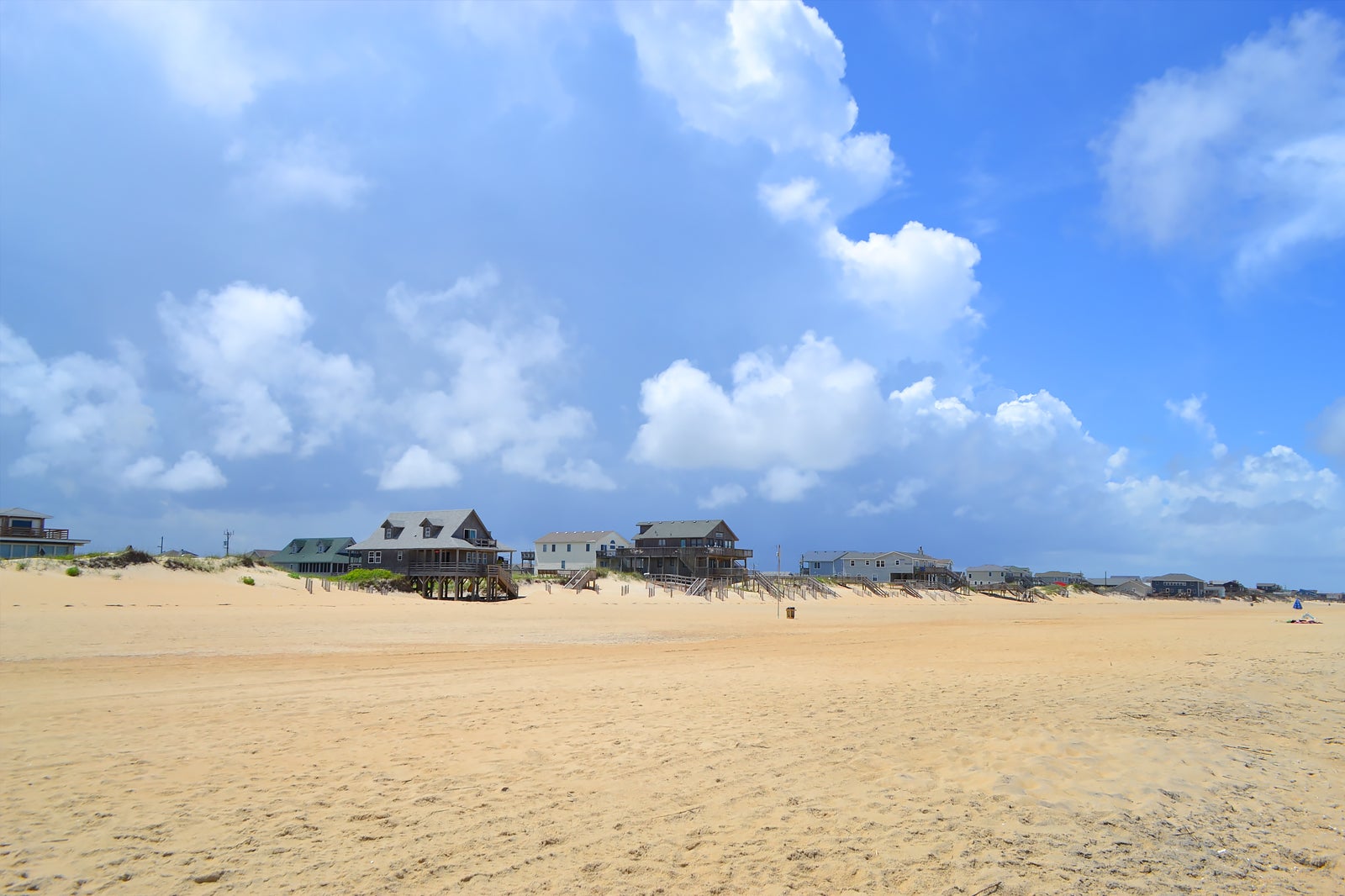 Kill Devil Hills is a top spot for a beach retreat in Outer Banks, thanks to its miles of public beaches. The beaches in Kill Devil Hills offer a little of everything, whether you want to sunbathe and build sandcastles with your family or you prefer the excitement of surfing, snorkelling, or surf fishing. Plenty of amenities are available near the beaches, such as parking, showers, bathrooms, and equipment rental shops to pick up beach chairs, umbrellas, surfboards, fishing gear, and more.
7
Ocracoke Island
Have a wild island retreat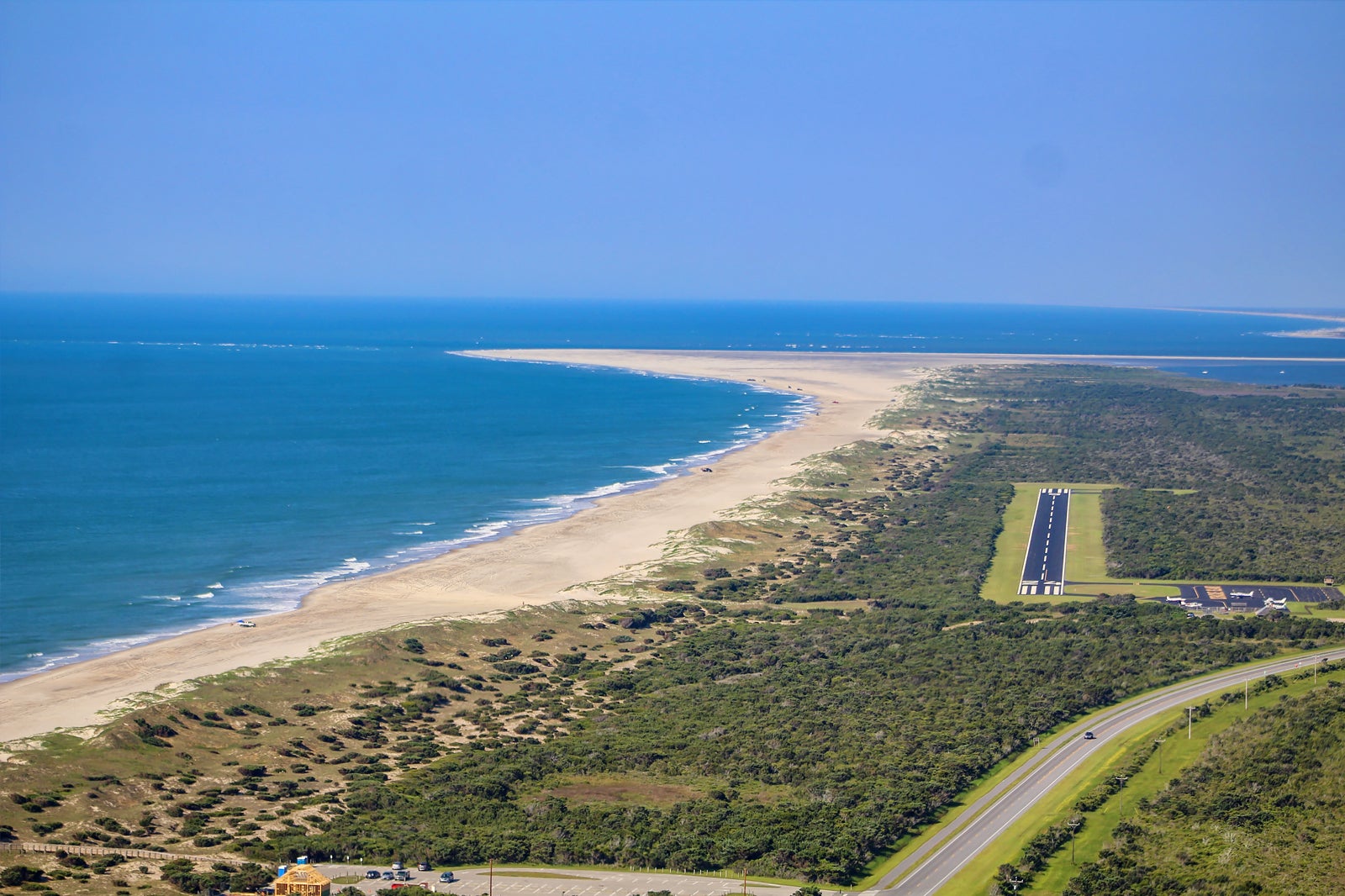 Ocracoke Island is a barrier island in the Outer Banks with quaint, historic villages and unspoiled beaches on the Cape Hatteras National Seashore. Accessible only by water, Ocracoke Island and its beaches are calm and quiet. The beaches are popular for sunbathing and swimming, but you can also find excitement with surf fishing, kiteboarding, surfing, and other watersports. The island has a herd of wild ponies, migratory birds, and other wildlife that can be seen on nature trails. Near the beach, you'll find local restaurants and surf shops for everything you might need.
8
Hatteras Island
Enjoy a family beach trip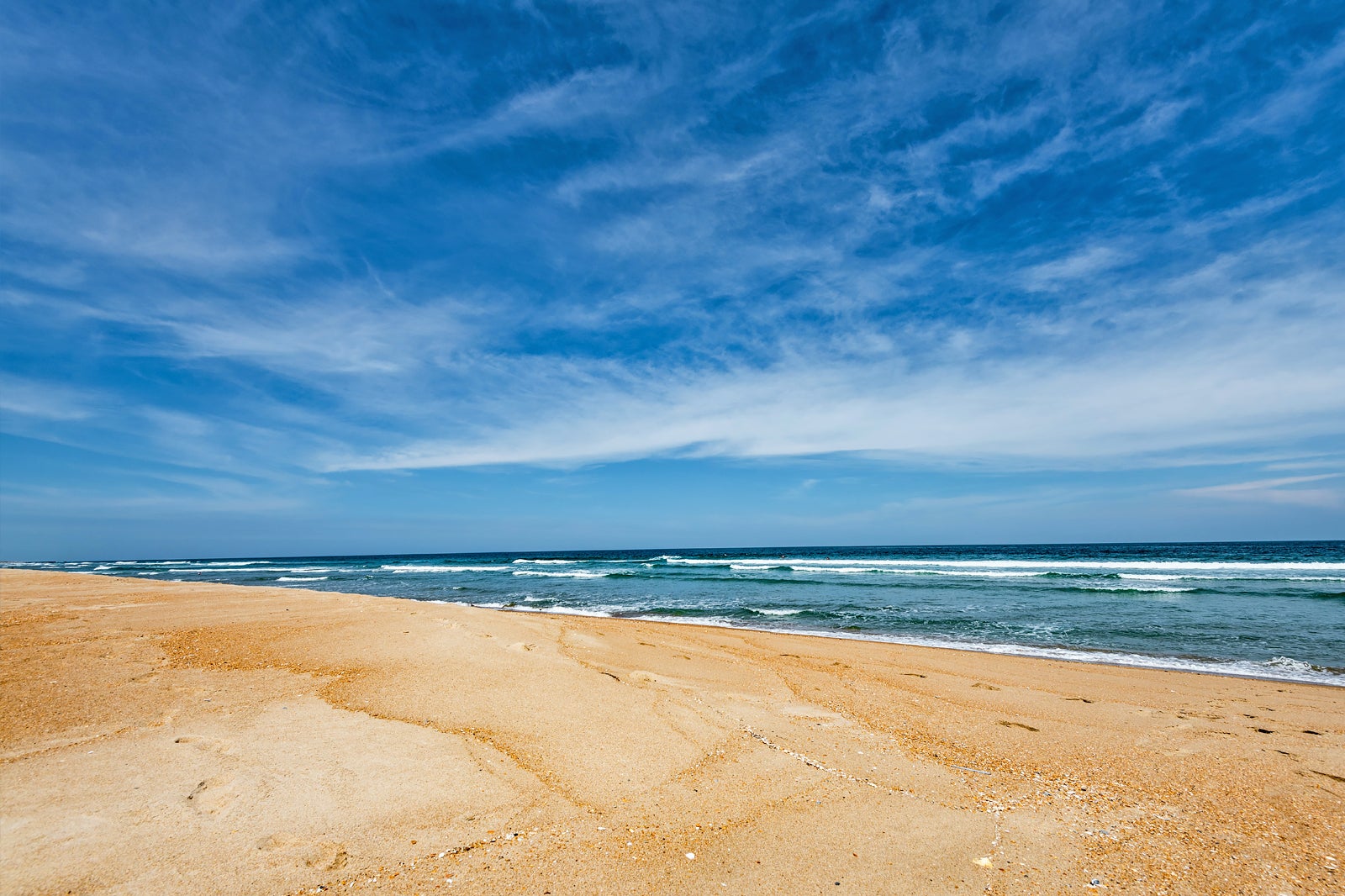 Hatteras Island is a long stretch of barrier island shoreline that's home to many small villages and beaches. The area is popular for quiet beach holidays with the family, thanks to its local amenities and small-town charm. The beaches of Hatteras Island are open and uncrowded, and you'll also find amenities like surf shops and beachfront restaurants for all your needs. If you like to fish, Hatteras Island has numerous fishing docks and charter fishing operators for all types of angling excursions.
9
Duck Beach
Experience a seaside beach retreat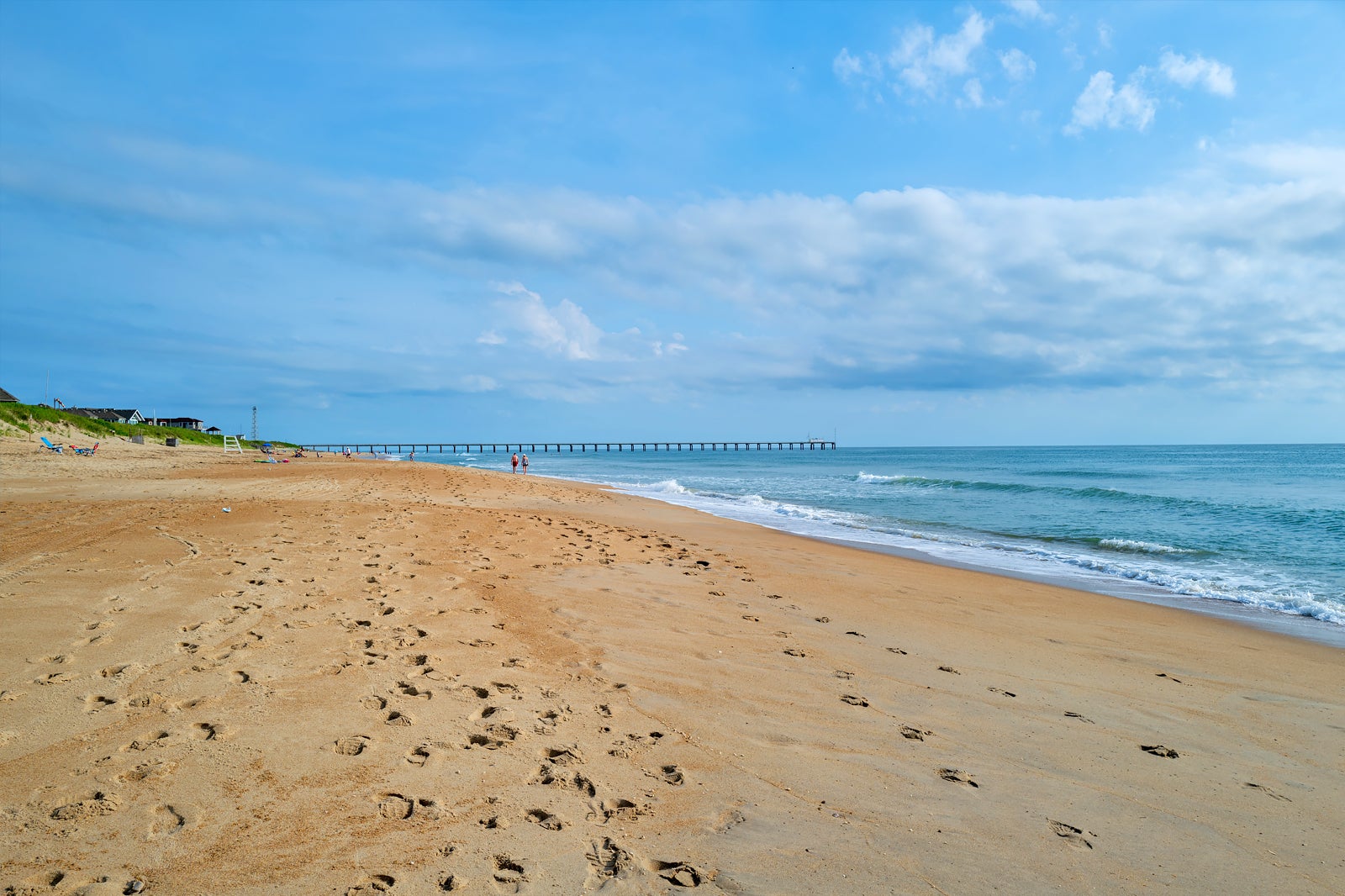 Duck Beach is a lovely beach area surrounded by maritime forests and local shops and restaurants. You'll find both ocean and sound areas, so you can choose between adventurous watersports or quiet waters for children to swim in. The beach is also free from heavy development, so the surrounding amenities offer small-town charm and appeal. Near the water, you'll find delightful locally owned restaurants, quaint seaside shops, exciting live music venues, and fun-filled festivals that take place throughout the year.
10
Cape Point Beach
Catch the top sport fish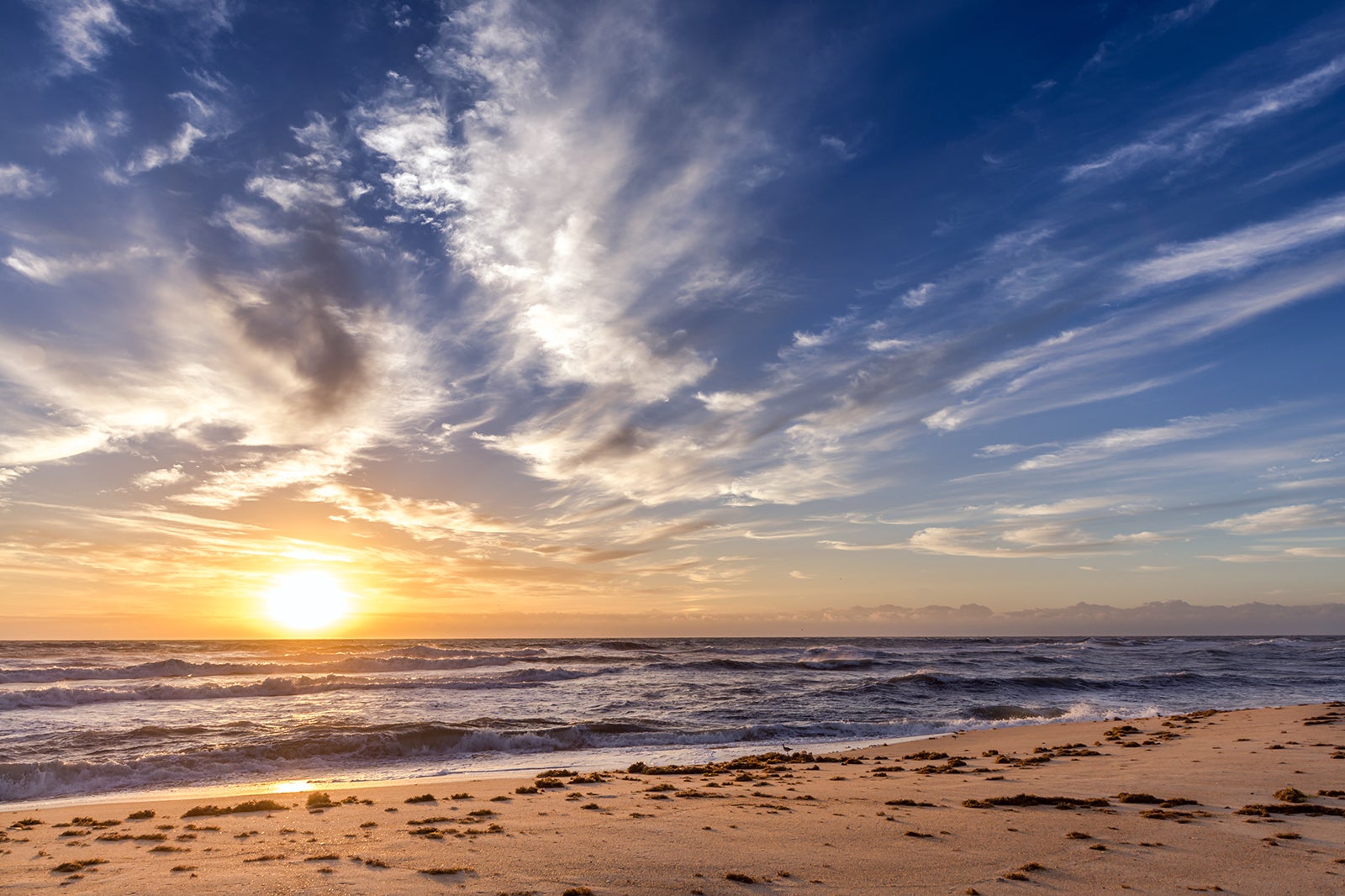 Cape Point Beach is the easternmost beach on Hatteras Island and one of the top fishing spots on the North Carolina shoreline. The small beach area is famous for the game species it attracts, such as tarpon, Spanish mackerel, bluefish, cobia, and drum. You'll find a lot more to do than just fishing, however, such as beachcombing, shelling, longboarding, paddleboarding, and kiteboarding. If you're lucky, you can relax on the beach and catch a playful dolphin pod frolicking on the waves in the distance.
返回頁首