San Jose Travel Essentials
Useful Information to Help You Start Your Trip to San Jose
Our San Jose Travel Essentials lays out the essential information you need to help you plan your trip to one of the most popular destinations in California, USA. No matter how frequently you travel, some questions will always need answers: What's the weather like? How can I get from Norman Y. Mineta San Jose International Airport (SJC) to my hotel? What currency and type of plug do I need?
We have all these answers plus other basic info about the best time to go, getting there, getting around, and a few useful travel tips. You'll also learn about the most popular landmarks in San Jose such as the Winchester Mystery House, the Rosicrucian Egyptian Museum, and History Park. It's all compiled in this San Jose Travel Essentials. After going through this short and easy-to-read guide, you'll be a little more prepared to start your trip to San Jose.
1
When is the best time to travel to San Jose?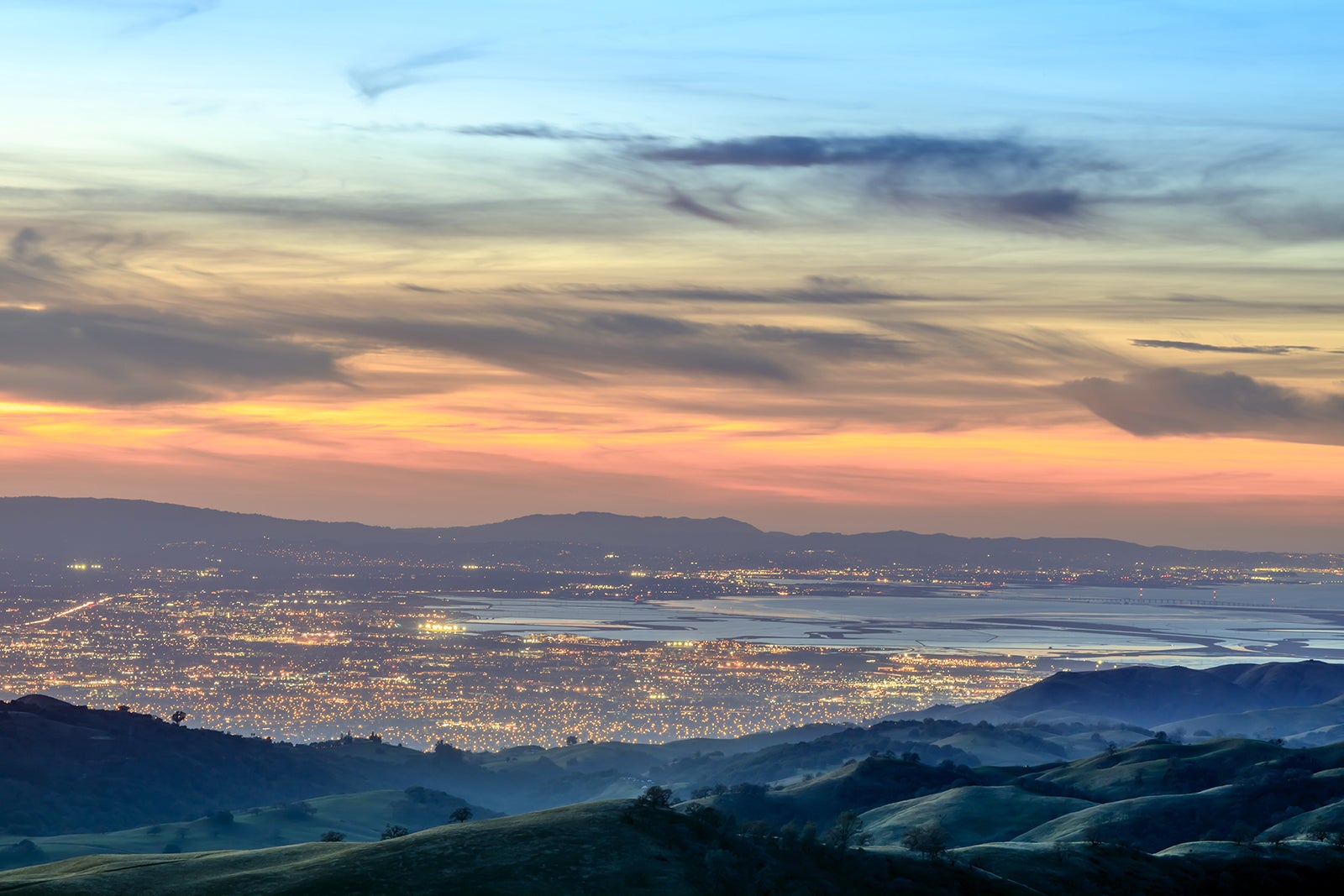 San Jose as one of the largest cities in Northern California and the administration centre of Silicon Valley has a Mediterranean climate, with hot, dry summers and mild, wet winters. Average temperatures range between 50°F in winter and 70°F in summer.
The wettest time of the year is November–March, with around 10 wet days per month. Aside from a few drops from time to time, it barely rains in June–August.
May–October is the warmest time of the year. The highest temperature recorded in summer reached 109°F.
The peak tourist season is in summer, from June–September. Expect higher hotel rates and more crowds around this time of the year.
Besides summer, the best times to visit San Jose are April–May and September–October. The weather and temperature are most pleasant at these times of the year, the city is less busy, and hotels have better offers.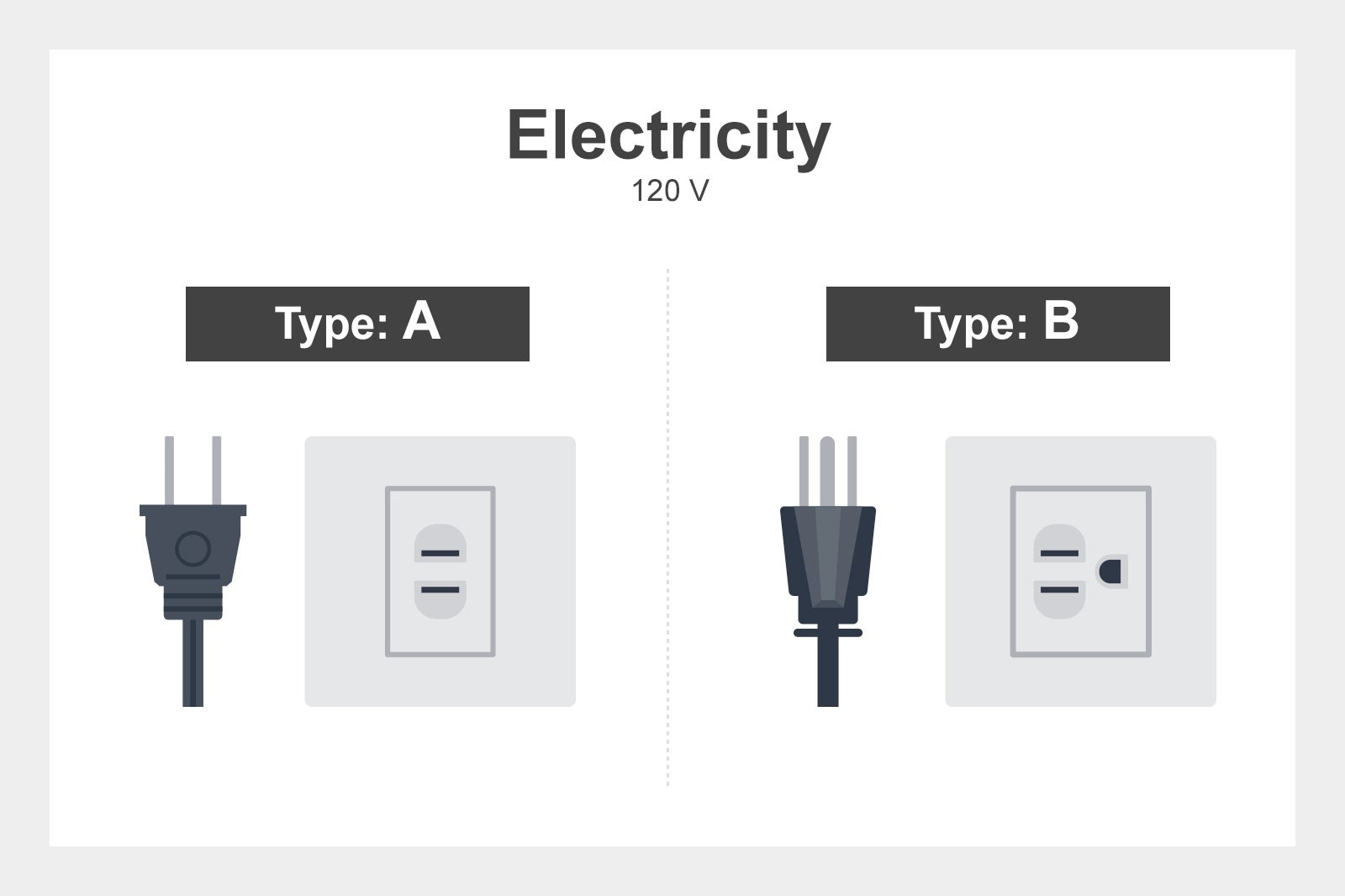 Plug type: A and B
Electricity: 120 V
Currency: United States Dollar (US$)
International dialling code: +1 408
Emergency telephone number: 911
3
How to get to my hotel in San Jose?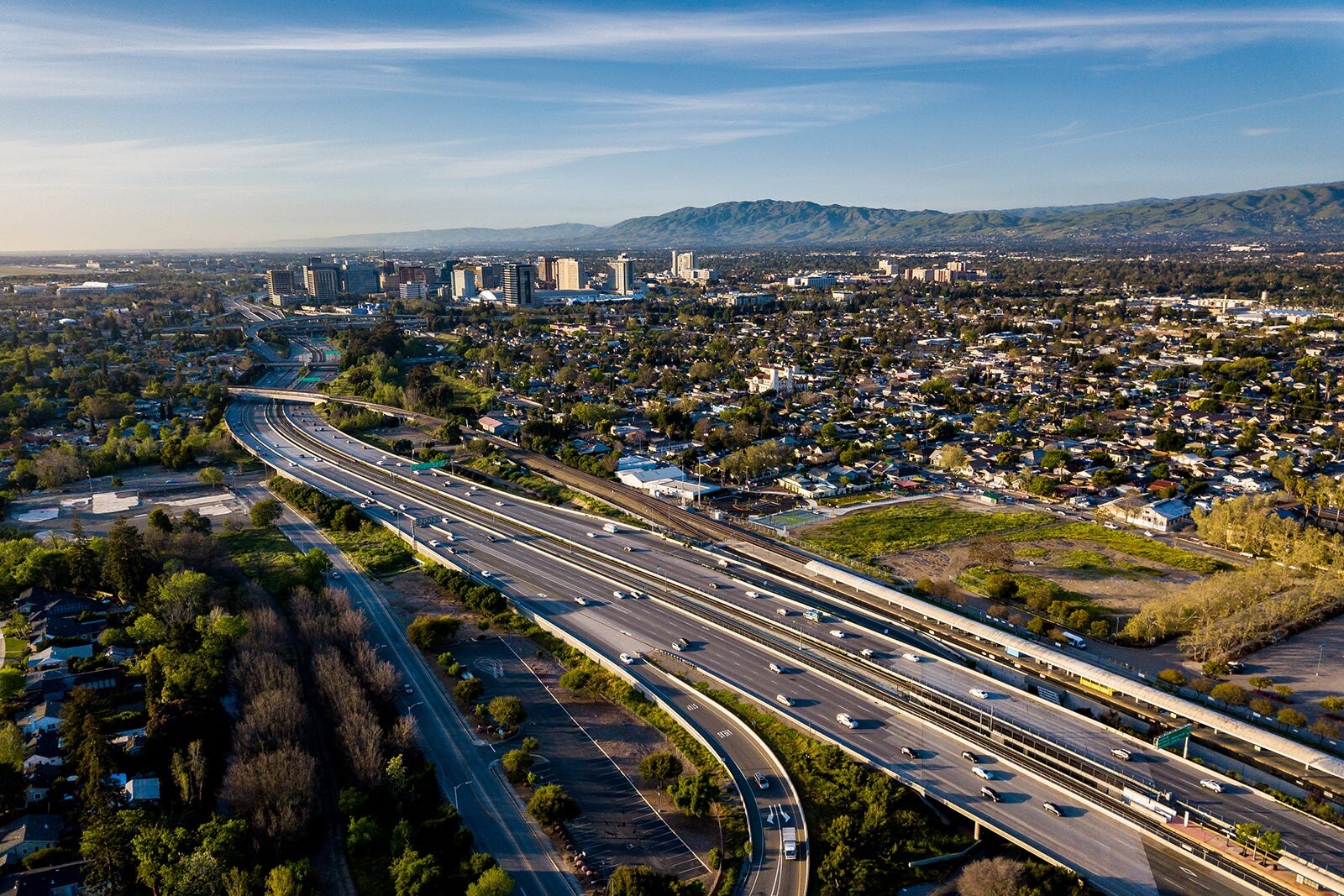 Norman Y. Mineta San Jose International Airport is the main arrival hub to San Jose. It's served by most major airports in the US, as well as by airports in Canada, Mexico, the UK and Japan.
You can also get to San Jose by Amtrak train on its Capitol Corridor line.
If you're on a budget or want to travel through the States at a slower pace, you can get to San Jose by Greyhound bus.
Norman Y. Mineta San Jose International Airport (SJC)
Named after one of the former mayors of the city, Norman Y. Mineta San Jose International Airport is 3 miles northwest of downtown San Jose. As the second busiest airport of the Bay Area after San Francisco's, it features 2 runways and 2 terminals linked by a free shuttle service.
Complimentary Wi-Fi is available throughout the airport. Ground transport options for getting to your hotel are as follows:
Many taxi companies as well as limousine, shuttle, and coach services are available at the airport. You can find taxi ranks in Terminal A, Stop 2 and Terminal B, Stop 1.
The Uber and Lyft pick-up areas are at the Arrivals Curbside – Stop 1 of Terminal A, and on the Ground Transportation Island – Stops 8 and 9 of Terminal B.
Public transfer services such as buses and trains are available. The VTA Airport Flyer can take you to the Santa Clara Caltrain Station, the Metro/Airport LRT Station, and the Milpitas BART Transit Center. From there, you can get everywhere in the Bay Area.
There are a dozen major car rental companies in the Rental Car Centre opposite Terminal B. You can get there by free shuttle from Terminal A.
San Jose Diridon Station
Established in 1878, the historical Diridon Station on Cahill Street is walking distance from downtown San Jose. Designed in a beautiful Italian Renaissance Revival style, it's served by Caltrain, Altamont Corridor Express (ACE), Santa Clara Valley Transportation Authority (VTA) light rail, and Amtrak trains.
Diridon Station is on the Amtrak's Capitol Corridor line, which departs from Auburn and stops in Sacramento, Emeryville (San Francisco), Oakland, and San Jose.
Diridon is also the main bus station in San Jose. The station's bus plaza is served by national and local coach companies such as Greyhound, Amtrak Thruway Motorcoach, Megabus, Monterey-Salinas Transit, Santa Cruz Metro, and VTA.
Besides the public transport options available at the station, you can get to your hotel by taxi or rideshare. Car rental agencies are also in the vicinity, on The Alameda, and West San Carlos Street.
4
How to get around San Jose?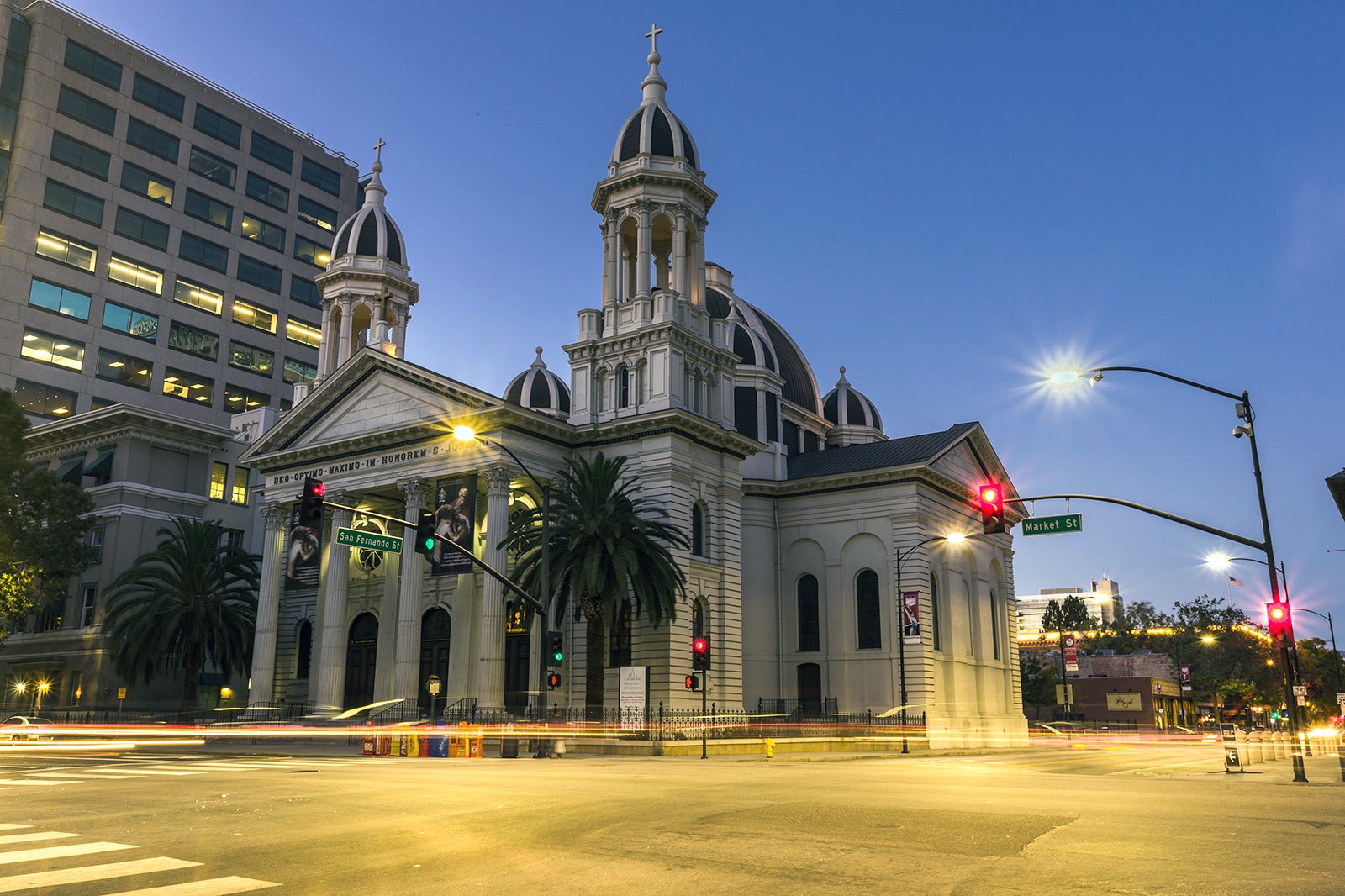 Travel tips
Downtown San Jose is compact, covering an area of 1 square mile, so it's easily walkable. Besides a lively scene of restaurants, bars, and shops, the city centre is home to a good choice of landmarks and attractions such as the Cathedral Basilica of St. Joseph, Peralta Adobe-Fallon House Historic Site, and the Children's Discovery Museum of San Jose.
The city centre is also bicycle-friendly. For longer distances, depending on your budget and preference, you can get around by taxi, rideshare, public transport or by renting a car.
Taking a taxi in San Jose
Getting a taxi in San Jose is easy, with companies like Taxi San Jose (+1 408-459-8010), Yellow Checker Cab Company (+1 408-777-7777), Royals taxi (+1 408-599-9121), and many more serving the city. You can find taxi lines in front of hotels and popular attractions such as Cesar Chavez Park and San Pedro Square Market. You can easily hail them on the street, too.
Convenient yet rather expensive, getting around the city by taxicab is not your best option if you're on a budget, although a taxi ride may be your only option to get back to your hotel after a night on the town. Note that tipping for a taxi in the States is usually around 15– 20% of the fare. Most taxi drivers accept credit cards, though sometimes reluctantly.
Uber and Lyft are the 2 main ride-sharing apps used in San Jose. Their rates are usually slightly cheaper than the standard taxicab fare.
Travelling by public transport in San Jose
Santa Clara Valley Transportation Authority (VTA) is the main public transport company operating in San Jose and Santa Clara County. It operates 3 light rail and over 60 bus routes and offers varied ticketing options, ranging from single-ride tickets to 1-day passes and even monthly passes. Note that all the public transport options feature bike racks. Check out their website to find further info.
There's also the free bus service known as DASH – Downtown Area Shuttle. It runs from Diridon Station along San Fernando Street to San Jose State University and then loops back along San Carlos Street to Diridon.
Renting a car in San Jose
Renting a car is a good option for exploring San Jose and the region. It's certainly more expensive than public transport, but it gives you the freedom to go anywhere whenever you desire. Foreigners must use a standard-issue license to drive in California, as international driving licenses aren't accepted.
Expect small roads to be congested most of the time, especially in the city centre. Highways are usually more fluid, especially outside rush hours.
Cycling around San Jose
Ranked as a bronze-level bicycle-friendly community by the League of American Bicyclists, San Jose is home to over 250 miles of bike lanes. Scenic cycling trails and routes such as Guadalupe River Trail, Coyote Creek Trail, and many more, offer very pleasant rides.
Bay Wheels is the Bay Area's bike share system. Run by Lyft, you just need to install the app on your mobile phone to get access to one of the 1,000 bikes available in San Jose.
You can also hire a road, electric, or mountain bike at rental shops like Bicycle Express (+1 408-998-1618), Hyland Family Bicycles (+1 408-269-2300), and Summit Bicycles (+1 408-264-2453), just to name a few.
5
What are the main annual events in San Jose?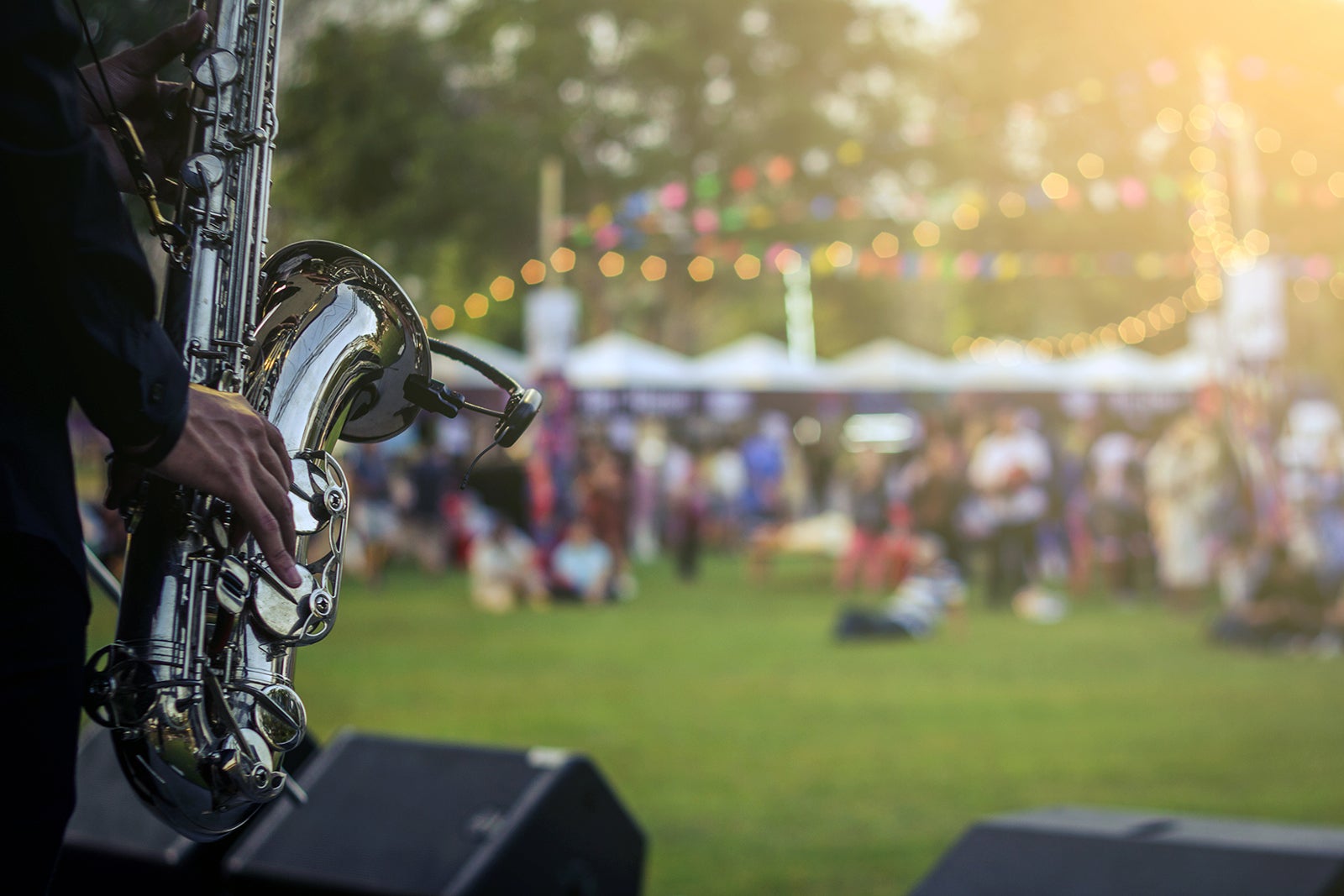 SubZERO Festival
June
A celebration of Silicon Valley's subcultures by combining live music performances and high-tech exhibitions. Techies and artisans present their latest creations in an indie atmosphere at this popular event.
Where: SoFA district, downtown San Jose
Obon Festival
July
An annual Buddhist event that honours ancestors, celebrated for 2 days in San Jose with a large bazaar and many booths featuring Asian cuisines. Its highlights include cultural performances like taiko drumming and Japanese dances.
Where: San Jose Japantown
San Jose Jazz Summer Festival
August
A gathering of first-class jazz bands and musicians running since 1990, highlighting all styles of jazz. It sees over 1,000 musicians on 12 stages with more than 10,000 aficionados attending every year.
Where: Plaza de César Chávez
6
What are the main landmarks in San Jose?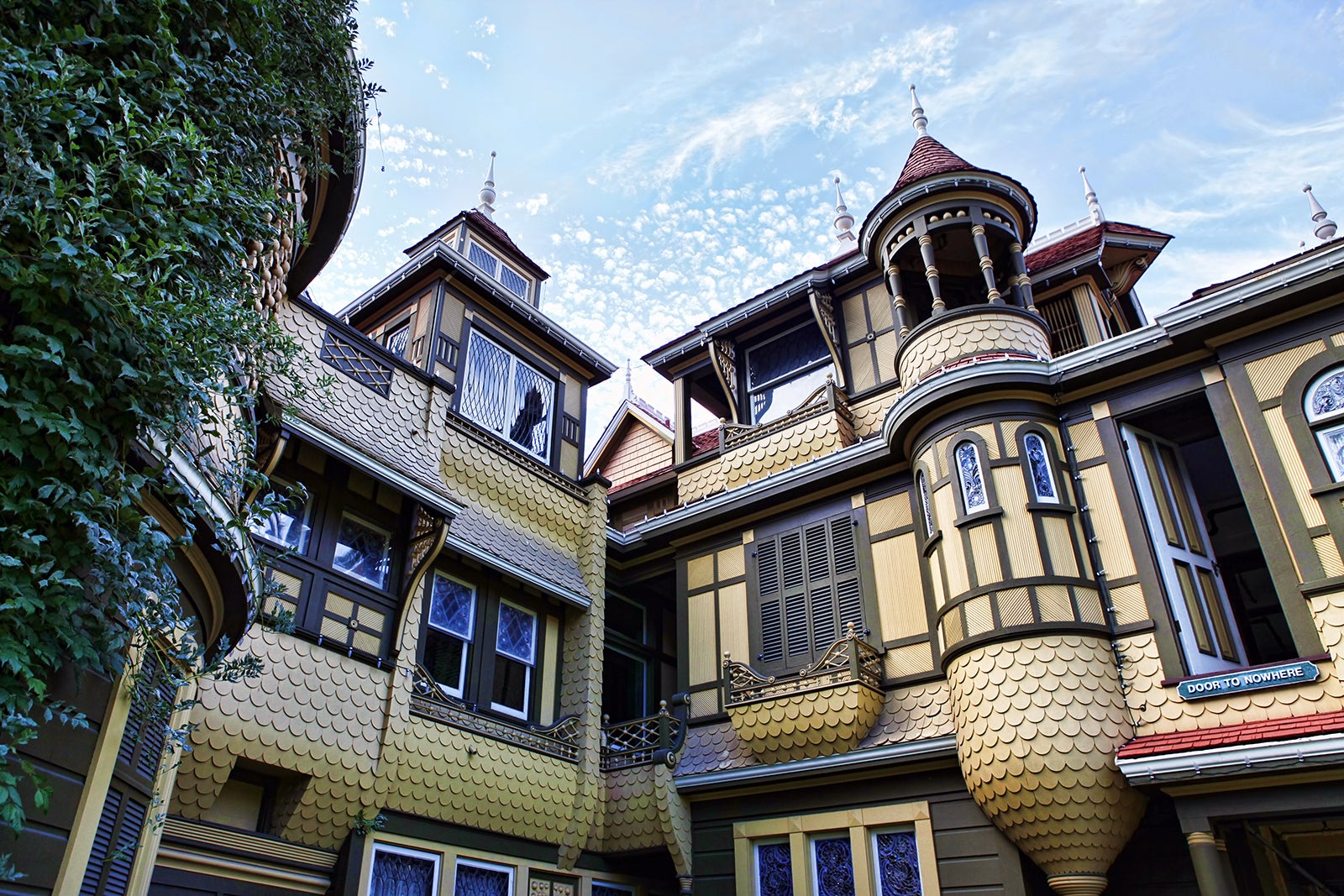 Winchester Mystery House
A sprawling 7-storey mansion with a fascinating history. Because there was a lack of planning and blueprints, the house is full of twists and turns and bizarre features.
Rosicrucian Egyptian Museum
Home to the largest collection of Egyptian artefacts in California. The museum organises fun scavenger hunts, and a series of riddles takes visitors on an educational journey through the exhibits.
History Park
An indoor and outdoor museum that educates visitors about Santa Clara County's history. It represents a Californian town in the early 1900s with its collection of over 30 Old Western buildings.
Peralta Adobe – Fallon House Historic Site
Two historical buildings in downtown San Jose – one was built in 1797 and is the oldest house in the city while the other is a well-preserved Victorian mansion dating back to 1855.
返回頁首