11 Things to Do with Your Family in Las Vegas
Las Vegas's Family-Friendly Places
Las Vegas may seem like an adult playground at first glance, but this vibrant city also attracts families with its arcade centres, interactive museums, and indoor wildlife parks. Older kids get to enjoy thrilling roller coasters, bumper cars, and activities such as rock-climbing and bungee-jumping at the city's many theme parks, while parents with younger children can spend time at playgrounds and carousels.
Despite well-deserved nickname as "Sin City", Vegas also has plenty of kid-friendly stage performances all year round, such as magic shows, breathtaking acrobatic shows, and juggling acts. Check out our list of Las Vegas' family-friendly places.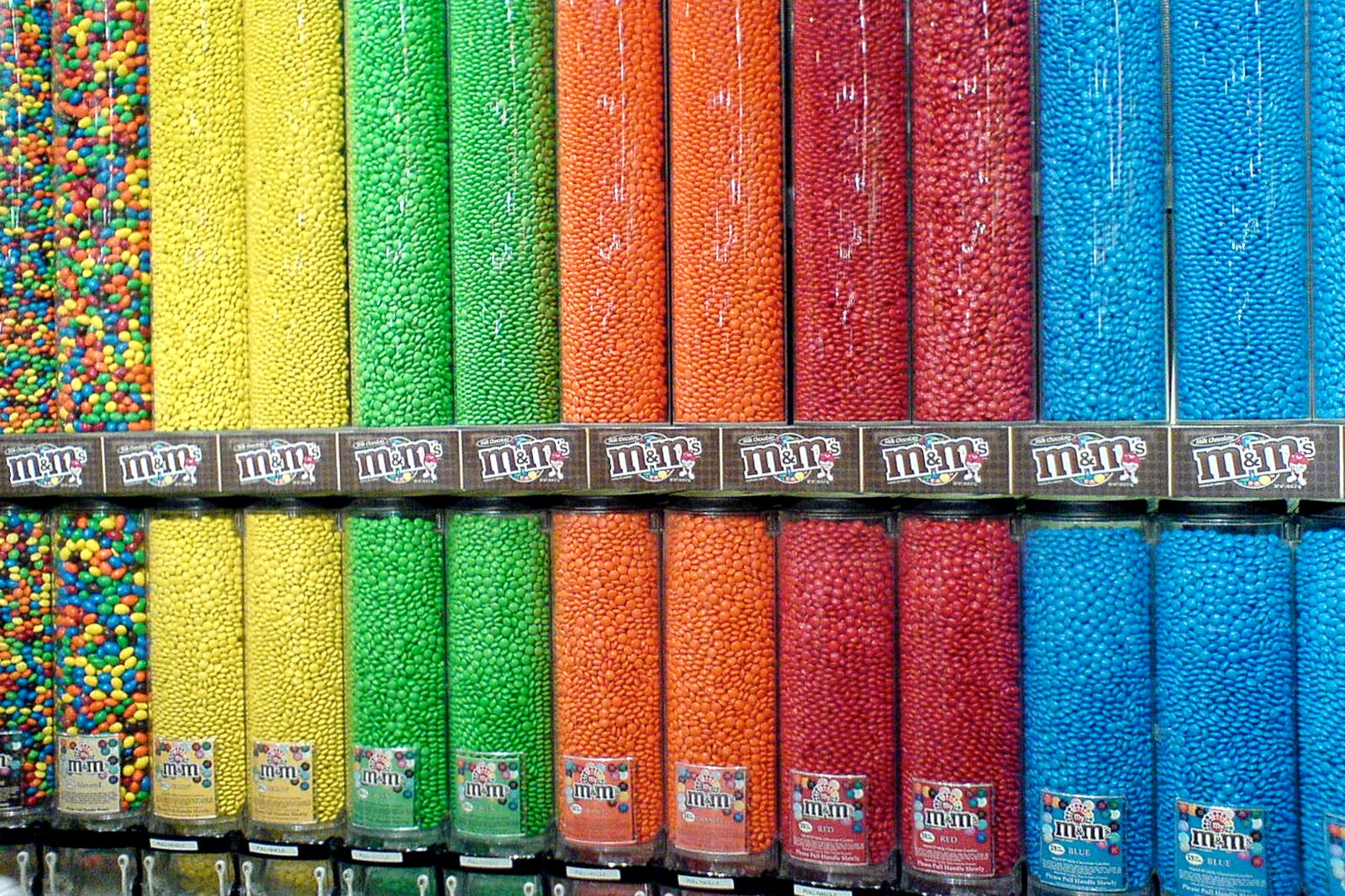 Eat endless chocolates at M&M's World
Watch a 3D movie for free at this candy store
M&M's World is where you can find hundreds of candies and souvenirs of the iconic brand. Located in Showcase Mall, the 4-storey candy store features a My M&M's station that personalises your candy with a custom message for a few dollars. Next to it is a 3D theatre, where you get to watch a 10-minute film titled I Left My M in Vegas for free. The ground floor of M&M's World displays a variety of memorabilia for sale, from luggage, shirts, and keychains to laptop covers, board games, and Frisbees.
地點: Showcase Mall, 3785 S Las Vegas Blvd, Las Vegas, NV 89109, USA
開放時間: Daily from 9am to midnight
電話: +1 702-740-2504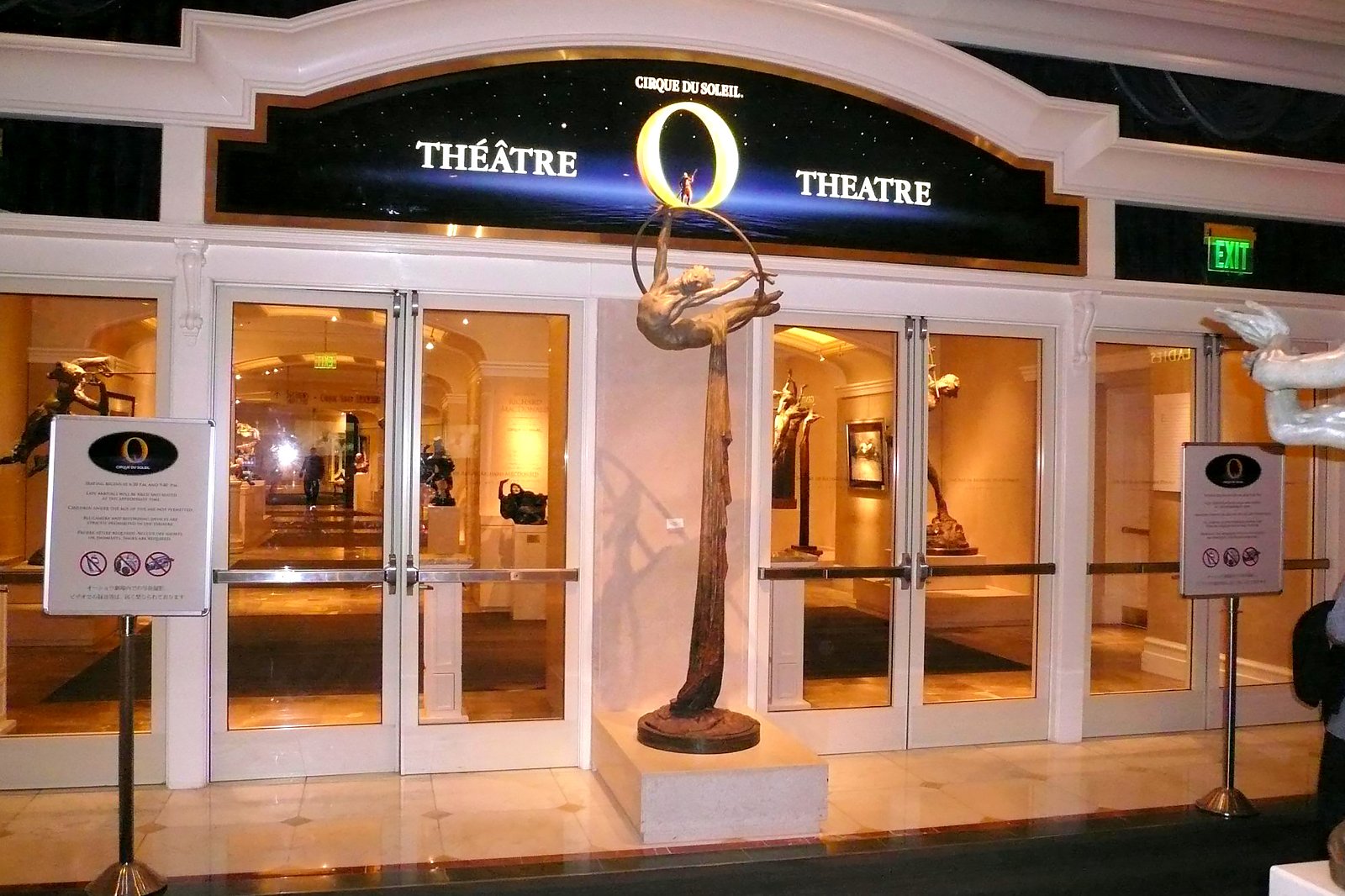 Cirque du Soleil
Catch the "O" at the Bellagio
Cirque du Soleil is a legendary acrobatic troupe that perform numerous shows in Las Vegas, but O is perhaps the most remarkable. The special stage in the Bellagio transforms into a 1.5-million-gallon swimming pool in an instant, changing the performance from one of breathtaking acrobatics to a display of synchronised swimming. Featuring 85 extremely talented performers, some of whom are former Olympic athletes, it's a very memorable show.
地點: 3600 S Las Vegas Blvd, Las Vegas, NV 89109, USA
電話: +1 888-488-7111
相片由 Michael Gray 提供 (CC BY-SA 2.0) 經修改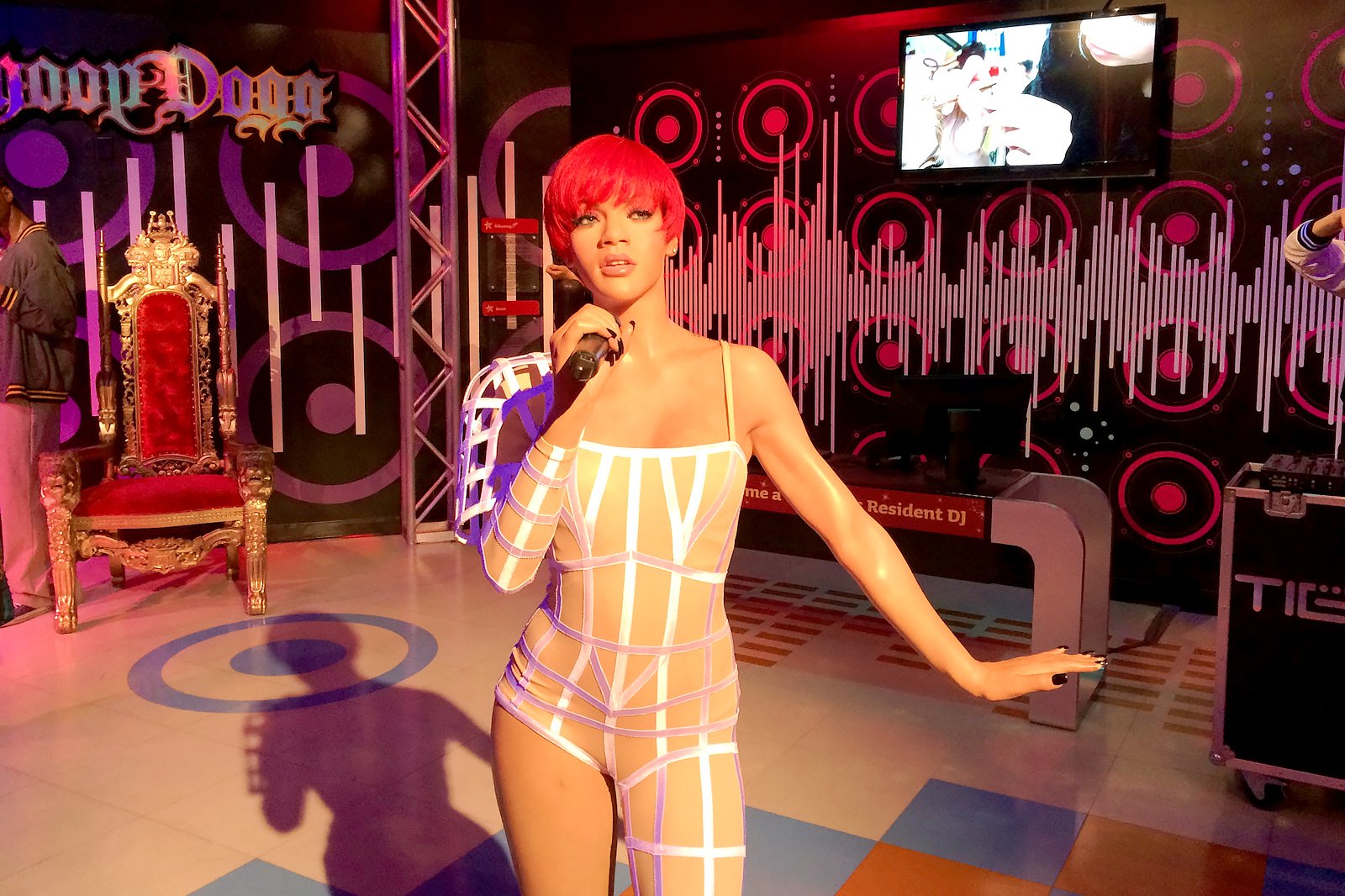 Madame Tussauds Las Vegas
Check out the Marvel Super Heroes 4D Experience
Madame Tussauds Las Vegas features 8 exhibition rooms filled with more than 100 lifelike figures of various icons. Located in front of the Venetian, this renowned wax museum is where you can pose with your favourite Marvel characters, such as Spiderman and The Hulk. Afterwards, enjoy a thrilling cinematic experience at the Marvel Super Heroes 4D theatre. It also has a room dedicated to famous Las Vegas residents, including Elvis, Celine Dion, and magician duo Siegfried and Roy.
地點: 3377 S Las Vegas Blvd #2001, Las Vegas, NV 89109, USA
開放時間: Sunday – Thursday from 10am to 9pm, Friday – Saturday from 10am to 10pm
電話: +1 702-862-7800
相片由 Daniel Ramirez 提供 (CC BY 2.0) 經修改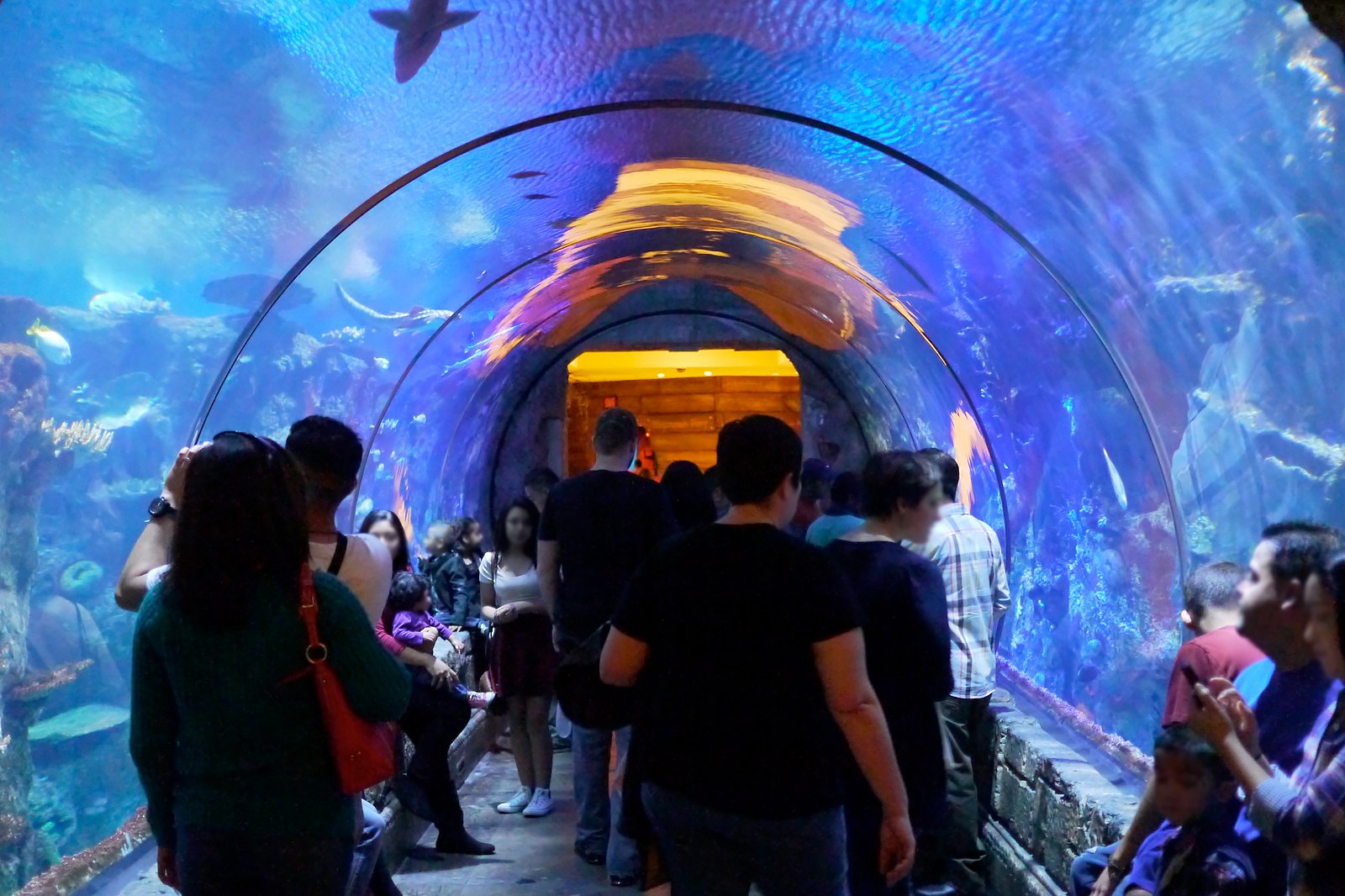 Shark Reef Aquarium at Mandalay Bay
See over 100 sharks swimming inside the main tank
The Shark Reef Aquarium at Mandalay Bay is home to 1,200 species of reptiles and marine life, including more than 100 endangered sharks. Here, you can explore about 14 exhibits, one of which is a 1.3 million-gallon saltwater tank filled with sharks and sea turtles. The touch pool is a popular choice for families with young children as they can get up close with horseshoe crabs, baby sharks, and stingrays. Tickets to the Shark Reef Aquarium cost from $25 for adults, $23 for children between 4 and 12 years old, and $19 for children below the age of 4.
地點: 3950 S Las Vegas Blvd, Las Vegas, NV 89119, USA
開放時間: Sunday – Thursday from 10am to 7pm, Friday – Saturday from 10am to 9pm
電話: +1 702-632-4555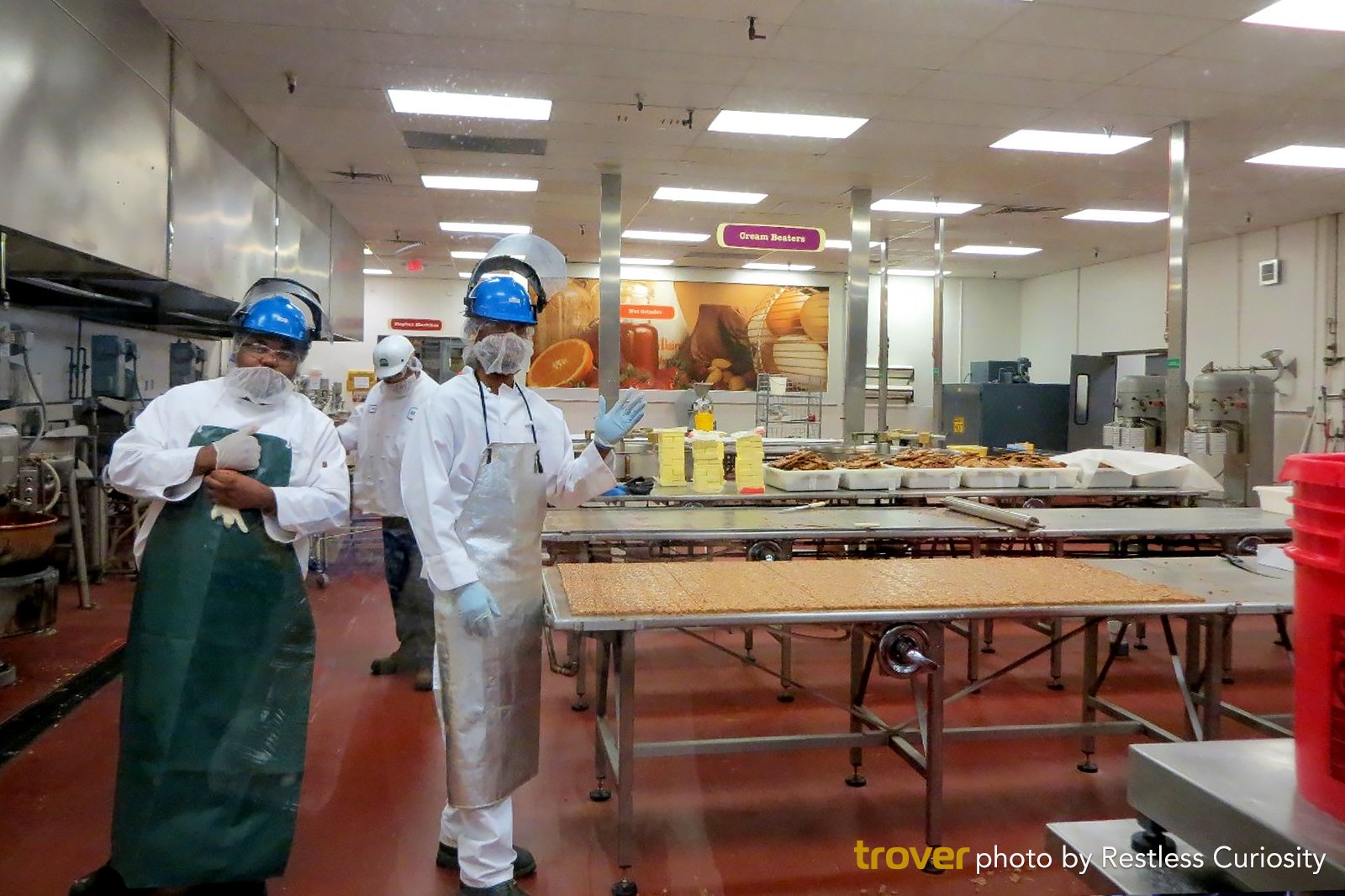 Ethel M Chocolates Factory
Join a self-guided tour of the gourmet chocolate factory
Ethel M Chocolates Factory, located in Henderson, is a gourmet chocolate brand dating back to 1981. You get to enjoy a free self-guided tour of the premise, which features dozens of tanks filled with 20,000 to 35,000 gallons of pure chocolate. Ethel M Chocolates Factory offers daily tasting classes, where you get to sample 4 types of premium chocolate for about $15. Each session takes about 30 minutes, and is available every 2 hours from 10am onwards. The factory also has a Botanical Cactus Garden, which contains 300 types of cacti and succulents.
地點: 2 Cactus Garden Dr, Henderson, NV 89014, USA
開放時間: Daily from 8am to 8pm
電話: +1 800-438-4356
GameWorks
Play your favourite arcade games
GameWorks is one of the largest arcade centres in the USA, featuring over 200 games, an 8-lane bowling alley, and 60 online gaming computers. Parent may feel nostalgic can play retro games such as Pacman, Donkey Kong Jr. and Asteroids, while the little ones can enjoy the Dark Ride XD, a multi-sensory adventure ride with real-time 7D graphics, motion, light, and sound. You even get to redeem prizes by collecting tickets won through playing these games.
地點: 6587 S Las Vegas Blvd, Las Vegas, NV 89119, USA
開放時間: Thursday – Friday from 11am to 1am, Saturday to Wednesday from 11am to midnight
電話: +1 702-978-4263
相片由 Dave Taylor 提供 (CC BY 2.0) 經修改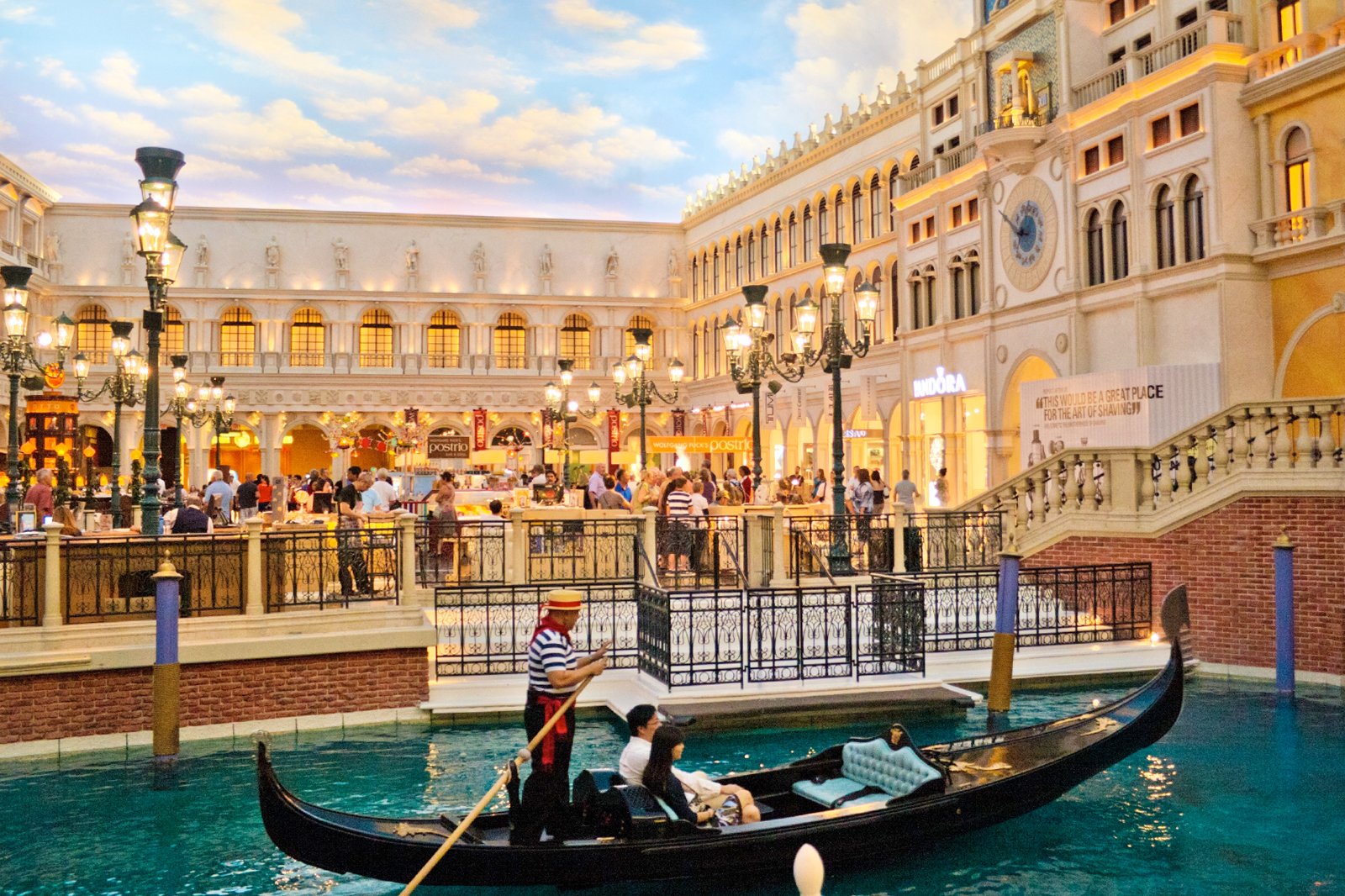 Streetmosphere at the Grand Canal Shoppes
Enjoy a gondola ride along the Venetian canals
Streetmosphere is a selection of theatrical performances that take place every day at the Venetian's Grand Canal Shoppes. You get to see stilt walkers, jugglers, and dancers in elaborate costumes at St. Mark's Square from noon till evening, and enjoy classical opera between 6.30pm and 8pm. Living statues can be found throughout the emporium, ready to surprise unsuspecting people from time to time. The Venetian is also renowned for its miniature canals, so hop on a gondola for a ride after enjoying the Streetmosphere.
地點: 3355 S Las Vegas Blvd, Las Vegas, NV 89109, USA
開放時間: Daily from 10am to 10pm
相片由 Paulgokin 提供 (CC BY-SA 3.0) 經修改
Las Vegas Natural History Museum
Let your kids dig for fossils at the Young Scientist Center
Las Vegas Natural History Museum is where you get to learn about the world, thanks to its extensive collection of fossils, life-sized replicas of mummies and extinct wildlife, as well as family-friendly activities. A popular exhibit here is the Treasure of Egypt hall, where you can explore a recreation of the entrance to King Tutankhamun's tomb, view actual pictures taken during the excavation, and use provided tools to 'scan' a mummy in real time. The Engelstad Family Prehistoric Life Gallery features a 35-foot-long replica of a T-Rex that moves and roars at visitors.
地點: 900 N Las Vegas Blvd, Las Vegas, NV 89101, USA
開放時間: Daily from 9am to 4pm
電話: +1 702-384-3466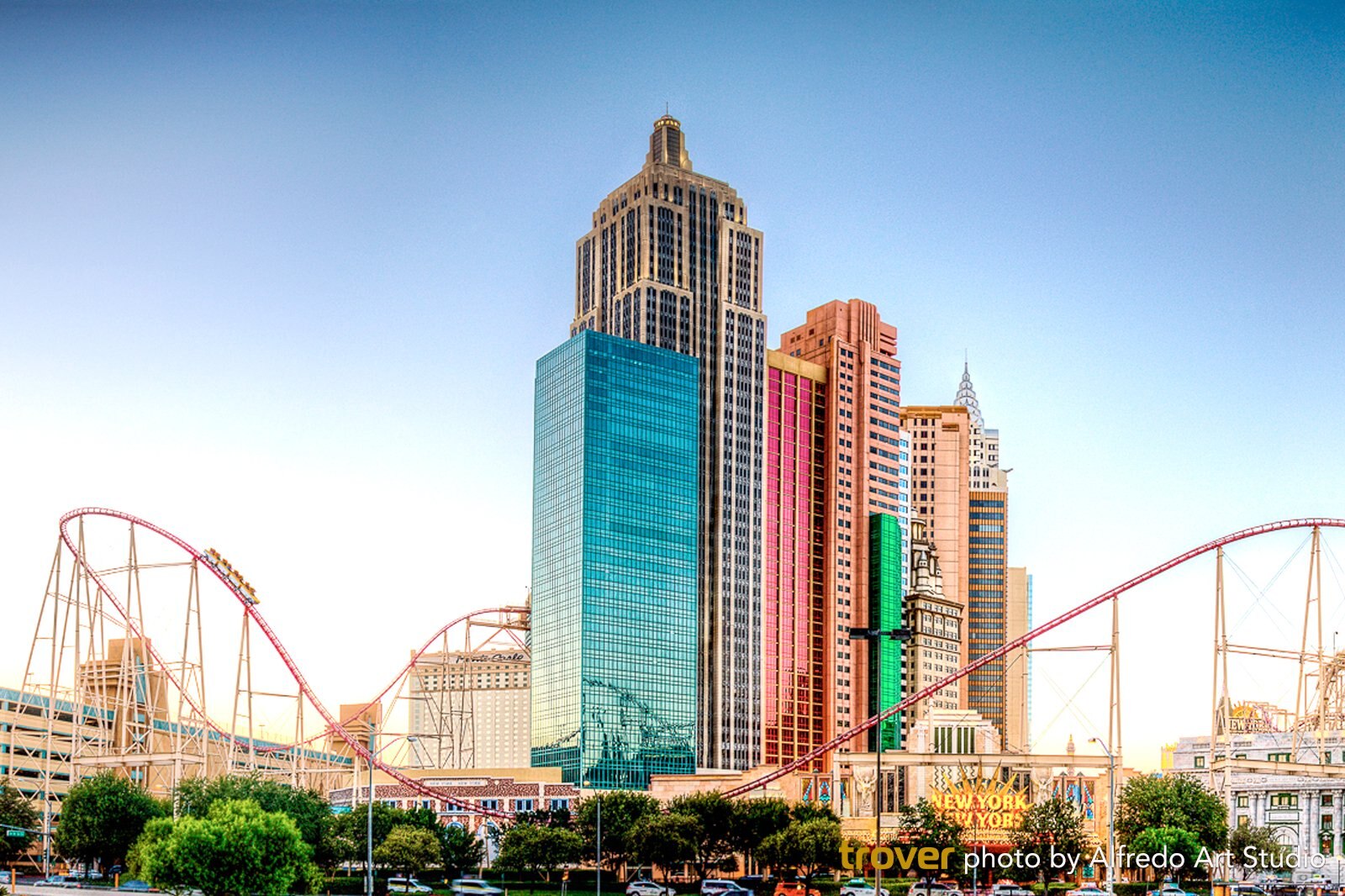 Ride the Big Apple Coaster at New York-New York
Get your heart rate up on this historical rollercoaster
The Big Apple Coaster is a thrilling rollercoaster located at the New York-New York Hotel and Casino. A popular attraction among thrill seekers, the ride features a heartline twist and dive manoeuvre and travels up to 67 miles per hour. For an added rush of adrenaline, the Virtual Reality Experience incorporates the use of VR headsets, with riders taking on the role of a scientist pursuing an escaped alien. Tickets cost $15 and $8 per subsequent ride, while the Virtual Reality Experience is priced at $20.
地點: 3790 S Las Vegas Blvd, Las Vegas, NV 89109, USA
開放時間: Daily from 10.30am to midnight
電話: +1 702-740-6969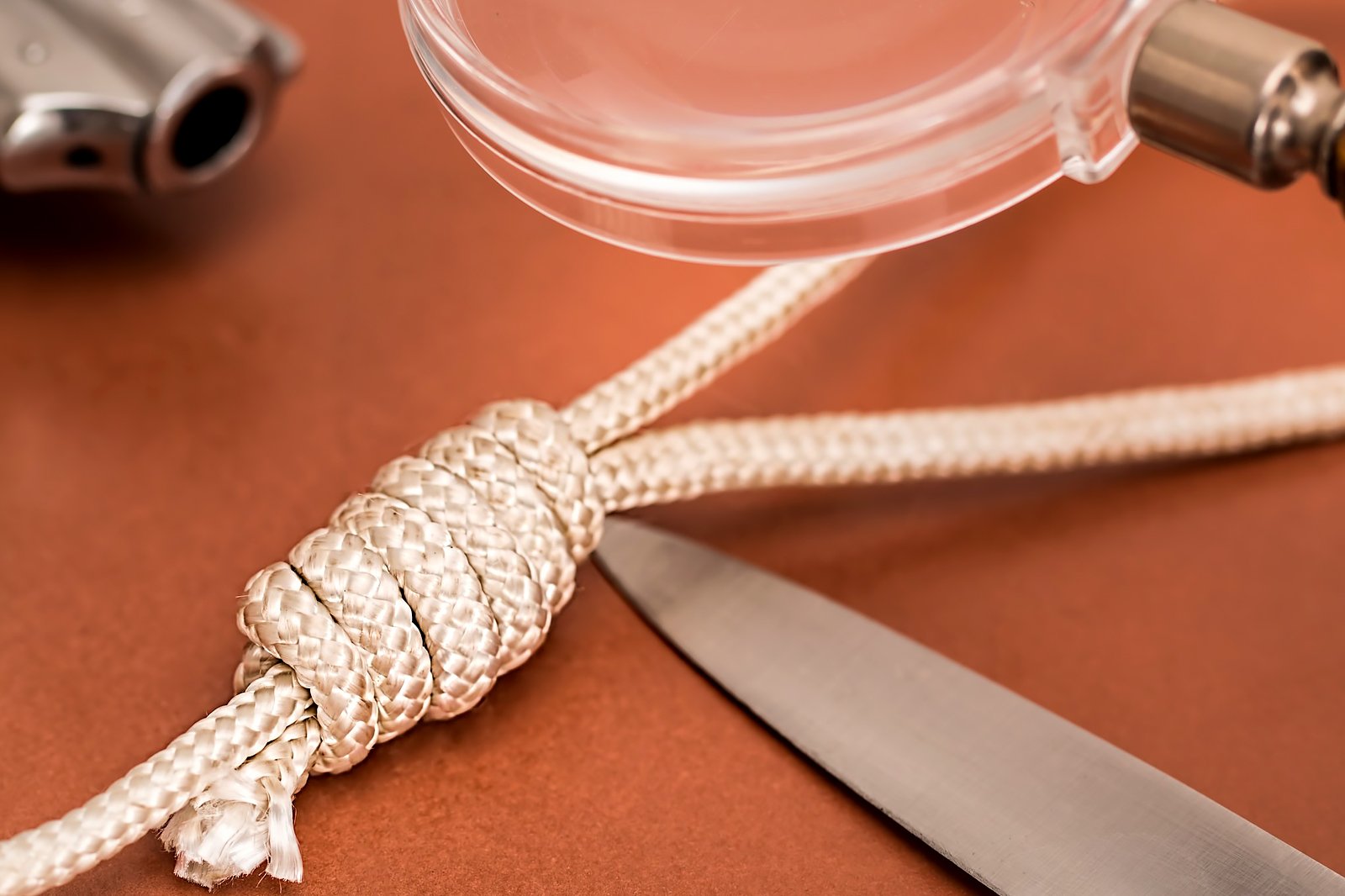 Become a forensic expert at CSI: The Experience
Solve a case at this interactive playground
CSI: The Experience is an interactive games centre at MGM Grand. It offers fans of the popular TV series a chance to become real crime scene investigators for the day. Solve the murder cases by watching videos that feature real-life forensic experts and characters from CSI: Crime Scene Investigation, as well as performing tests at the state-of-the-art crime lab. An official CSI diploma will be given once you're able to identify the murderer. Due to the rather morbid setting, CSI: The Experience is suitable for visitors over the age of 12.
地點: 3799 S Las Vegas Blvd, Las Vegas, NV 89109, USA
開放時間: Daily from 9am to 9pm
電話: +1 702-891-5749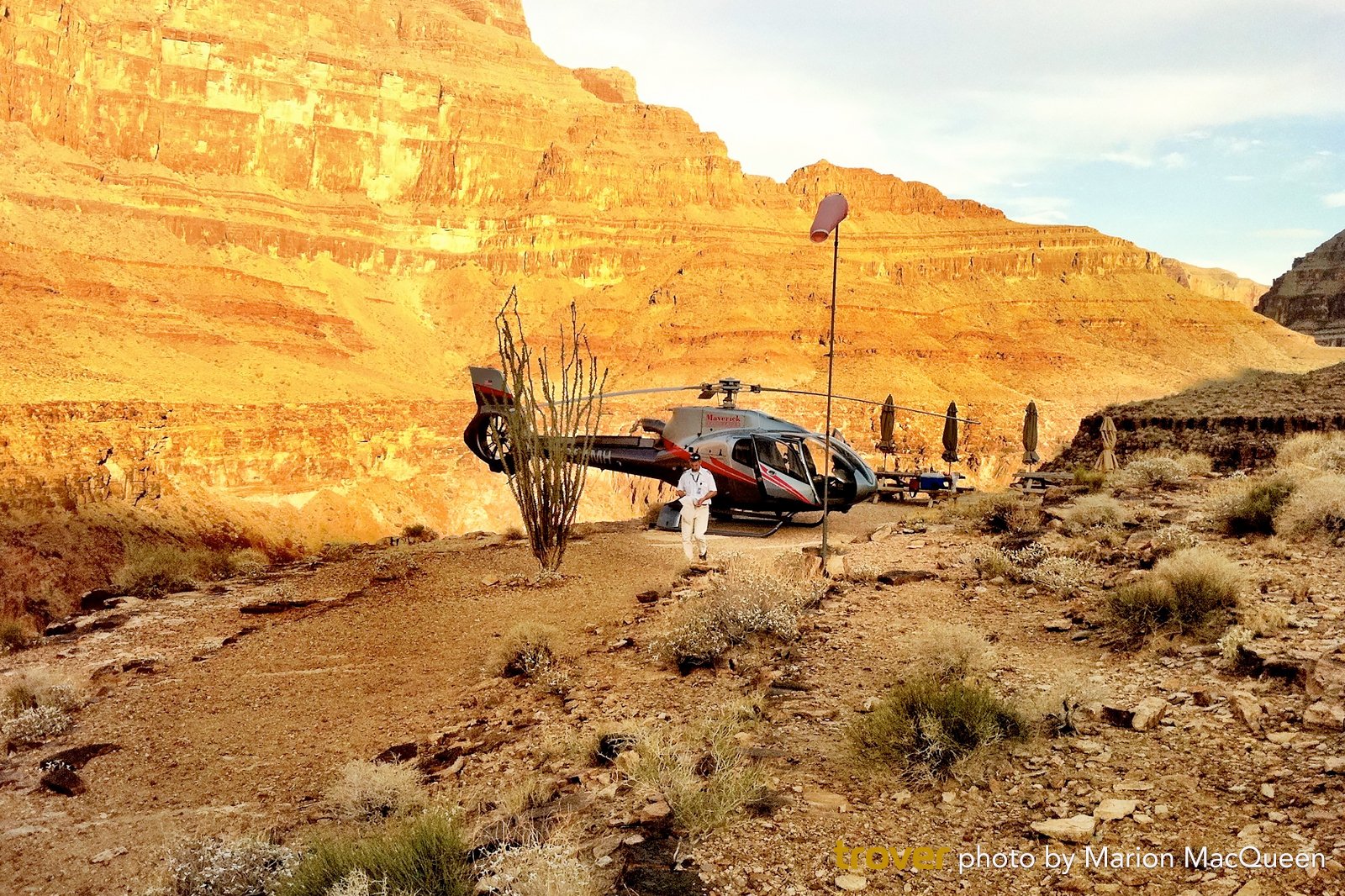 Ride a helicopter to the Grand Canyon
Enjoy impressive views of the iconic canyon and its surrounding desert landscape
A helicopter ride to the Grand Canyon is a worthwhile expense when you're in Las Vegas, as you get to soar over the iconic canyon and its epic surroundings. The tour typically takes place in the morning so that you can enjoy the best view of this natural wonder. Aside from the Grand Canyon, you also get to see other landmarks from a bird's eye view, including the Hoover Dam, Mojave Desert, Lake Mead, and the famous Las Vegas Strip.
地點: Grand Canyon, Arizona, USA