10 Best Things to Do in San Diego for Couples
Great Ideas for a Romantic Trip to San Diego
San Diego boasts 70 miles of gorgeous, rugged coastline – an ideal backdrop to a romantic holiday. With its pristine beaches and near-perfect weather year-round, it's easy to just spend your days lying in the Californian sun. However, if you're looking to be more active, the city also offers some of the country's best surfing spots and hiking trails, where couples can enjoy the scenery together (while getting fit).
The sea breeze and the laidback atmosphere of the city are sure to get you both relaxed and rested. While this seaside city finds many of its strengths in its stunning natural scenery, San Diego also has vibrant neighbourhoods, which are representative of its diverse cultures. The list below features some of San Diego's best natural and cultural attractions that will help you plan a romantic trip by the sea.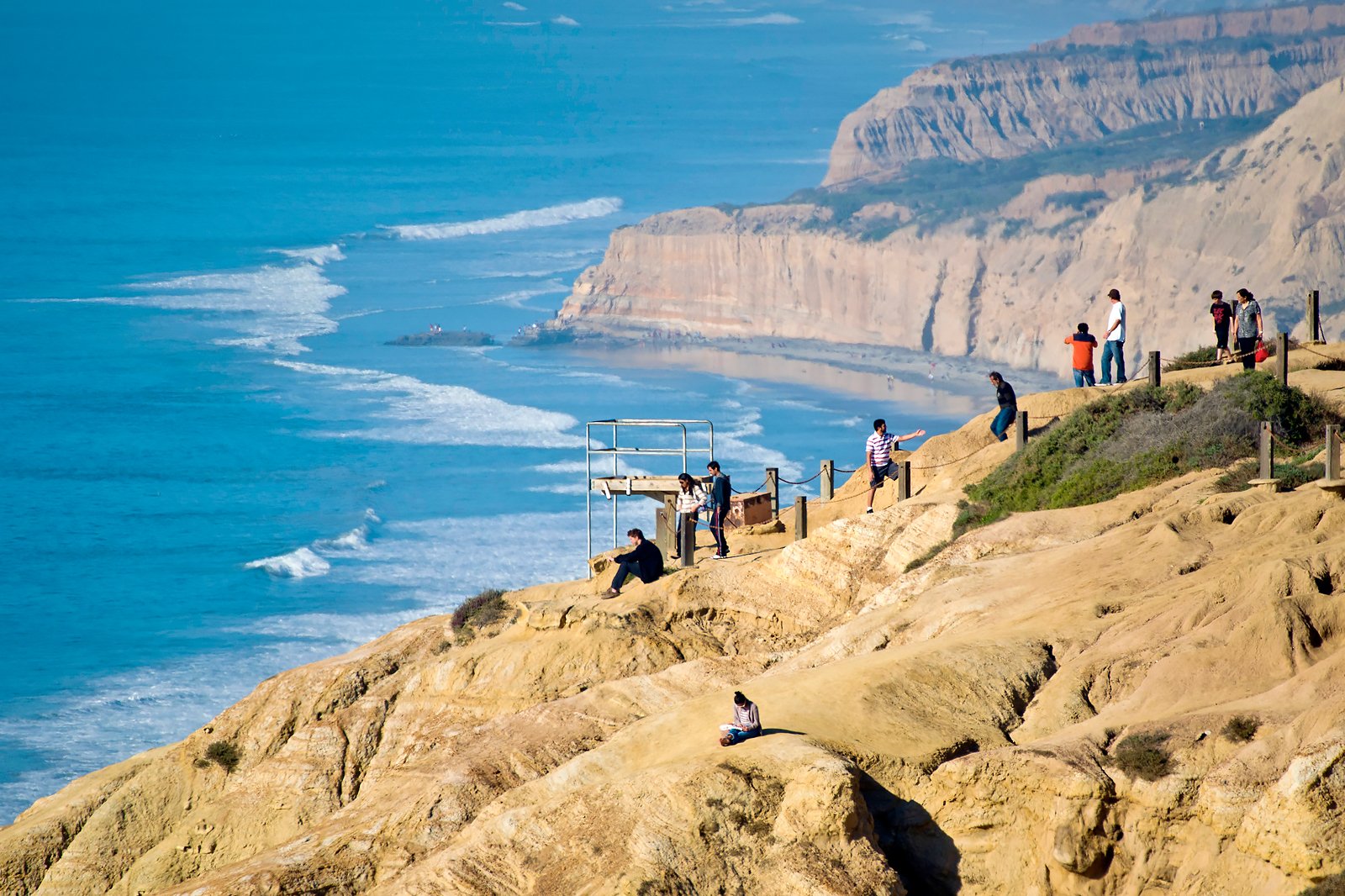 Hike the Torrey Pines
1,750 acres of natural wonder
The Torrey Pines State Natural Reserve is a large expanse of pine forests and cinnamon-dusted canyons. The reserve is dedicated to preserving its namesake tree, the Torrey Pine, and its surrounding wildlife. Tourists flock to the reserve to hike its endless trails, which bring you through desert landscapes and to cliff edges that look out across the Pacific Ocean. A short drive from downtown San Diego, it's best to hike in the cool of the morning or towards the evening, when you can also catch the sunset. For couples looking to maximise their time, take the Broken Hill Trail, which is 2.5 miles long and has amazing ocean views.
地點: 12600 North Torrey Pines Road, La Jolla, CA 92037, USA
開放時間: Daily from dawn to dusk
電話: +1 858-755-2063
相片由 Dirk Hansen 提供 (CC BY-SA 3.0) 經修改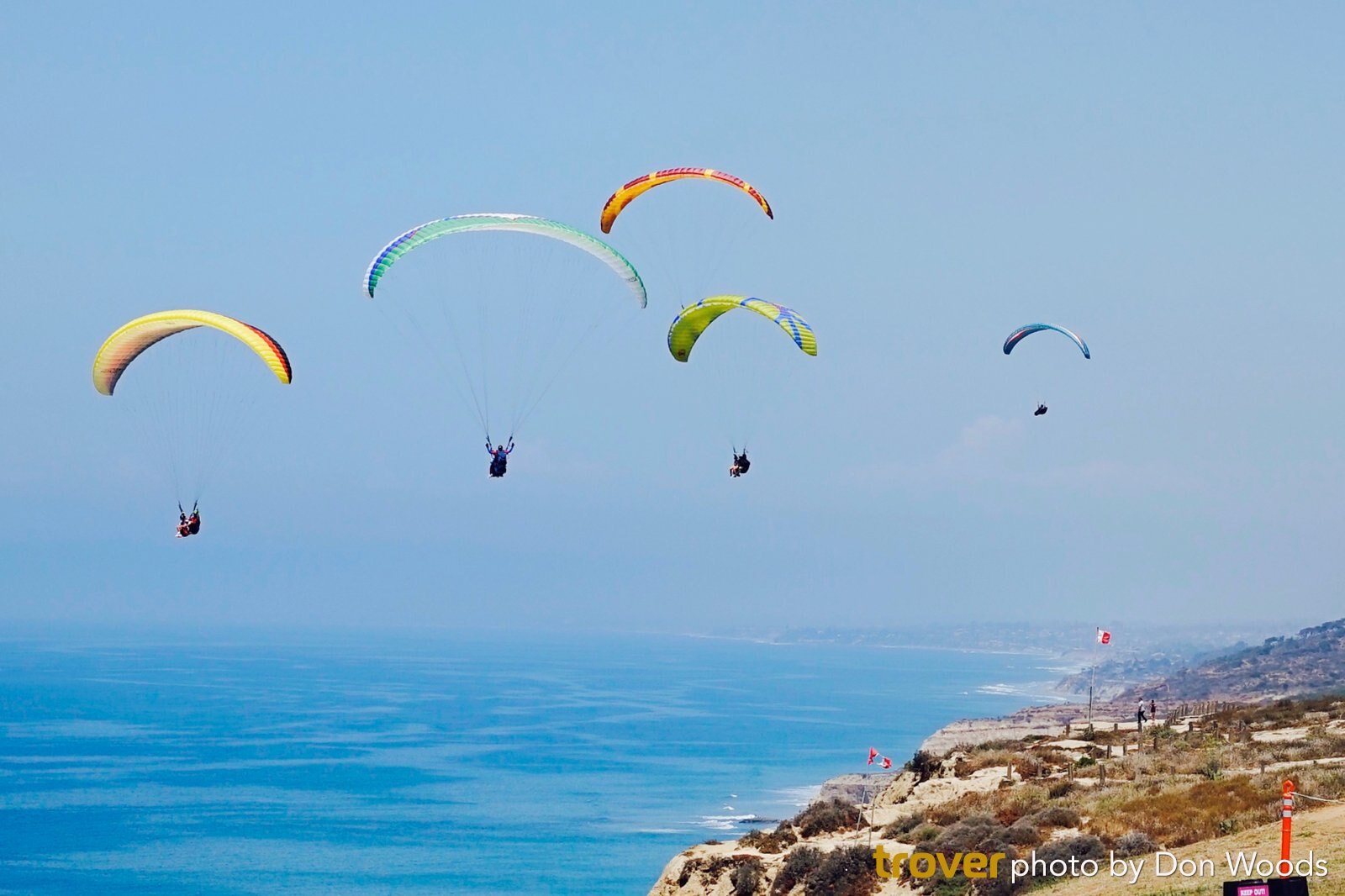 Picnic at Gliderport
Enjoy watching the glider traffic
Gliderport is found within Torrey Pines and is an exciting place to visit during the spring and summer months. As one of the best places to paraglide and hang glide, it is often busy with adventure junkies. If you're feeling adventurous, soar over the cliffs of La Jolla and take in the brilliant blue of the ocean. If you'd rather relax, you can watch the colourful parachutes of the gliders float across the sky and ocean. Also nearby is Black's Beach, a secluded section of sand beneath the bluffs of Torrey Pines. To end the day, come here with a blanket and watch the sky darken.
地點: 2800 Torrey Pines Scenic Drive, La Jolla, CA 92037, USA
開放時間: Daily from 6am to 8pm
電話: +1 858-452-9858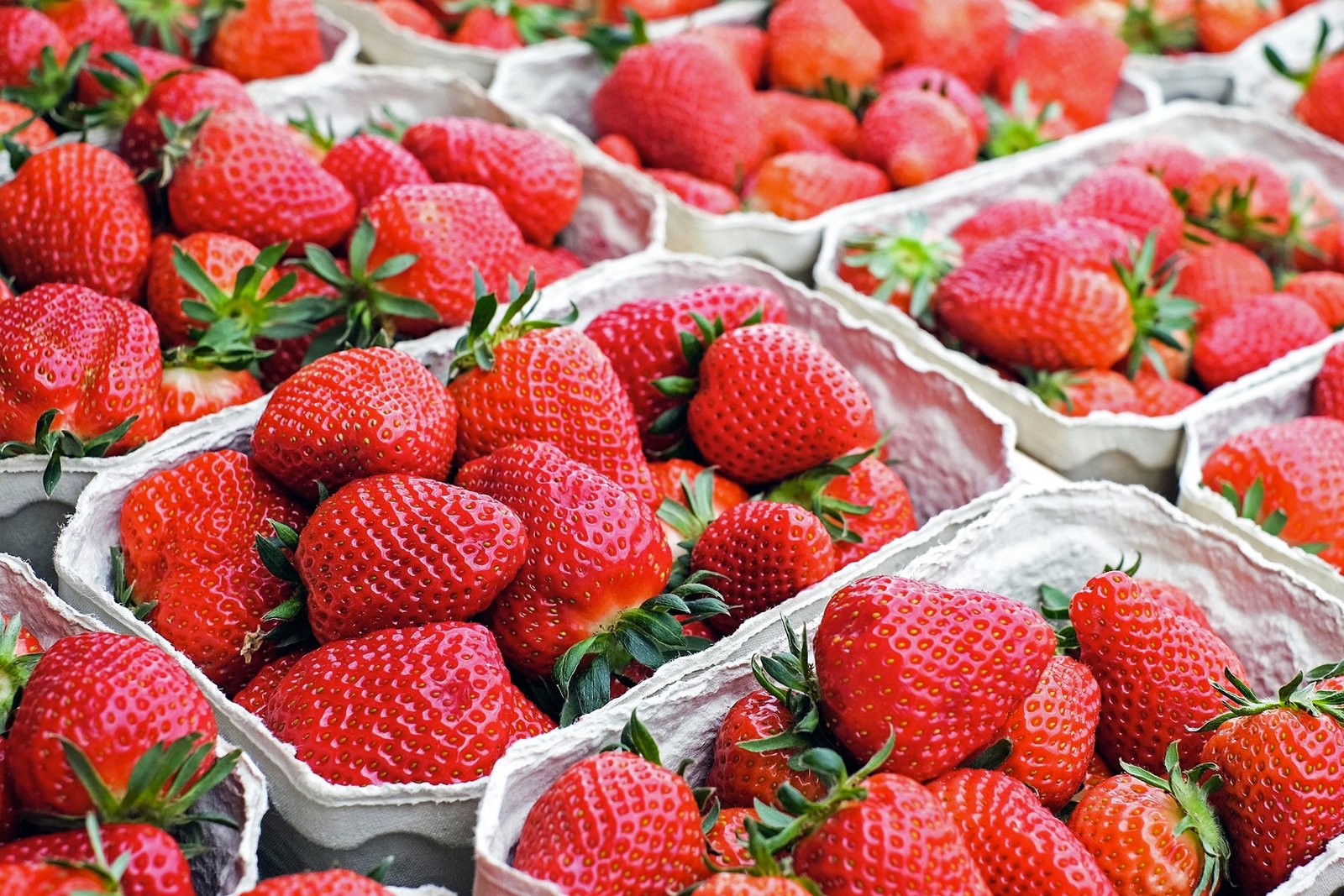 Ocean Beach Farmers Market
The quirky market by the beach
San Diego has no shortage of farmers' markets. However, Ocean Beach Farmers Market is arguably the most eccentric of them all. Held every Wednesday afternoon in the hippie enclave of Ocean Beach, you'll find local farm stands and vendors selling delicious fresh fruit and vegetables. Wander around the market with your loved one and take in the laidback, fun atmosphere. You can sit along the beach and watch the unusual goings-on of the market, including guitarists and drummers jamming out together or jugglers and fire dancers amusing passing shoppers. Alternatively, partake in an impromptu yoga class (something easily found in San Diego).
地點: 4800 Newport Avenue, San Diego, CA 92107, USA
開放時間: Wednesday from 4pm to 8pm
電話: +1 619-279-0032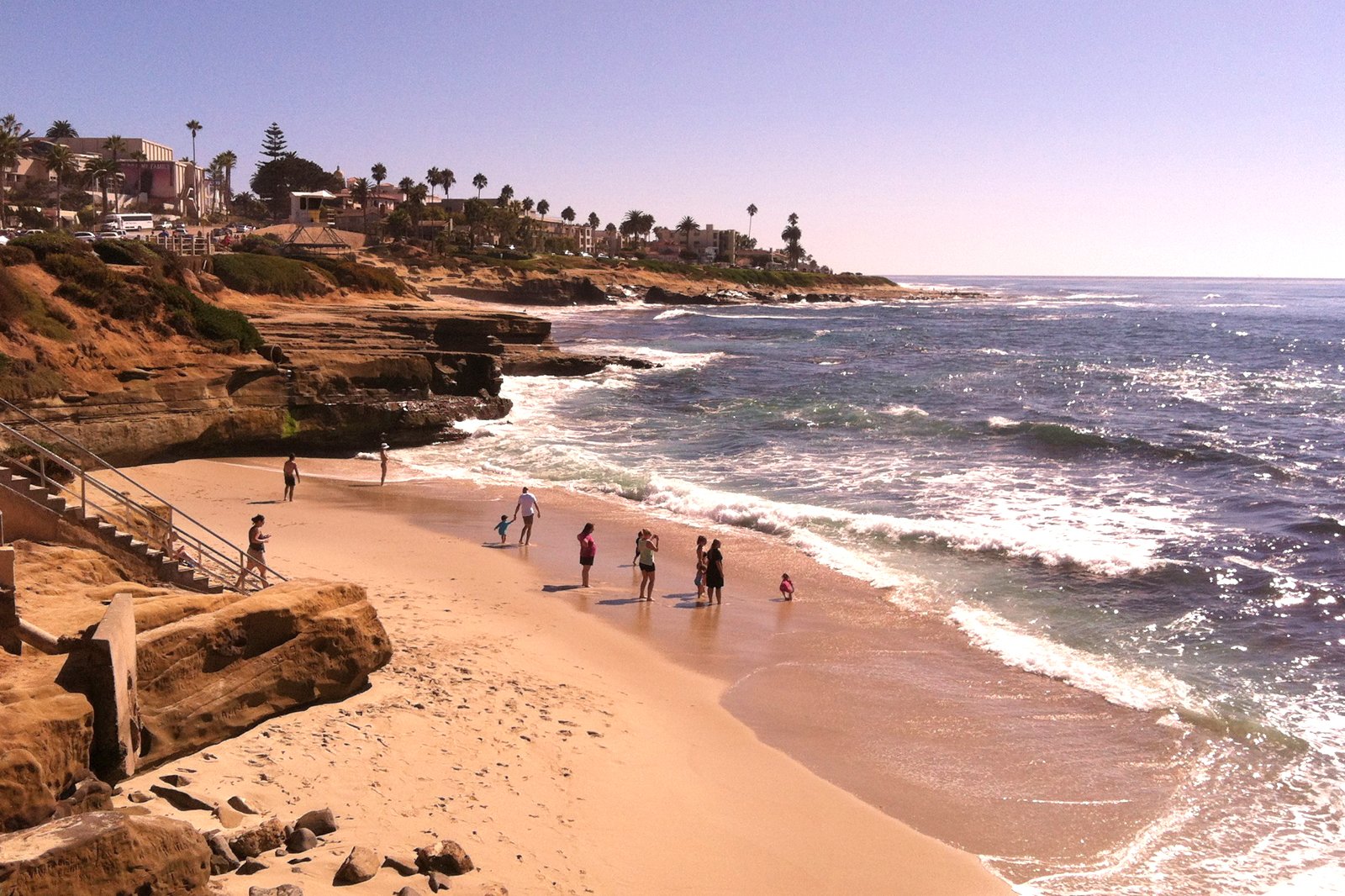 Stroll along La Jolla Shores
Hang out with leopard sharks
You can lie on the beach or in the cool grass of the park at La Jolla Shores. This quaint beach and park is a lovely place to bask in the sun and enjoy the sea breeze, making it a truly tranquil setting. If you visit during early August or early September, you can see leopard sharks (don't worry, they're harmless) relaxing near the beach. Go snorkelling or kayaking with them and make some special memories with your loved one.
地點: 8300 Camino Del Oro, La Jolla, CA 92037, USA
電話: +1 619-221-8899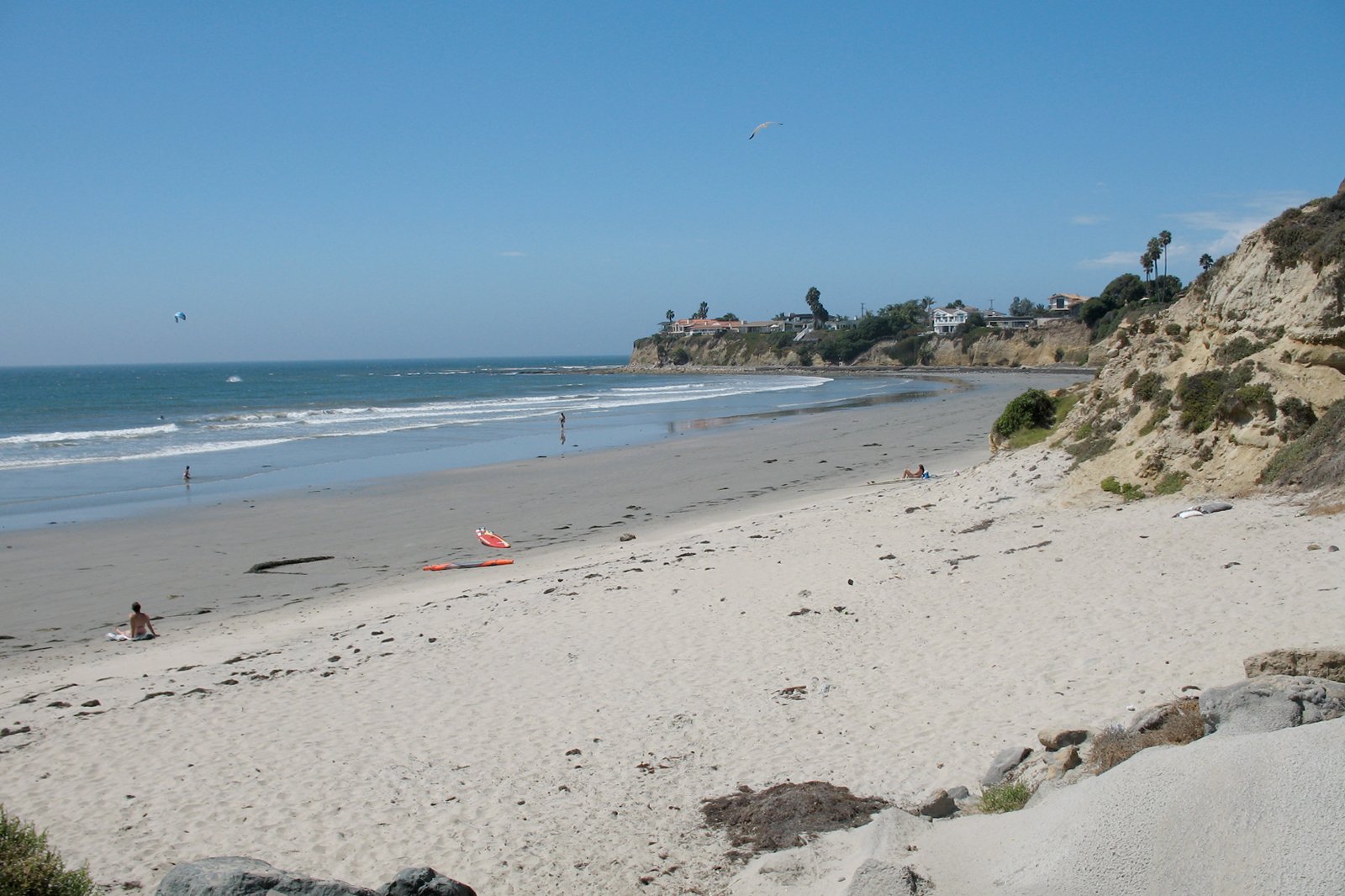 Sunbathe at Tourmaline Surfing Park
A hotspot for surfing and windsurfing
Tourmaline Surfing Park is a hidden gem located in North Pacific Beach. Lined with craggy cliffs that are 75 feet high, this amazing stretch of sand is separated into two – one side for surfers, the other just for swimmers. Bring a picnic to have on the beach or at one of the many picnic tables dotted around, and watch surfers and windsurfers go about their routine. There are also fire pits available, so you can extend your stay into the night and watch the stars from the sand.
地點: Tourmaline Surf Park, San Diego, CA 92109, USA
相片由 Invertzoo 提供 (CC BY-SA 3.0) 經修改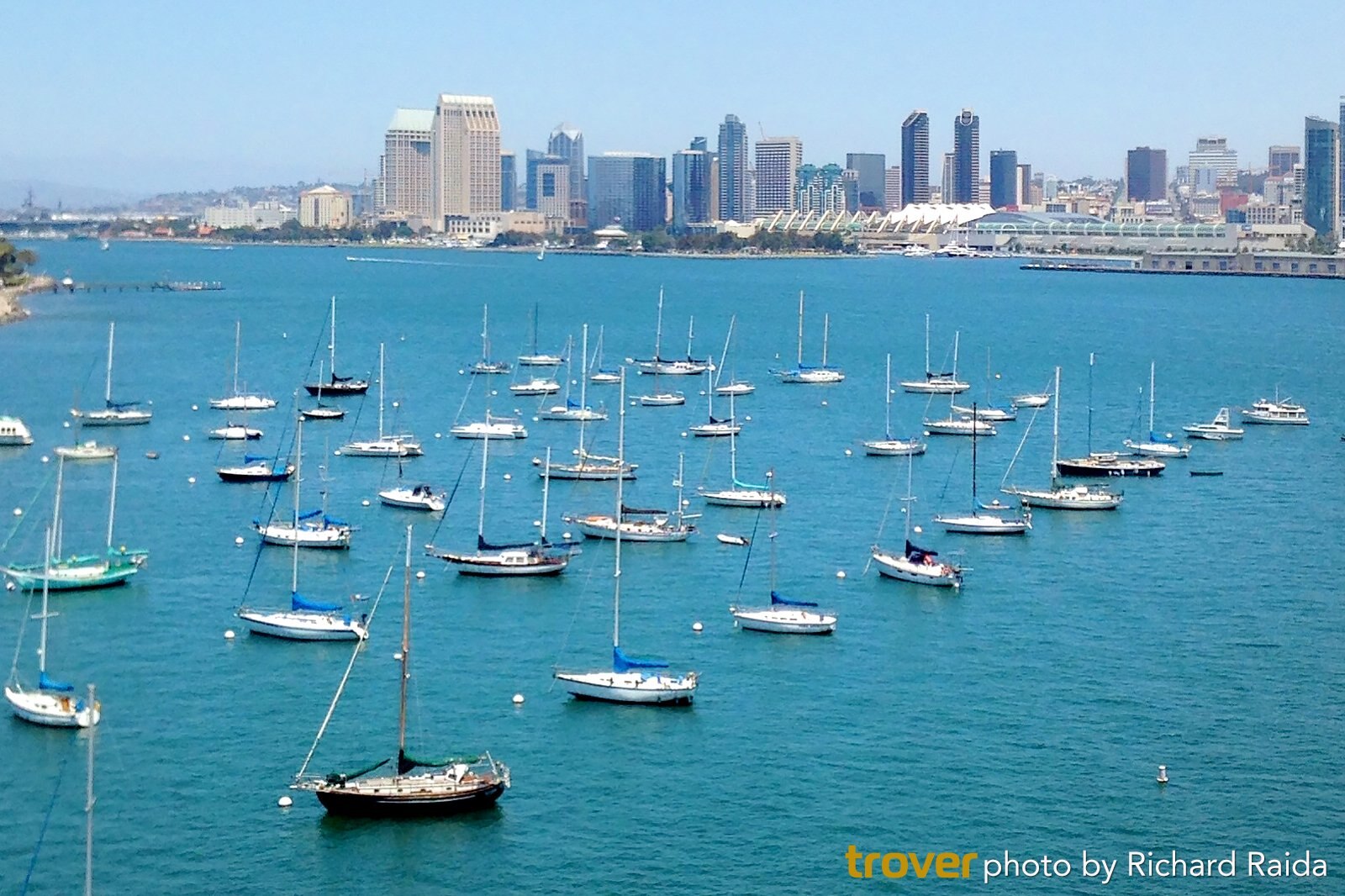 Cruise along San Diego Bay
A day of striking natural beauty
San Diego Bay holds some of the best views of the city's skyline as well as the beaches of Coronado. Treat yourselves to a day on the water and book a sailboat tour of the bay or, if you want a more hands-on experience, rent a jet ski. San Diego Bay Adventures have guided jet ski tours, which take you to some of San Diego's historic military sites. Scooting around the bay, you'll find yourselves taken aback by the blueness of the water and the dramatic curves of the coast. For extra dreaminess, stay on the water for sunset and watch golden rays glisten on the waves.
地點: Tourmaline Surf Park, San Diego, CA 92109, USA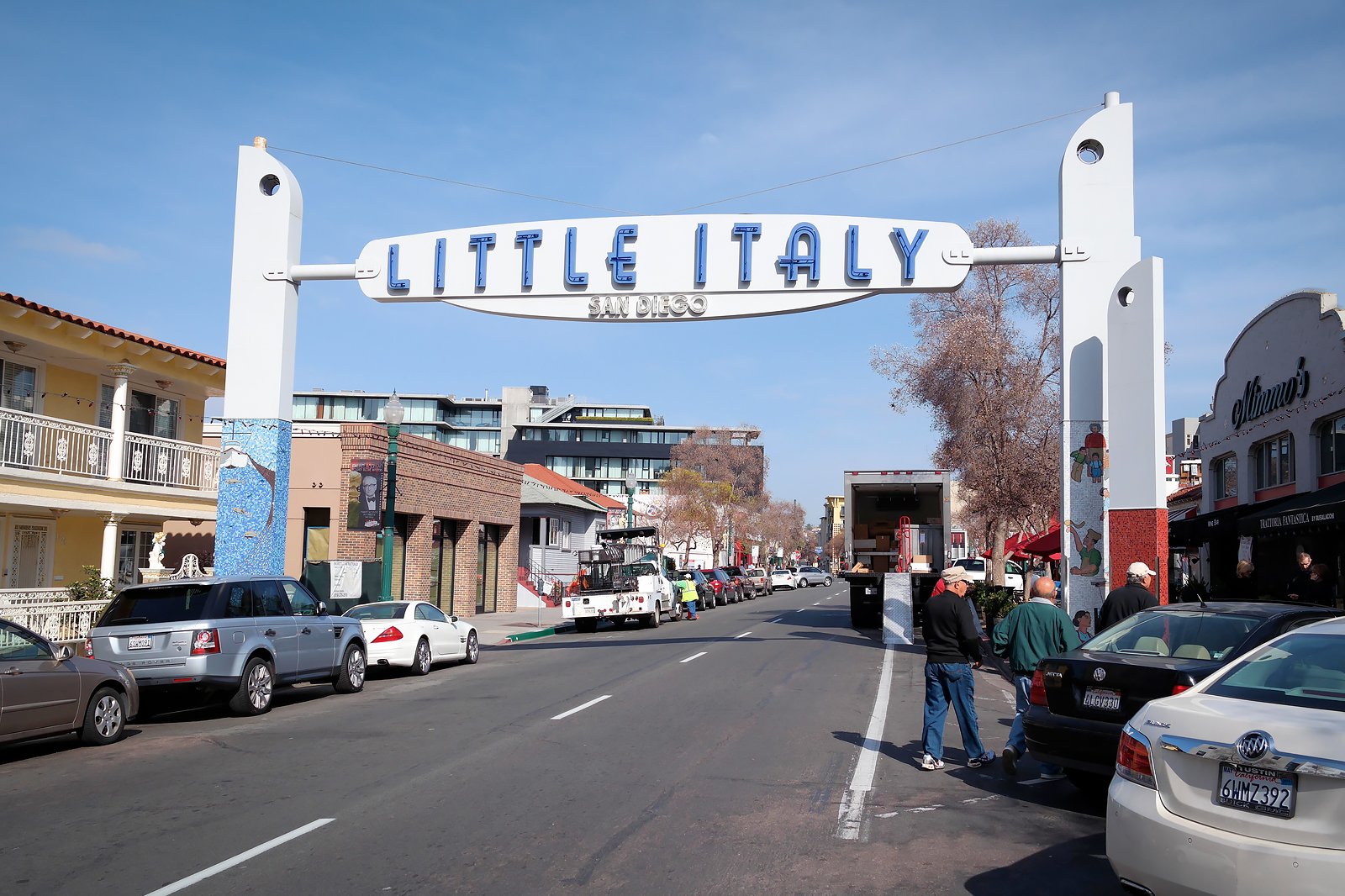 Little Italy
A former Italian fishing neighbourhood
Little Italy, found near the harbour, is home to charming Italian restaurants, bakeries, cocktail bars and boutique shopping. A wander around this quaint neighbourhood will reveal its bustling streets filled with life, especially at night. The restaurant-heavy area has impressive Italian joints such as Barbusa, Buon Apetito and Civico 1845 – found on India Street, somewhat ironically. Tuck into a hearty dinner and then head over to Extraordinary Desserts. This place is a sugary heaven that offers mini portions, in case you're already too full from your main course. On Saturdays from 8am to 2pm, the Little Italy Mercato Farmers Market takes over the area, with over 175 vendors selling handmade gifts, artisanal foods and fresh produce. It's safe to say food-centric couples will flourish in Little Italy.
地點: Little Italy, San Diego, CA 92101, USA
相片由 Visitor7 提供 (CC BY-SA 3.0) 經修改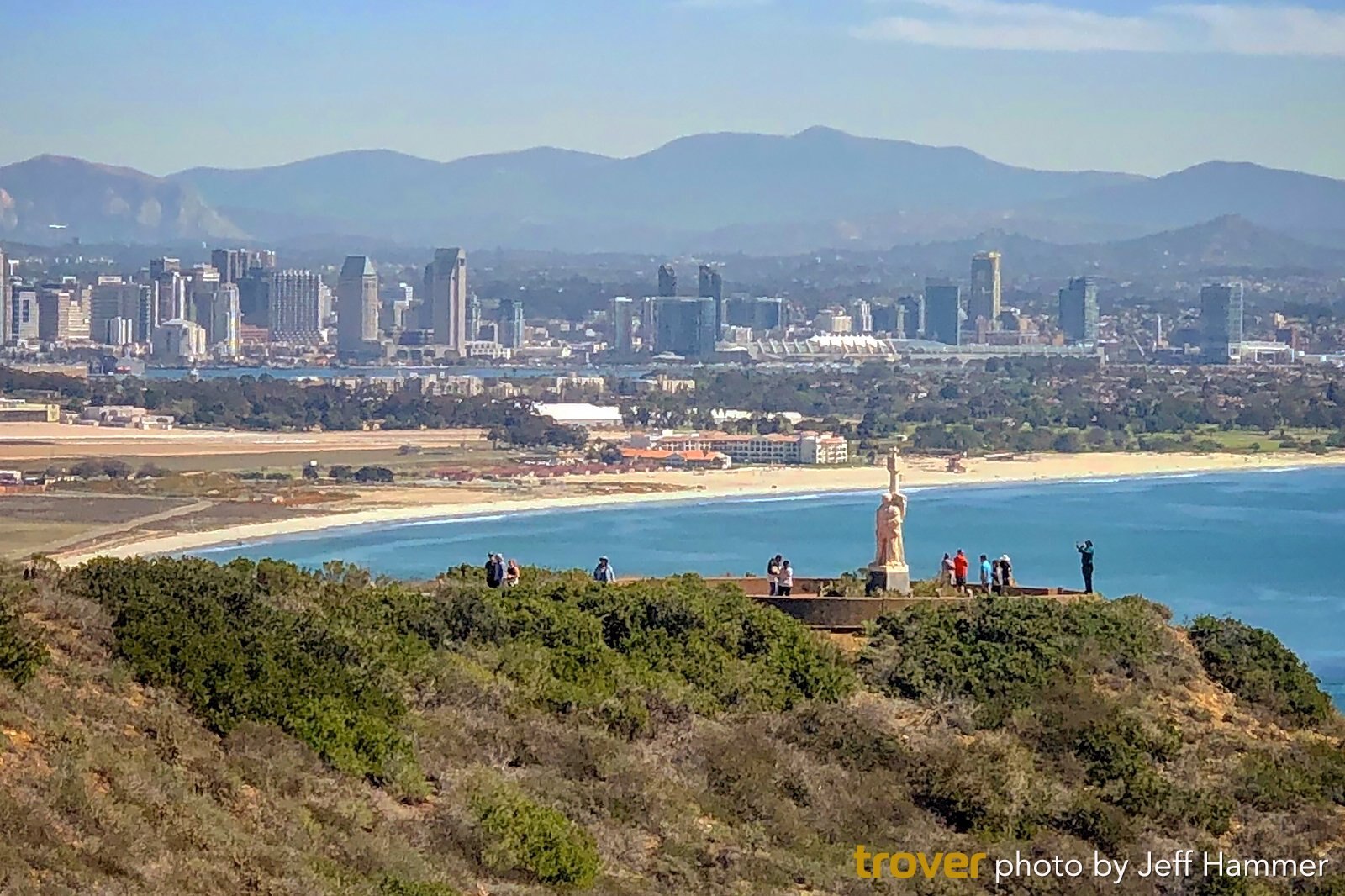 Cabrillo National Monument
A wealth of cultural and natural attractions
Cabrillo National Monument marks a historic place in San Diego. In 1542, Juan Rodriguez Cabrillo stepped onto the shores of what would become the city, making him the first European to visit the west coast of North America. The glaringly white monument against the all-encompassing blue of the ocean is a stunning sight to behold. A visit to the monument is worth it for its rich history and magnificent views of San Diego. You can also take a walk around the picturesque park and see Old Point Loma Lighthouse sat atop a jagged cliff. The tide pools come to life during low tide and are fascinating places to explore. They close earlier than the rest of the park, at 4.30pm, so remember to head there first.
地點: 1800 Cabrillo Memorial Drive, San Diego, CA 92106, USA
開放時間: Daily from 9am to 5pm
電話: +1 619-557-5450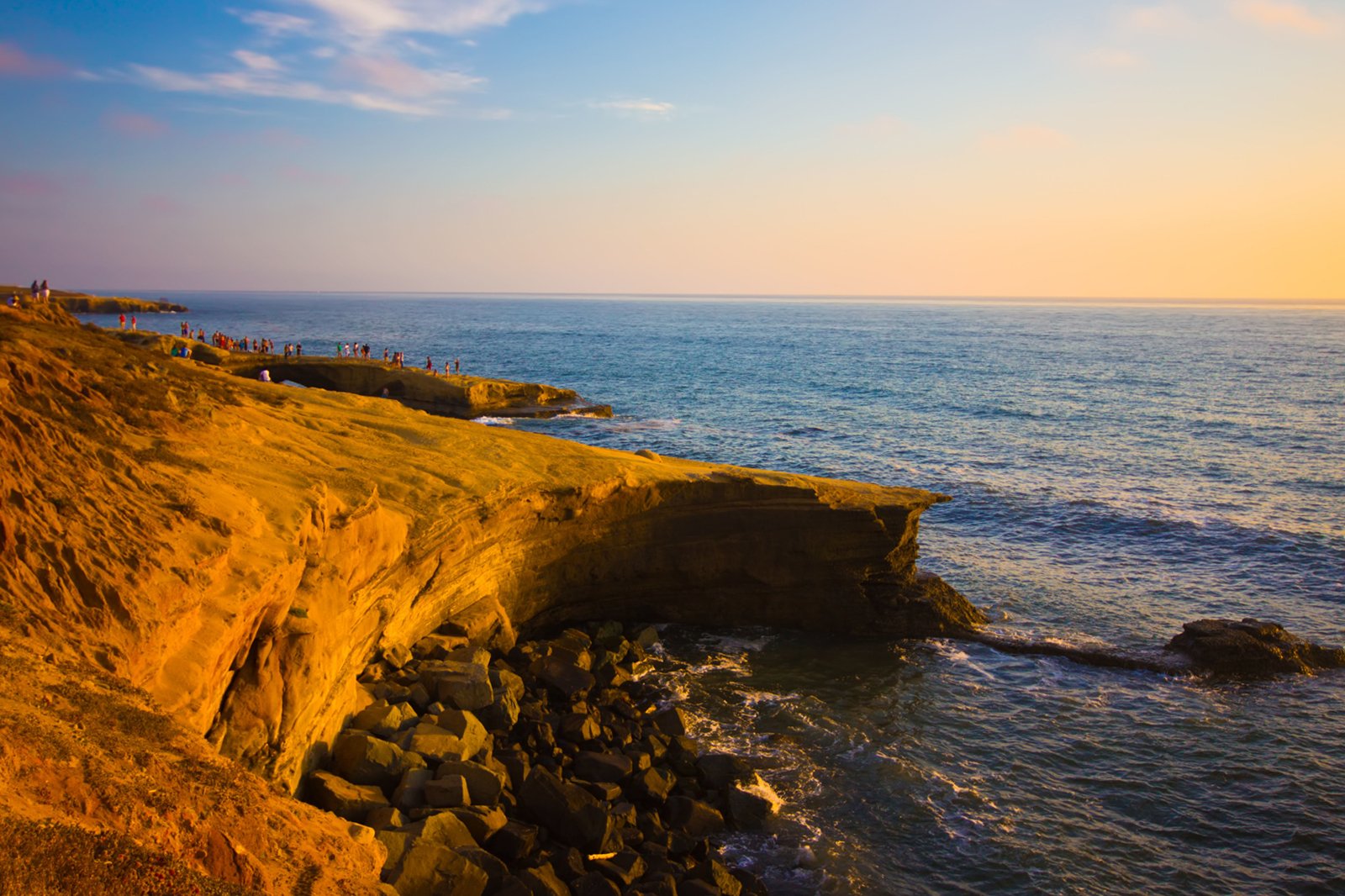 Sunset Cliffs Natural Park
An idyllic place to watch the sun go down
Sunset Cliffs Natural Park extends along the shore of the Pacific Ocean, bordering the western edge of Point Loma. Come sundown, it's immersed in a golden hue of light and views from the park are really spectacular. Its natural beauty gives it a romantic atmosphere that is heightened at dusk and dawn. This spot is very popular during sunset (for good reason), so come early to secure a nicer spot for you and your loved one. Why not bring a bottle of wine as well?
地點: Ladera Street, San Diego, CA 92107, USA
開放時間: Daily from 7am to 9pm
電話: +1 619-525-8213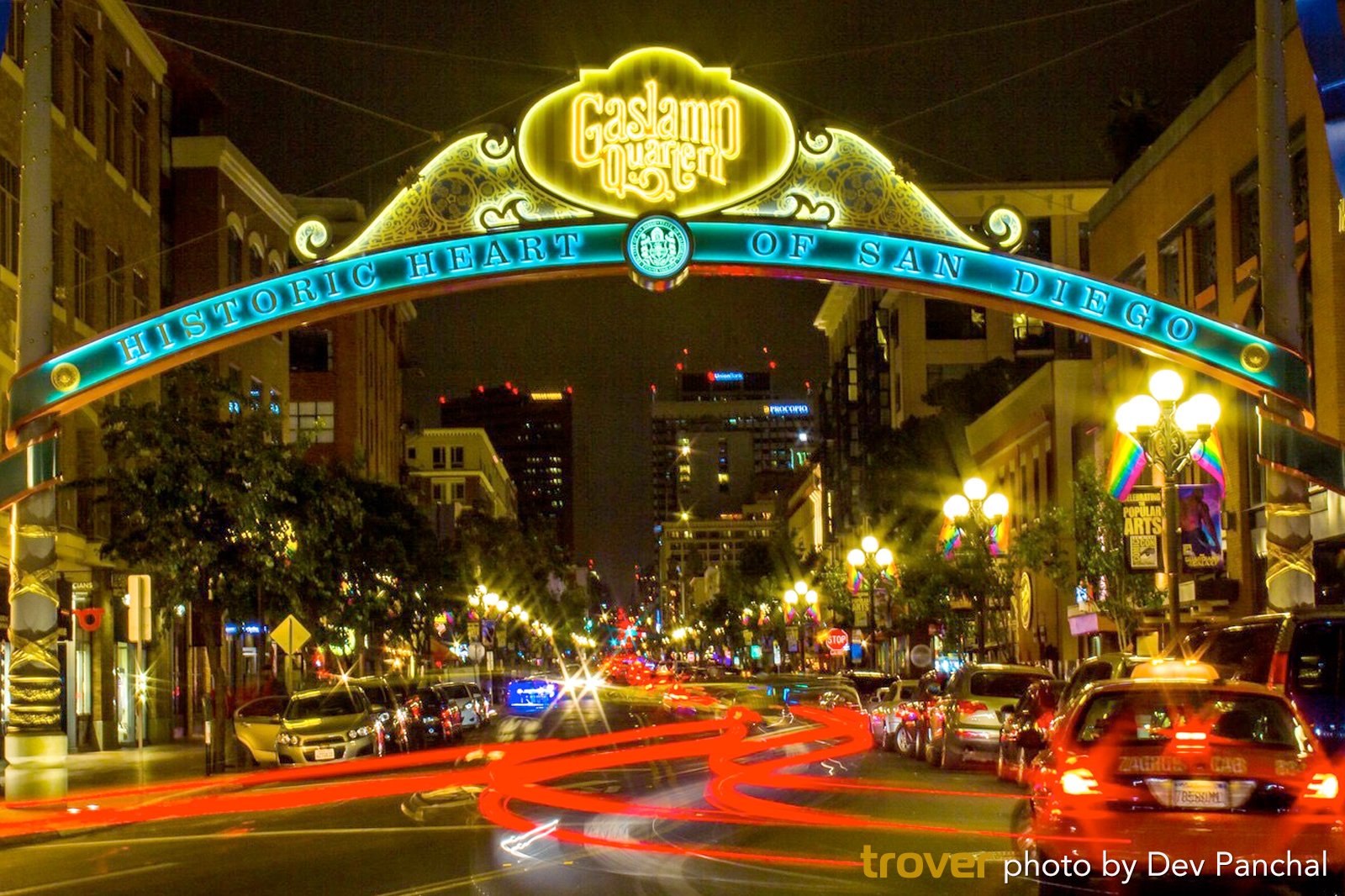 Barhop in the Gaslamp Quarter
The epicentre of San Diego's nightlife
The Gaslamp Quarter is 16 blocks of happening clubs, cocktail, dive bars and restaurants. Because of this, it draws in young crowds who fill up the streets come nightfall. Some even say it gets busier here than the streets of Las Vegas! For couples who want a bit of liveliness, you won't be disappointed. Particularly popular (and unique) bars include Tipsy Crow and Noble Experiment. If you're just looking to soak in the lively atmosphere, a walk down 5th Avenue will do the trick.
地點: Gaslamp Quarter, San Diego, CA 92101, USA