10 Best Things to Do in Lanzarote
What is Lanzarote Most Famous For?
Lanzarote is the 4th largest of the Canary Islands, famous for its volcano-clad landscapes and palm tree-fringed beaches. It's such a unique landscape that UNESCO declared the island a Biosphere Reserve back in 1993. But there's much more to do in this alluring isle than gawk at the gorgeous scenery as Lanzarote is also a major player in Canary's cultural scene.
Fine wine awaits the thirsty traveller at Lanzarote's world-class vineyards, while bustling markets and buzzing nightlife ensure there's always something going on and for you to discover. Throw in a staunch bohemian vibe courtesy of the famed artista César Manrique, and you've got an eclectic destination for your Spanish island escape.
What are the best things to do in Lanzarote?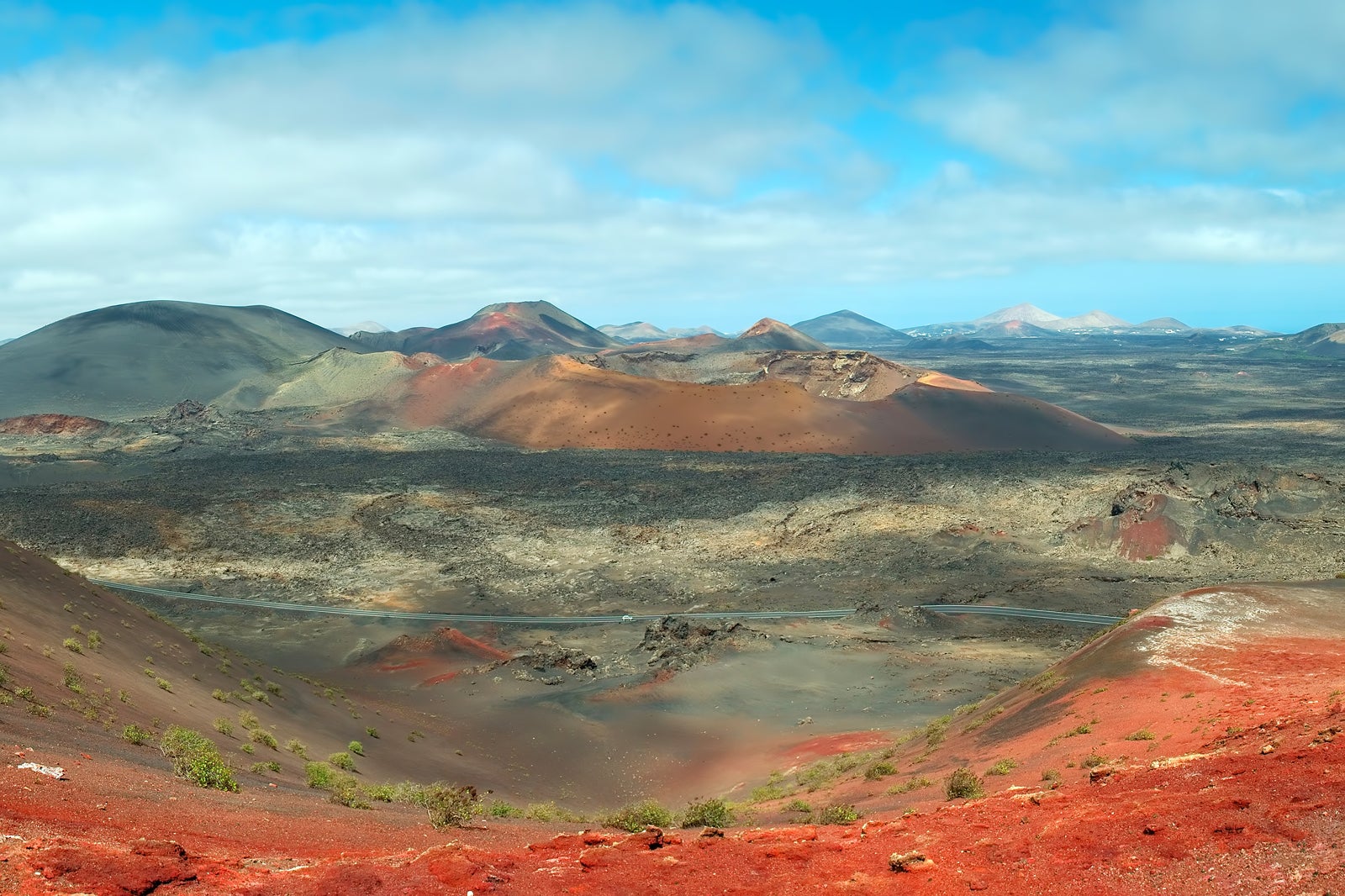 Timanfaya National Park
Admire the raw power of Mother Nature
Timanfaya National Park marks the spot where a series of booming 18th-century eruptions created a cragged otherworldly landscape. Today, the vast basalt expanse has become the island's top natural feature. Travellers must zip around on a bus tour because the fragile geothermal hills of the so-called Montañas del Fuego ('Mountains of Fire') are far too treacherous to traverse on foot (try Parque Natural los Volcanes for hiking instead).
Along the 40-minute loop, you'll encounter several of the volcanic craters that decimated the land all those centuries ago. Stop by the information centre to see scientific experiments illustrate the immense temperatures that radiate below the Earth's crust. The El Diablo restaurant can even whip you up a tasty feast cooked entirely on geothermal heat.
地點: Parque Nacional de Timanfaya, Las Palmas, Spain
電話: +34 928 11 80 42
相片由 Lviatour 提供 (CC BY-SA 3.0) 經修改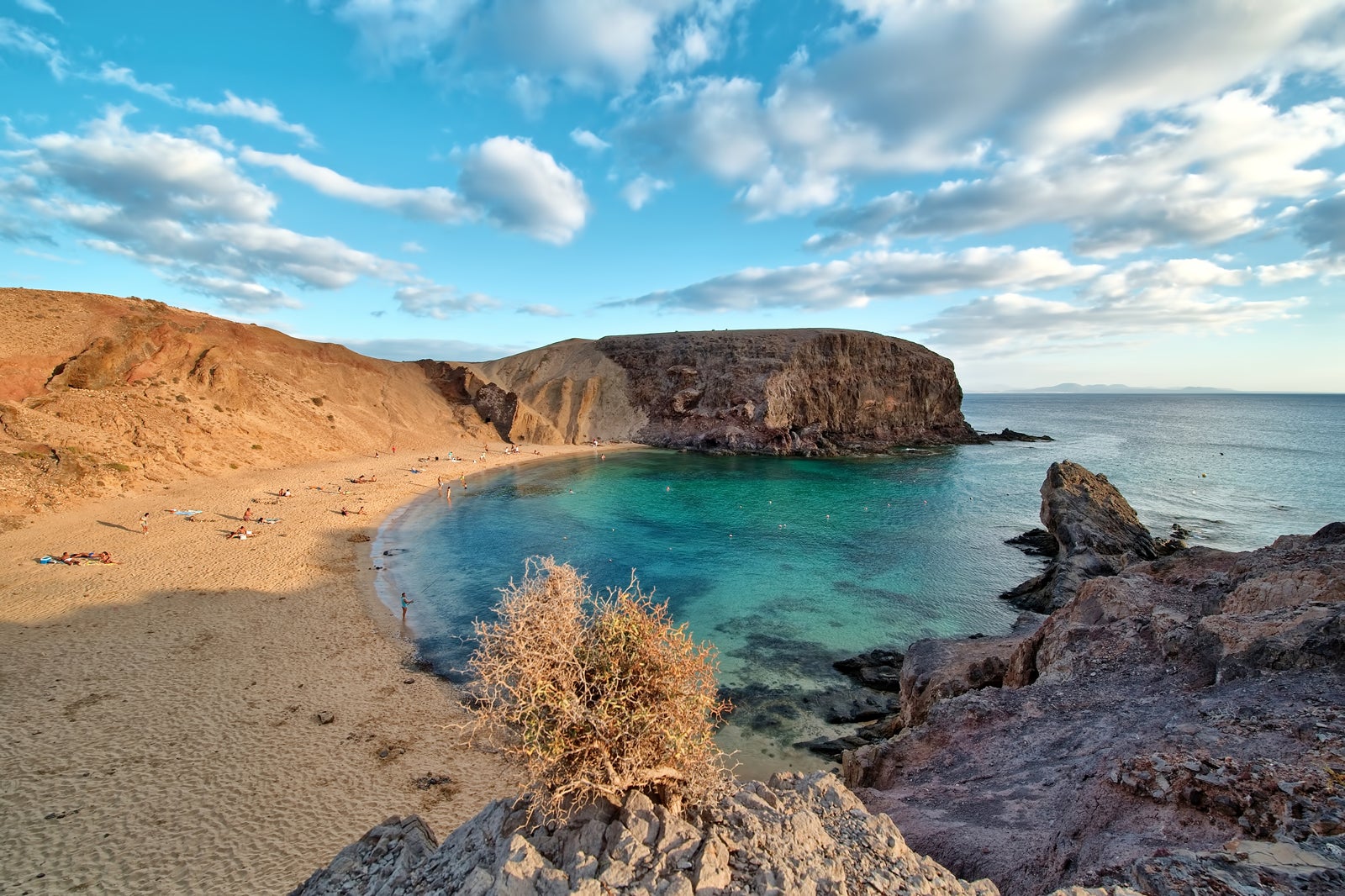 Papagayo Beach
Fun in the sun for all ages
Playa de Papagayo (Papagayo Beach) is Lanzarote's picture-postcard stretch of sand – among the top mentions in an island famed for its beautiful beaches. Besides, these tranquil turquoise waters are sheltered from the open ocean and devoid of dangerous currents, making them the ideal spot for an enjoyable swim. There are 7 pretty yellow sand beaches in the zone on the southern tip of the island, each of which is divided by a lava rock barrier.
Other outstanding options include Playa Chica for its wildlife-rich seabeds and Playa del Charco de los Clicos for its striking contrast of black, red, and green.
地點: Papagayo Beach, 35580 Yaiza, Las Palmas, Spain
相片由 Lviatour 提供 (CC BY-SA 3.0) 經修改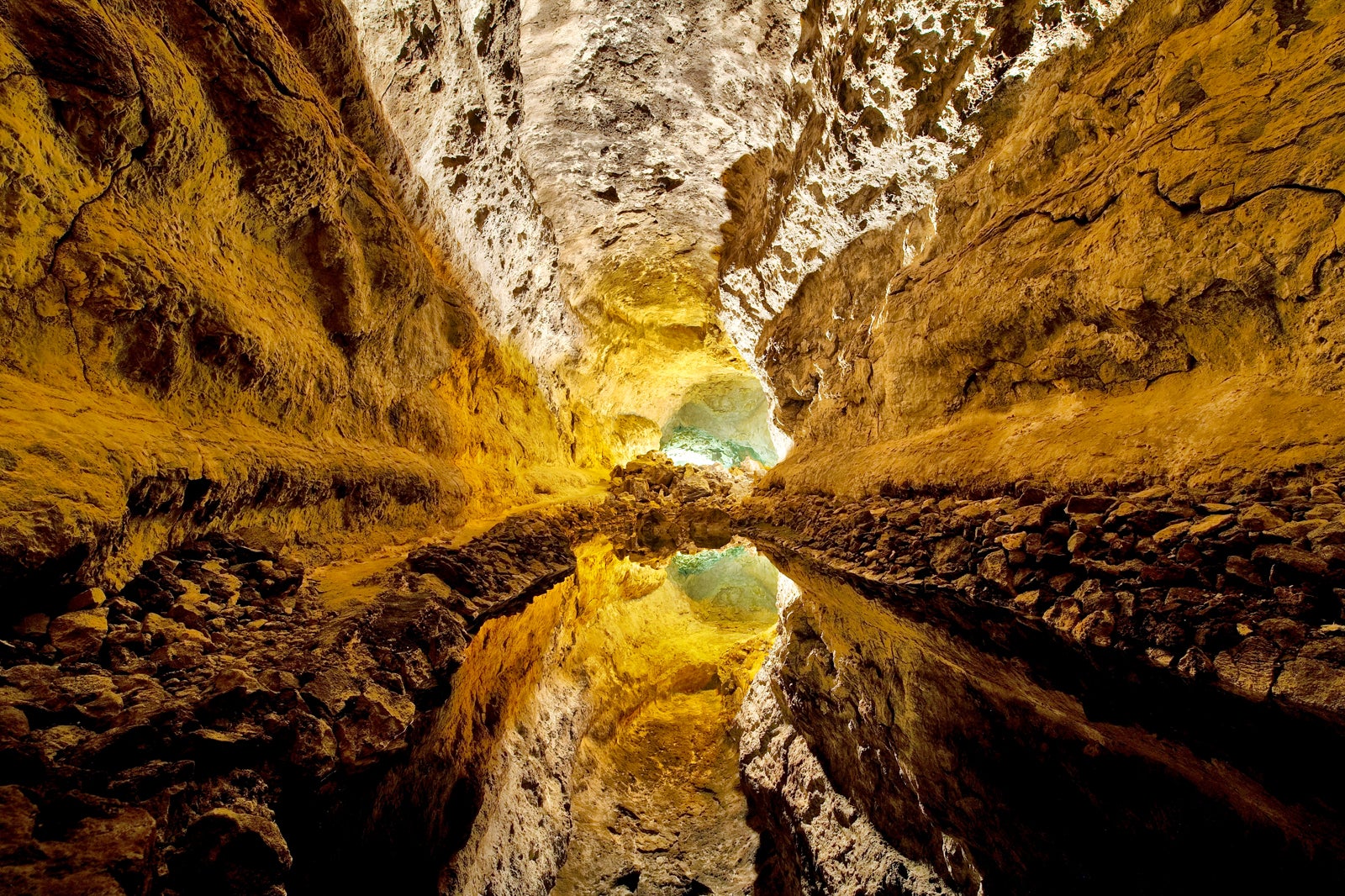 Cueva de los Verdes
Cave down the barrel of a lava tube
Formed thousands of years ago, La Cueva de los Verdes is a lava tube that extends some 4 miles below the surface. About a quarter of the stretch is open to the public, allowing you to meander through this underground expressway as you marvel at its psychedelic formations and otherworldly hues. The tube formed upon the eruption of Monte Corona by lava hardening on the outside but continuing to flow within.
Another exciting subterranean attraction is the Jameos del Agua, a natural cave which renowned local artist César Manrique gave an avant-garde makeover. Manrique converted the space into an underground fantasy world complete with a restaurant, a bar, an auditorium, and an unusual undulating pool.
地點: Cueva De Los Verdes, 35542 Arrieta, Lanzarote, Las Palmas, Spain
開放時間: Daily from 10am to 5pm
電話: +34 928 83 97 82
相片由 Lviatour 提供 (CC BY-SA 3.0) 經修改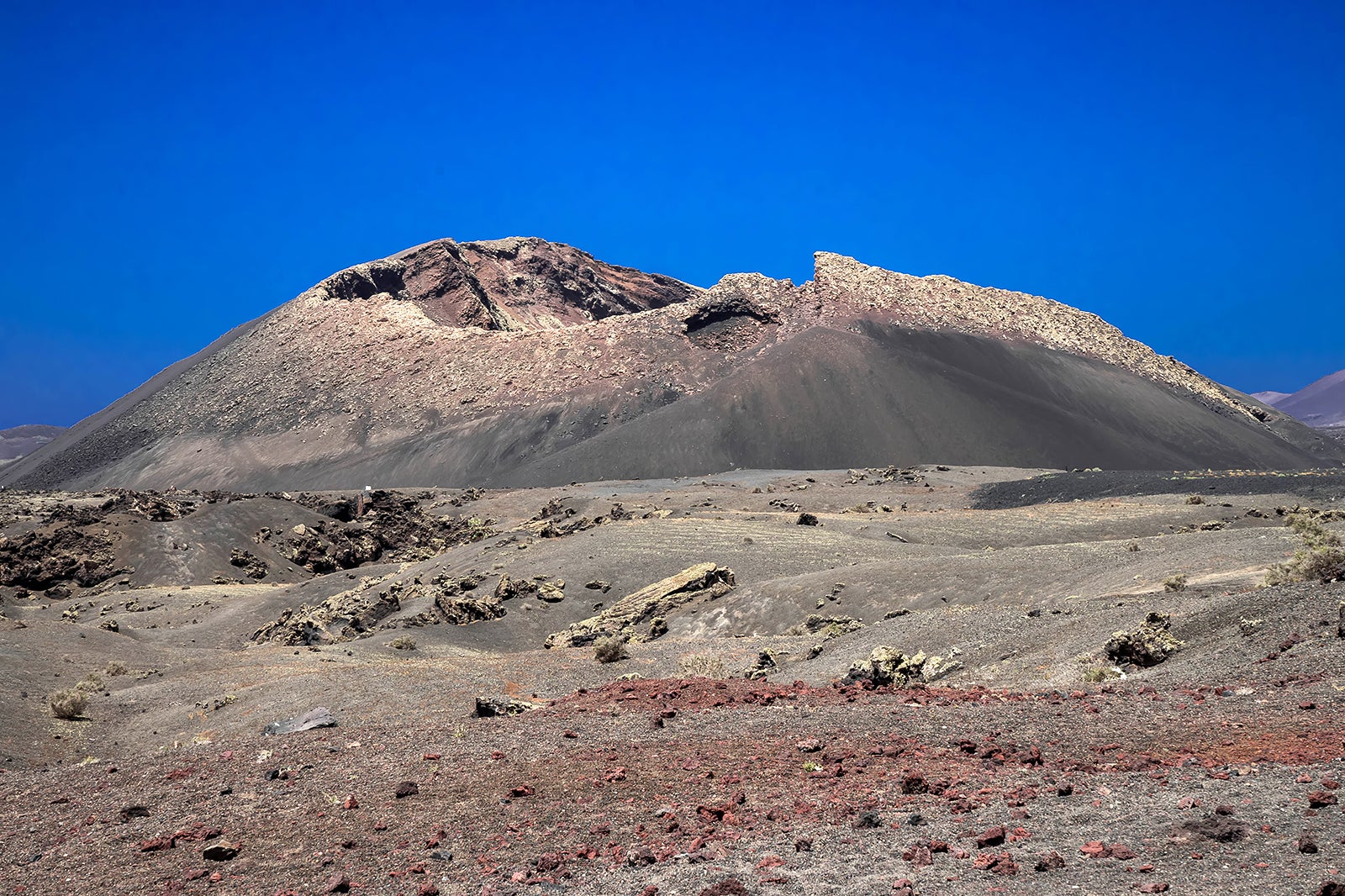 Volcán El Cuervo
Take a closer look at Lanzarote's volcanic past
Volcán El Cuervo is the best place to go if you wish to get up close and personal with a Lanzarote volcano. Located on the eastern edge of the Los Volcanes Natural Park, El Cuervo is easily accessible by anyone in reasonably good health. The undemanding 5-km trail begins at the public carpark and ascends a gentle slope before circling the upper rim.
Up above, you'll enjoy breathtaking views of the desolate landscape before descending into the centre of the crater. Venturing directly into a volcano is a memorable experience, and this gentle trail makes the El Cuervo climb achievable by virtually anyone.
地點: Volcán El Cuervo, 35560 Tinajo, Las Palmas, Spain
相片由 Enric Rubio Ros 提供 (CC BY 2.0) 經修改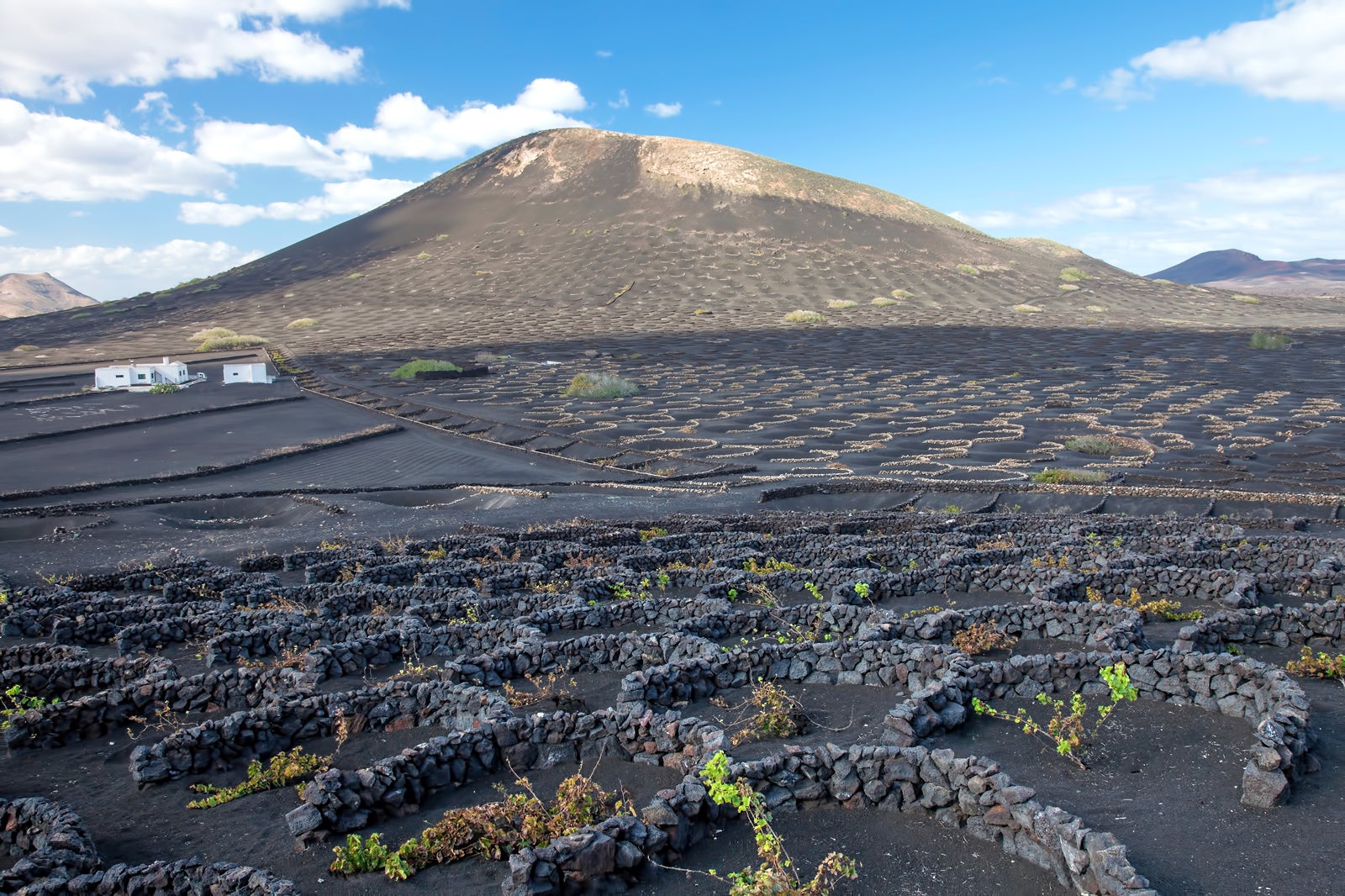 Sample vino at La Geria
Try the island's fine volcanic wine
La Geria is living proof that volcanic soil can produce top-shelf wine. And regardless of whether you're a connoisseur of white or red, the vineyards of La Geria are a must for any vino aficionado on a trip to Lanzarote. Warm sunshine by day and strong condensation by night feed the vines all the nutrients needed to grow multiple varieties of plump and healthy grapes.
Jump on a 'Ruta del Vino' tour between Uga and Teguise to sample the best the region has to offer. The El Grifo vineyard features an insightful museum that details the artisanal production process, while various other wineries offer boozy tasting sessions. Self-drive is a viable option but be sure you don't overdo it on the samplers for the drive home!
地點: La Geria, 35570, Las Palmas, Spain
相片由 Tamara Kulikova 提供 (CC BY-SA 4.0) 經修改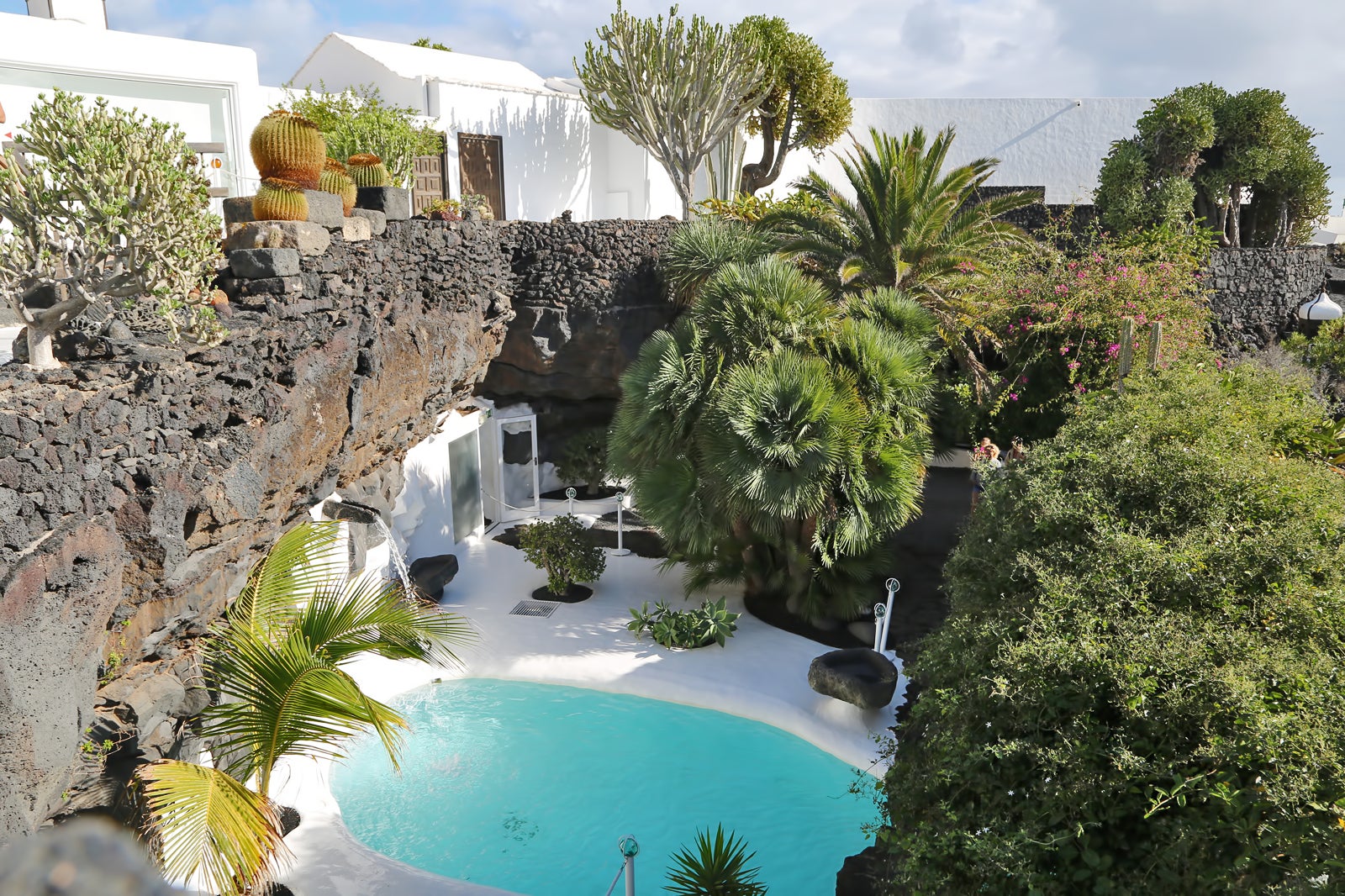 Cesar Manrique House Museum
Appreciate the genius of Lanzarote's finest artist
Exploring the Cesar Manrique House Museum is a must as this famous artist is Lanzarote's most renowned native. And even if you're not familiar with the man and his work, his eccentric mansion is a sight to behold.
Located in the quaint village of Haría, Manrique constructed the dreamy abode in an ancient lava tube, painstakingly sculpting 5 underground halls from naturally occurring volcanic bubbles. Each echoing chamber interconnects via a series of crisscrossing tunnels, while odd-ball architectural techniques and off-the-wall art installations make use of the abundant volcanic rock. Outside, whitewashed patios, undulating swimming pools, and swaying palm trees add a fresh Mediterranean vibe.
地點: Cesar Manrique House Museum, Calle Elvira Sánchez, 30, 35520 Haría, Las Palmas, Spain
開放時間: Daily from 10.30am to 6pm
電話: +34 928 84 31 38
相片由 Sophie Van Stratum 提供 (CC BY-SA 4.0) 經修改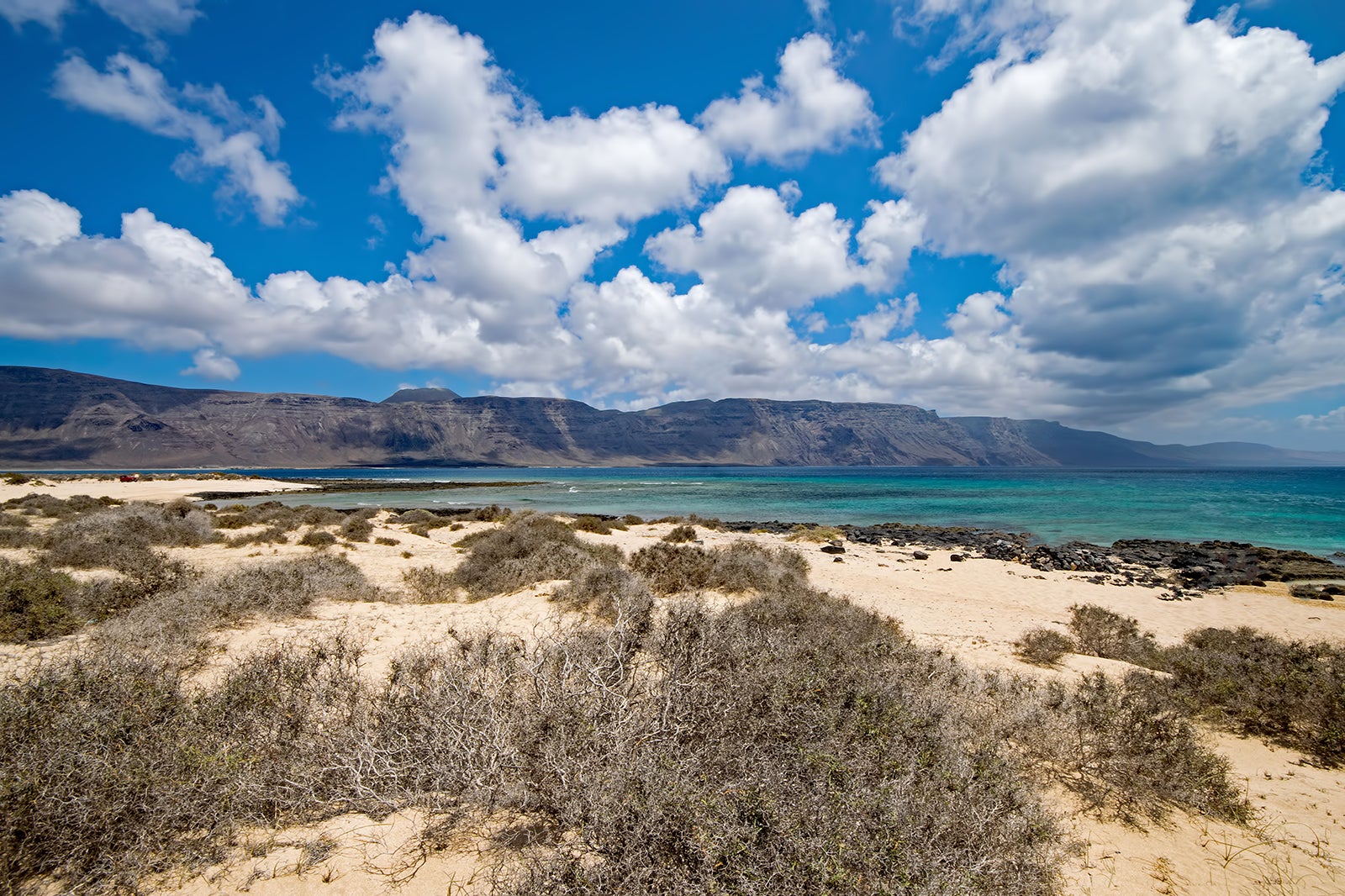 La Graciosa
Away from it all on an island escapade
The tiny island of La Graciosa is home to just 700 inhabitants, making for an idyllic place to escape the kefuffle of the modern world. A 35-minute ferry from Orzola sees you arrive at this remote paradise, where crystal clear waters lap upon white powdery sands. Hiking across its ochre-coloured hills or cycling through its backcountry roads makes for a serene day trip. If you prefer quality beach time, Playa Las Conchas is about as good as they get.
To appreciate the island's immense beauty without leaving the mainland, make your way to Mirador del Río on Lanzarote's northern shore. Legendary local architect César Manrique enhanced this natural viewpoint in his signature avant-garde style, resulting in a quirky construction that affords spectacular views of La Graciosa and beyond.
地點: La Graciosa, 35540, Las Palmas, Spain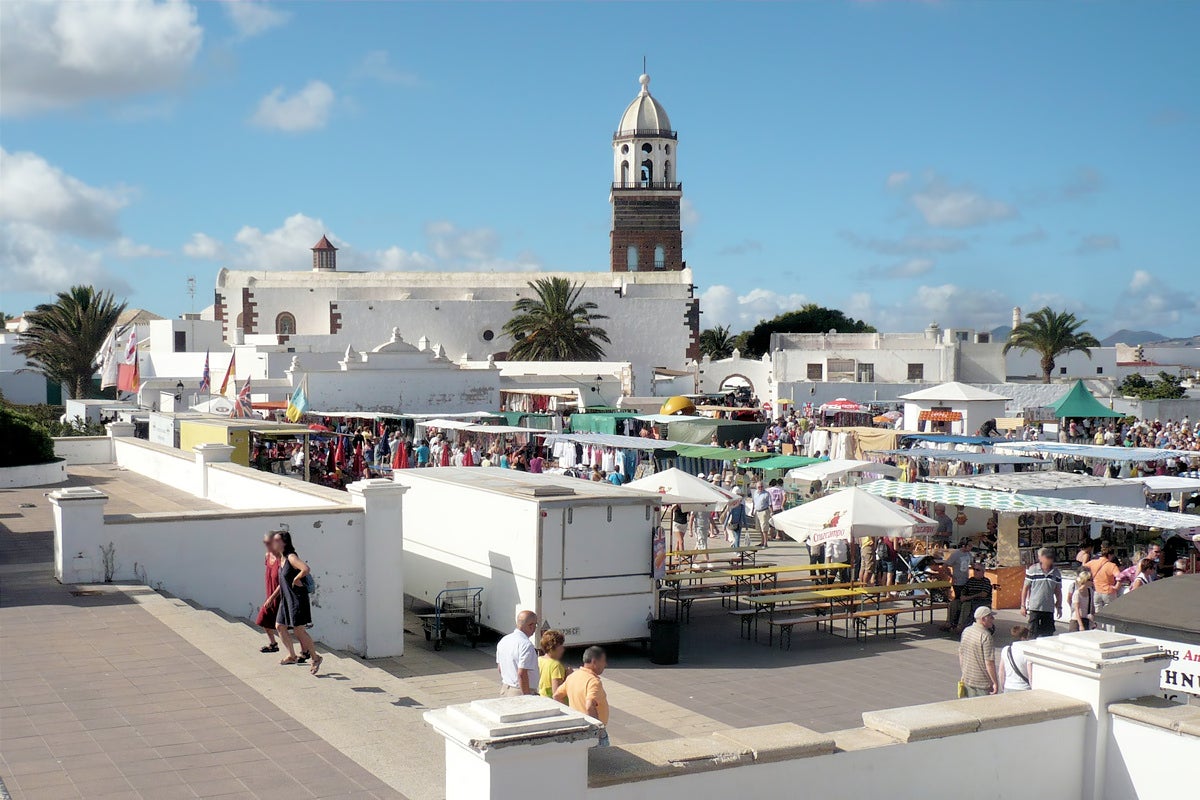 Teguise Market
Shop for local produce and souvenirs
The Teguise Market is the perfect spot to mingle with the locals as you haggle for an authentic Lanzarote souvenir. Founded back in 1402, this is the oldest settlement on the island and boasts quaint whitewashed buildings and palm tree-fringed plazas.
The market takes place every Sunday morning in Plaza Clavijo y Fajardo at the centre of town. All sorts of goodies and knickknacks are on sale, the best of which include locally produced cheeses and fine leather goods. Traditional handicrafts and locally spun textiles make for memorable mementoes, and there's plenty of organic fruits and vegetables if you fancy something healthy to snack on.
地點: Teguise Market, Plaza Clavijo y Fajardo, s/n, 35530 Teguise, Las Palmas, Spain
開放時間: Sunday from 9am to 2pm
電話: +34 928 84 53 17
Museo Atlantico
Europe's premier underwater museum
Museo Atlantico is Europe's original underwater sculpture museum; an intriguing spot to explore artistic expression under the sea. Artist Jason deCaires Taylor created these eerie humanoid statues and submerged them 12 metres beneath the surface, where all kinds of tiny marine organisms have set up colonies over the years.
Keep an eye out for the Raft of Lampedusa, which depicts 13 refugees in an overcrowded dinghy. A dozen or so other impressive installations reside throughout the 2,500 square-metre space. Be sure to keep a close eye on your SPG as you'd often start to get distracted by these intriguing underwater artworks.
地點: Oficina de información del Museo Atlántico, Calle Castillo del Águila, 33, 35580 Playa Blanca, Las Palmas, Spain
開放時間: Monday–Friday from 9.30am to 4.30pm
電話: +34 928 17 94 92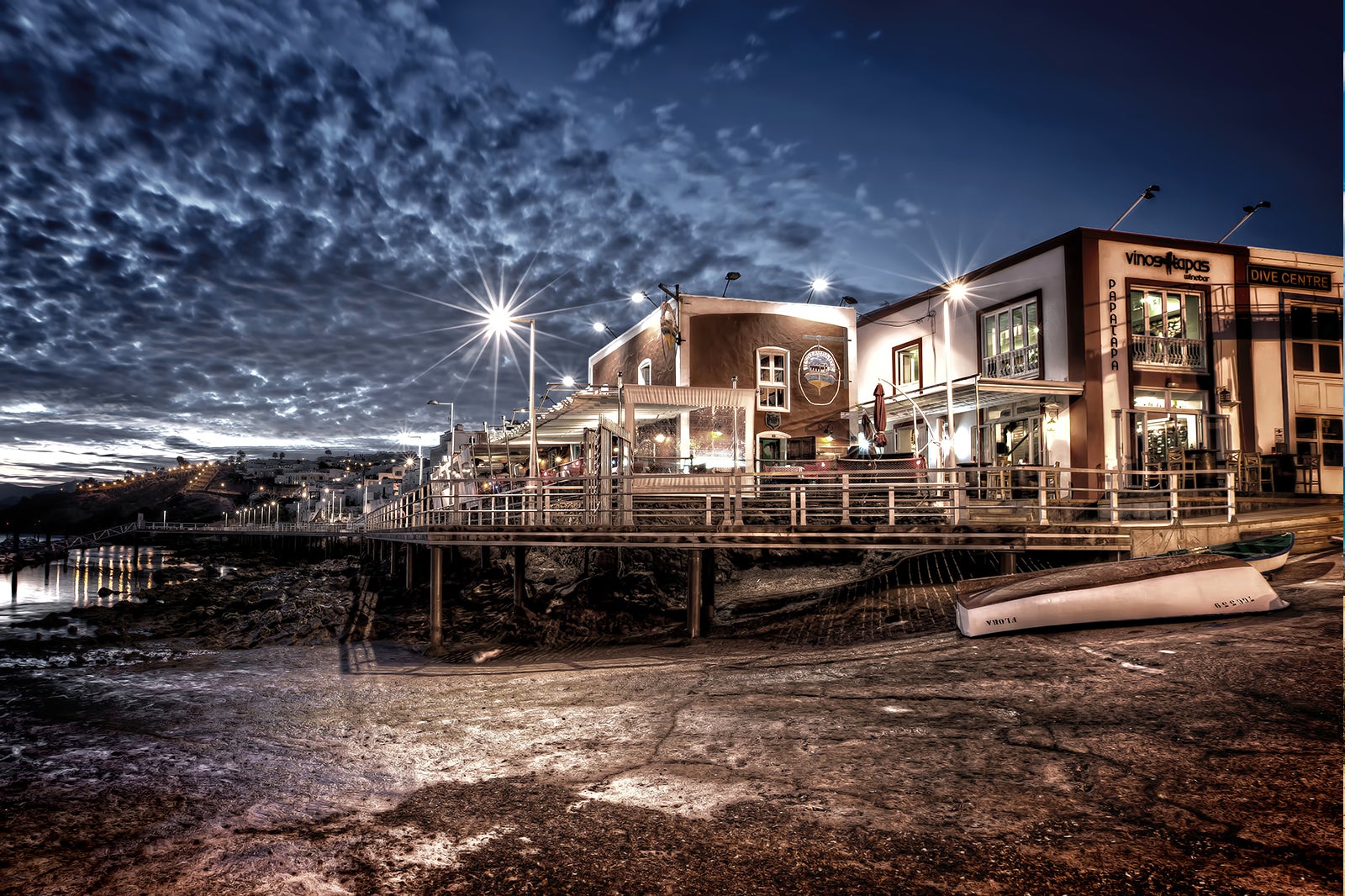 Party through the night in Puerto del Carmen
Get the party started at this fun-filled locale
Puerto del Carmen is the go-to spot for party animals looking for a wild night out on the town in Lanzarote. A great array of tourist-friendly watering holes line this popular strip, where happy-hour specials see pints of local beer flogged off for a couple of euros. Some venues cater to rowdy revellers while others are remarkably more civilised, so meander around awhile and take your pick. For a traditional Lanzarote pub, head to local favourite Kicko's Bar where a duo of talented guitarists often belts out regional folk tunes.
As the most touristic resort on the island, Puerto del Carmen also hosts a wide array of boutique designer stores, upmarket resorts, and trendy restaurants.
地點: Puerto del Carmen, Las Palmas, Spain
相片由 torkil storli 提供 (CC BY 2.0) 經修改