Where to Eat in Auckland
Auckland Food and Dining Guide
When it comes to where to eat in Auckland, you might find it rather difficult to make a decision as there's definitely no shortage of culinary options here. For outstanding seafood, head to the waterfront, with both Wynyard Quarter and Viaduct Harbour boasting more than their fair share of quality fish restaurants. Away from the water, supplement your meal with a splash of cabaret on Karangahape Road or dine and shop in Ponsonby or Parnell.
Local cuisine has traditionally been British-based, evolving with Mediterranean and Pacific Rim influences to create a range of unique food styles. Lamb and venison are popular New Zealand meats, whereas Auckland's ever-present coast infuses restaurant menus with local seafood such as crayfish, mussels and scallops. Whichever cuisine you're in the mood for, Auckland's got it. Here's our Auckland food and dining guide to help you plan a food-filled holiday in this New Zealand city.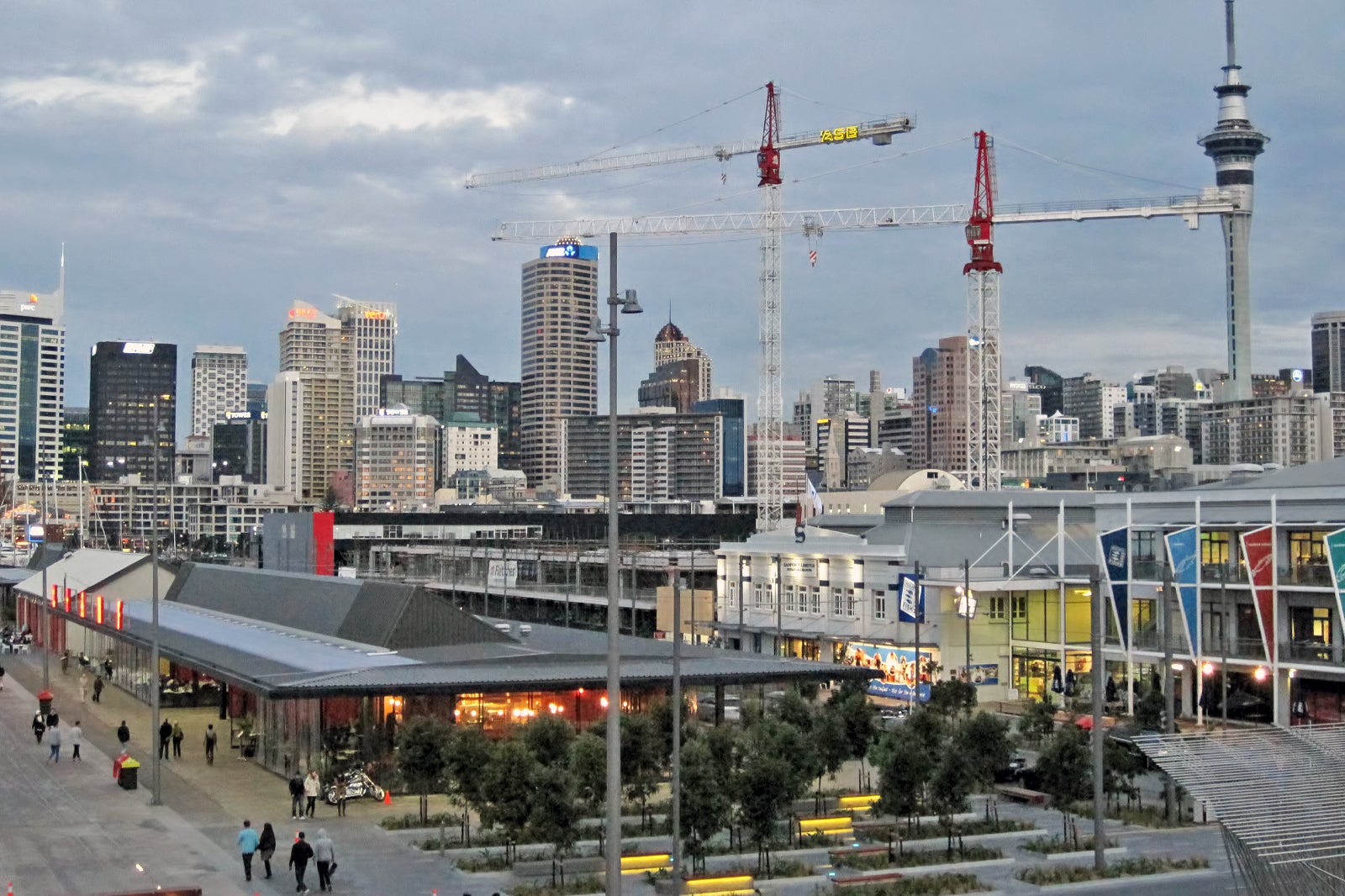 Wynyard Quarter
International flavours by the waterfront
Diners are spoilt for choice in the Wynyard Quarter, a waterfront lined with a selection of cuisines including Spanish, Italian and Indian, plus quality steaks and seafood. Find fresh Thai flavours, 'Deep South' American dishes, and authentic pizzas on Jellicoe Street.
Head to The Conservatory for brunch platters by the seafront, or the ever-popular gastropub Jack Tar for gourmet pizza and sizzling steaks. Also on Jellicoe Street, you'll find the Auckland Fish Market, selling fresh fish and offering a great selection of dining options.
The Conservatory
Address: E1/17 Jellicoe St, Auckland, 1010, New Zealand
Phone: +64 9-307 2222
Jack Tar
Address: North Wharf, Wynyard Quarter Jellicoe St, Auckland, 1010, New Zealand
Phone: +64 9-303 1002
Auckland Fish Market
Address: 22-32 Jellicoe St, Freemans Bay, Auckland 1010, New Zealand
Tel: +64 9-303 0262
相片由 JohnTripperson 提供 (CC BY-SA 3.0) 經修改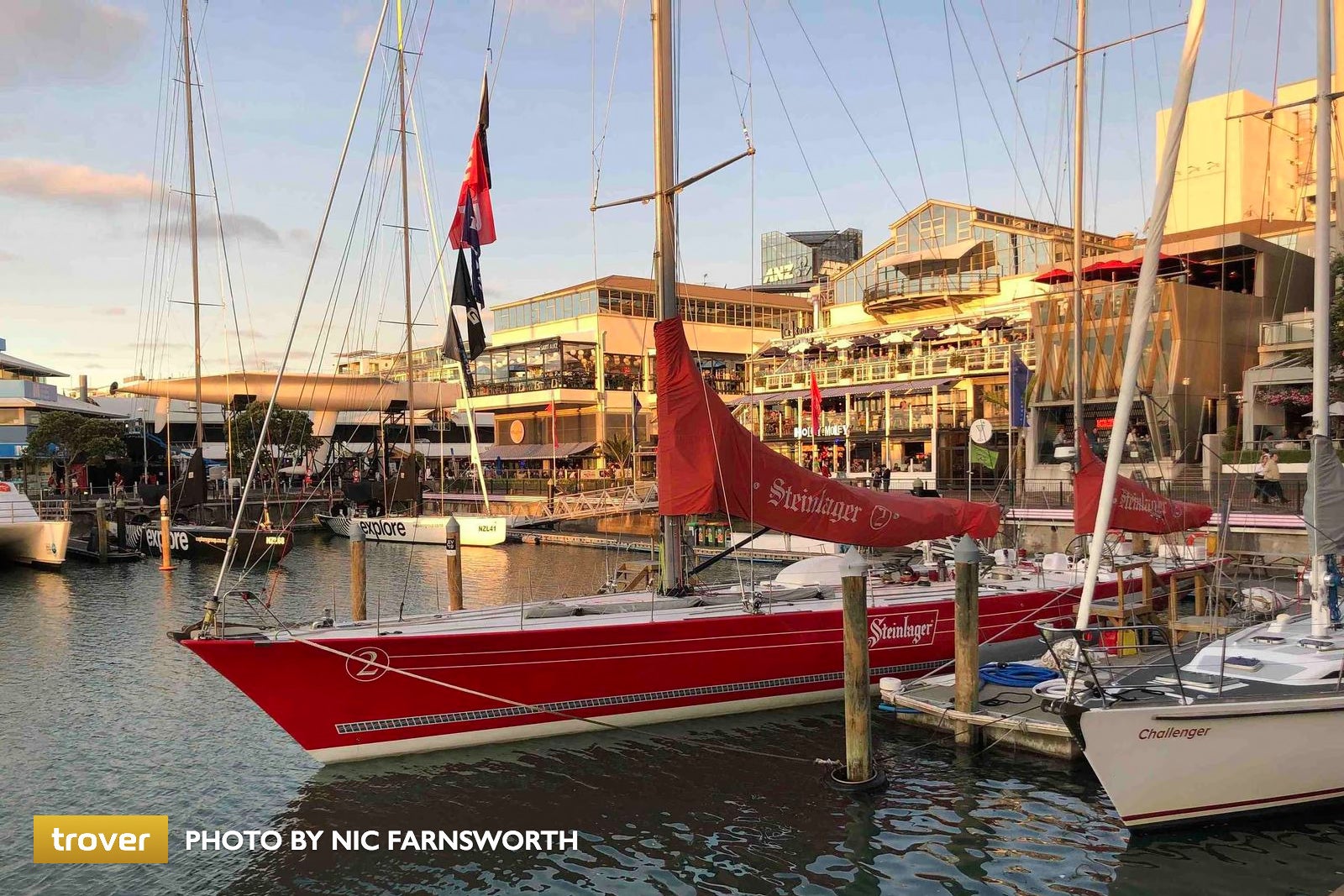 Viaduct Harbour
Known for its buzzing nightlife
Viaduct Harbour features a scattering of stylish yachts surrounded by several of Auckland's top dining spots. Taking advantage of the fresh local catches, Kermadec is renowned for its seductive seafood dishes including roasted scampi and living oysters with chardonnay vinegar.
Highlighting a quirkier side to the harbour is The Foodstore, where an open kitchen lets you watch your food being prepared, with local seafood specialties such as Clevedon oysters and whitebait fritters on offer.
Kermadec
Address: Viaduct Quay Floor 1st Lower Hobson Street, Auckland Central, Auckland 1010, New Zealand
Phone: +64 9-309 0412
The Foodstore
Address: Market Square | Viaduct Harbour, Auckland Central, Auckland, New Zealand
Tel: +64 9-377 0125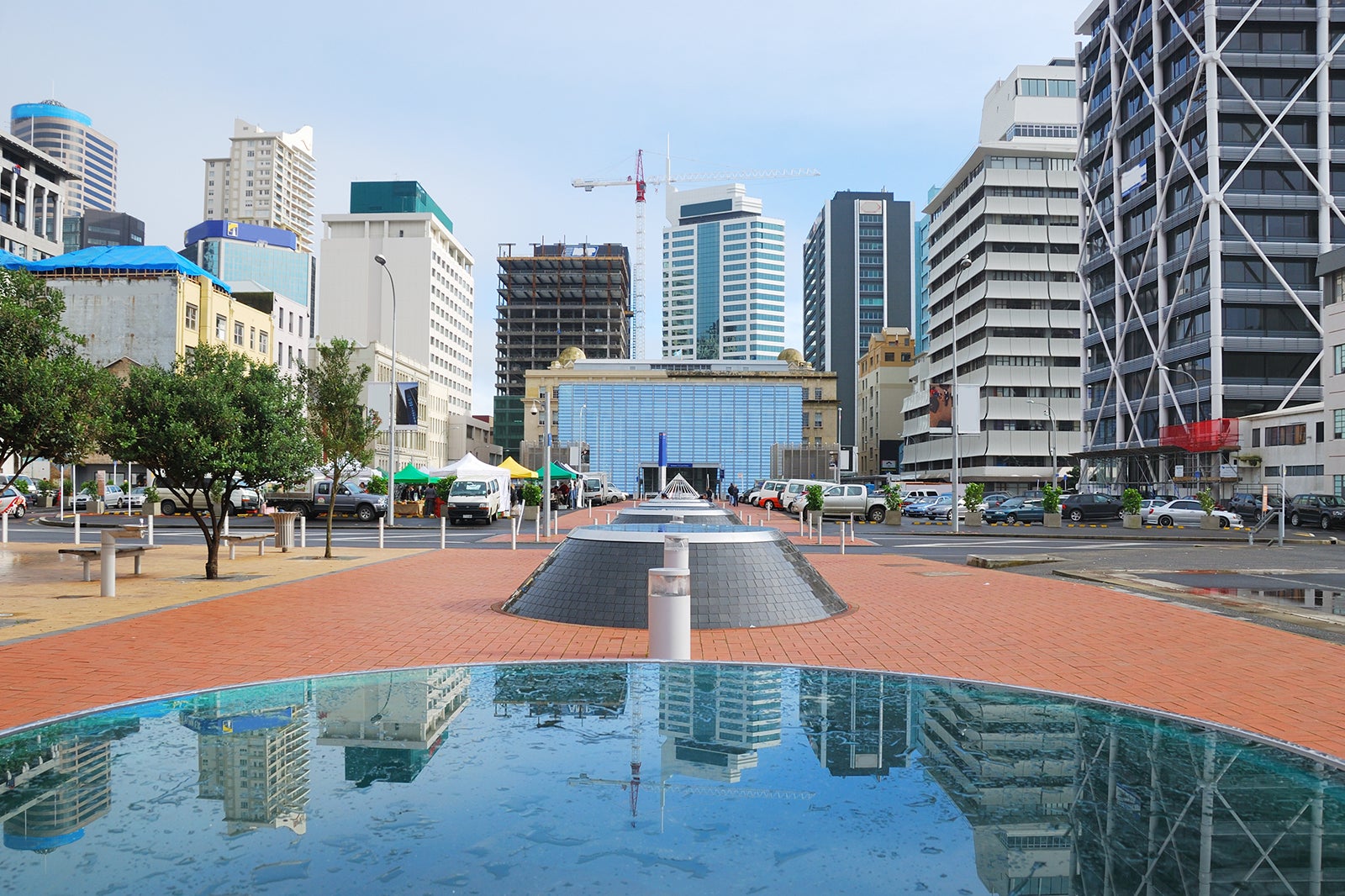 Britomart
Auckland's designer label shopping precinct
Britomart is home to some of the hippest bars and restaurants in Auckland. The chic surroundings house gourmet hotdog joints and pizza houses that provide the perfect tasty pick-me-up in-between shopping jaunts. Ambient restaurant Mexico dishes up classic Latin American flavours for those who love their grub with an added kick.
Brew on Quay exudes British charm with its traditional pub dishes and vast selection of beers. For a little sophistication, find cute café L'Assiette, serving authentic French salads, cakes and pastries.
Mexico
Address: 23 Britomart Place, Britomart, Auckland, New Zealand
Phone: +64 9-366 1759
Brew on Quay
Address: 102 Quay St, Auckland, 1010, New Zealand
Phone: +64 9-302 2085
L'Assiette
Address: 9 Britomart Pl, Auckland, 1010, New Zealand
Phone: +64 9-309 0961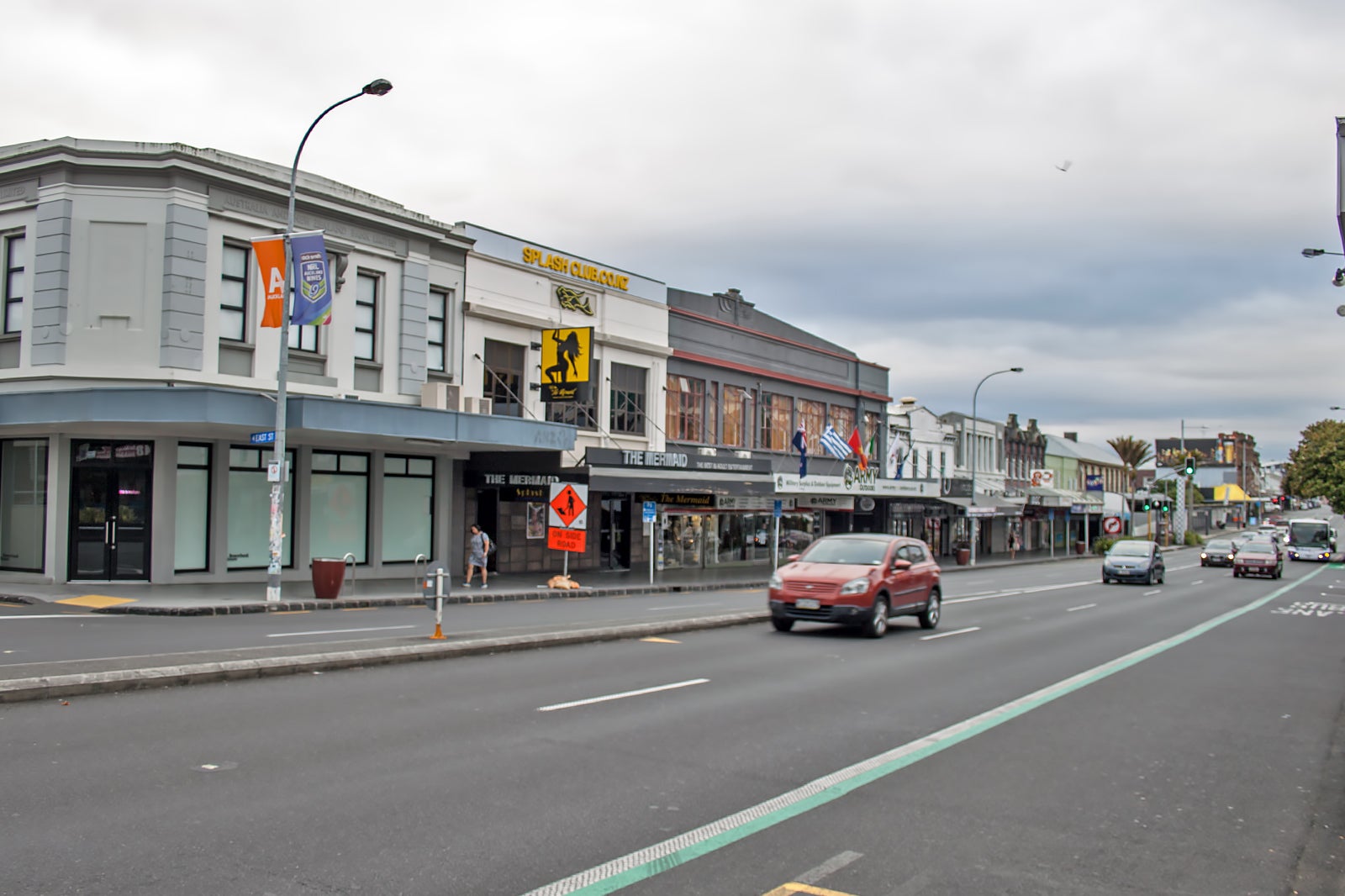 Karangahape Road
Home to a vibrant and eclectic nightlife
Karangahape Road (also called K'Road) is celebrated for its lively nightlife, flamboyant culture and diverse cuisine. This is dining at its most exciting, especially if you choose to eat at a venue like Caluzzi Bar and Cabaret – where meals are accompanied by an outrageous drag performance.
Entertainment aside, K'Road boasts some of Auckland's most delectable eateries, including Coco's Cantina. This family-run Italian restaurant serves up what many describe as 'Auckland's best pasta dishes'.
Caluzzi Bar and Cabaret
Address: 461 Karangahape Rd, Eden Terrace, Auckland 1010, New Zealand
Phone: +64 9-357 0778
Coco's Cantina
Address: 376 Karangahape Rd, Auckland, 1010, New Zealand
Phone: +64 9-300 7582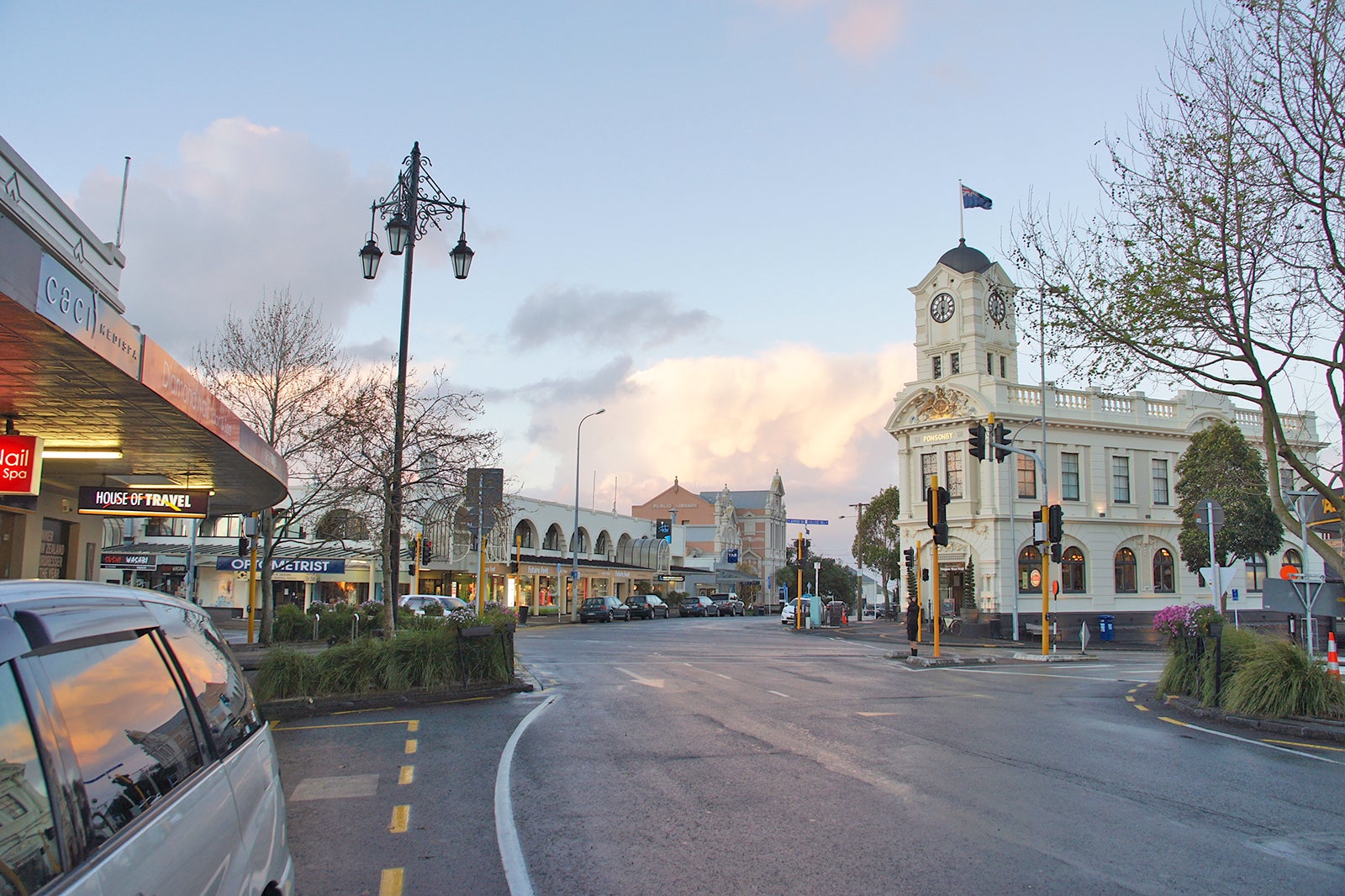 Ponsonby
The dining room of Auckland
Ponsonby is appropriately nicknamed 'the dining room of Auckland', for its sophisticated blend of fine dining, cafes and fresh food shops. Ponsonby Central is the local foodie hub – you'll find an extensive mix of restaurants showcase global cuisines, along with a produce market selling fresh meats, fish, and dairy.
Just down the road, SPQR is a popular eatery dishing up Italian-fusion cuisine with European-style pavement seating.
Ponsonby Central
Address: 136-146 Ponsonby Rd, Ponsonby, Auckland 1011, New Zealand
Phone: +64 9-376 8300
SPQR
Address: 150 Ponsonby Rd, Ponsonby, Auckland 1011, New Zealand
Phone: +64 9-360 1710
相片由 itravelNZ® 提供 (CC BY 2.0) 經修改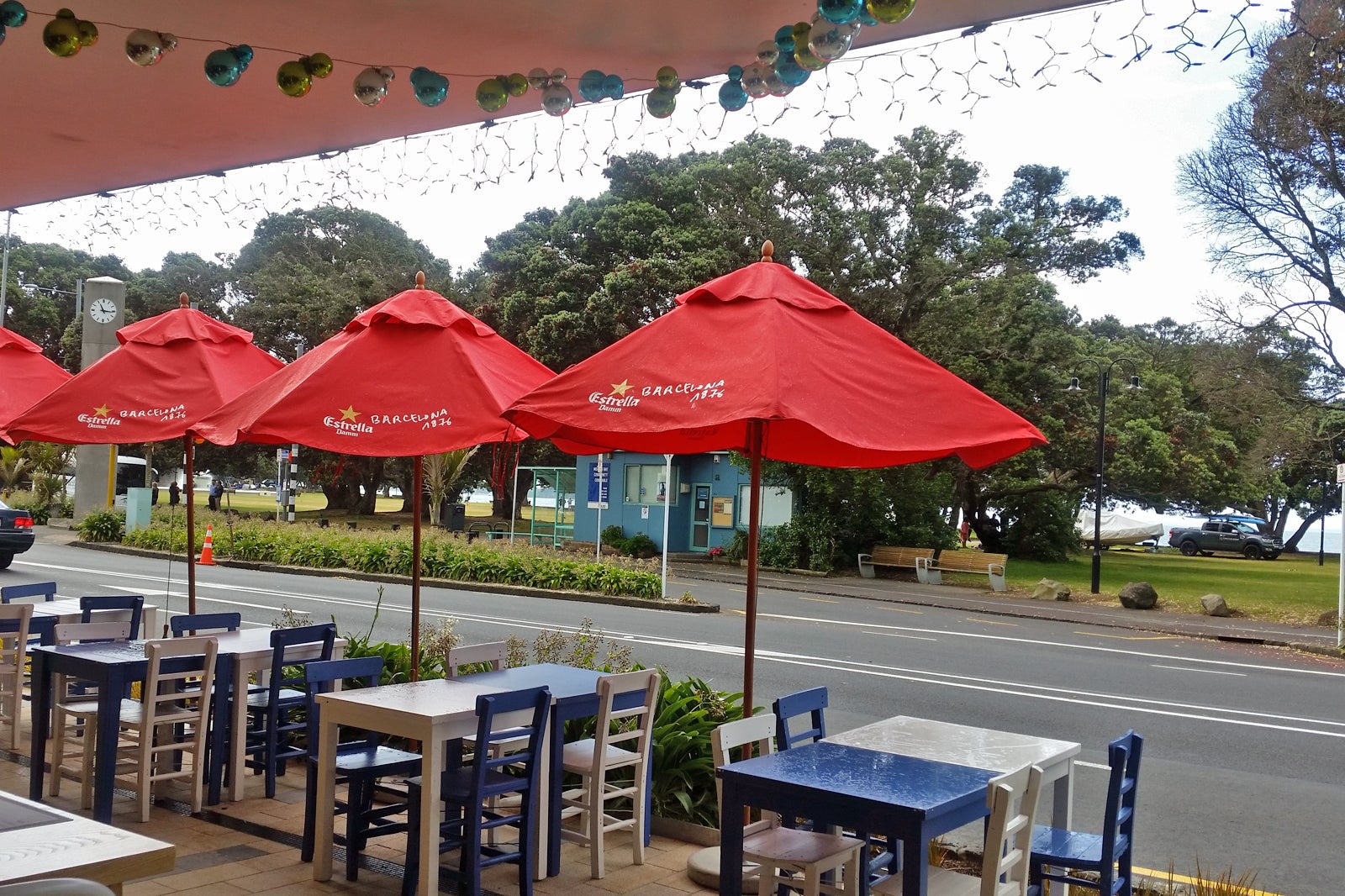 Mission Bay
Waterfront restaurants with impressive views
Set slightly out of the city, Mission Bay has some of the best waterfront restaurants New Zealand has to offer. Sea Cow on the Bay is the hidden gem of this region, offering freshly caught seafood and unique cocktails. Known for its fried-to-perfection fish and chips, you'll be hard pressed to find an eatery with as much flavour.
For those craving a more Asian-inspired meal, head to Midori Japanese Restaurant. Opt for their fresh sashimi boards or exotic-sounding sushi rolls, and finish off with one of their delightful ice cream desserts.
Sea Cow on the Bay
Address: 2/33 Tamaki Drive, Mission Bay, New Zealand
Phone: +64 9-521 5891
Midori Japanese Restaurant
Address: 55 Tamaki Dr, Mission Bay, Auckland 1071, New Zealand
Phone: +64 9-521 1881
相片由 Bjankuloski06 提供 (CC BY-SA 4.0) 經修改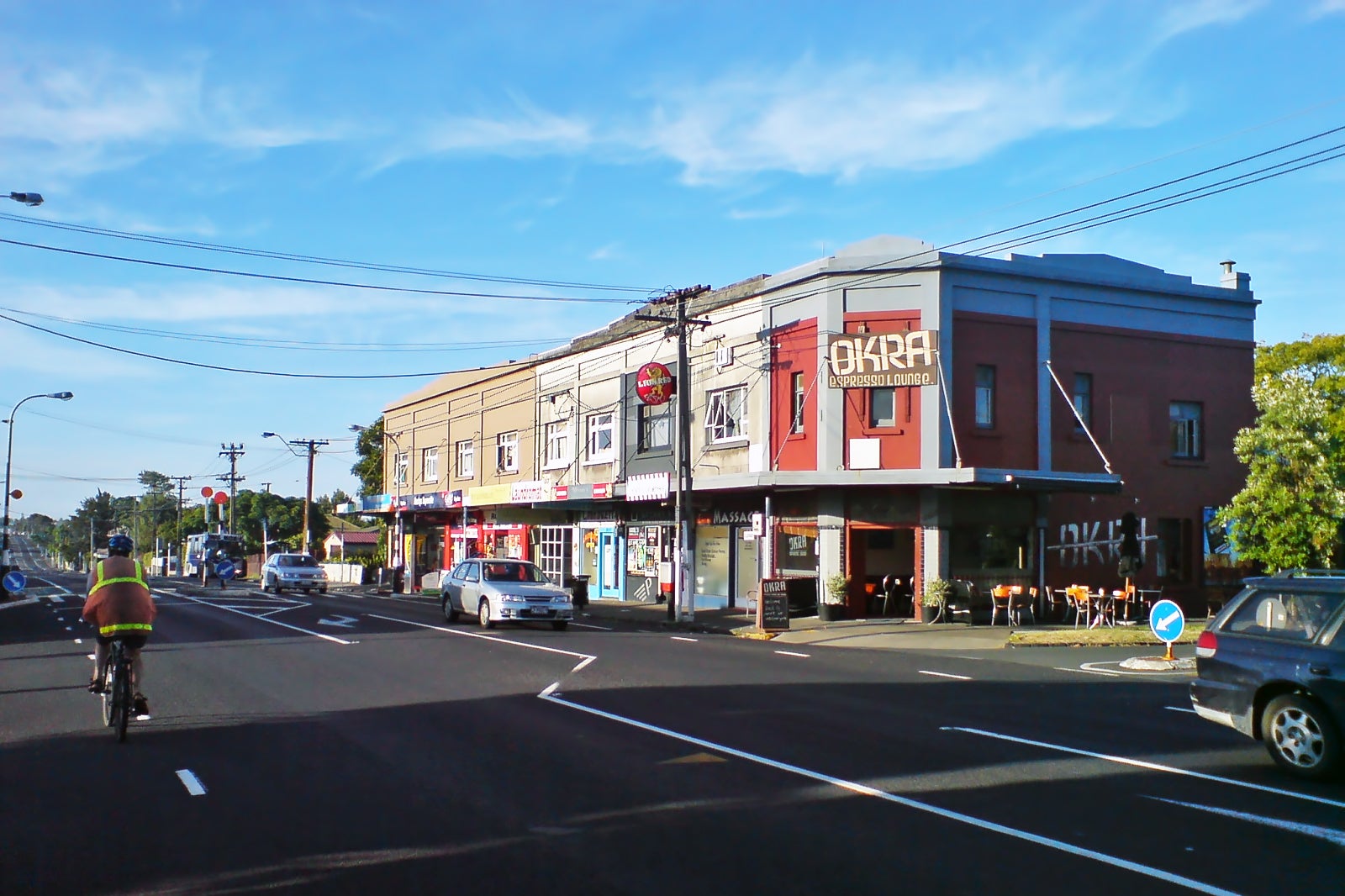 Kingsland
Coffee and meat pies at Auckland's top brunch spots
Kingsland is a hip residential Auckland neighbourhood dotted with coffee roasters, brewpubs and wine bars, many of which host live music nights. New North Road is popular for its brunch spots, such as Rocky's Restaurant. This local favourite is known for their freshly baked donuts, chai lattes, and never-ending list of entrees.
Kingsland is also a great place to order one of New Zealand's beloved meat pies, and there's no better place to try the meat and gravy specialty than at The Baker's Cottage.
Rocky's Restaurant
Address: 1087 New North Rd, Mount Albert, Auckland 1025, New Zealand
Phone: +64 9-815 0617
The Baker's Cottage
Address: 2 New Bond St, Kingsland, Auckland, New Zealand
Phone: +64 9-846 3299