10 Best Beaches in Mexico
Where to Relax and Unwind
Warm waters, white sands, balmy breezes – there's a reason that Mexico is such a popular beach destination. From secluded turquoise bays to pumping party beaches, Mexico offers something for every type of traveller usually set in a scenic environment. The beaches are on Mexico's Pacific and Caribbean coast, with the most popular destinations being Cancun, Playa del Carmen, Acapulco and Cabo San Lucas.
The list below is a comprehensive guide to the best and most beautiful beaches within the country, mixing some of the most visited and some of the more secluded.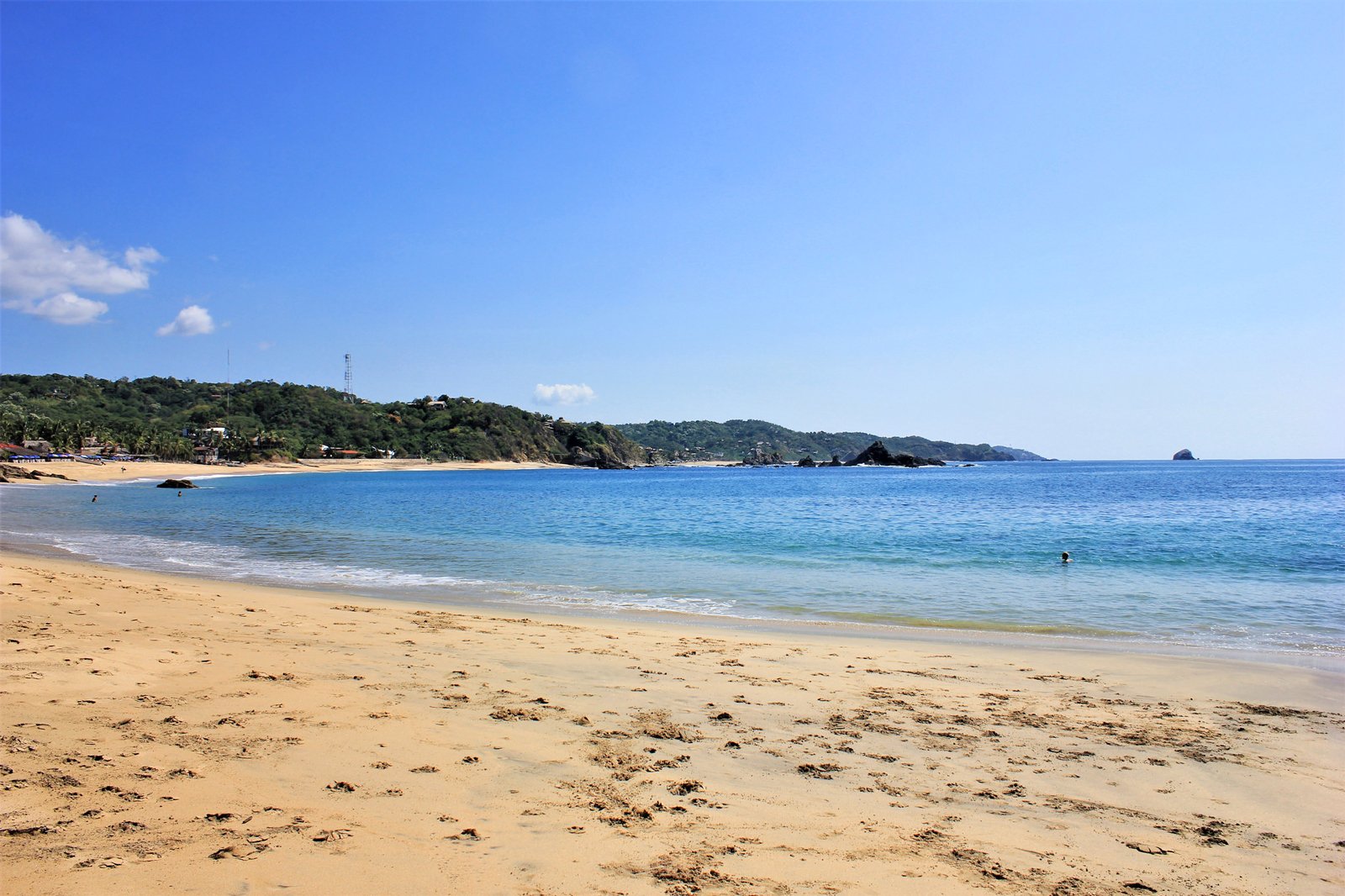 Playa Mazunte, Oaxaca
The quintessential Oaxaca beach
Playa Mazunte is a wild beach featuring azure blue waves and silky-sand shores. With nice big waves, it can be particularly fun to for bodyboarding or surfing. Float around in its warm waters or enjoy the sounds of the crashing waves as you relax on the beach. In true Oaxacan fashion, eat delicious local food underneath a straw palapa with your toes in the sand and a beer in your hand. Look out for what flags are pitched up to tell you whether it's safe to swim. Red flags are a no-go.
地點: Playa Mazunte, México 175 26, Mazunte, Oaxaca, Mexico
相片由 Charlie Marchant 提供 (CC BY 2.0) 經修改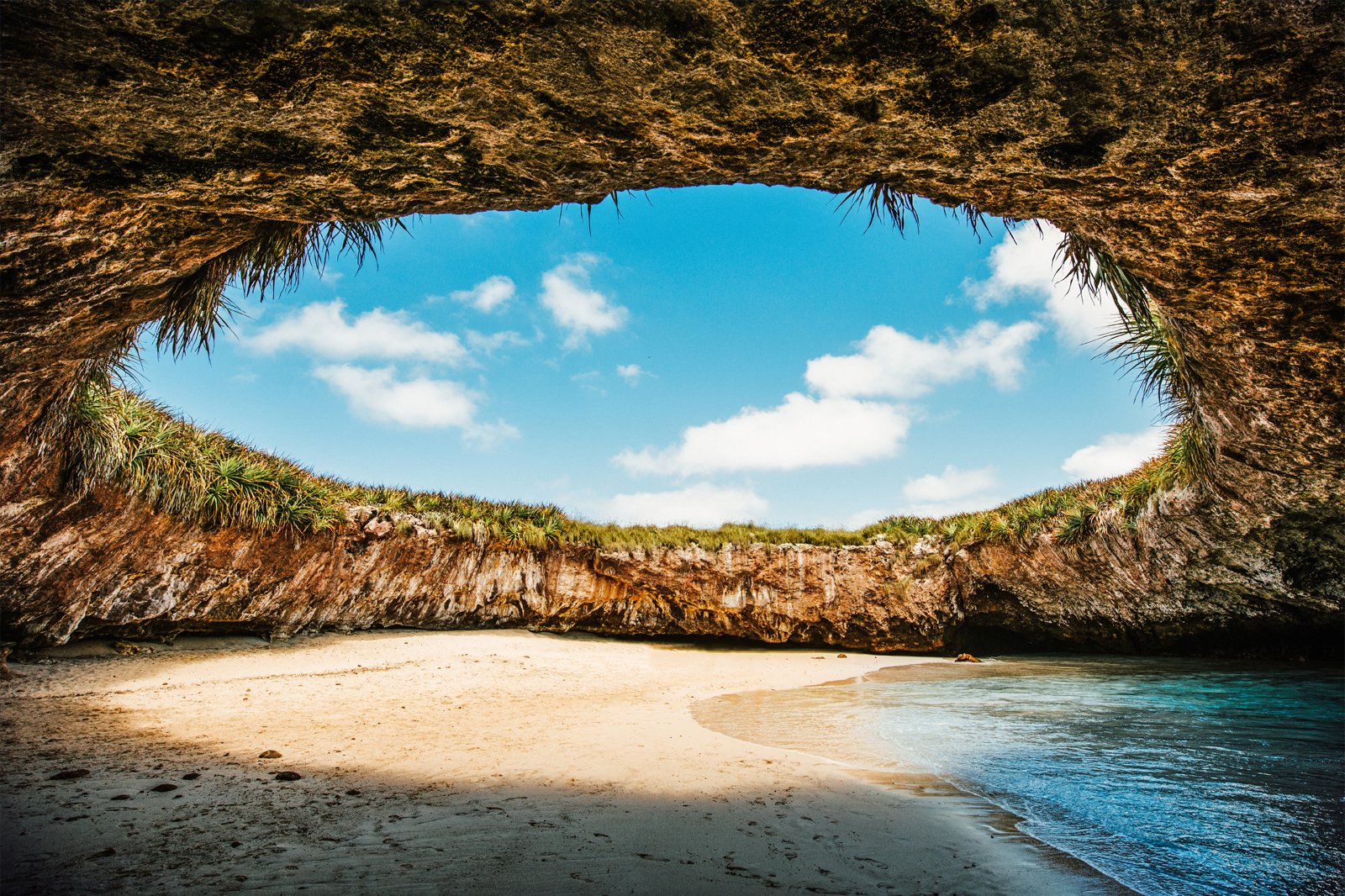 Playa del Amor or Hidden Beach, Marieta Islands
A beach in a cave
You may have to do a double-take when you see Playa del Amor – it's just that ridiculously beautiful. Found on the Marieta Islands, this beach is also known as Hidden Beach. In the early 1990s, it's said the Mexican government targeted this particular spot to test bombs and from this came a sensational, deserted beach. You'll feel like you're in a world of your own, with only soft-lapping turquoise waters and lush colourful foliage to keep you company.
To get to this pocket of paradise, you will need a boat. Either book a tour or charter your own boat and travel around an hour from Puerto Vallarta to the island. It's recommended to book ahead for tours, as there's a restricted daily allowance of visitors to the beach, so there may be a waiting list. Getting to the actual beach involves swimming through a tunnel, so make sure you're a confident swimmer.
地點: Hidden Beach, Marieta Islands, Mexico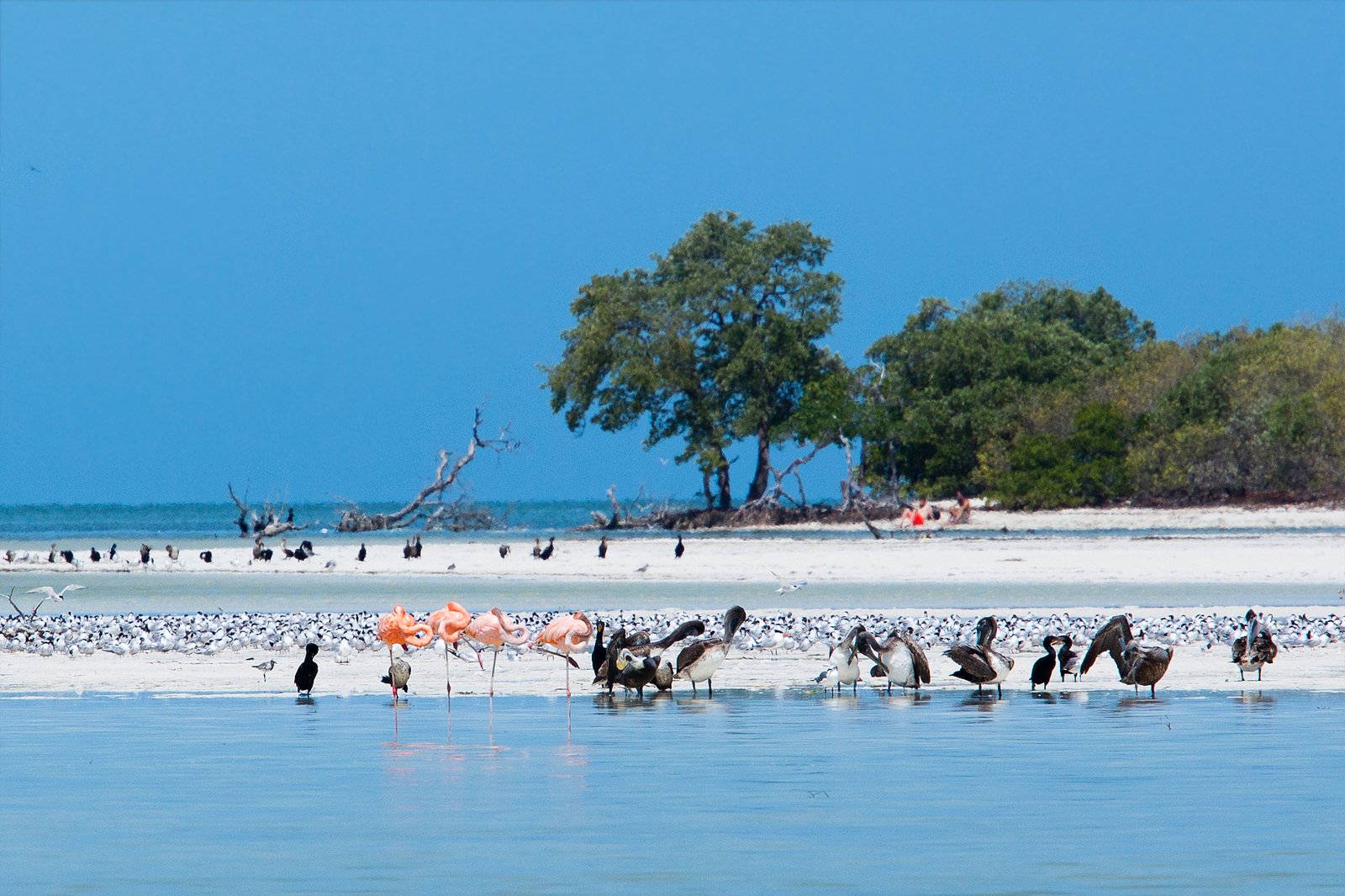 Punta Mosquito, Isla Holbox
Wade through crystal-clear waters
Punta Mosquito is located on the eastern side of the island of Holbox. Don't be fooled by the name, as you're going to see mostly flamingos and a stunning sandbar, not mosquitos. Your visit to this beach is hugely dependant on whether it's low tide, so check with your hotel or with any locals. If you're looking for complete seclusion, the walk to the beach is your answer. You'll be surrounded by only wildlife and the vast expanse of blazing blue waters. There are no shops or restaurants here, so bring your own water and food, as well as sunscreen and towels.
地點: Punta Mosquito, Holbox, Quintana Roo, Mexico
相片由 leopoldo de castro 提供 (CC BY 2.0) 經修改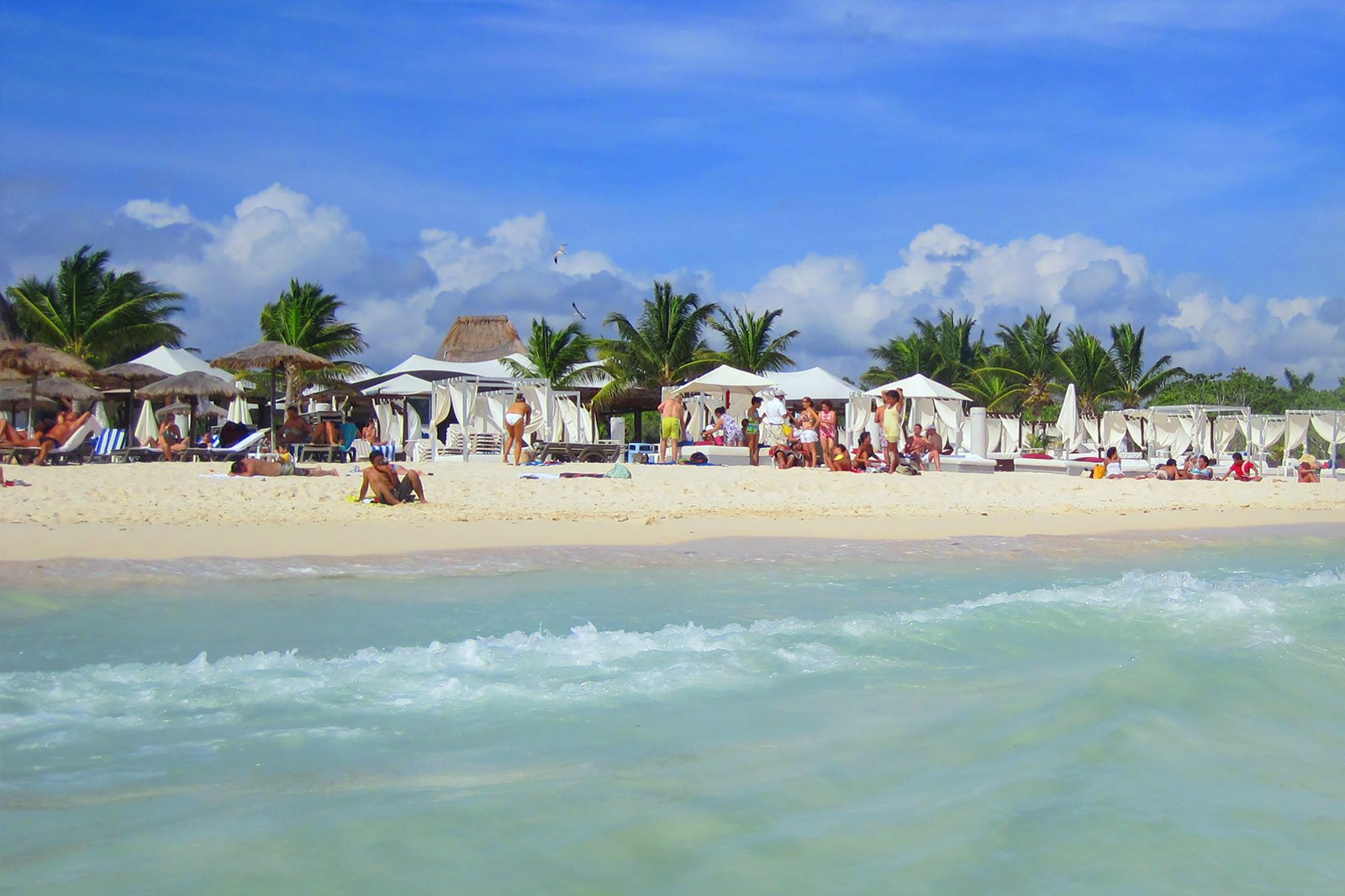 Mamita's Beach Club, Playa del Carmen
Beach club paradise
Playa del Carmen is well-known for its happening nightlife in a picturesque setting, and Mamita's Beach Club is one of the most popular spots in town. The beach club is a great place to come with friends or with your family, as there's lots of activities and facilities, such as their own pool, to keep you entertained. Sip on a cool beer by the calm, crystal waters while faint music is played in the background or lie in a shaded cabana, snacking on yummy dishes from the restaurant. The cheapest sun loungers cost 500 Mexican pesos.
地點: Mamita's Beach Club, Calle 28 Norte, Centro, 77710 Playa del Carmen, Quintana Roo, Mexico
相片由 Sean and Lauren 提供 (CC BY 2.0) 經修改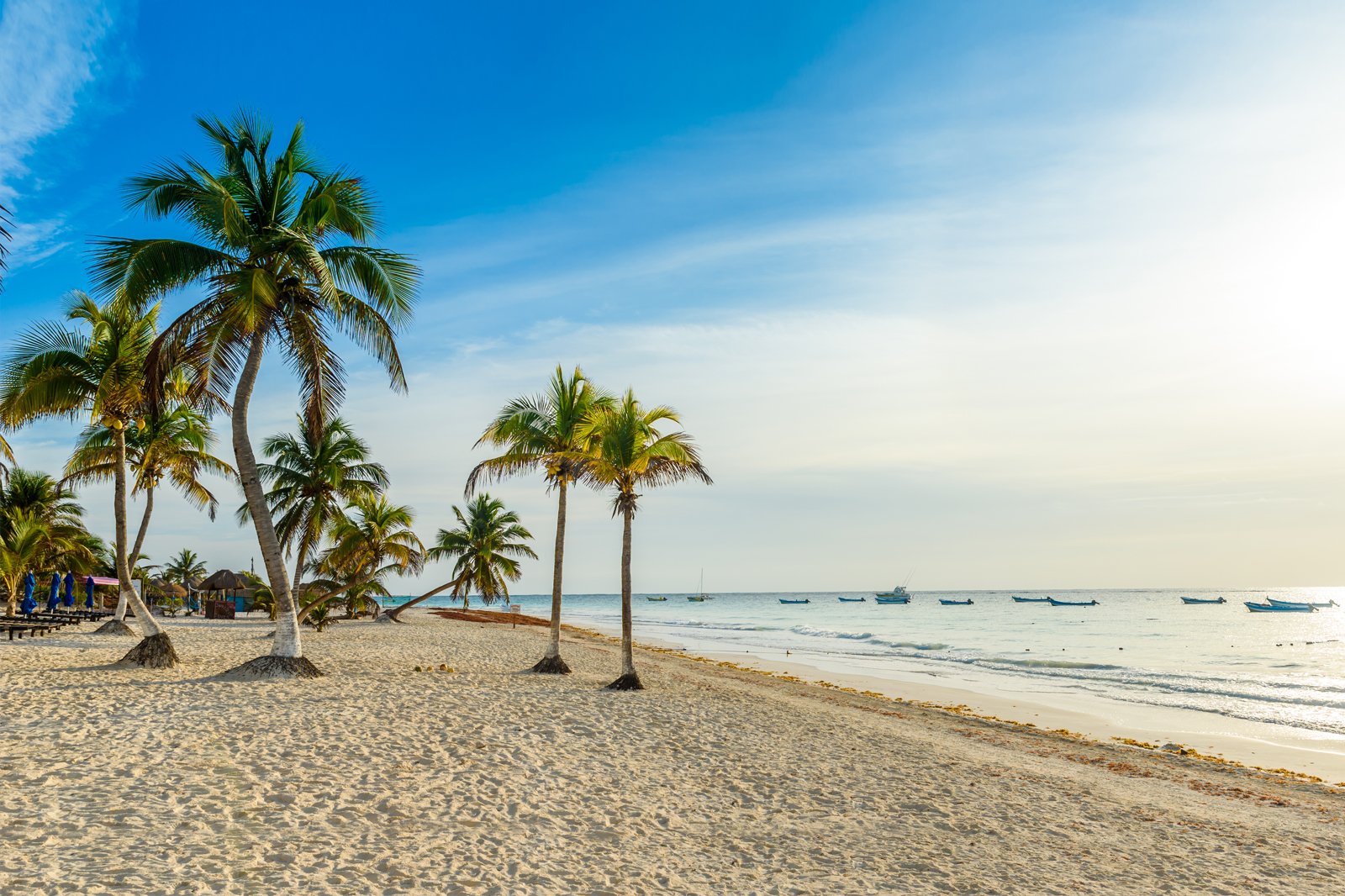 Playa Paraíso, Tulum
A pristine, family-friendly beach
Playa Paraíso attracts crowds of travellers every year with its glimmering waters and sugary sand. The beach does well to hide its popularity through its sprawling size, which stretches far along the coast, meaning that there's plenty of space for everyone. This is an ideal spot for families as the current is calm, so swimming conditions are almost-always safe. There are also a number of excellent restaurants and bars along the beach. Come early so you can choose your perfect spot. It'll cost about 200 pesos to rent 2 chairs, a parasol and a table.
地點:  Playa Paraíso, Quintana Roo, Mexico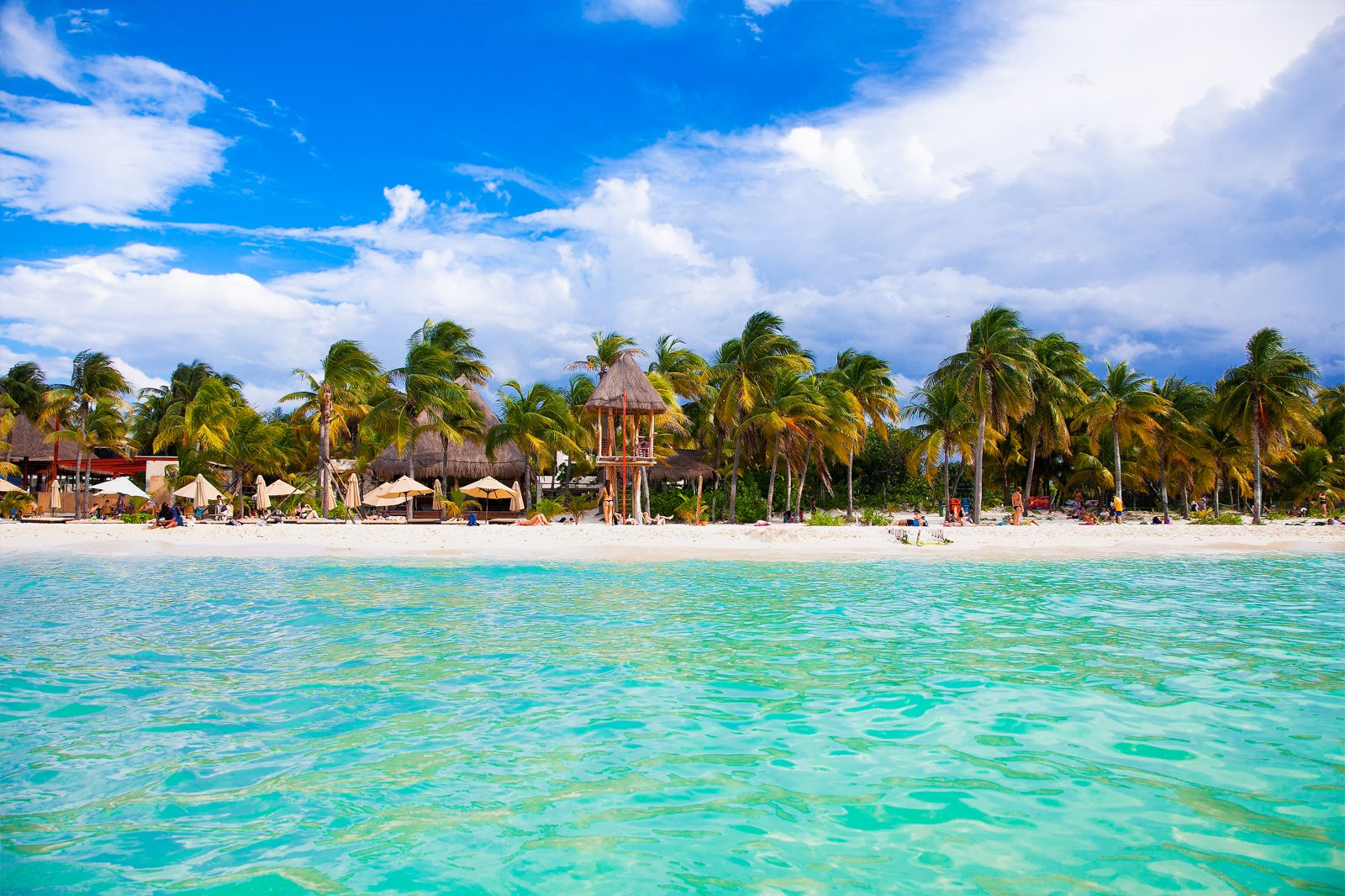 Playa Norte, Isla Mujeres
See the largest gathering of whale sharks in the world
On Isla Mujeres, you'll find that Playa Norte lives up to the island's bohemian reputation, though it is a bit more built up than the other beaches on the island. It's dotted with roofed cabanas and plenty of sun loungers, which are great places to enjoy the spectacular sunsets from. Come early to have first choice of the seating options. Come extra-early and you've got a good chance of seeing whale sharks in the water, especially if you book a snorkelling tour. Laze about until the end of the day and watch the sunset as you wade around in the peaceful waters.
地點: Rueda Medina 130, SM 001, Centro, 77506 Isla Mujeres, Quintana Roo, Mexico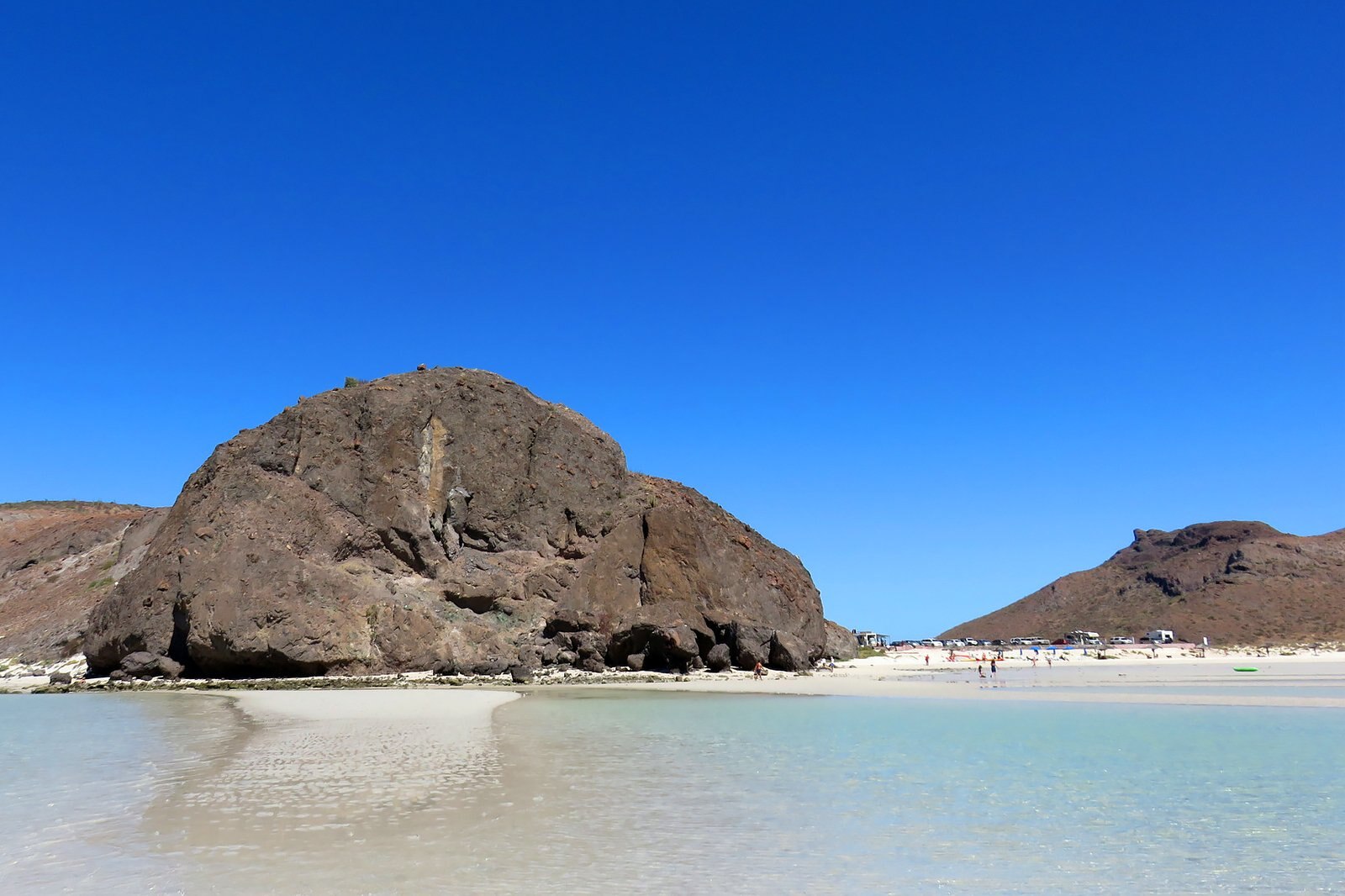 Playa Balandra, La Paz
A broad bay of shallow waters
Playa Balandra is located just north of La Paz, roughly 30 minutes away by car. You can walk out approximately 100m from the beach and still have the water at your knees at any time of day. This is the place to be for travellers looking to do nothing and simply enjoy the blissfulness of Mexican nature. The contrast of the water against the white sand and the arid backdrop is breathtaking. Nearby, there is the famous Mushroom Rock – a 10-minute swim/wade away. Get there early to secure a palapa (an open-sided, thatch-roofed hut), as they are limited. Bring your own picnic and cooler or pop into the small restaurant near the entrance.
地點: Carretera a Pichilingue KM 7, HWY 11, Tecolote, 23010 La Paz, Baja California Sur, Mexico
電話: +52 624 157 1086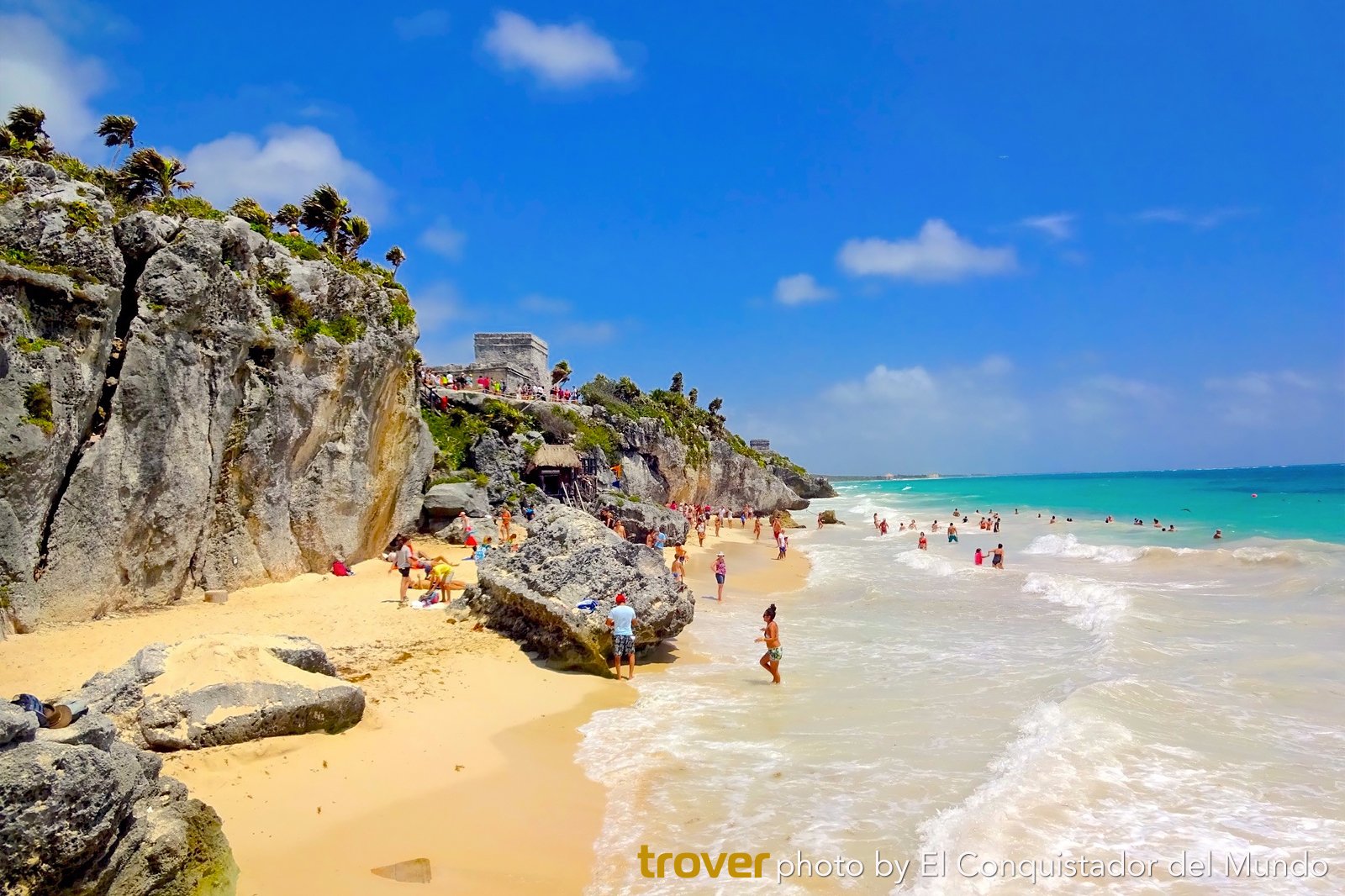 Playa Ruinas, Tulum
Lie in the sun below ancient Mayan ruins
Playa Ruinas is found beneath the craggy cliffs, which are topped with the ancient Mayan ruins of Tulum. Lined with swaying palm trees, the quaint stretch of sand features endless turquoise seas and powdery-white sand. If you're looking for a picture-perfect beach setting, this is it. To experience this beach in pure tranquillity, come early in the morning, before or after you visit the ruins. The earlier you come, the more likely you'll be alone on the beach to do as you please. Mostly alone, anyway – don't be alarmed if you find an iguana sunbathing next to you.
地點: Playa Ruinas, Tulum, Quintana Roo, Mexico
開放時間: Daily from 10am to 6pm
Medano Beach, Cabo San Lucas
A popular beach with lots of activities
Situated in Cabo San Lucas, Medano Beach is a busy stretch of beach that offers swimming, snorkelling, jet skiing, parasailing, volleyball and lots of bars and cafés. Despite the crowds that flock to Medano Beach, it remains one of the most charming beaches in Baja California for its striking horizon, which sees blazing blue skies dotted with dramatic rock formations. Bask in the sun with a mojito in hand or drift in the green-blue waters of the Sea of Cortez. Because the beach can get busy, do not leave your items unattended when you go swimming.
地點: El Medano Ejidal, 23479 Cabo San Lucas, Baja California Sur, Mexico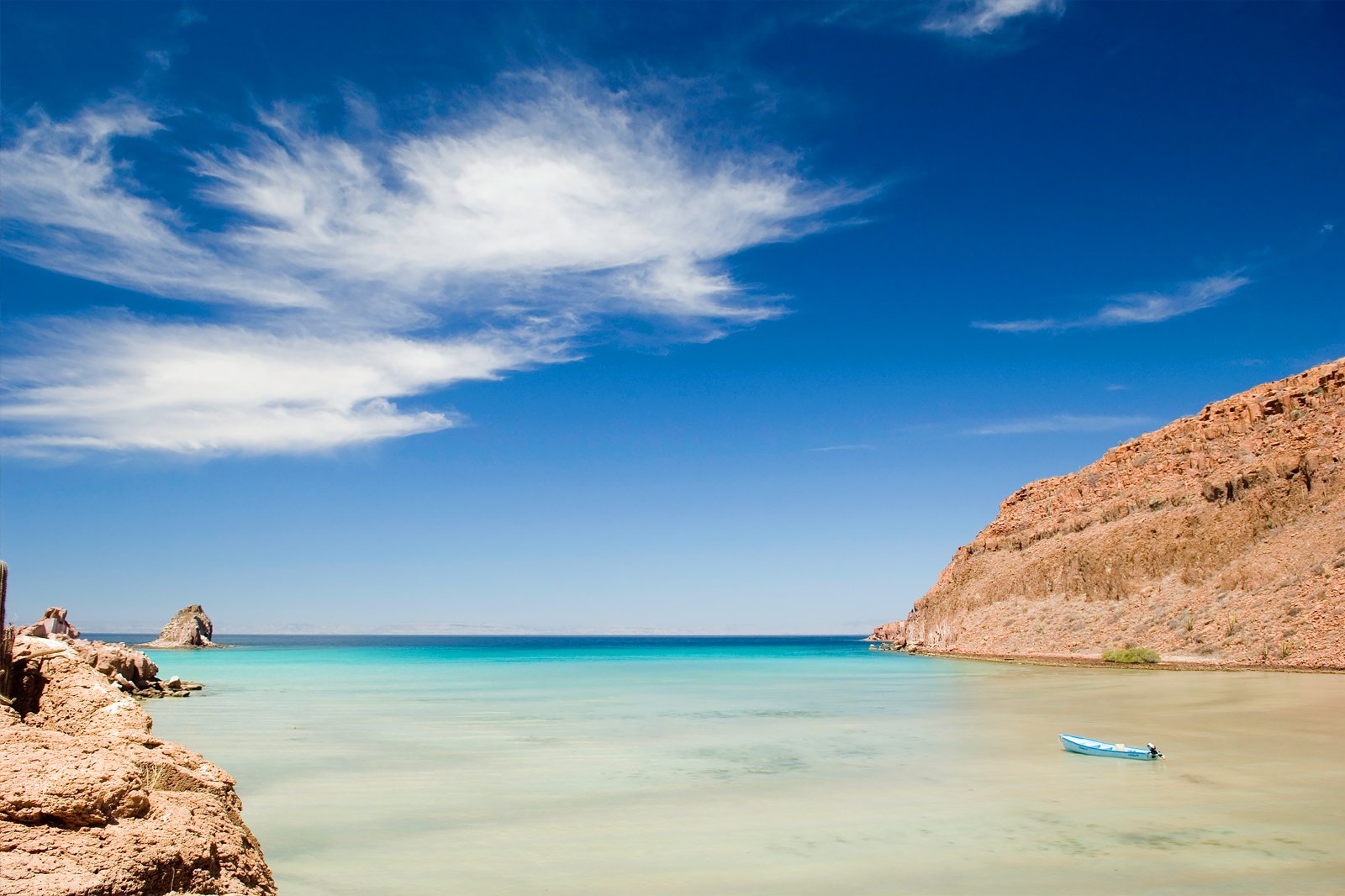 Isla Espíritu Santo, La Paz
A protected island bursting with life
Isla Espíritu Santo offers pristine natural beauty that's sure to take your breath away. An island off Baja California, Espíritu Santo is teeming with amazing sea life and is a highly regarded eco-tourism destination. Guided tours need to be booked, since the island is a protected area. Each beach is as immaculate and gorgeous as the next, and you'll find yourself falling in love over and over again.
Most tours will take you snorkelling around the island and the neighbouring Isla Partida. Get up close and personal with sea lions (even baby ones!), dolphins, turtles and a plethora of fish. Stop on an isolated beach surrounded by towering cacti and munch on ceviche and tostadas. You'll never want to leave.
地點: Isla del Espiritu Santo, Baja California Sur, Mexico