12 Best Things to Do in Taormina
What is Taormina Most Famous For?
Taormina is a beautiful hilltop town that offers plenty of charming spots to take in the Sicilian island vibes, with sweeping Ionian seascapes and Mt. Etna serving as backdrop. Teatro Antico (the historical centre) is the heart of the town where the main walking street of Corso Umberto leads you to most of the interesting landmarks and dramatic viewpoints.
The most notable landmark is the Greek Theatre, with ruins and stage pillars that perfectly frame the blue waters of the Ionian. If you fancy a swim in the calm waves, head down to the coves and pebbled islet coast of Isola Bella. Historical churches dot the main street and rocky hillsides above, and there's cool spots to head to after the sun sets. Here are great things to do in Taormina in a day or two, well worth the hour's train ride south from Messina in north-eastern Sicily.
What are the best things to do in Taormina?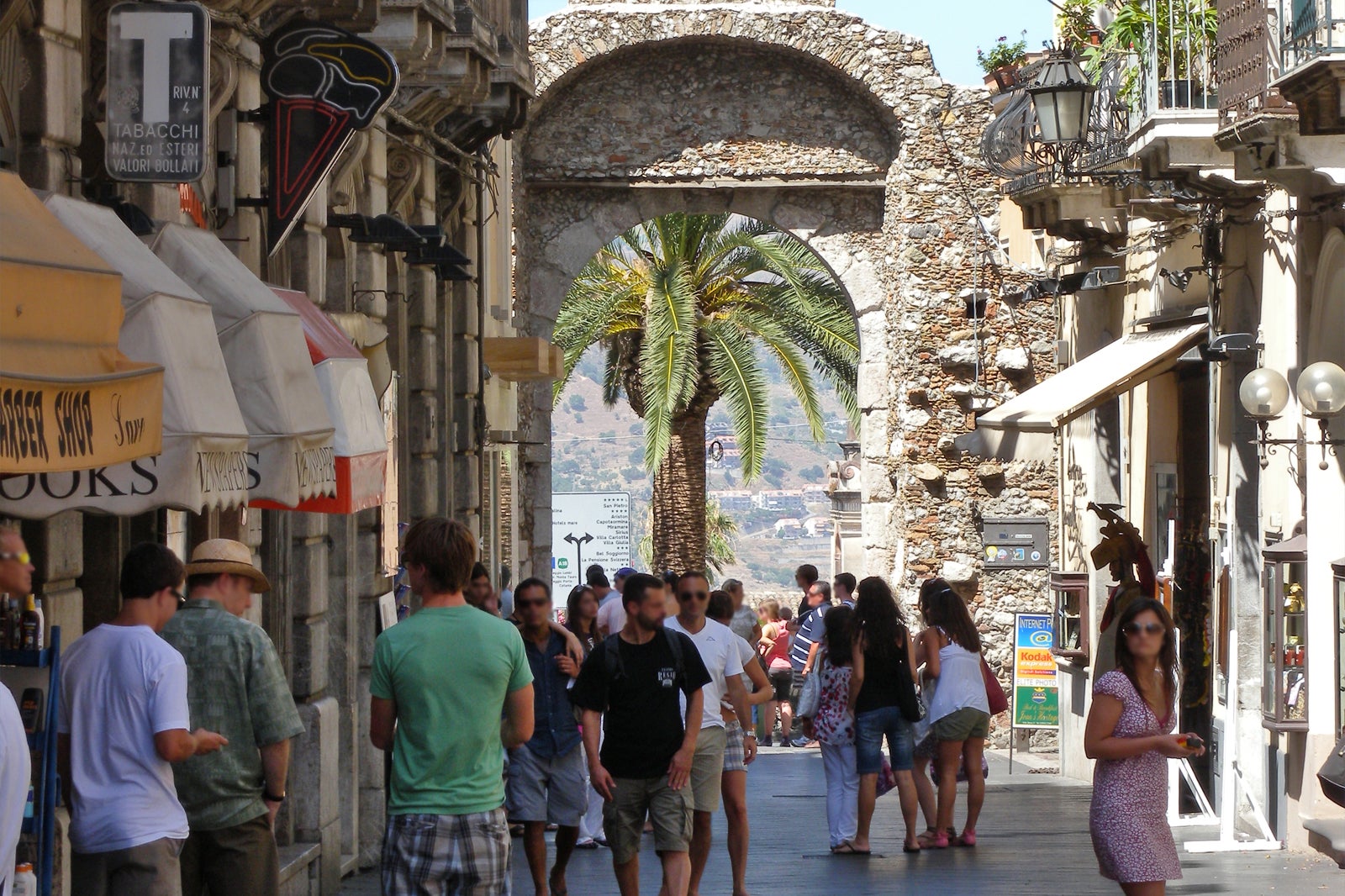 Start the Day at Porta Messina
Taormina's landmark gateway
You can take in Taormina's blend of antiquity and modern buzz at this arched stone gateway. It's also where you can start strolling down Corso Umberto, the main walking street, and reach the viewpoint square of Piazza Aprile midway. Porta Messina is one among 2 of the once fortified town's portals, the other being Porta Catania that's around 800 metres on the southwestern end of the Corso. The blue Interbus coach from the train station can take you up to Porta Messina.
地點: Corso Umberto, 1, Taormina, Messina, Sicily, Italy
開放時間: 24 hours
相片由 Jerome Bon 提供 (CC BY 2.0) 經修改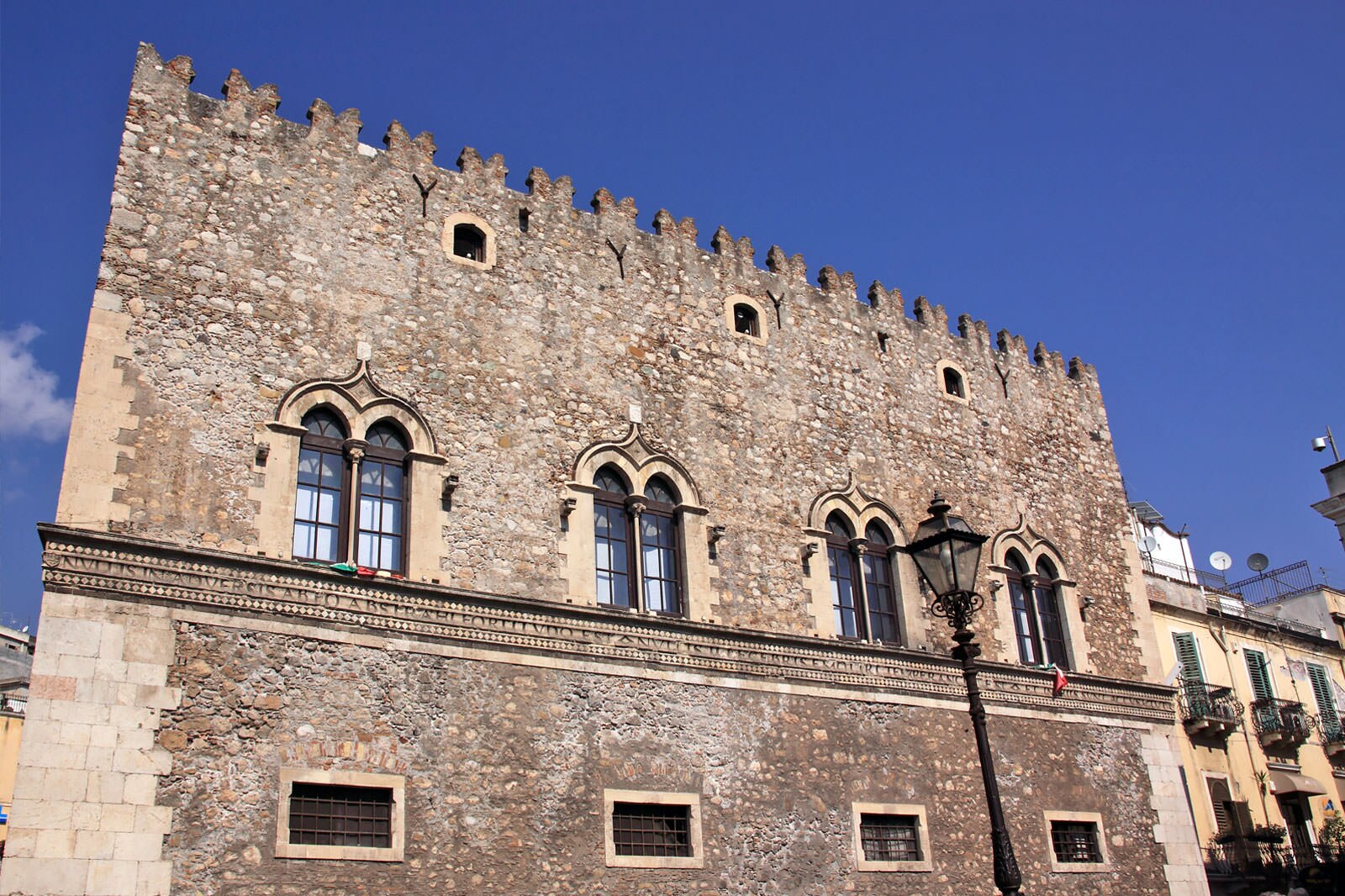 Must-See: Palazzo Corvaja
A lonely but magnificent 10th-century structure
This grand Medieval stone fortress-like building's just a minutes' walk down from Porta Messina. It has an inner courtyard featuring old Christian reliefs and arched windows with a bit of Arabic influence. Palazzo Corvaja now functions as a museum and art gallery, frequently holding painting and multimedia exhibitions. From the outside, it stands large and tall, retaining much of its ancient architectural features – in contrast to the surrounding modern buildings within the piazza. This partly makes it popular for pre-wedding shoots.
地點: Piazza Vittorio Emanuele II, Taormina, Messina, Sicily, Italy
開放時間: Daily from 8.30am to 10pm
電話: +39 (0)942 23243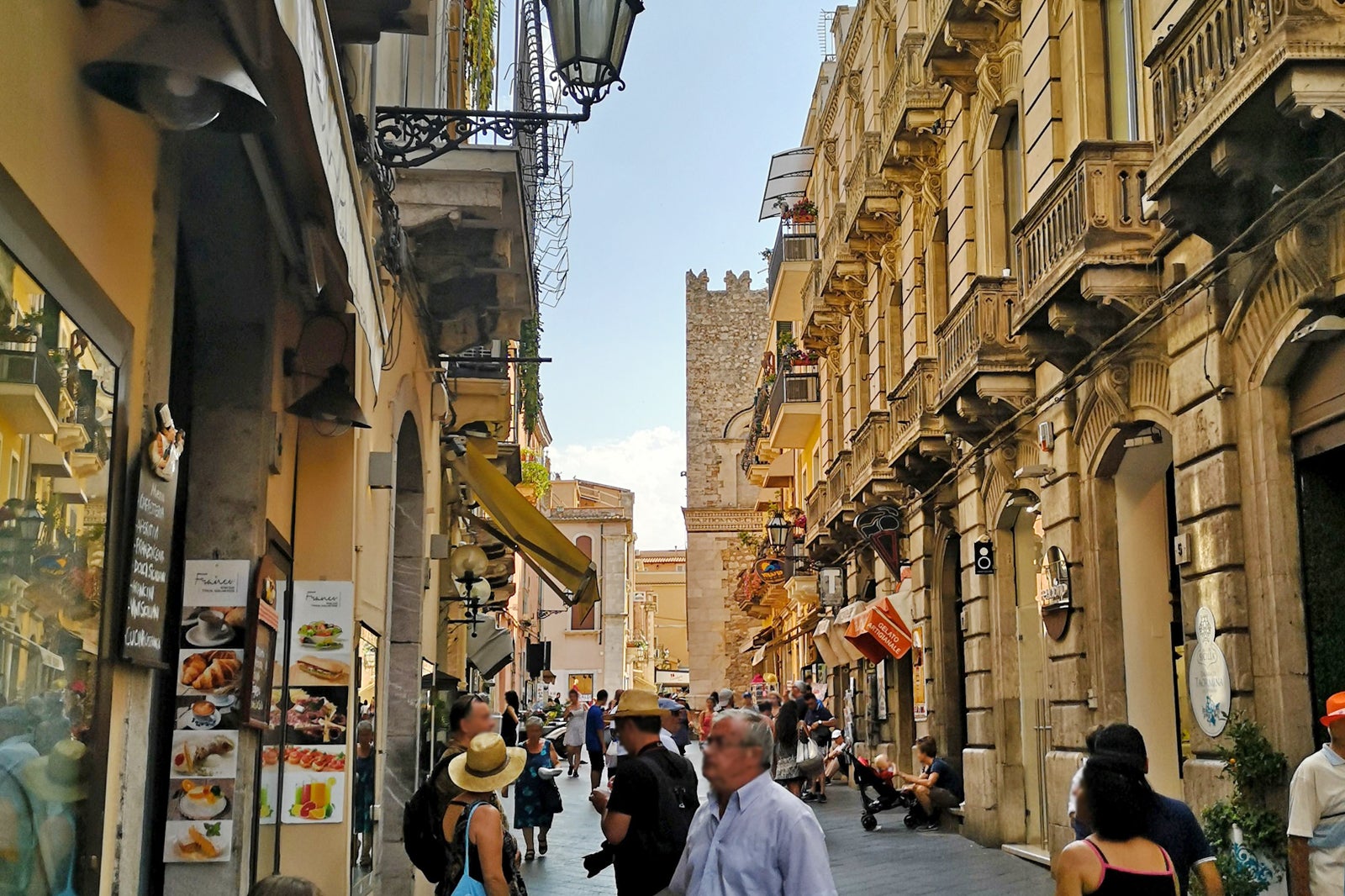 Shop along Corso Umberto
Taormina's charming main street
From either of the town's 2 stone portals, you'll find yourself walking along the pedestrian-only shopping haven of Corso Umberto. It's a pleasant cobblestoned route lined with flowers, but can be get quite busy with the summer crowds. This can be good if you like people watching – there's plenty of cafés along the course where you can sit and enjoy a coffee. Speciality shops range from fashion to jewellery, while most have displays filled with souvenirs. It's charming during sunset time, with fewer tour groups.
地點: Corso Umberto, Taormina, Messina, Sicily, Italy
開放時間: Most shops are open daily from 10am to 2pm and from 3pm to 8.30pm
相片由 Eleassar 提供 (CC BY-SA 4.0) 經修改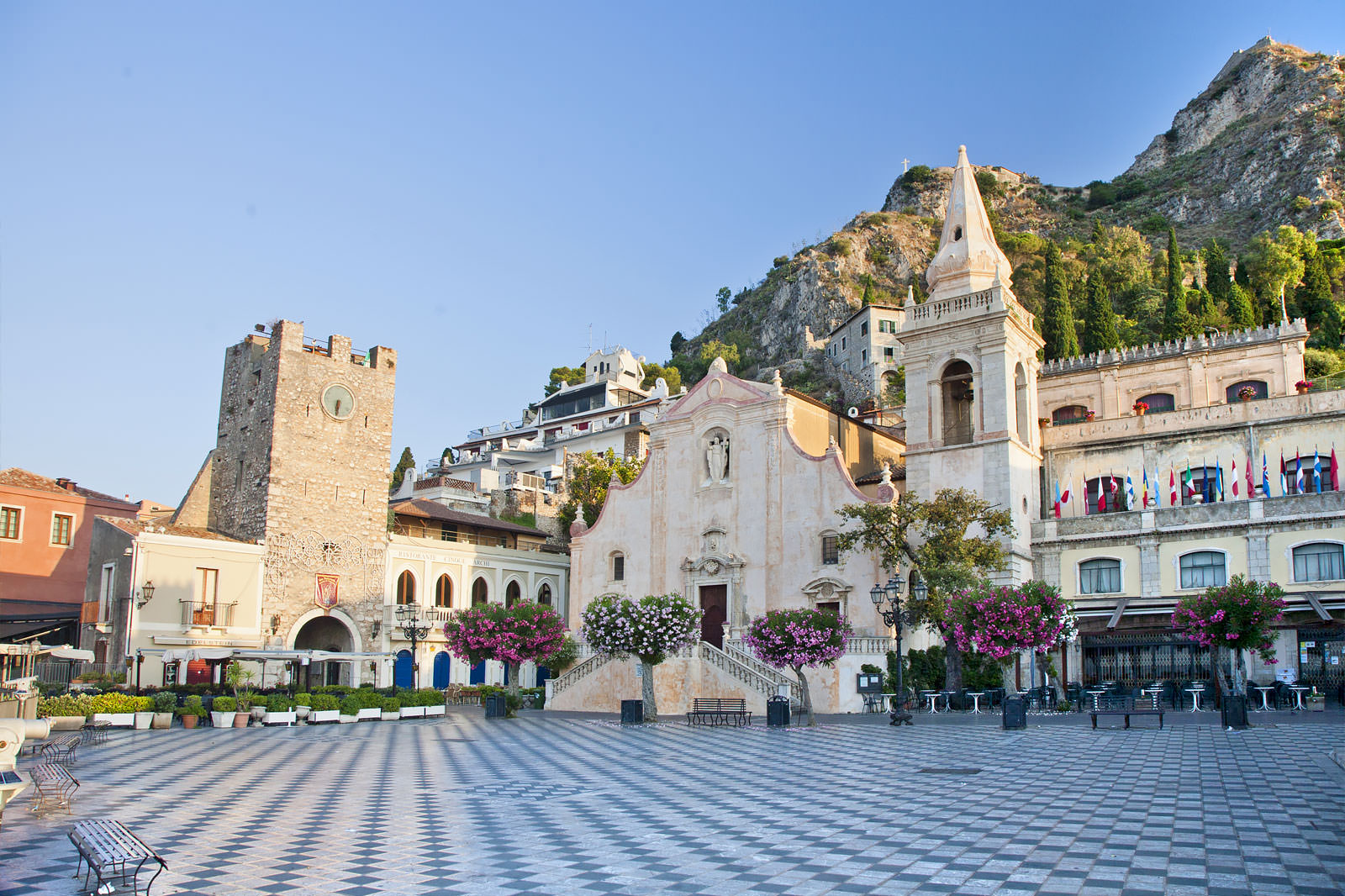 Sightseeing at Piazza IX Aprile
Pause for a scenic seascape
Halfway down Corso Umberto, you'll come across this spacious and beautifully chequered-tiled piazza. It can provide you with a pause and relief from the usually crowded street, with a prize view as its bonus. From the piazza's southern side, you can take in the sweeping seascape of the Ionian Sea. The other sides are bordered by historical landmarks, namely the baroque San Giuseppe church, the Church of St. Augustine, and the striking fortress-like clock tower. The square's gorgeous, both day and night.
地點: Piazza IX Aprile, 6, Corso Umberto, Taormina, Messina, Sicily, Italy
開放時間: 24 hours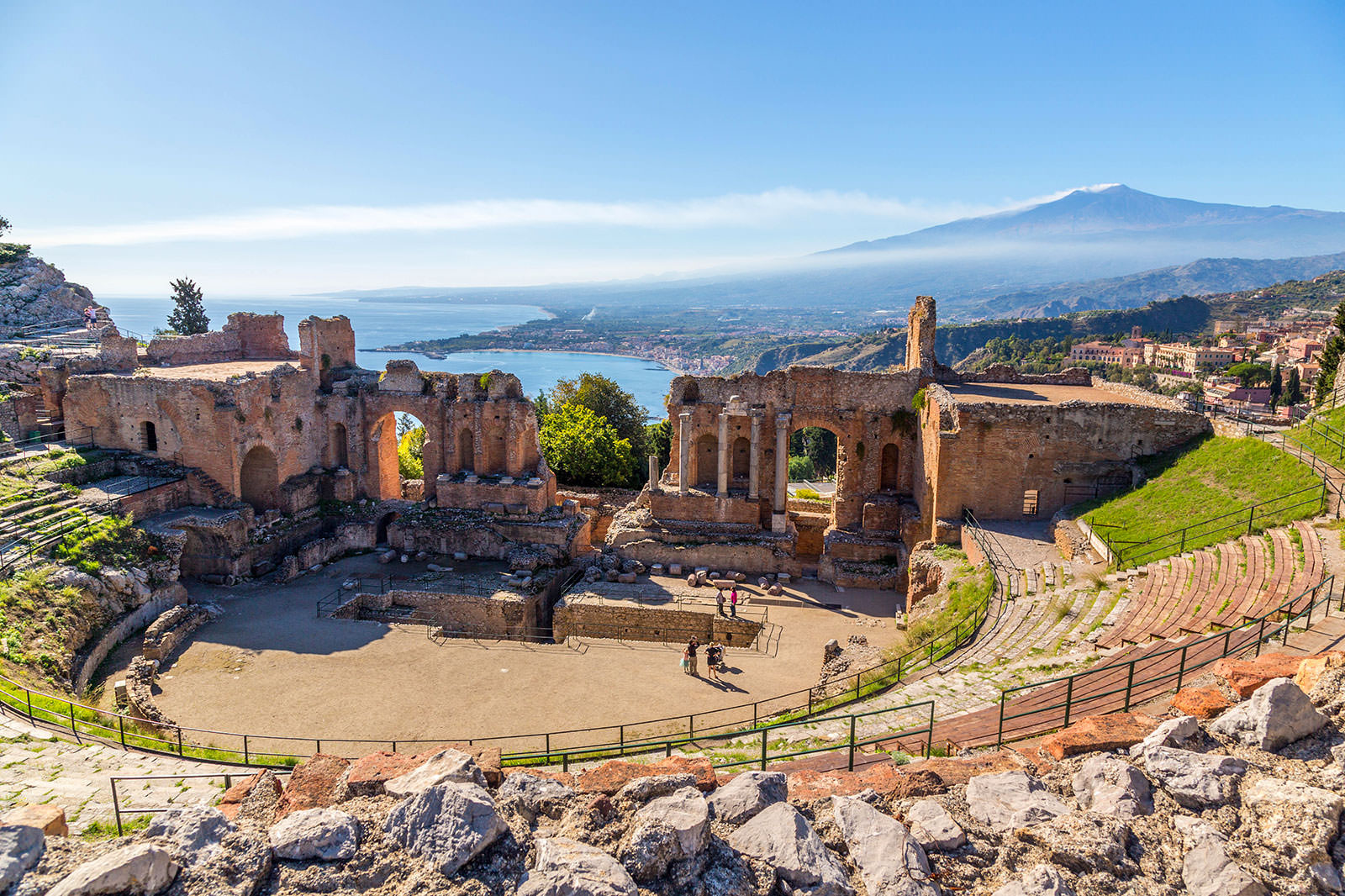 Must-See: the Greek Theatre
Watch an opera at an ancient landmark set against the Ionian Sea
A 6-minute detour from Porta Messina, Taormina's ancient Teatro Greco (Greek Theatre) is spectacularly set against the Ionian seascape, with the silhouettes of Mount Etna in the background. It's a wonderful sight on its own, featuring the intact stadium, terraces and preserved stone walls, together with the ruins of an ancient temple and the stage's large columns. It still hosts a variety of operas, as well as shows and concerts today. Tickets are from €10, but entry is free if you come on the first Sunday of the month.
地點: Via del Teatro Greco, 40, Taormina, Messina, Sicily, Italy
開放時間: varies throughout the year, usually from 9am to 6pm
電話: +39 (0)942 23220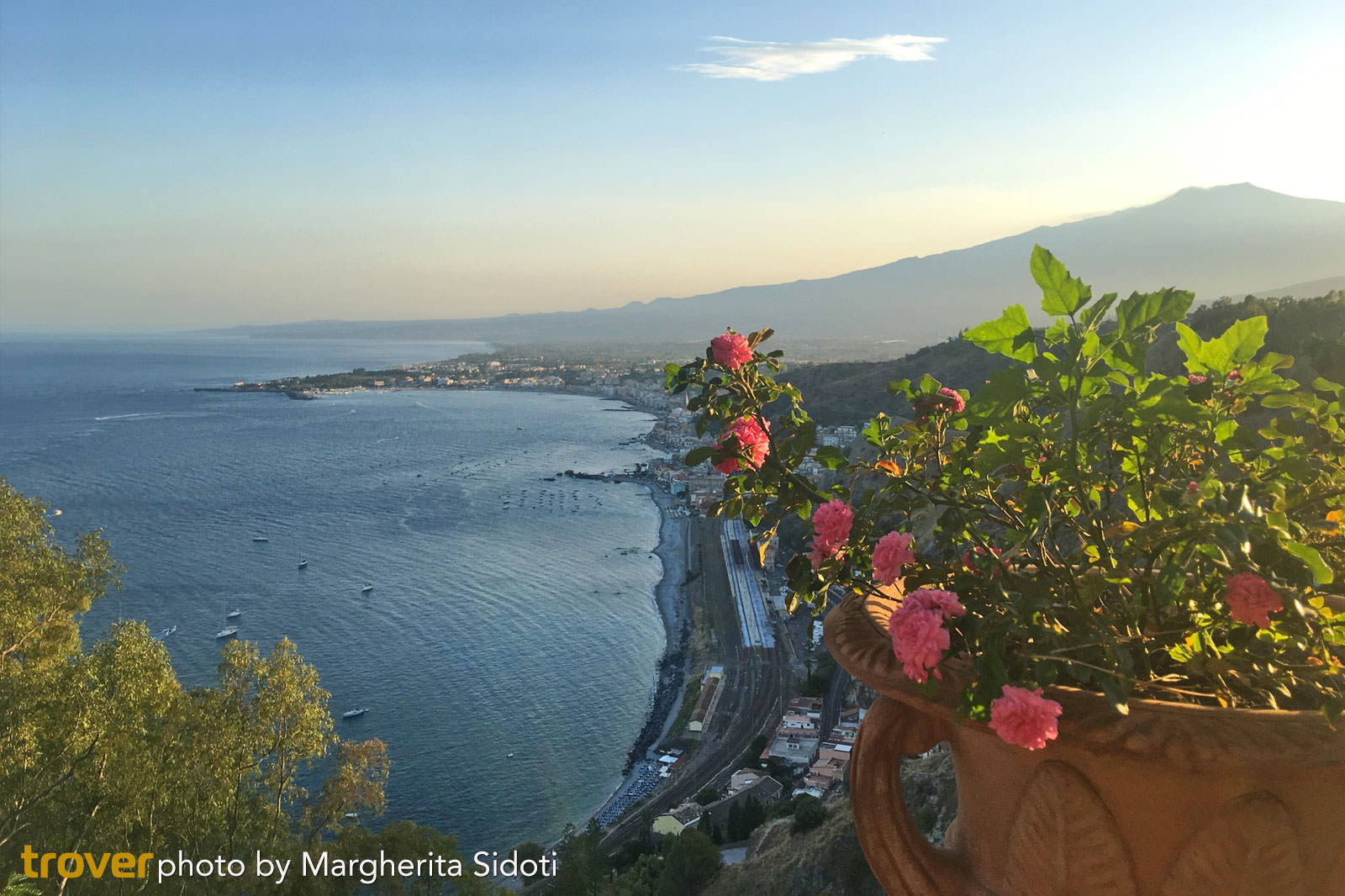 View the Bay from Giardini della Villa Comunale
An urban oasis with magnificent views
If you're looking for some serenity to go with the Taormina's lovely sea views, head down to this small park that's around 4 minutes' walk from Piazza IX Aprile. The beautiful Giardini della Villa Comunale offers quiet and lazy strolls, away from the common crowds of Corso Umberto. The well-manicured gardens have bronze sculptures and fountains among flowerbeds and shrubs, and pathways around the cliff edge allow you to take in the views of the bay and parts of the coastal town below. The garden is open to the public.
地點: Via Bagnoli Croce, Taormina, Messina, Sicily, Italy
開放時間: Daily from 9am to midnight (summer), and from 9am to 8pm (winter)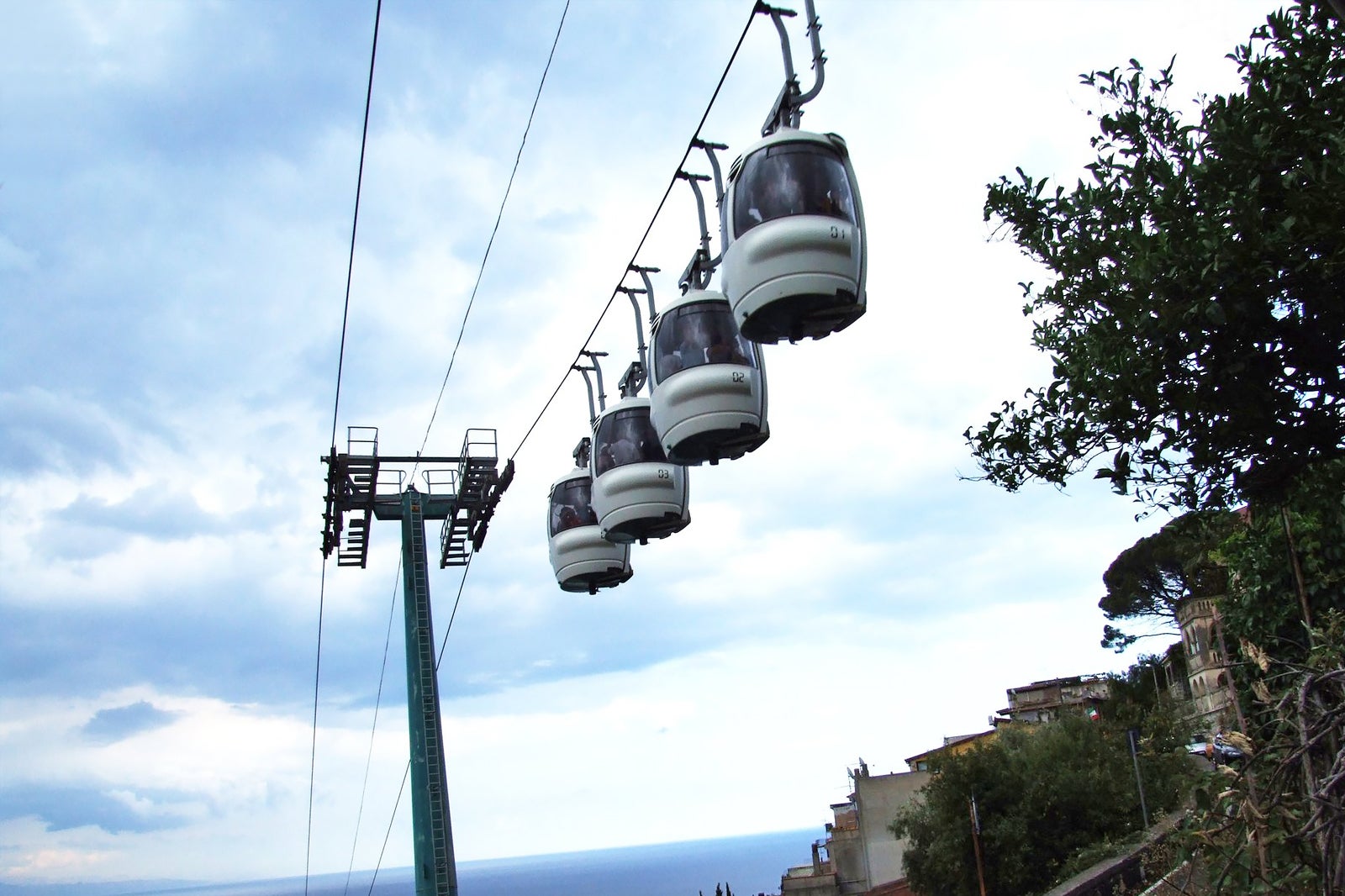 Ride the Mazzarò-Taormina Cable Car
Steady journey with birds'-eye-views
A fun way to enjoy an overview of the town and its seascape is from the air – by Taormina's funivia (cable car). It connects the town's historical hub to the coastal area of neighbouring Mazzarò. One-way tickets are from around €3, and you can hop into a cabin every 15 minutes. Besides enjoying a steady ride with great aerial views, after arriving at Mazzarò you can also easily reach the idyllic islet and beach of Isola Bella within a 10-minute walk down Via Nazionale.
地點: Isola Bella, Taormina, Messina, Sicily, Italy
開放時間: Mondays from 9am to 8pm and Tuesday - Sunday from 8am to 8pm. Open until 1am in summer.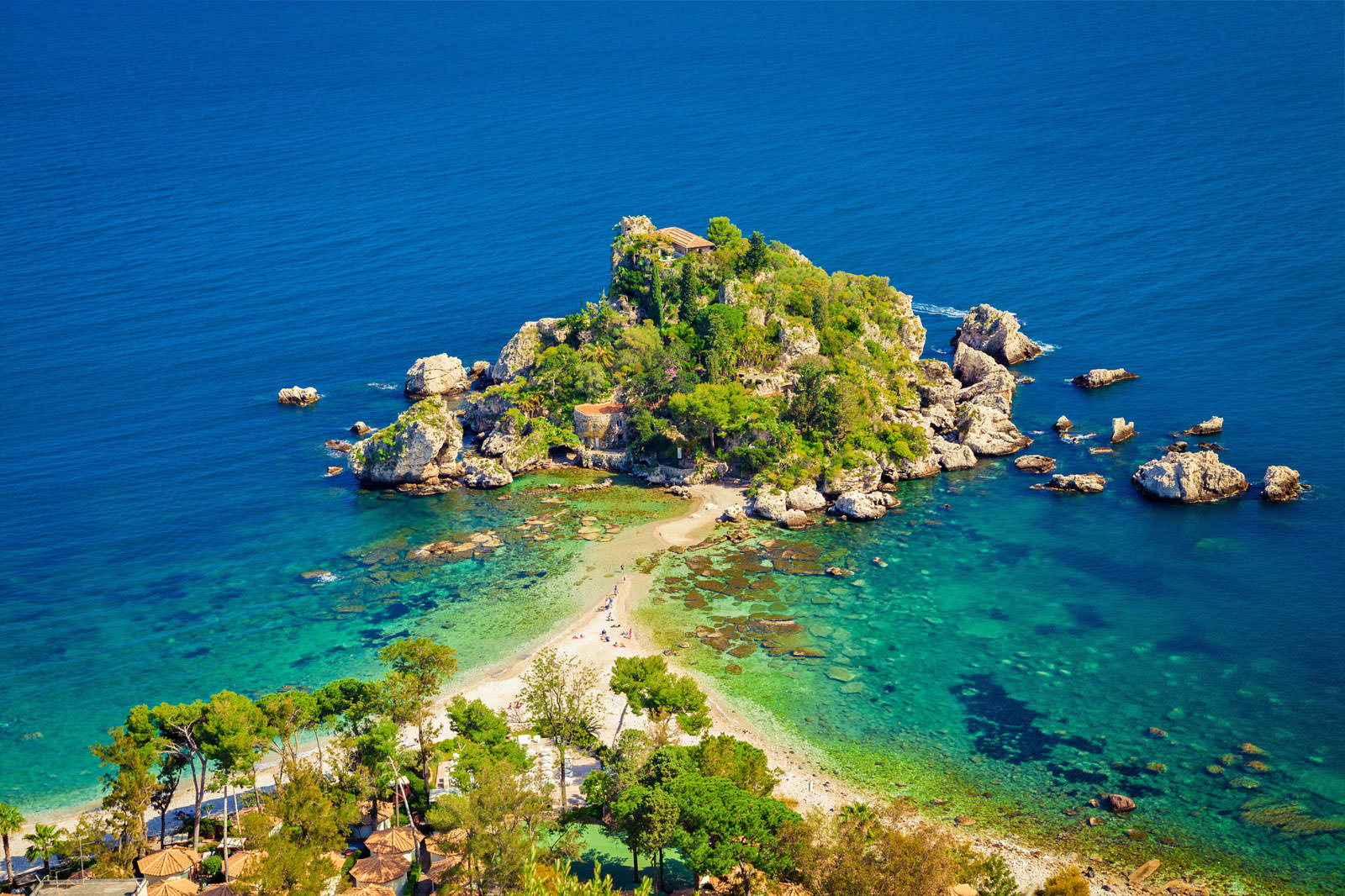 Sunbathe on Isola Bella Beach
Taormina's most beautiful islet and bay
Head down to Isola Bella Beach if you're looking to spend some time soaking up some rays or wading in the calm blue waters of the Ionian Sea. The beach forms a natural causeway at low tide, connecting to the rocky limestone islet of the same name. It's pretty, but very gravelly, with large pebbles and practically no sand. Most sections of the beach are public with sun loungers and paddleboards for rent. You can also find a natural museum here to learn more about the beach's history (entry is around €4).
地點: Isola Bella, Taormina, Messina, Sicily, Italy
開放時間: Tuesday - Sunday from 9am to 5pm. In winter time may vary depending on weather conditions. Tours are staggered in groups of 15 people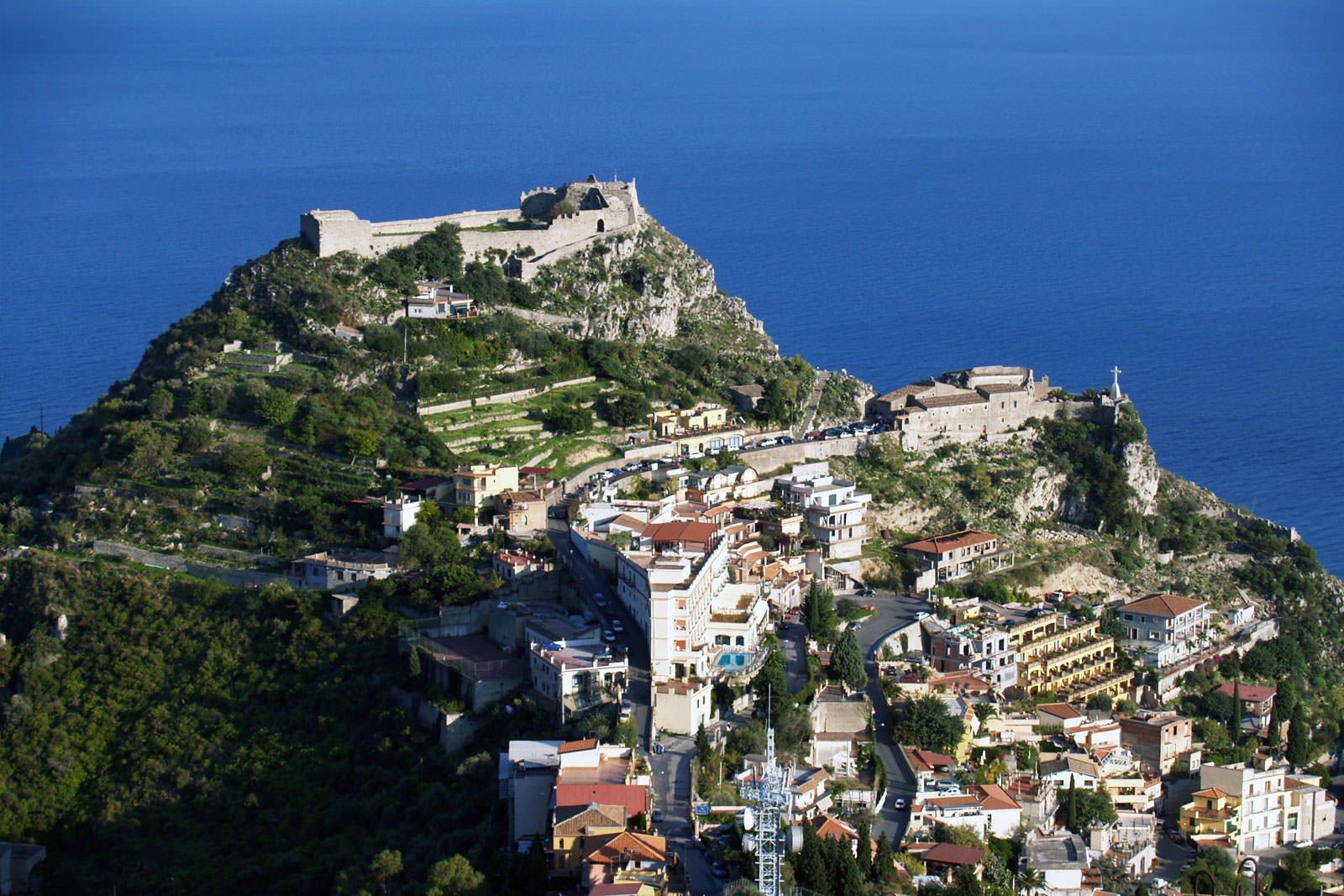 Must-See: Santuario Madonna della Rocca
Panoramas from a 17th-century church built into a cliff
This historical chapel is built into rocks above the town. It has a cliff-edge courtyard from where you can take in scenic vistas, with the Greek theatre and bay in view. It's peaceful and quiet, offering a quiet escape distanced away from the town crowds below. Most buses from town stop here along the way up to the neighbouring commune of Castelmola, and you can even walk up the steps from Corso Umberto (but don't forget your sunscreen and drinking water in the summer).
地點: Taormina, Messina, Italy
開放時間: Daily from 8.30am to 7pm
電話: +39 (0)338 803 3448
相片由 Arnoldius 提供 (CC BY-SA 2.5) 經修改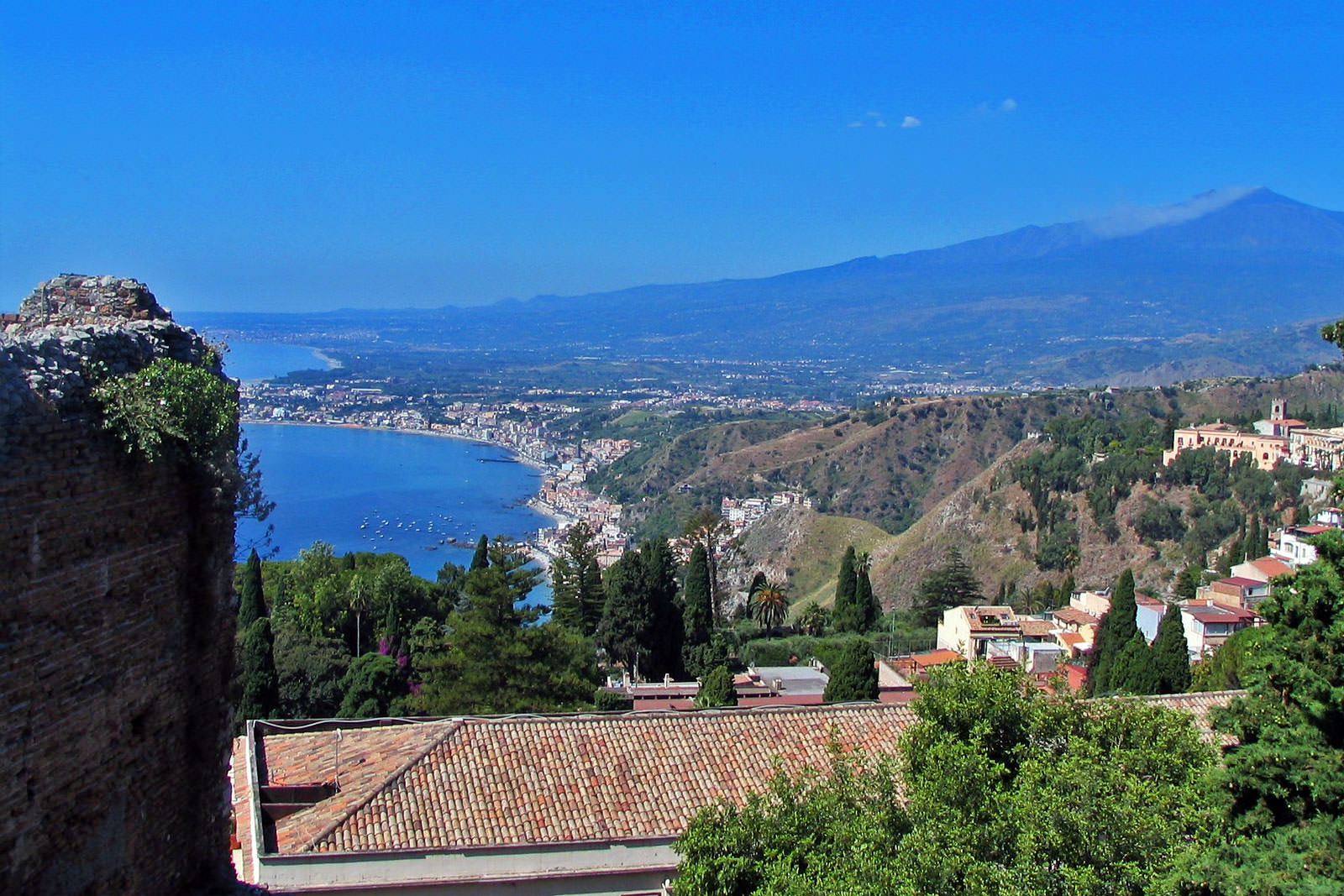 Dine with a View at Al Saraceno
Seafood and Sicilian wines with seascapes and sunsets
Enjoy authentic Mediterranean dishes with wonderful views of Mt. Etna and Castelmola at Al Saraceno, a popular restaurant that's just a short stroll west of Santuario Madonna della Rocca. Among the seafood dishes to try is their sweet and sour sardines "Beccafico style" – served with pine nuts, raisins, egg and parmesan (around €15). The menu also lists selections for meat-lovers as well as homemade pizzas. Sunsets are magical from the open terrace, but it can get quite breezy (blankets are often provided as a kind gesture).
地點: Via Madonna della Rocca, 16/18, Taormina, Messina, Sicily, Italy
開放時間: Daily from 12pm to 2.30pm and from 7pm to 11.30pm
電話: +39 (0)942 632015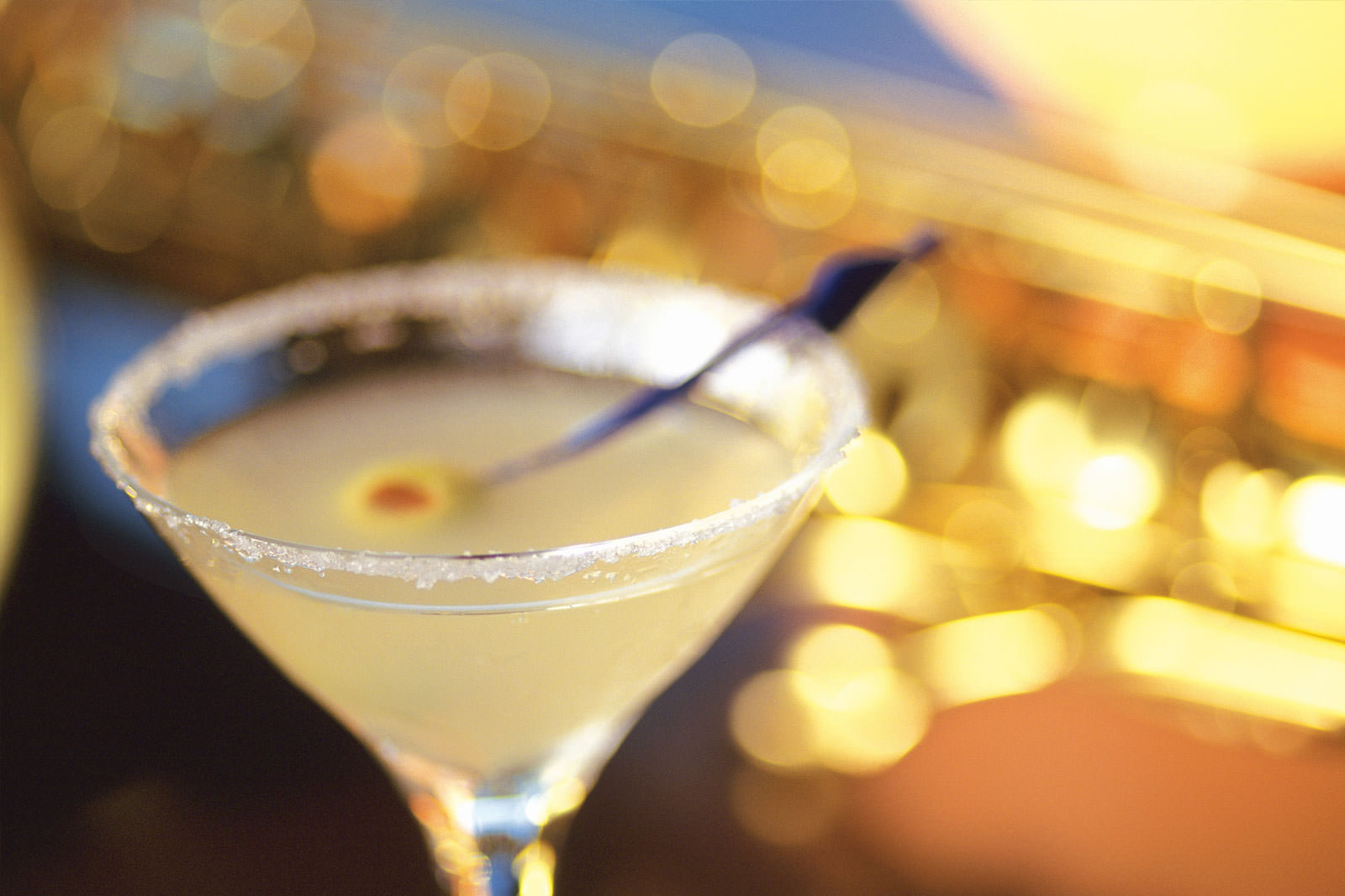 Chill at Morgana Lounge Bar
A chic Sicilian nightspot
For a stylish night out in downtown Toarmina, veer into a side street off Corso Umberto to Morgana Lounge Bar. Stepping inside, you'll find its glamorously frescoed interiors before an art-deco styled cocktail bar. Drinks are reasonably priced, from around €6. There's also a courtyard under orange blossoms for an open-air lounging experience. Try Morgana's signature Passion Sicily, a flavourful and refreshing blend of Bacardi, orange, passion fruit, mint, white cane sugar and soda water. Bookings are necessary, especially on weekends.
地點: Scesa Morgana, 4, Taormina, Messina, Sicily, Italy
開放時間: Daily from 8pm to 4am
電話: +39 (0)942 620056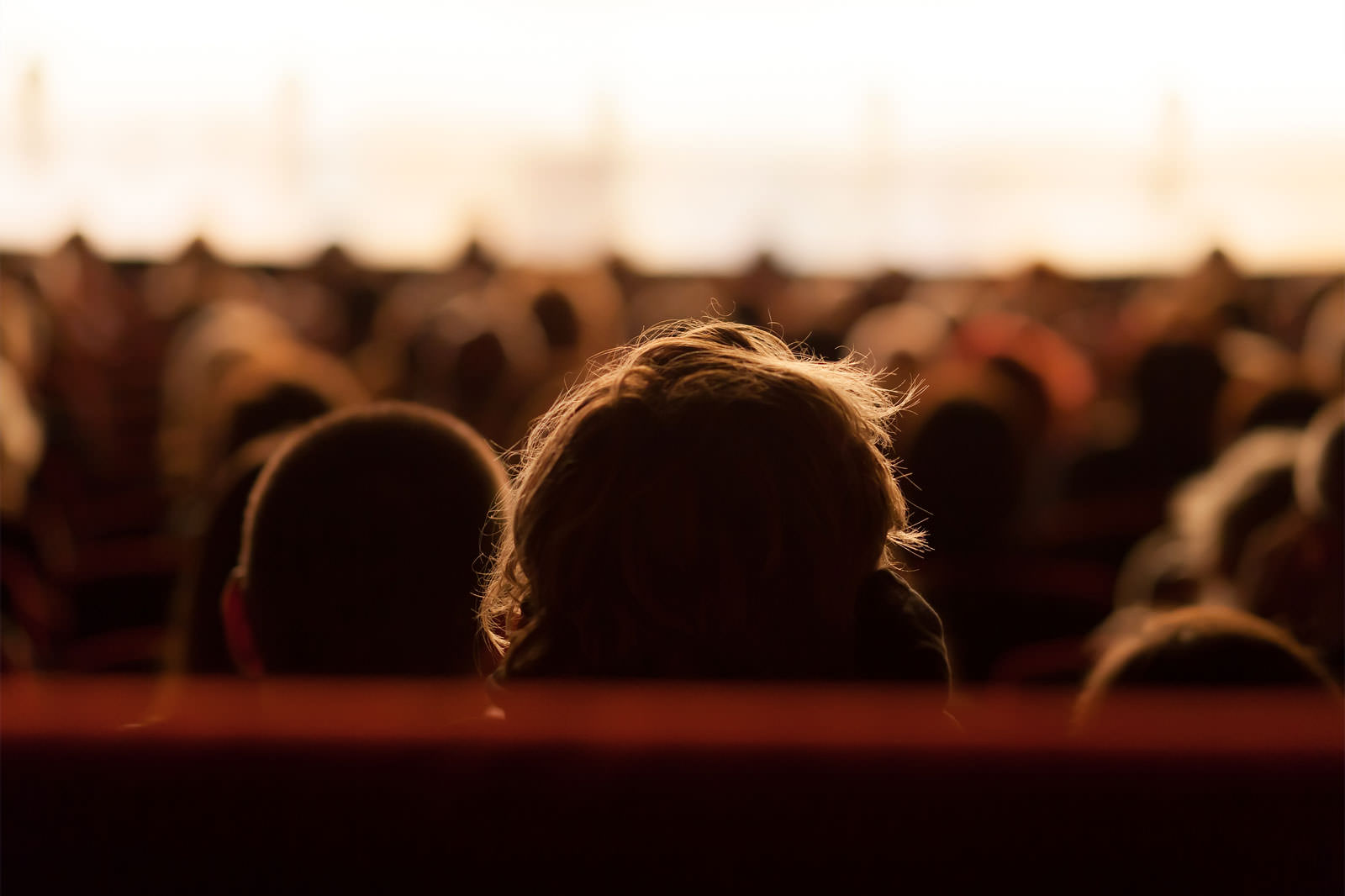 End the Day Watching an Opera at San Giorgio Theater
Enjoy Italian arias and duets with a glass of prosecco
Taormina's opera house features classics from Madame Butterfly to La Bohème, performed by its troupe of professional singers and pianists. Tickets are around €10, which also gets you a glass of prosecco wine, offered during the show's halftime interval on their scenic rooftop terrace. You can also check out Taormina Arte, the town's arts and cultural events rundown of operas such as The Barber of Seville, musicals, sopranos and dance events. It often takes place between the summer months of June and September with venues that include the Greek Theatre. Depending on seating arrangements, tickets range between €23 and €70.
地點: Via Don Bosco, Taormina, Messina, Sicily, Italy
開放時間: (April) every Saturday from 8.15pm. (May - October) every Monday, Wednesday and Friday from 8.15pm.
電話: +39 (0)340 642 6230