10 Best Shopping Malls in Hong Kong
Hong Kong's Most Popular Shopping Malls
The best shopping malls in Hong Kong highlight the city's reputation as an impressive shopping destination in Asia. These multi-storey malls and department stores stock fashion brands from just about every continent, as well as amazing restaurants and indoor leisure facilities.
You'll find brand names galore in Hong Kong at luxury malls like The Landmark, Harbour City, and Times Square, but it doesn't end there – many also incorporate the full gamut of facilities including fast food, fine dining, massage, movie theatres, children's activity centres, and even ice skating. Retail therapy really does work, so check out our guide on Hong Kong's most popular shopping malls.
1
The Landmark Hong Kong
Central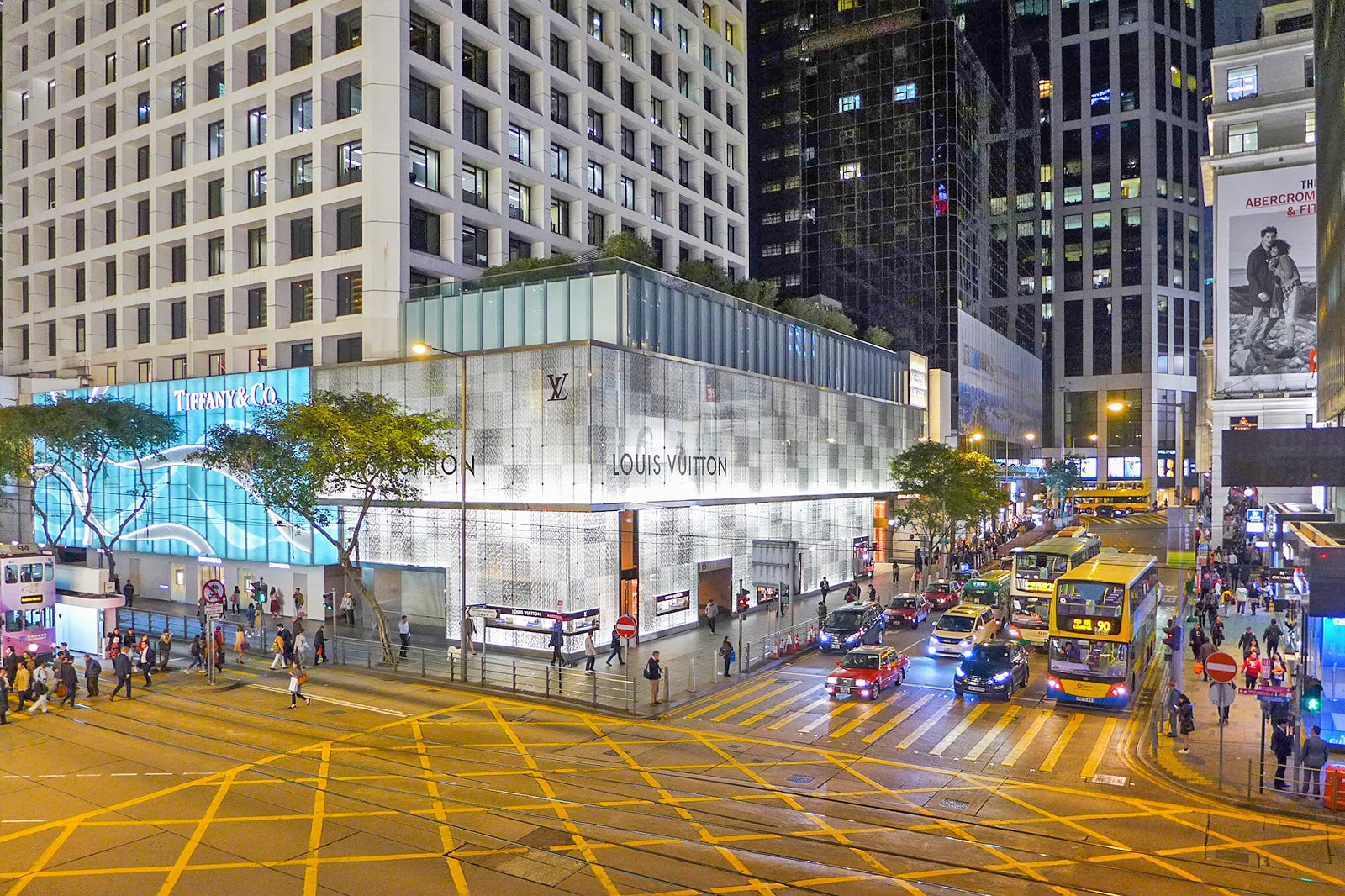 Landmark Hong Kong is one of Hong Kong's largest shopping malls, with 4 buildings housing over 200 international brands. High-end brands you can find here include Louis Vuitton, Diane von Furstenberg, Chopard, and Chanel.
Product launches and art exhibitions by local and international names often take place at this luxury mall. Dining options are on the pricier side – check out L'ATELIER de Joël Robuchon, an innovative French restaurant with 3 Michelin stars.
地點: 15 Queen's Road Central, Central, Hong Kong Island, Hong Kong
開放時間: Daily from 10 am to 10 pm
電話: +852 2500 0555
相片由 Wpcpey 提供 (CC BY-SA 4.0) 經修改
2
Harbour City
Tsim Sha Tsui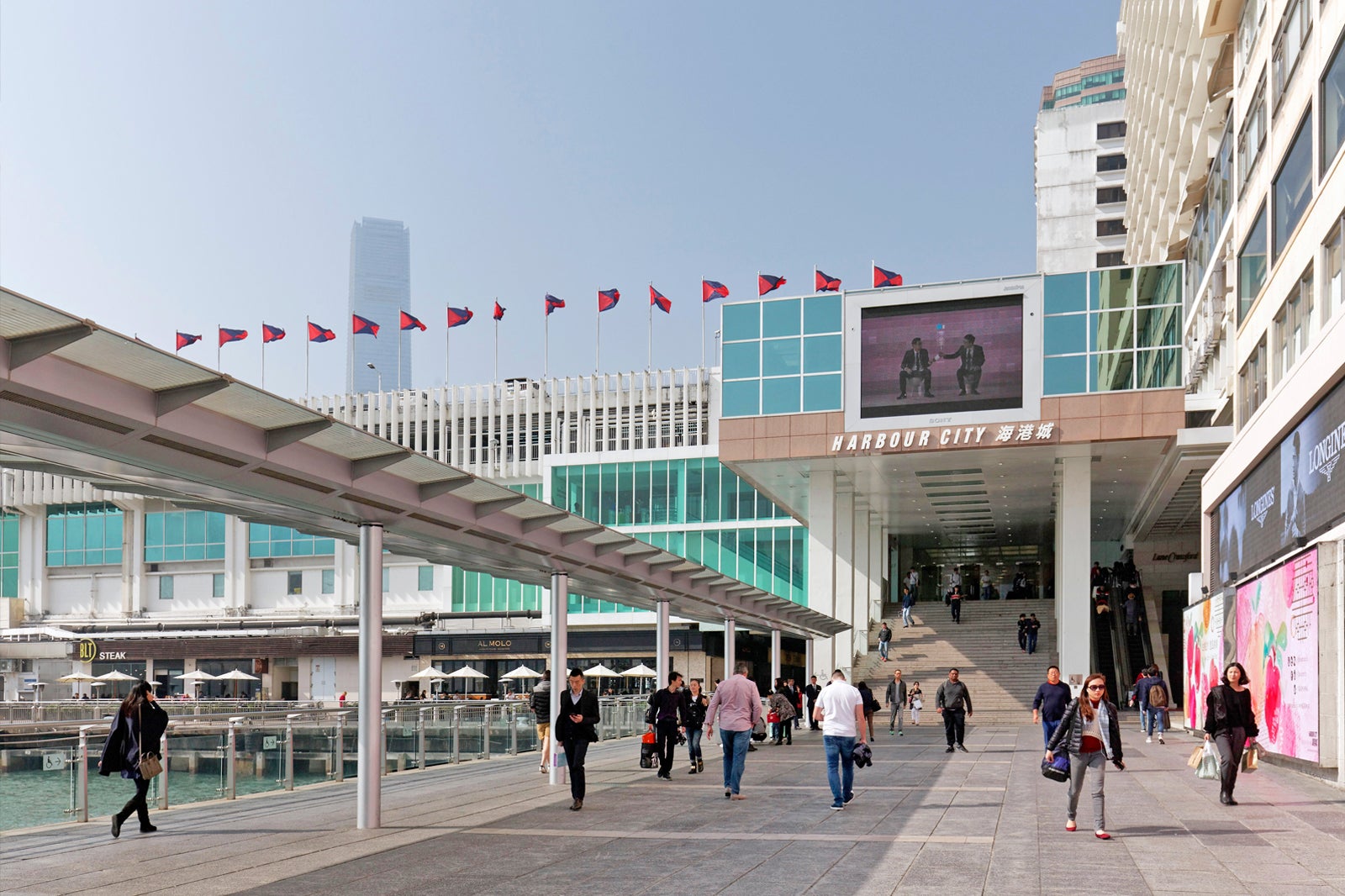 Harbour City has more than 700 stores, 50 restaurants, and several entertainment outlets spread across 5 areas. The mall also has a rooftop deck overlooking Hong Kong's Victoria Harbour and the South China Sea.
Harbour City Hong Kong often hosts elite car shows and beauty road shows, as well as photography and art exhibitions in the main exhibition hall. Family-friendly activities are common during special occasions like Christmas and Chinese New Year.
地點: 3–27 Canton Road, Tsim Sha Tsui, Kowloon, Hong Kong
開放時間: Daily from 10 am to 10 pm
電話: +852 2118 8666
3
Pacific Place Hong Kong
Central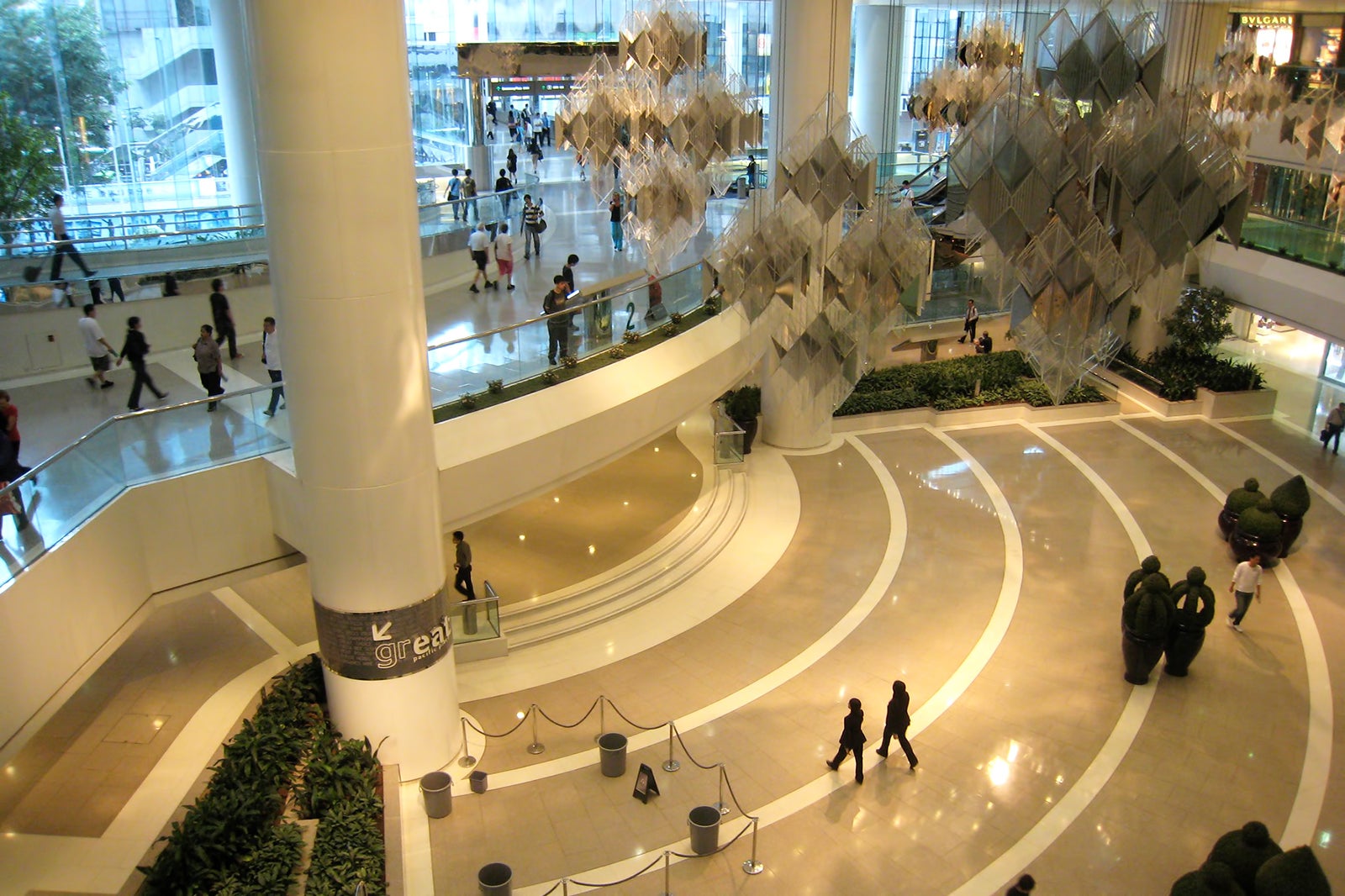 Pacific Place is an upmarket mall surrounded by swanky office towers, five-star hotels and a luxury apartment residence. Around 200 exclusive labels and 3 department stores are scattered across 4 levels, with familiar names such as Brooks Brothers, Balmain, and Shanghai Tang, as well as fine jewellers such as Chopard and Cartier.
Pacific Place Hong Kong also has a luxurious cinema with 6 screens and a private lounge that serves French cuisine.
地點: 88 Queensway, Admiralty, Hong Kong Island, Hong Kong
開放時間: Daily from 10 am to 10 pm
電話: +852 2844 8988
相片由 Alan Levine 提供 (CC0 1.0) 經修改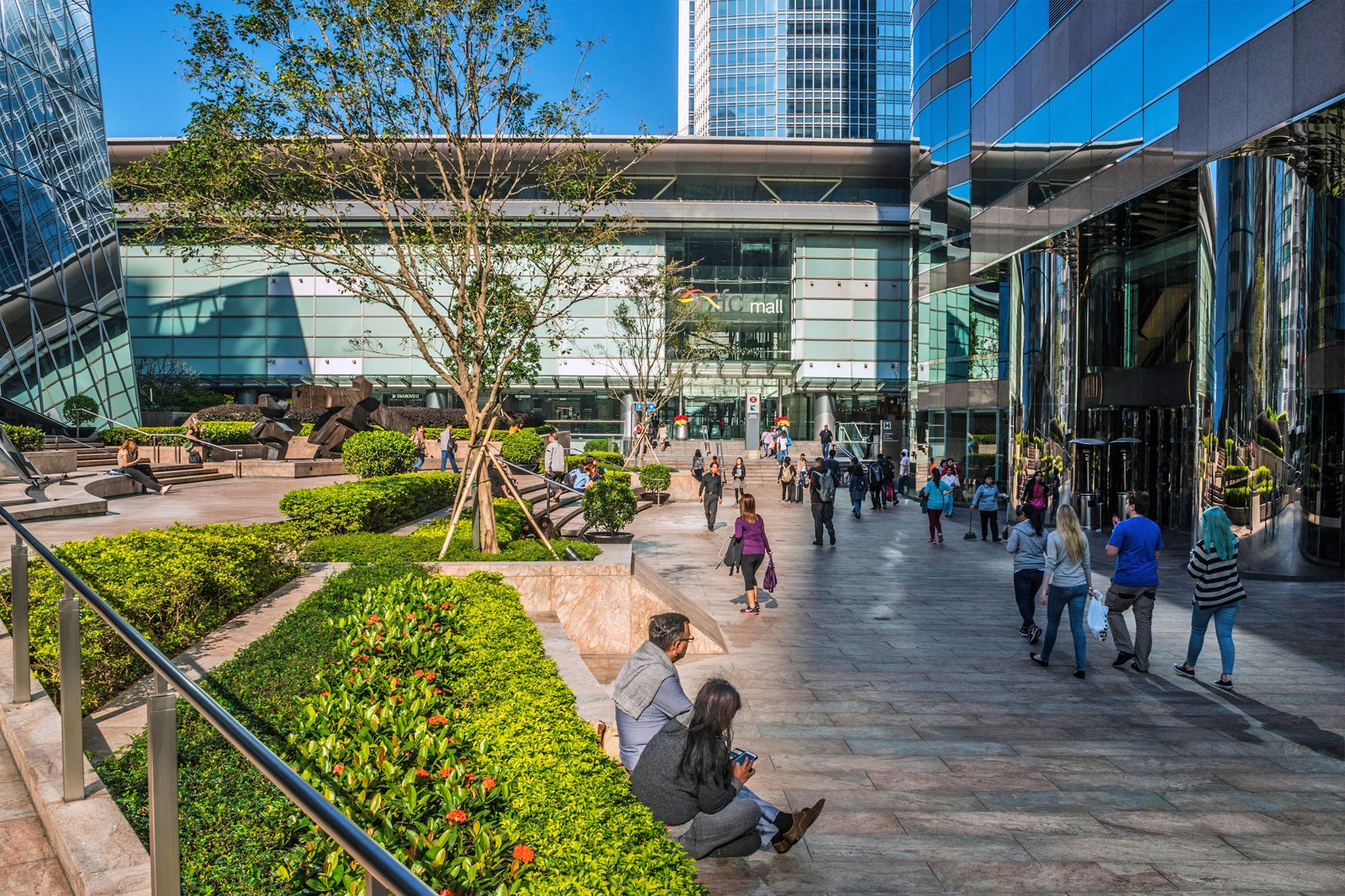 IFC Mall Hong Kong has over 200 stores, a cinema, fitness centre, and a department store. It's worth visiting this 4-storey shopping mall just for dining, as some of its restaurants offer spectacular views across Victoria Harbour. Imported fashion brands include Club Monaco, Tom Ford and Accessorize, while cosmetics brands range from high street favourite Body Shop to Parisian classic Chanel.
IFC Mall Hong Kong also has a rooftop terrace, complete with cosy sofas and tables for you to enjoy superb views of the city.
地點: 8 Finance Street, Central, Hong Kong
開放時間: Daily from 10 am to 10 pm
電話: +852 2295 3308
5
Times Square Shopping Mall
Causeway Bay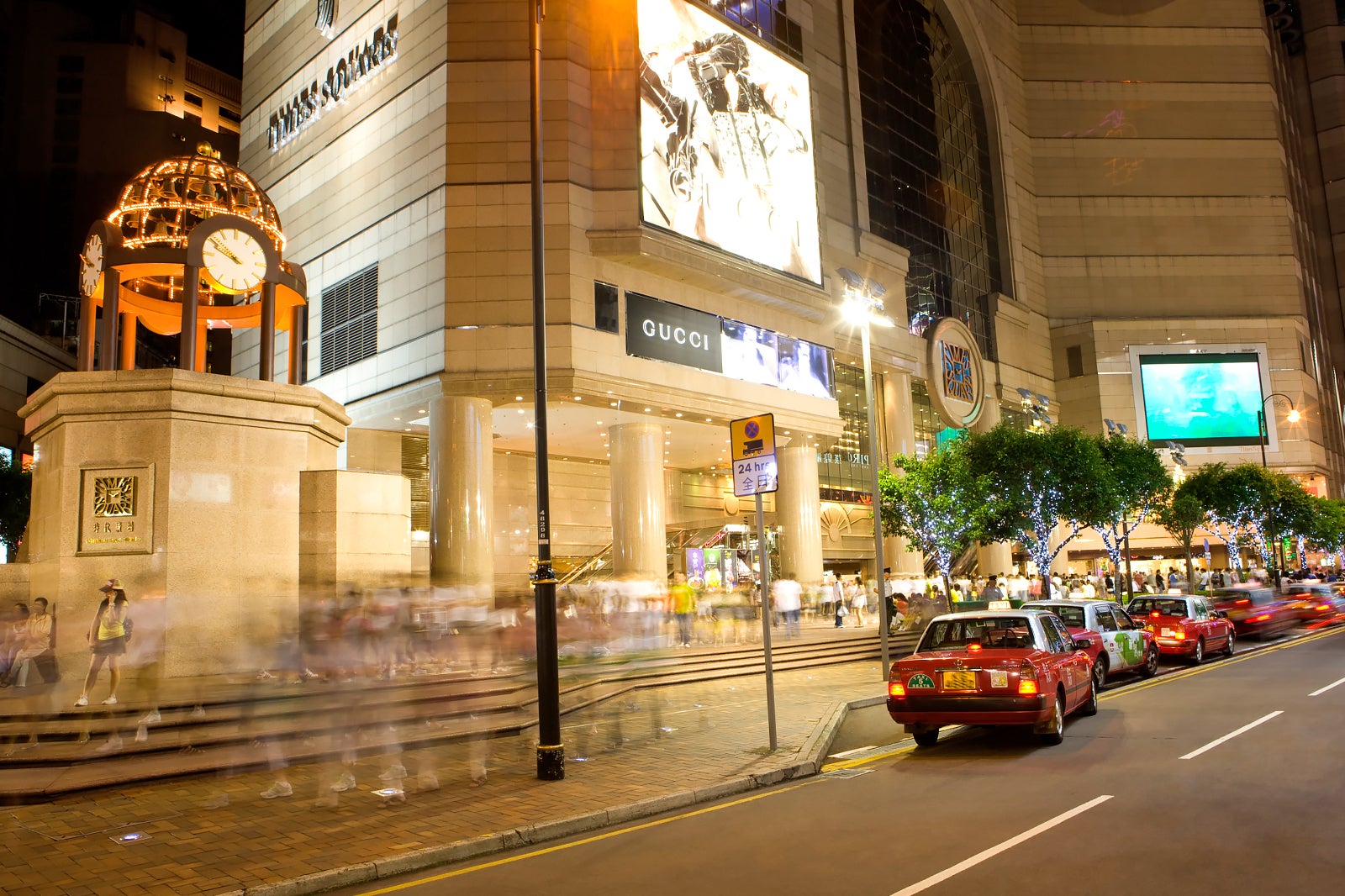 Times Square Hong Kong spans 16 floors of retail, dining and entertainment outlets, making it one of the largest shopping malls in Causeway Bay. You'll find more than 200 retail outlets and over 30 dining outlets, as well as 2 department stores and a cinema. The mall's main flagship store is Lane Crawford which is spread over the Ground Level and Level 1.
Time Square Shopping Mall is also famous for its picturesque displays and installations at the entrance. Every year, Times Square Shopping Mall hosts some of the city's largest New Year's Eve celebrations at its open-air piazza.
地點: 1 Matheson Street, Causeway Bay, Hong Kong
開放時間: Daily from 10 am to 10 pm
電話: +852 2118 8900
6
Elements Hong Kong
Western Part of Kowloon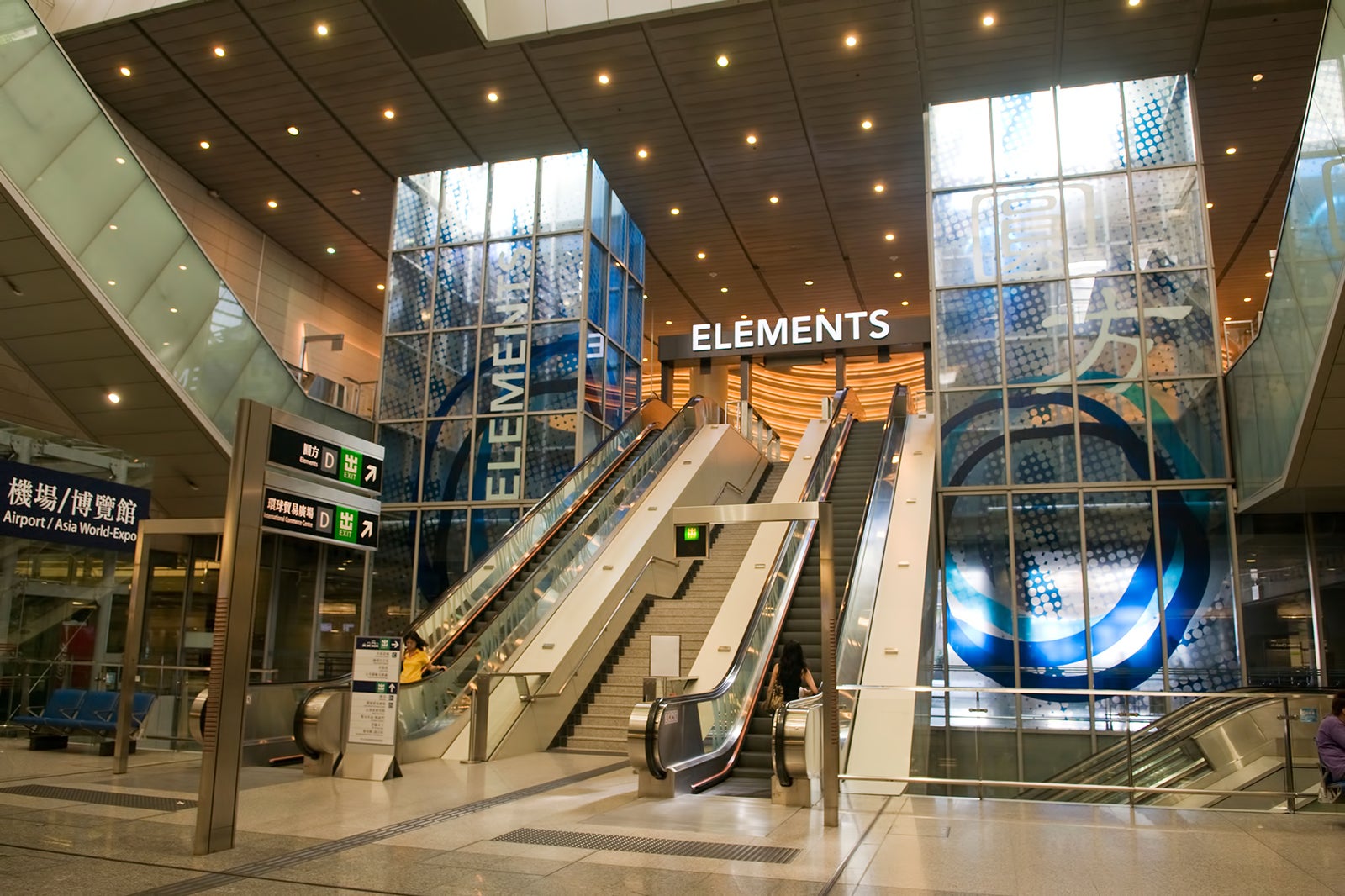 Elements Hong Kong offers 5 shopping zones with a fantastic range of sought-after brands, an indoor ice rink, and one of the city's largest cinemas. The mall also has plenty of dining options, many of which have stunning harbour views via floor-to-ceiling windows. If you're a fan of skating, check out The Rink – its open concept allows skaters to enter the rink by scanning their Octopus card, with rates are charged by the minute.
Elements Hong Kong also hosts a wide range of events, including its popular 'Music in the Square' concerts, as well as art exhibitions by renowned artists from all over the world.
地點: 1 Austin Rd W, Tsim Sha Tsui, Kowloon, Hong Kong
開放時間: Daily from 10 am to 9 pm
電話: +852 2735 5234
7
Festival Walk
Kowloon Tong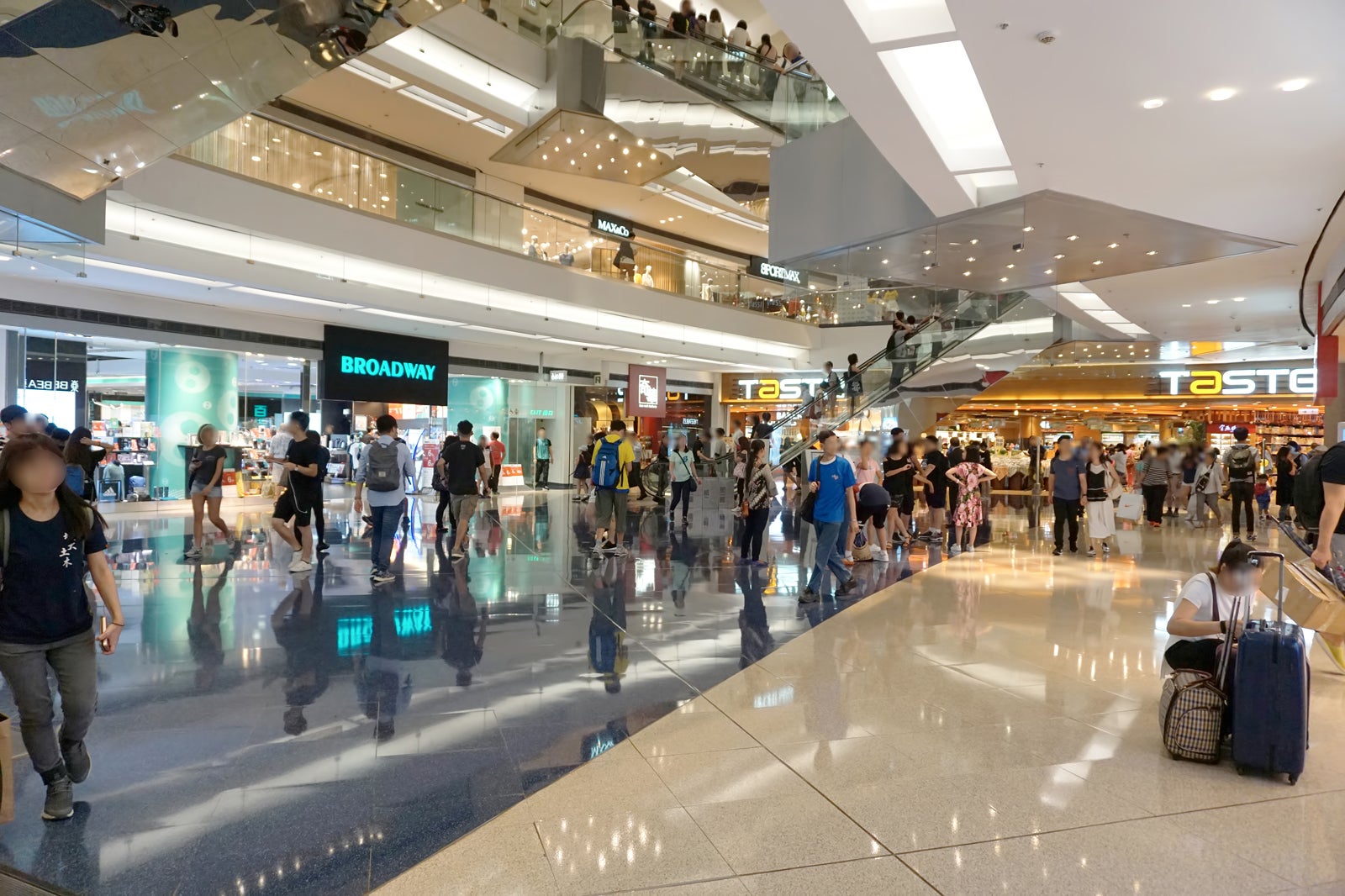 Festival Walk Hong Kong is a 7-floor shopping mall with a direct connection to the Kowloon Tong Station. Fashion brands range from city-smart suits at Brooks Brothers to casual wear at Uniqlo, while sports enthusiasts can find Adidas and Columbia Sportswear within this mall. You'll also find designer fashion outlets by Michael Kors and Calvin Klein.
Entertainment options at Festival Walk Hong Kong include one of Asia's biggest ice-skating rinks, a multi-screen cinema, and a yearly calendar of events.
地點: 80 Tat Chee Ave, Kowloon Tong, Hong Kong
開放時間: Daily from 7 am to midnight (hours may vary)
電話: +852 2844 2222
相片由 Exploringlife 提供 (CC BY-SA 4.0) 經修改
8
New Town Plaza Shopping Mall
Sha Tin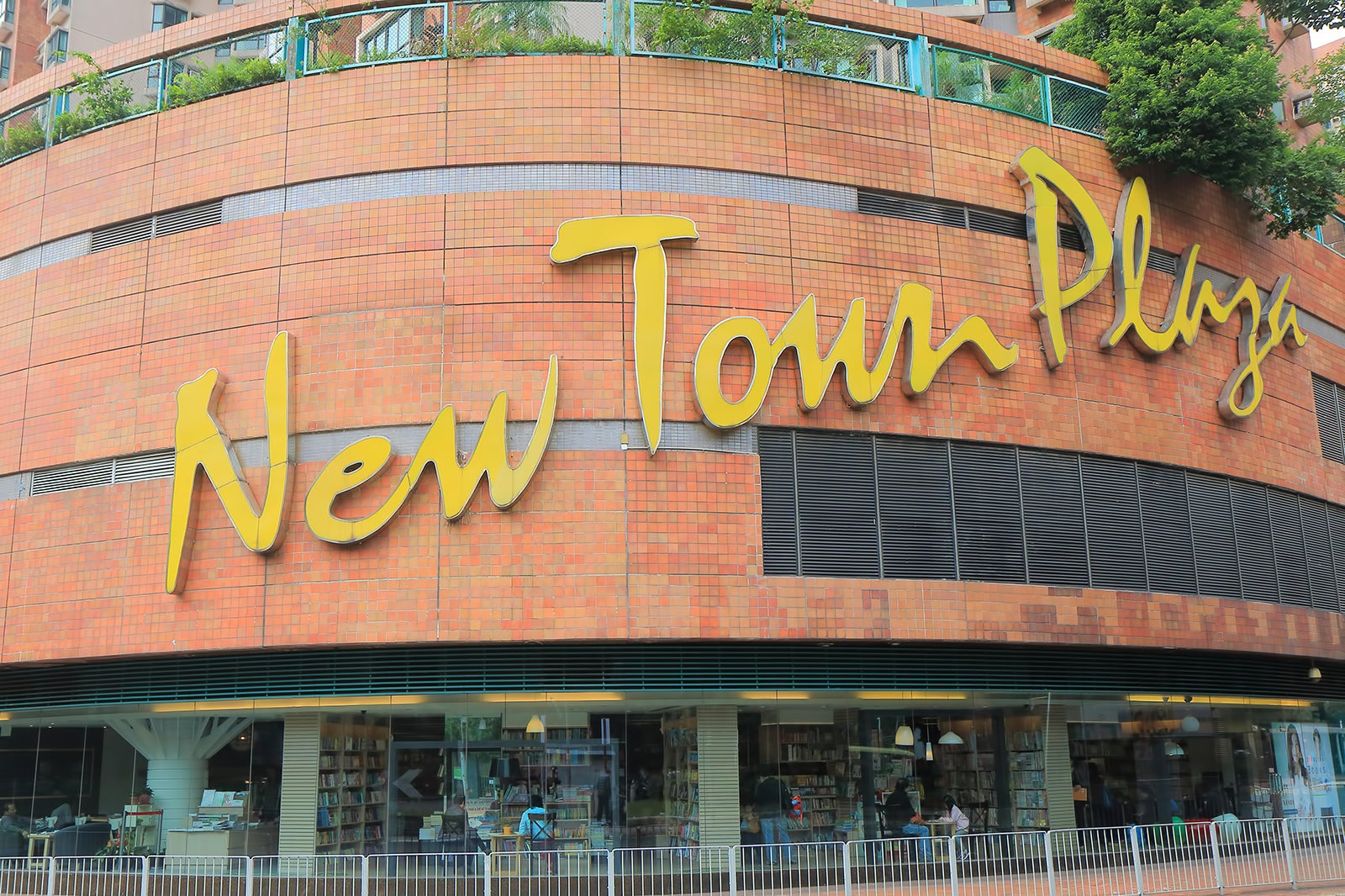 New Town Plaza Hong Kong has 2 separate plazas – the main part of the mall centres on a 9-floor tower, which has an on-site cinema, a rooftop garden, individual shops and restaurants. Head to the 3rd floor to find Snoopy World Hong Kong – this amusement park has an outdoor playground, boating canal, a party pavilion, and a Snoopy House for kids to explore.
The mall is located in the New Territories' Sha Tin district, about 650 metres northeast of the Hong Kong Heritage Museum.
地點: Sha Tin Centre Street, Sha Tin, New Territories, Hong Kong
開放時間: Daily from 10 am to 10 pm
電話: +852 2608 9329
9
SOGO Hong Kong
Causeway Bay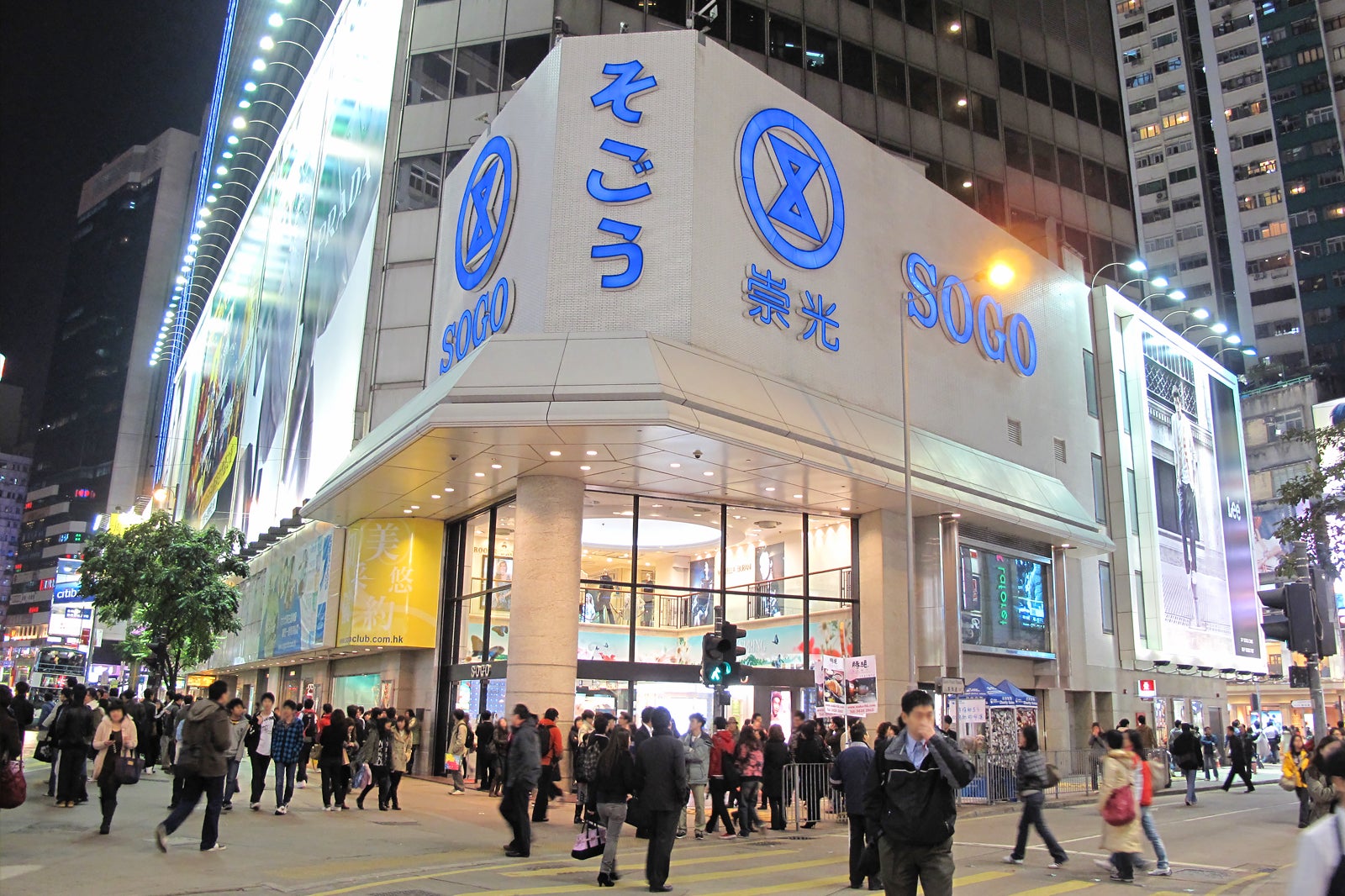 SOGO Hong Kong specialises in Japanese brands, but you'll find plenty of international brands as well. The 16-storey department stores carry quality men and women's fashion, kids' toys and clothes, home wear, electronics, cosmetics, and health products.
SOGO Hong Kong often hosts promotions and sales throughout the year, usually at the Ballroom and Event Hall. Food fairs are also very popular events, where you get to sample local and imported snacks.
地點: 555 Hennessy Road, Causeway Bay, Hong Kong
開放時間: Sunday–Thursday from 10 am to 10 pm, Friday–Saturday from 10 am to 10.30 pm
電話: +852 2833 8338
相片由 Martin Ng 提供 (CC BY-SA 2.0) 經修改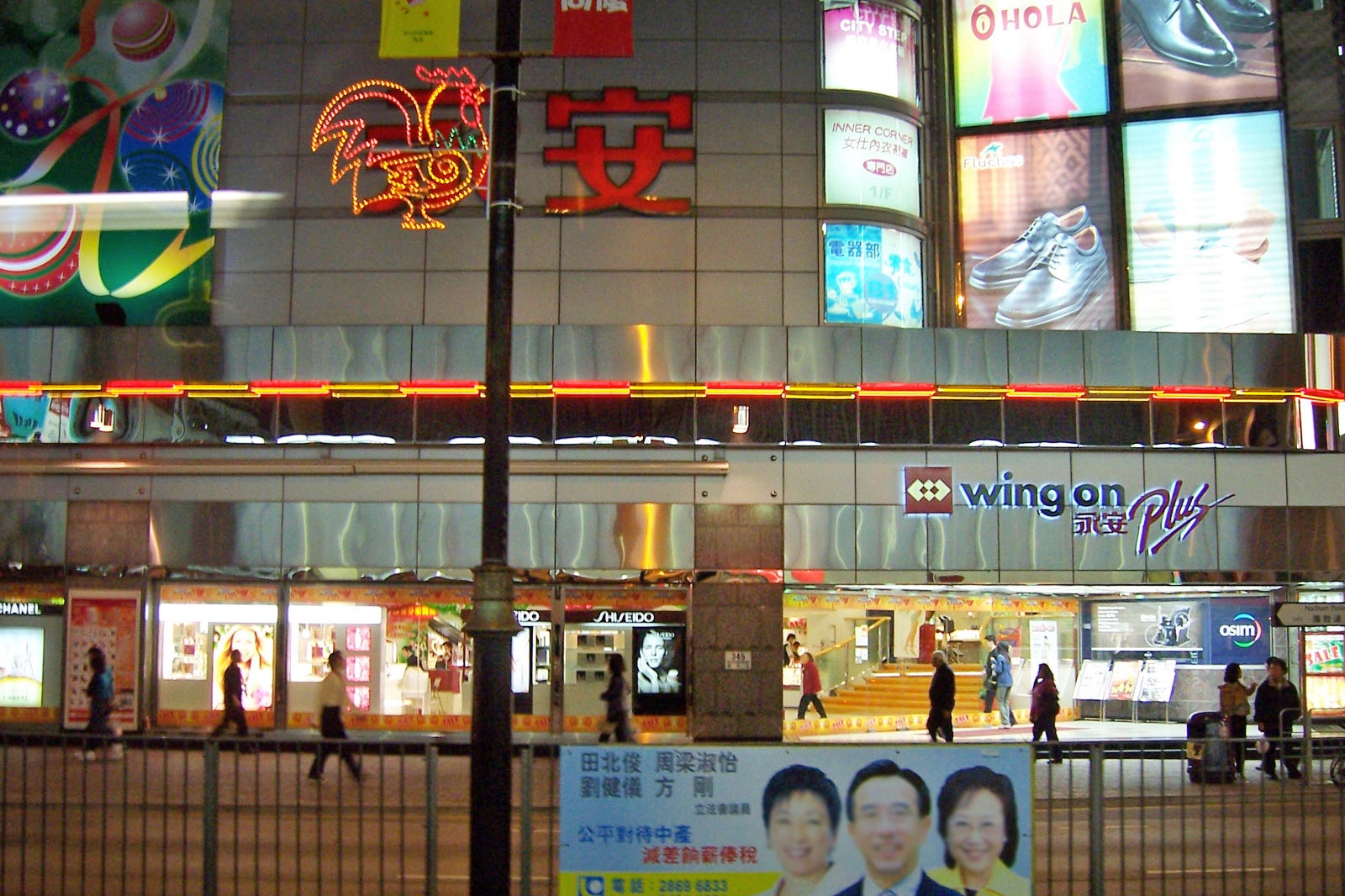 Wing On is a local department store with outlets in areas like Tsim Sha Tsui East and Sheung Wan. Wing On Plus at the Kowloon Centre is one of the most popular spots for locals looking to shop for household items, electronics and appliances, kids' toys, clothing, and accessories.
Wing On Plus Hong Kong often hosts cooking demonstrations on the ground floor, as well as lucky draws, roadshows, promotions and regular fairs that usually take place on weekends.
地點: Wing On Kowloon Centre, 345 Nathan Road, Kowloon, Hong Kong
開放時間: Daily from 10 am to 10.30 pm
電話: +852 2710 6288
相片由 Enochlau 提供 (CC BY-SA 3.0) 經修改