10 Best Things to Do in Victoria, BC
What is Victoria, British Columbia Most Famous For?
Victoria is the capital of British Columbia, and offers a cool combination of beautiful parklands, coastal scenery, and historical landmarks. One of the prettiest spots is Inner Harbour, where two of the city's most impressive buildings can be found on leisurely strolls among striking scenery.
There's plenty of opportunity to enjoy the great outdoors in and around Victoria, too. It's a great departure point for whale watching voyages, and the Butchart Gardens in Brentwood Bay offer seemingly endless floral displays. For shopping, make your way to Johnson Street and, after the sun sets, the rows of bars and pubs on Government Street come to life. Make the most of your visit with this handy guide to the top things to do in Victoria.
What are the best things to do in Victoria, BC?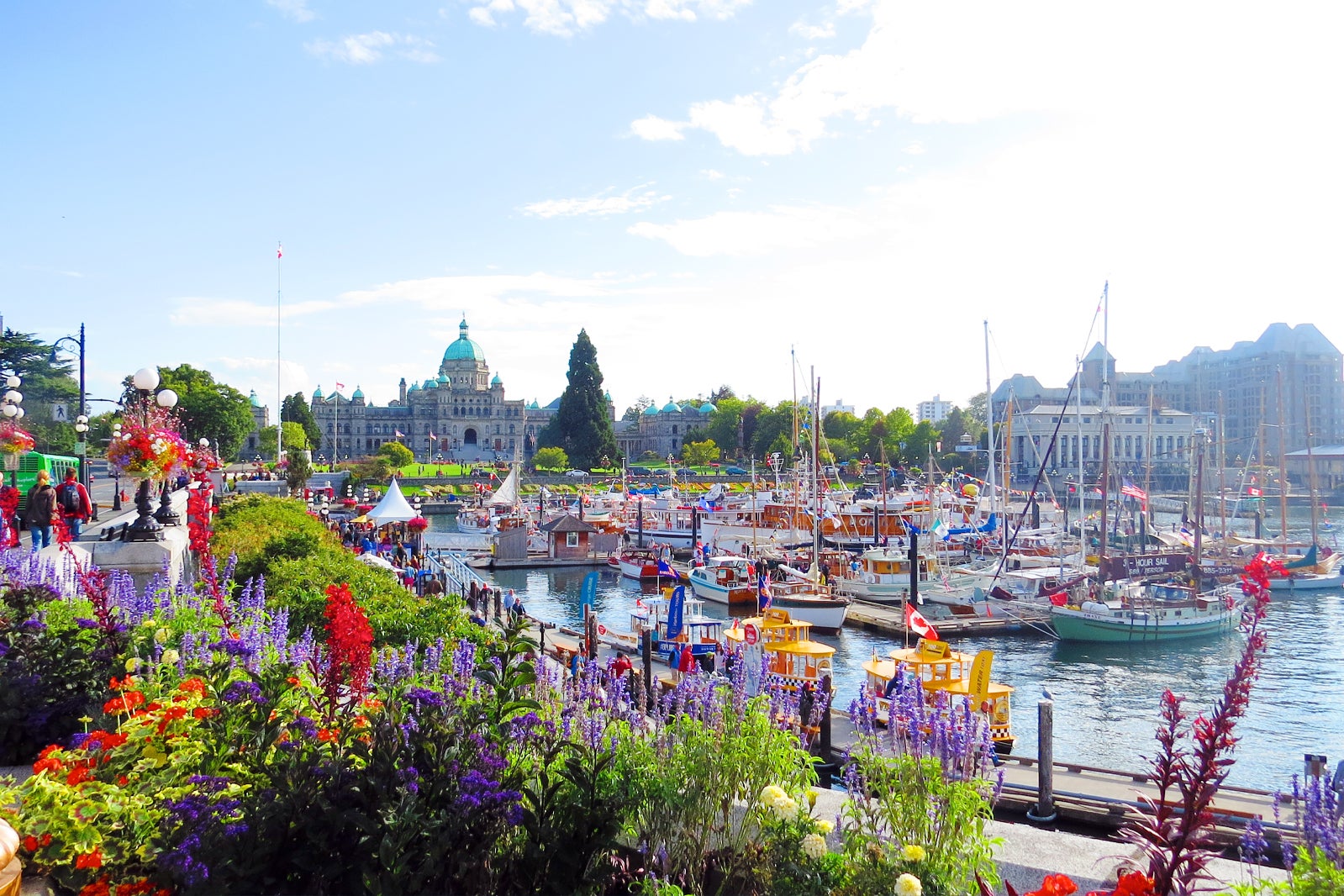 Start the day around Inner Harbour
Stroll by one of the world's most beautiful waterfronts
Inner Harbour is the crown jewel of Victoria's scenic waterfront. Part of the whole Victoria Harbour, you can easily reach most of the city's highlight attractions from here. Jetties and a promenade line the harbourfront, providing you with pleasant walks alongside tall yachts and boats, with the British Columbia Parliament Buildings and The Empress Hotel as a backdrop. Pick a café or seafood restaurant along the nearby Belleville Street or Wharf Street and sip coffee or dine with the pretty waterfront view. Come back at sunset and the view is even better.
地點: Wharf St, Victoria, BC V8W 1T3, Canada
相片由 ChrisJohnstone86 提供 (CC BY-SA 3.0) 經修改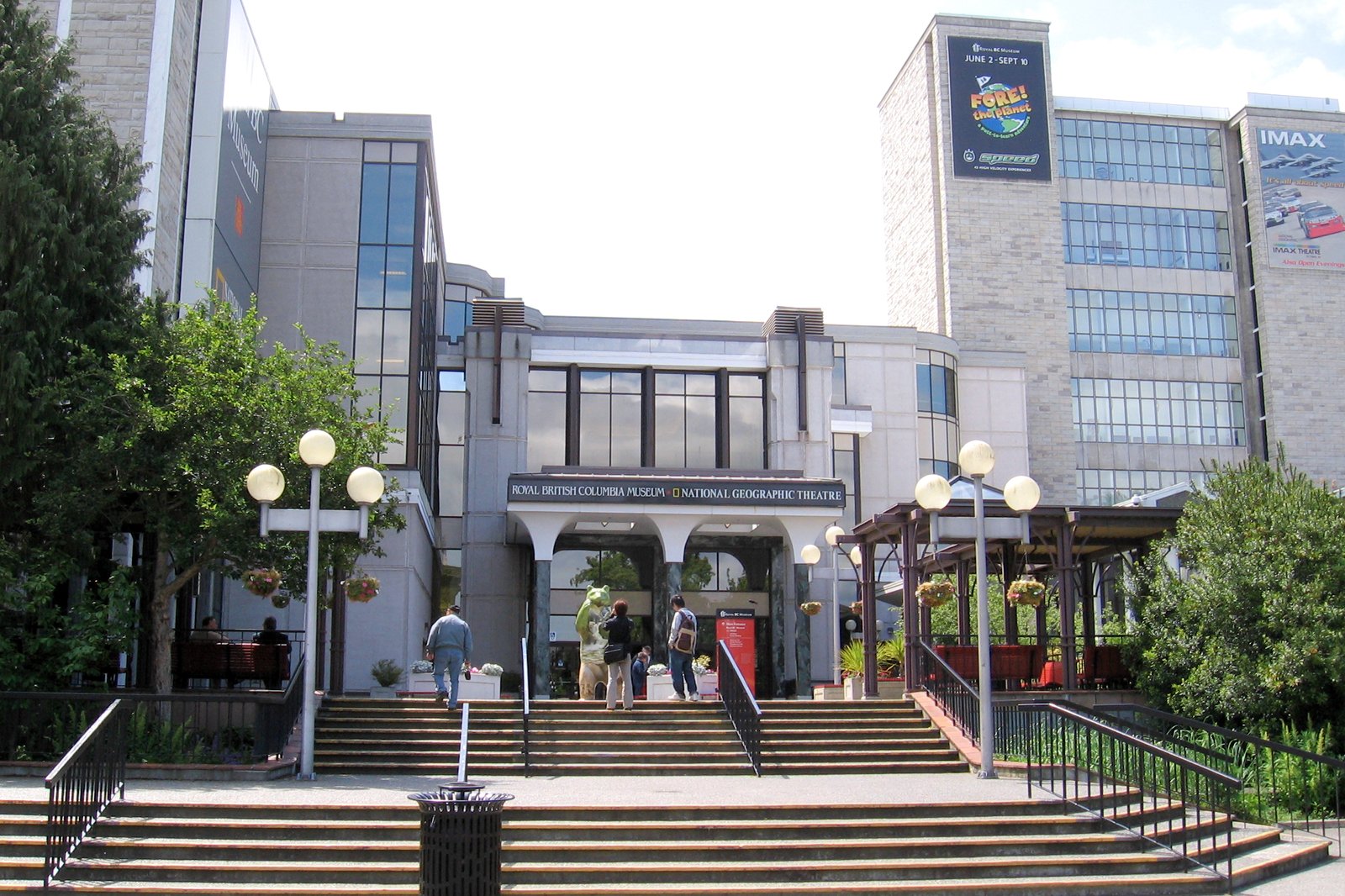 Must-See: Royal BC Museum
From First Nations treasures to Egyptian tombs
You can admire various historical treasures and learn about British Columbia's intriguing past at the Royal BC Museum in Victoria. Among the main exhibits are First Nations artefacts, which include a host of cultural treasures such as intricately carved totems and traditional masks. The national history gallery is housed in a domed room that features detailed dioramas depicting Canada's varied wildernesses. You can expect something different on each visit, with exhibitions that range from Egyptian pharaohs to stunning Wildlife Photographer of the Year showcases.
地點: 675 Belleville St, Victoria, BC V8W 9W2, Canada
開放時間: Daily from 10am to 5pm (Fridays and Saturdays until 10pm)
電話: +1 250-356-7226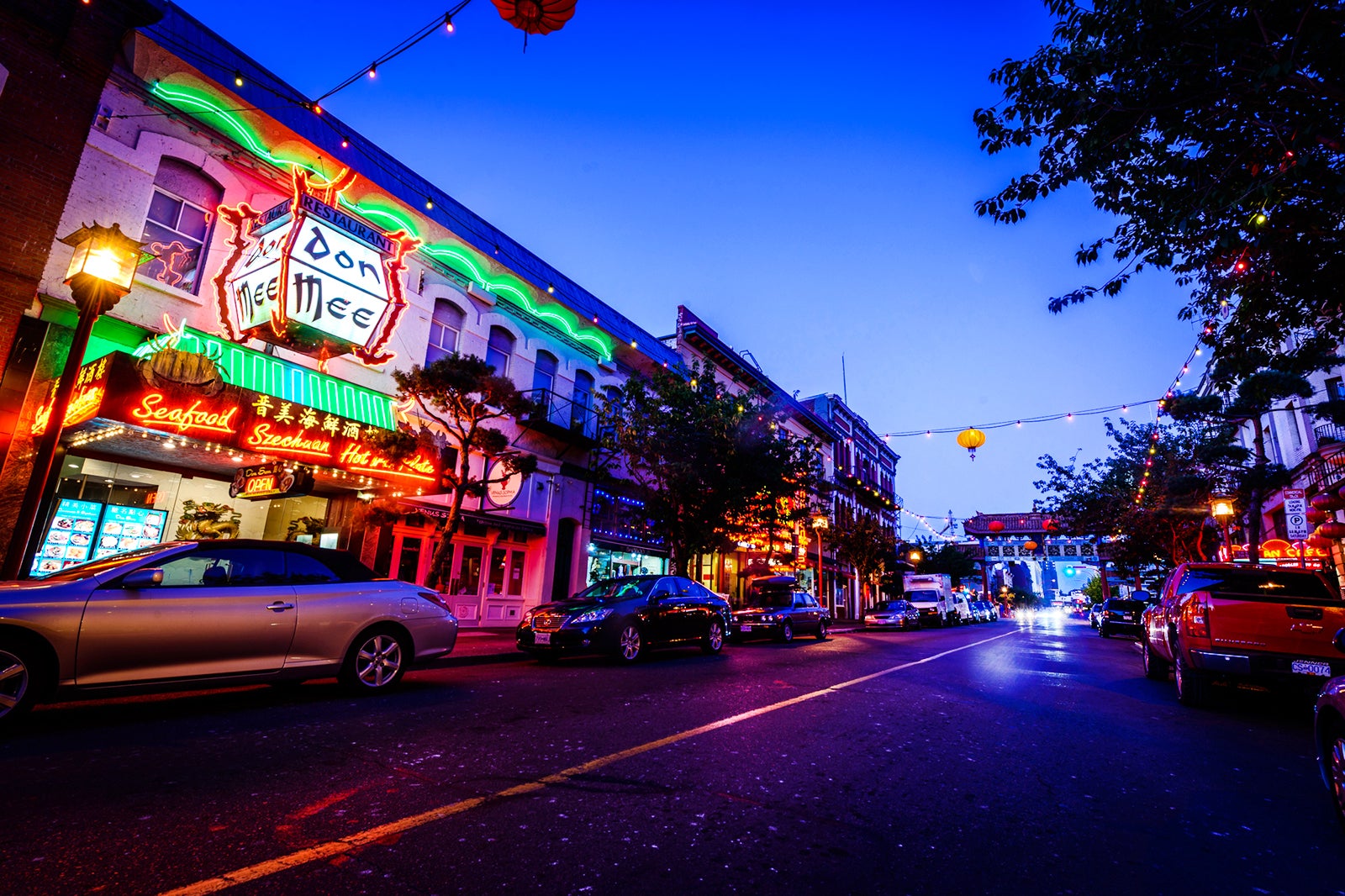 Ride a pedicab through Victoria's Chinatown
Walk down the narrowest street in the country
You can enjoy a walking tour through Victoria's Chinatown – or better yet, experience the city's colourful cultural vibes by pedicab. It's a vibrant neighbourhood, and its narrow, winding streets are lined with plenty of interesting shops and restaurants bearing red lanterns, dragon columns and names written in Chinese calligraphy. Tours by operators such as the Victoria Pedicab Company take you through the town for fun sightseeing. On foot, check out the famous Fan Tan Alley – dubbed the narrowest street in the country.
地點: 500 Fisgard St, Victoria, BC V8W 1R4, Canada
相片由 Darren Kirby 提供 (CC BY-SA 2.0) 經修改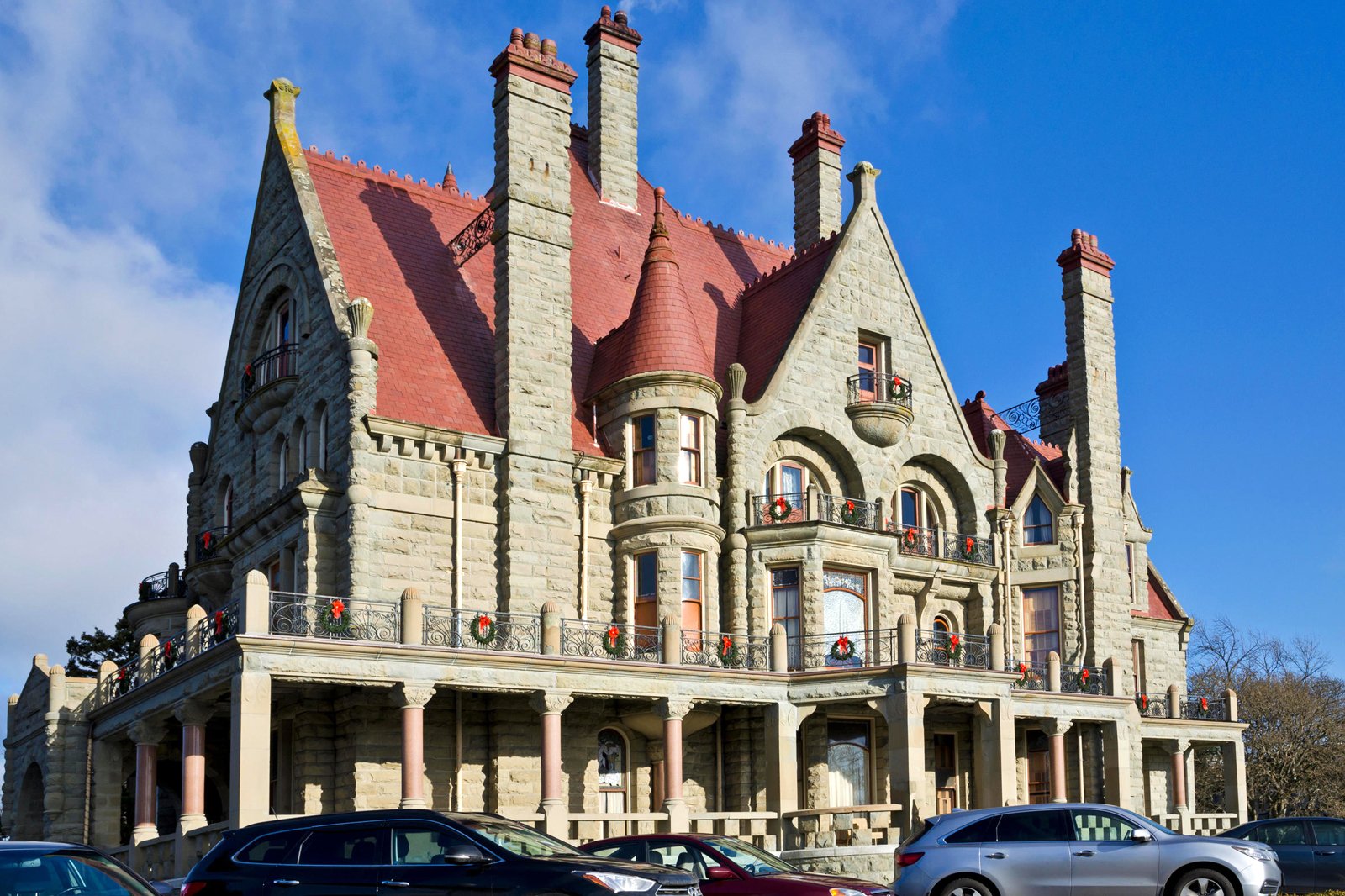 Explore Craigdarroch Castle
Take a tour of Canada's fairy-tale-like landmark
This historical landmark stands tall on a small hill in a luxuriant estate on Joan Crescent, around a 10-minute drive southeast from Downtown Victoria. The stately house is a National Historic Site of Canada that dates to 1890. It was built by British Columbia's first self-made magnate, Robert Dunsmuir, who ran a coal business. The castle was restored over time, and now provides you with a unique glimpse into how the wealthy lived in Victoria over a century ago. Learn about the tumultuous life story of the Dunsmuir family and their fortunes in coal and railways.
地點: 1050 Joan Crescent, Victoria, BC V8S 3L5, Canada
開放時間: Daily from 10am to 4.30pm
電話: +1 250-592-5323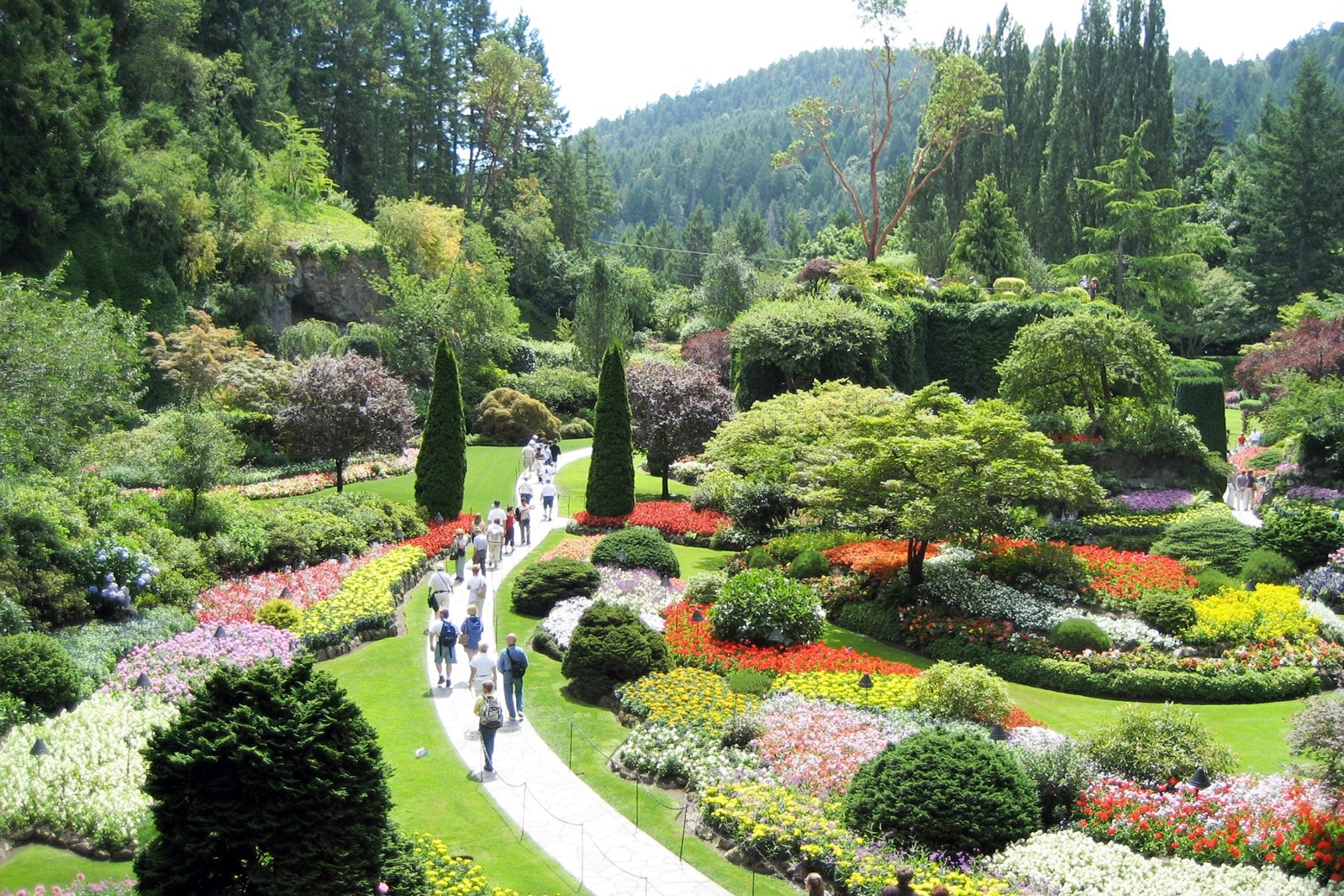 Must-See: The Butchart Gardens
Get lost among the colours and scents of over 900 plant varieties
This 22-hectare garden in Brentwood Bay bursts with natural colours. It's open year-round, but spring (roughly between March and June) is when you can best enjoy the natural scents and colours while strolling along the winding paths. The beautiful landscaped gardens feature about 900 varieties of plant, ranging from daffodils and tulips to hyacinths and Himalayan blue poppies in a Japanese garden. These are set alongside attractive pools, waterwheels and soothing fountains. Brentwood Bay is around 25 minutes' drive north from Downtown Victoria. Tickets cost about $30 per person.
地點: 800 Benvenuto Ave, Brentwood Bay, BC V8M 1J8, Canada
開放時間: Daily from 9am to 4pm
電話: +1 250-652-4422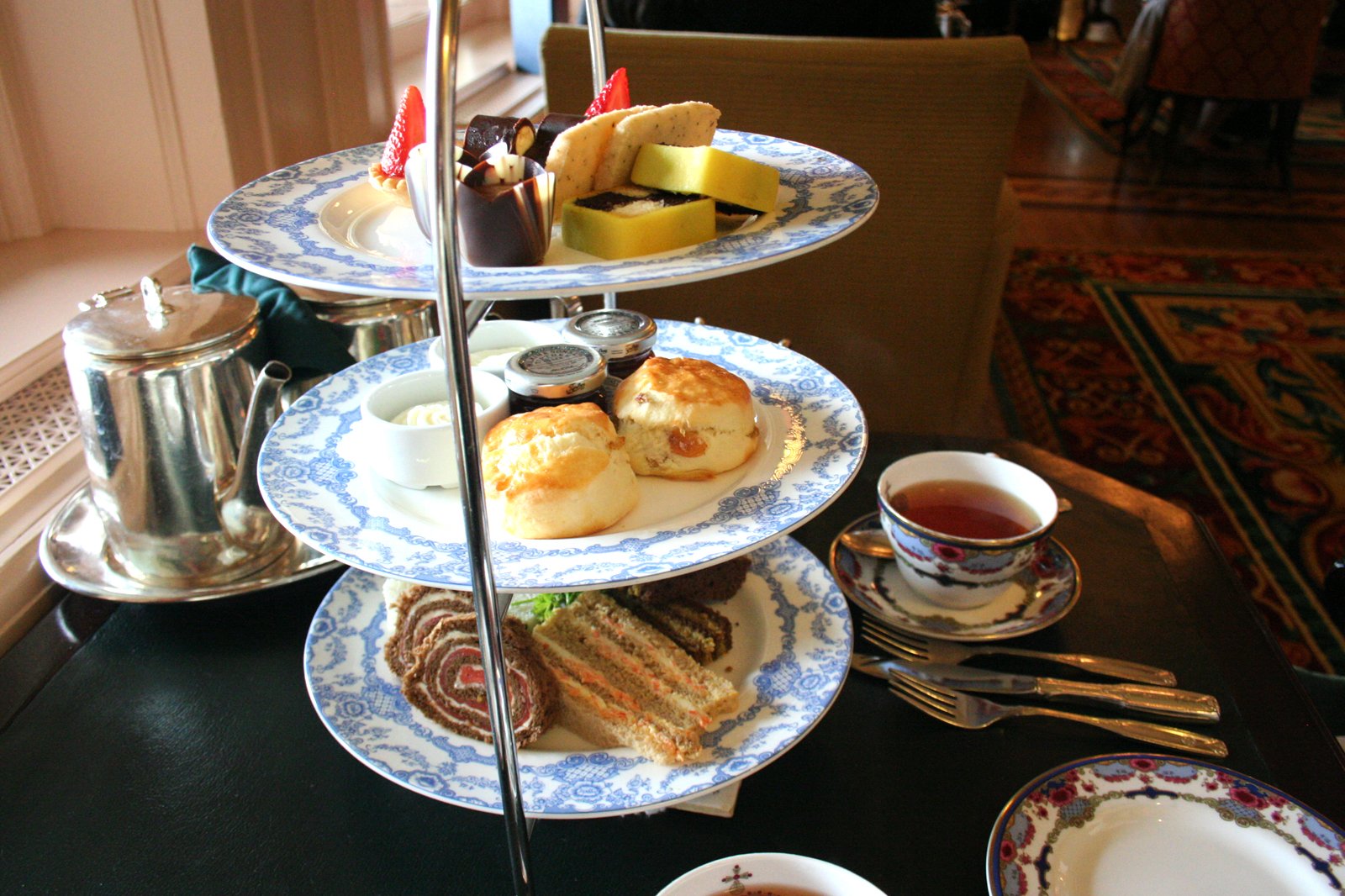 Enjoy afternoon tea at The Empress
A century-old tradition at Victoria's landmark hotel
You feel like royalty when you try out this grand, century-old tradition at Victoria's famous landmark hotel. The afternoon tea at the chateau-like Empress Hotel is perhaps the most sophisticated snack in the city. It's hosted in the hotel's stylish lobby lounge, which harks back to the days of British rule. After selecting your tea from a choice of 21 loose-leaf varieties, you can enjoy sandwiches, currant scones, and desserts in elegant settings that date to the early 1900s.
地點: The Empress Hotel, 721 Government St, Victoria, BC V8W 1W5, Canada
電話: +1 250-384-8111
相片由 Robin Zebrowski 提供 (CC BY 2.0) 經修改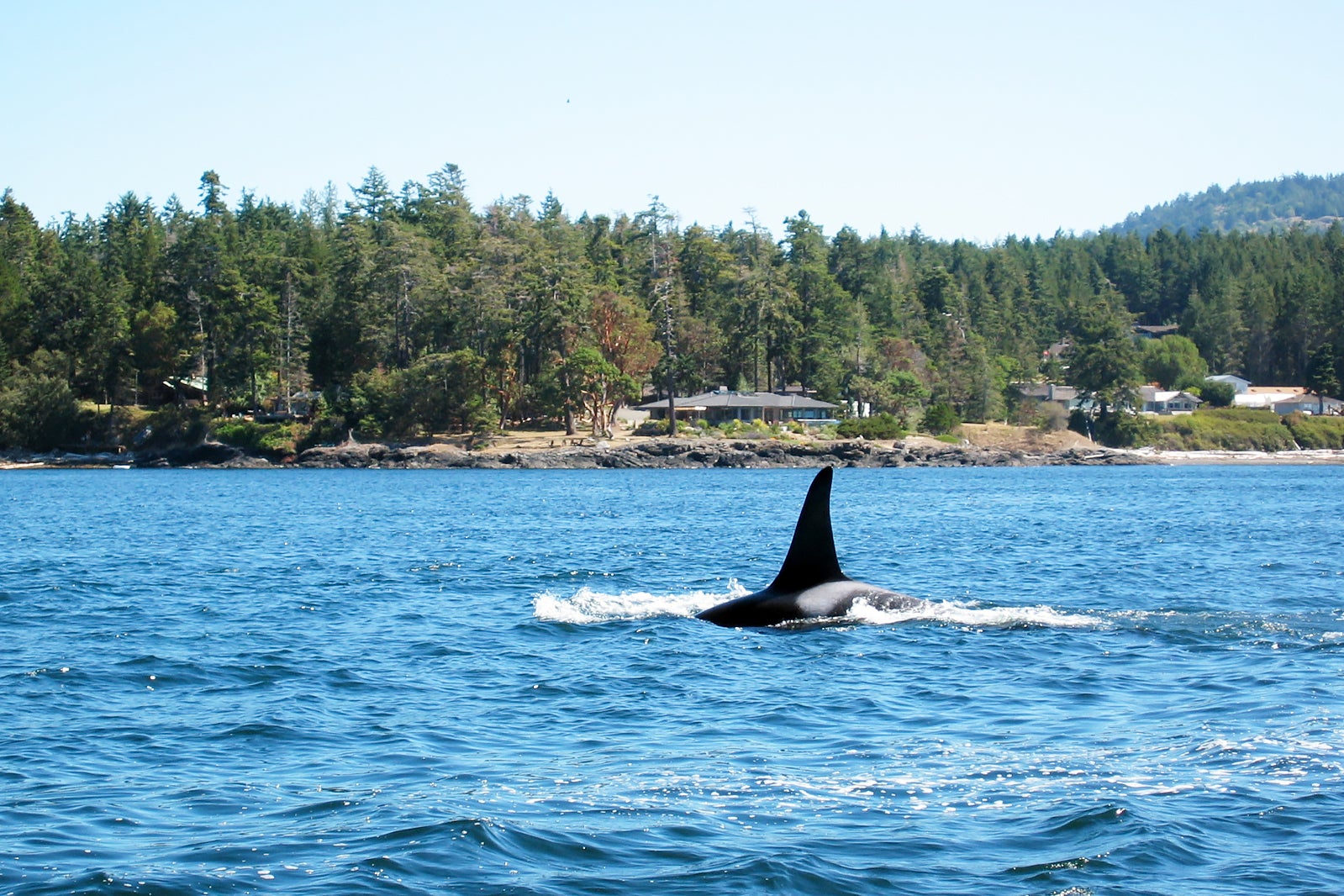 Go whale watching
Enjoy jaw-dropping scenery, with a bonus
Victoria is one of British Columbia's most popular coastal cities for setting out on an exhilarating adventure to see whales in their natural habitat. Whale watching season is roughly from May through October. Several tour operators can take you to enjoy the spectacles against some of Canada's most beautiful coasts. Besides humpbacks and orcas, other stars of the show include sea otters, sea lions, and dolphins. Operators like SpringTide Whale Watching offer tours aboard high-speed inflatable boats or motor yachts to ensure exhilarating fun.
相片由 Kevstan 提供 (CC BY-SA 3.0) 經修改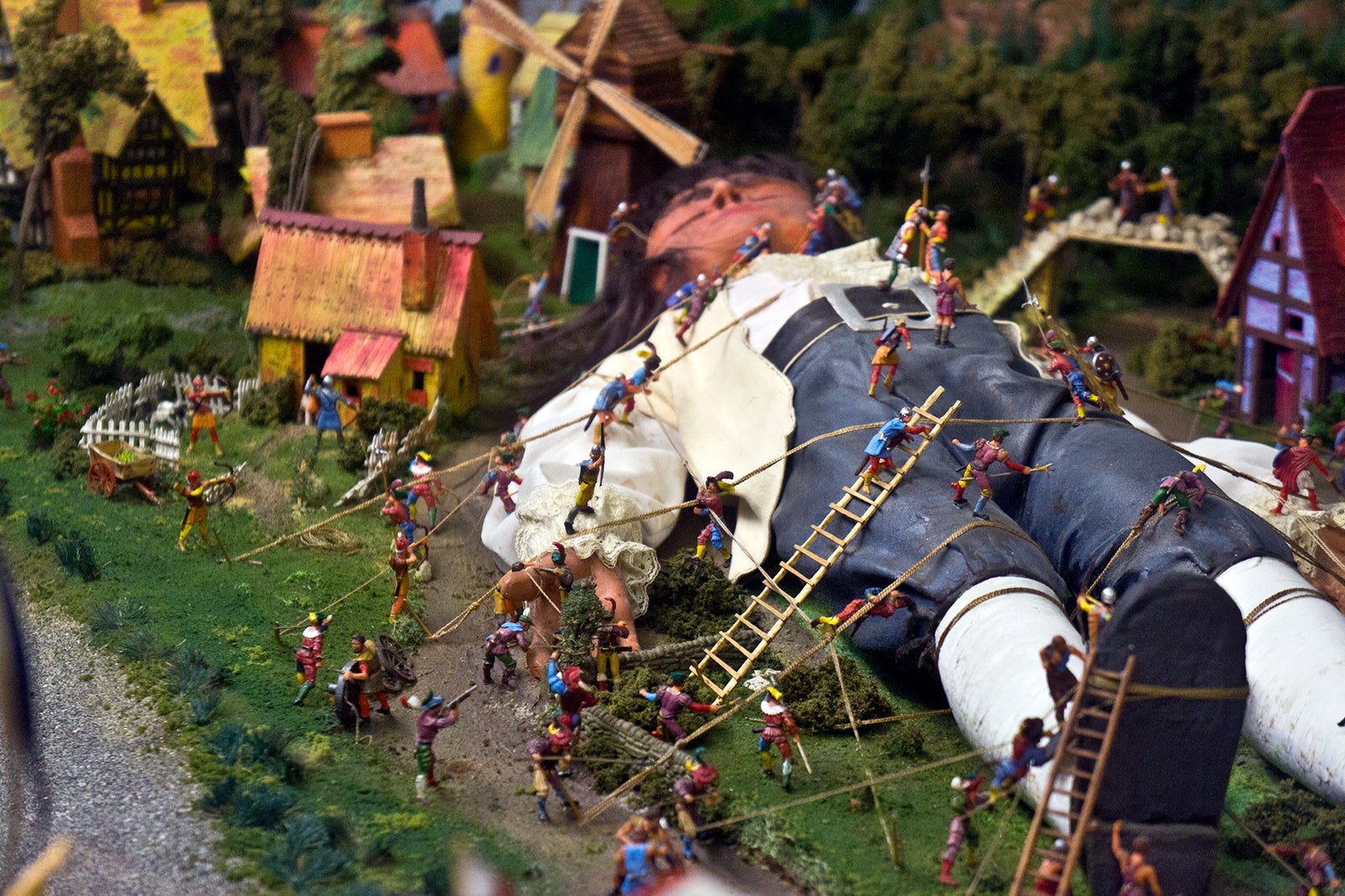 Must-See: Miniature World
Visit tiny worlds of fantasy
Miniature World showcases well over 80 miniaturized dioramas that let you feel like a giant. The scenes are separated into different themed sections, and depict various historical events as well as scenes from well-known fairy tales. These range from The Great Canadian Railway, complete with forested mountains and bright-blue-sky backdrops, to space exploration-themed sets. Each highly detailed diorama offers a sense of realism through special lighting and sound effects. You can find Miniature World inside the famous Empress Hotel, but the entrance is around the corner, on Humboldt Street.
地點: The Empress Hotel, 649 Humboldt St, Victoria, BC V8W 1A7, Canada
開放時間: Daily from 9am to 5pm
電話: +1 250-385-9731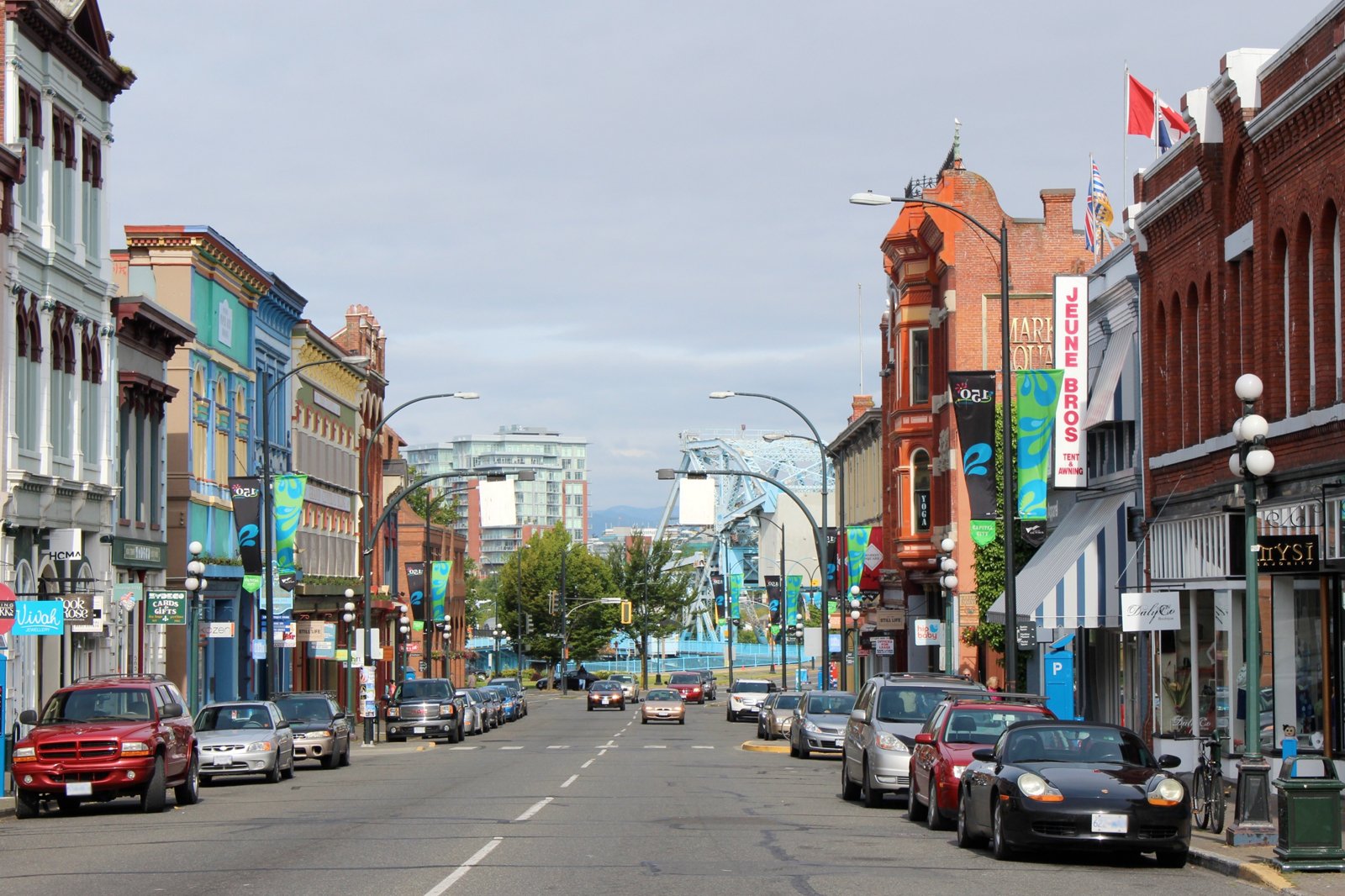 Window-shop along Lower Johnson Street
Enjoy a walk along Victoria's shopping street
Victoria's Johnson Street is the place to go for a bit of boutique-hopping. It runs from Market Square to Begbie Street and is lined with local stores. There's also a good choice of hip cafés and restaurants in between, offering cool spots to grab a snack and refresh with a drink in between your strolls. Market Square itself is often packed, with jewellery, homewares, and fashion stores set around an open-air space which regularly hosts live gigs against one of Victoria's heritage buildings. It's just a short stroll south of Chinatown, which is also a good place to shop.
地點: Johnson St, Victoria, BC V8W 1M2, Canada
開放時間: Most shops open from 11am to 6pm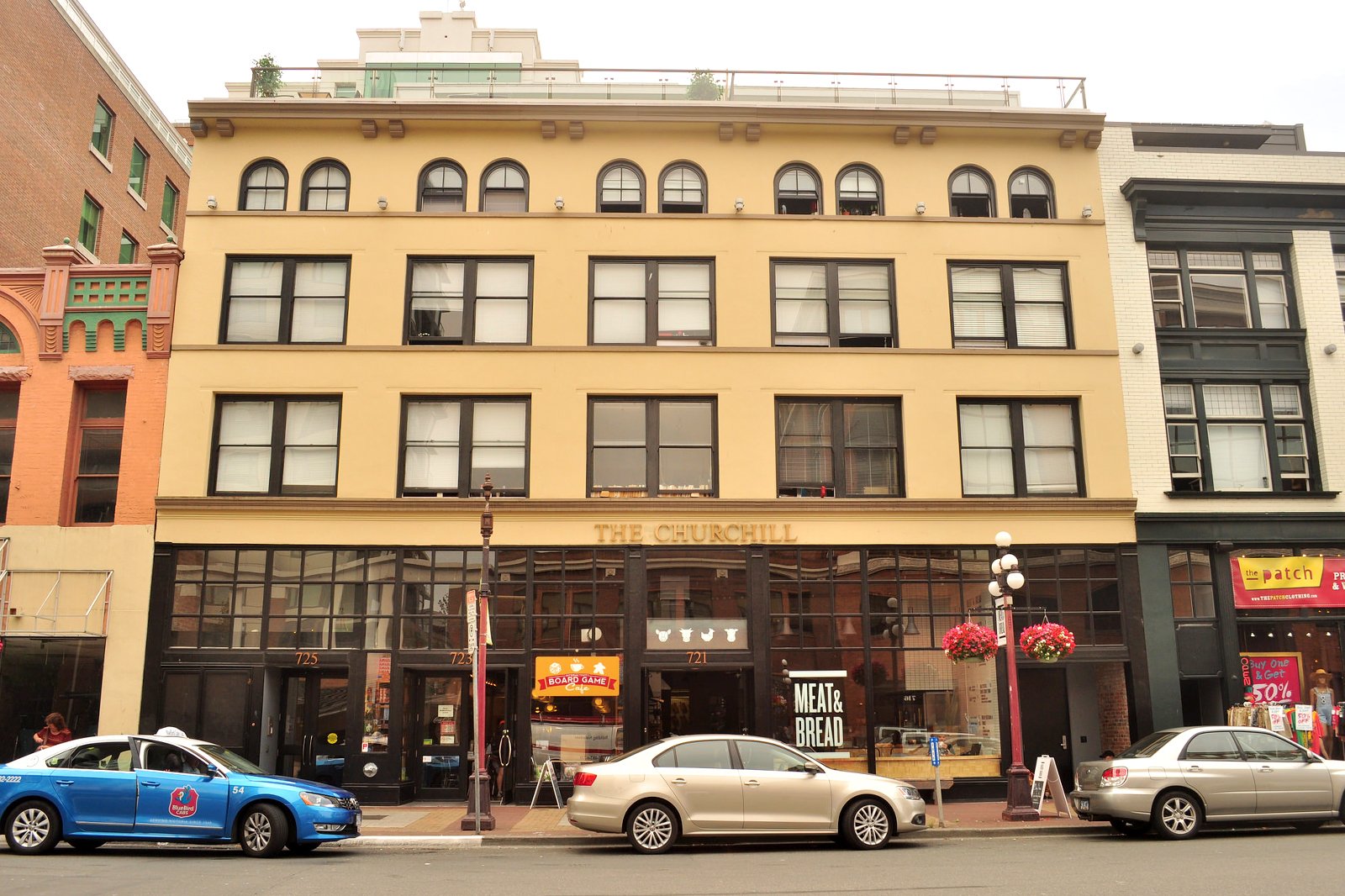 End the day on a pub crawl along Government Street
Enjoy cool evening hangouts near Victoria's harbourfront
To top off your day in Victoria with a cold pint and some live entertainment, head down to the docks along Wharf Street and make your way around the great collection of pubs along Government Street. Among the great spots is Bard & Banker, which offers great Scotch whiskeys in an old-school setting. Two other classic pubs nearby include Irish Times and The Churchill, which offer wonderful cocktails and pub grub, usually in tandem with live music. For Spanish cocktails and tapas, there's Bodega, with its street-view patio.
地點: Government St., Victoria, BC V8W 1Y2, Canada
開放時間: Most bars and pubs open daily from 11am to 1am
相片由 Joe Mabel 提供 (CC BY-SA 2.0) 經修改