16 Best Nightlife Experiences in Siem Reap
Where to Go at Night in Siem Reap
Some of the best nightlife in Siem Reap are concentrated within Pub Street, a vibrant street filled with backpacker-friendly bars, international restaurants, massage parlours, and retail boutiques. Great for bar-hopping, these nightlife spots are easily accessible on foot and often stay open (and packed) until 4am. Alcohol is also cheap in Pub Street – expect to pay as little as $1 for beers during happy hours.
Some of Siem Reap's most popular hotels have rooftop bars, lounges and pubs where affluent travellers can enjoy imported wines and liquors as well as authentic Khmer and international fare. From elegant colonial-era lounge bars to trendy nightclubs playing raucous dance tunes, read on to discover Siem Reap's most popular nightlife spots.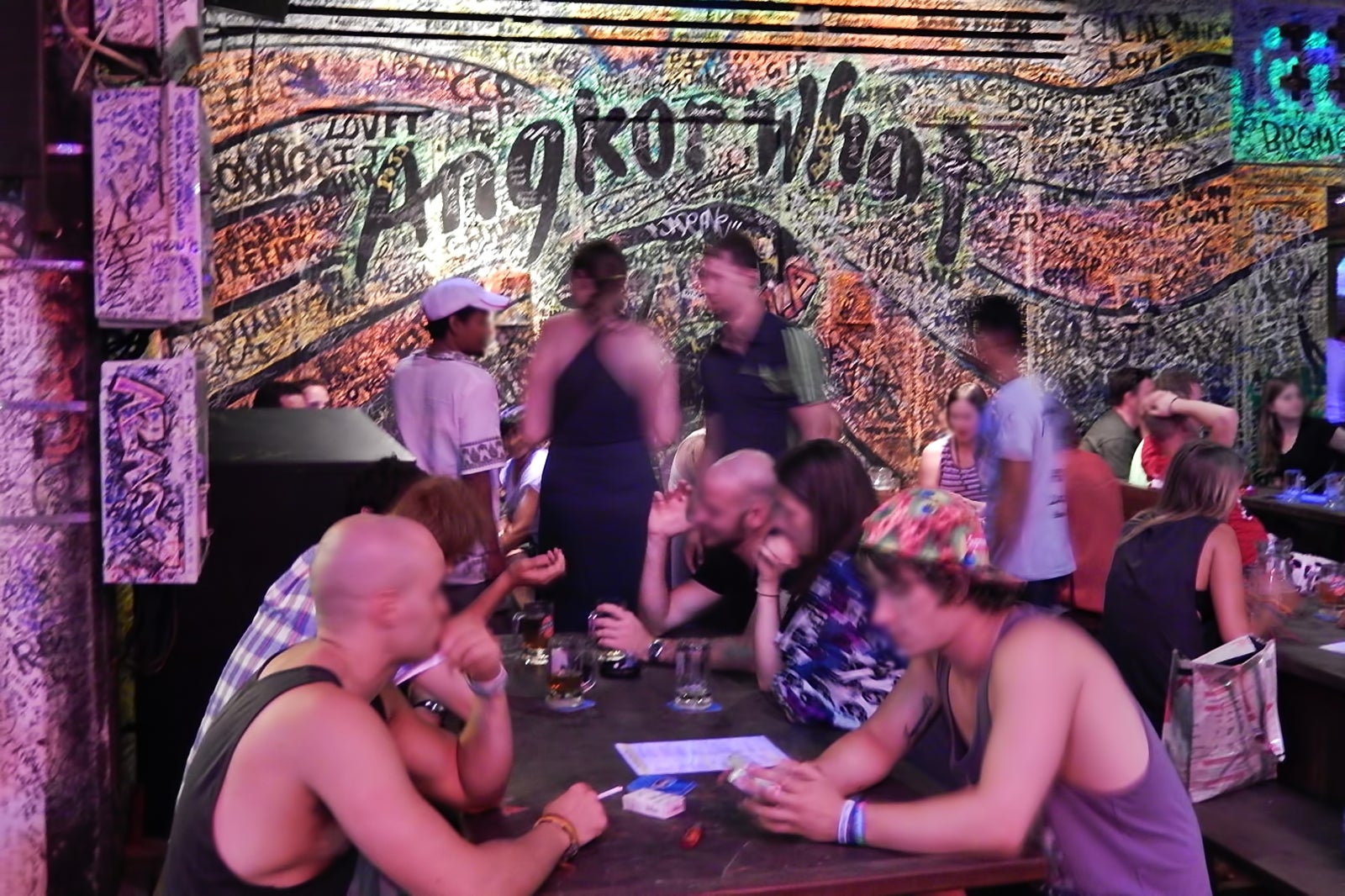 Angkor What? Bar, known as the first-ever bar in Pub Street, has been attracting a massive following of backpackers since 1998. You can easily distinguish it from the other bars along the same street thanks to its massive signage which reads 'Promoting Irresponsible Drinking Since 1998'.
Also, prominent are Angkor What? Bar's black walls filled with neon-coloured graffiti by previous patrons, as well as raucous pop hits and dance tunes. The bar offers the usual array of beers, cocktails, and shots. You get a free tee-shirt when you order 2 buckets of whiskey.
地點: Pub Street, Siem Reap, Cambodia
開放時間: Sunday–Thursday from 2 pm to 3 am, Friday–Saturday from 2 pm to 4 am
電話: +855 96 641 9002
相片由 Michael Coghlan 提供 (CC BY-SA 2.0) 經修改
2
Elephant Bar at Raffles Grand Hotel d'Angkor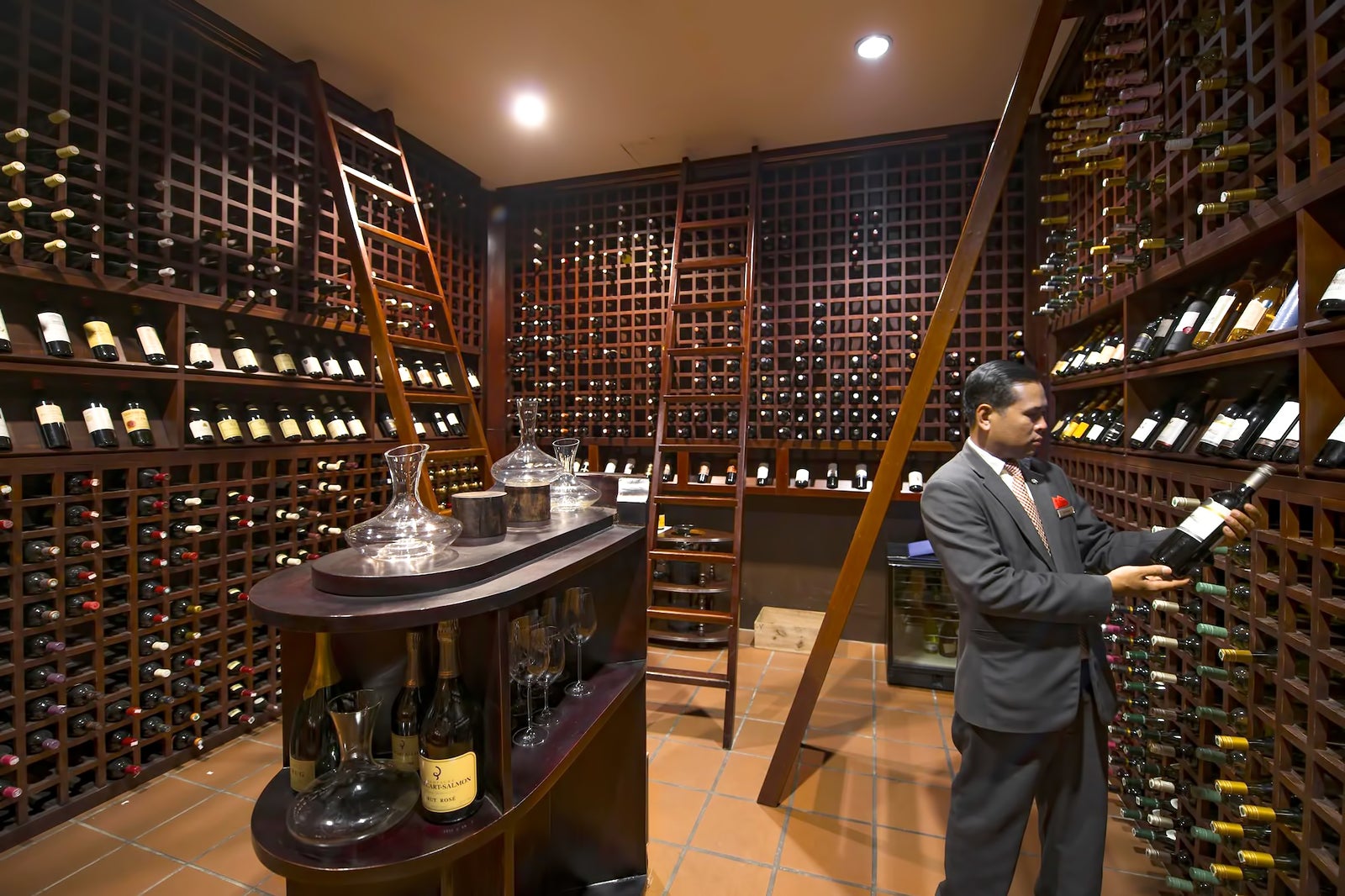 Elephant Bar at Raffles Grand Hotel d'Angkor is arguably one of Siem Reap's most iconic nightlife venues. Established in the 1960s, this elegant-looking bar features 1930s colonial architecture, dark wood furnishing, leather sofas, potted plants, and quaint elephant decorations at every corner. Compared to most bars in Siem Reap, prices at Elephant Bar are steep but reasonable thanks to its extensive alcohol and cigar offerings.
Drinks range from bourbon, cognacs and single malt whiskies to beers champagne and martinis cocktails. If you're a cocktail lover, try the Airavata, a refreshing mix of rum, Malibu, banana cream, lime juice, sugar syrup and coconut juice, served in an elephant-shaped glass.
地點: Raffles Grand Hotel d'Angkor, 1 Vithei Charles de Gaulle, Khum Svay Dang Kum, Siem Reap, Cambodia
開放時間: Daily from 4 pm to midnight
電話: +855 63 963 888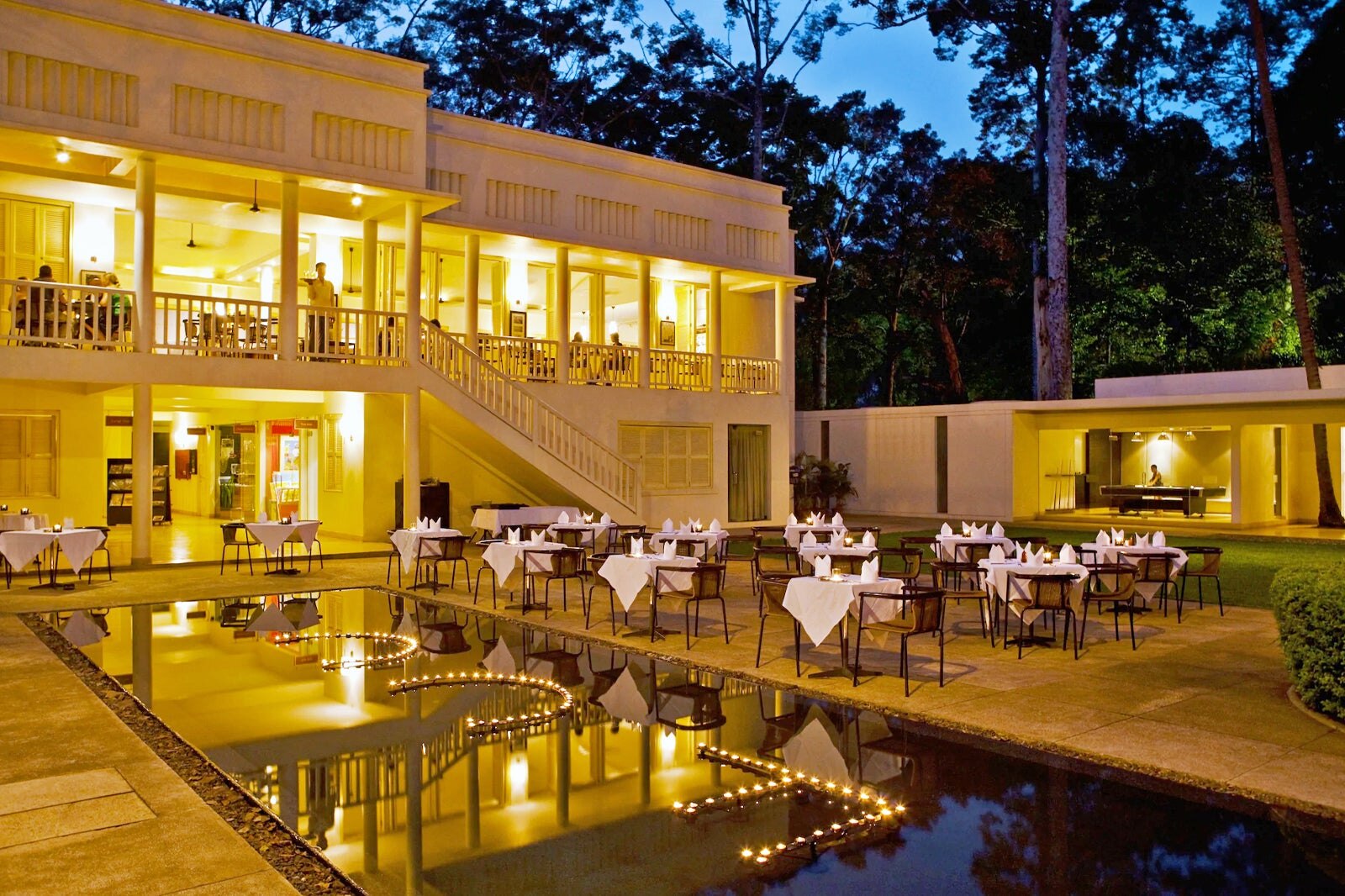 FCC Angkor at FCC Angkor Boutique Hotel Siem Reap features a full-service bar as well as an indoor dining area and terrace and poolside dining sections within a massive colonial-style building. Open daily, the restaurant serves authentic Khmer, Asian and international fare by day and a wide range of spirits, wines, beers and cocktails by night.
Due to the rather exclusive setting and location, FCC Angkor attracts a steady clientele that comprises affluent tourists and expats looking to enjoy a quiet evening in Siem Reap. You can often enjoy selected drinks at half price between 5pm and 7pm.
Read more
地點: Pokambor Ave, Siem Reap, Cambodia
開放時間: Daily from 6 am to midnight
電話: +855 63 760 280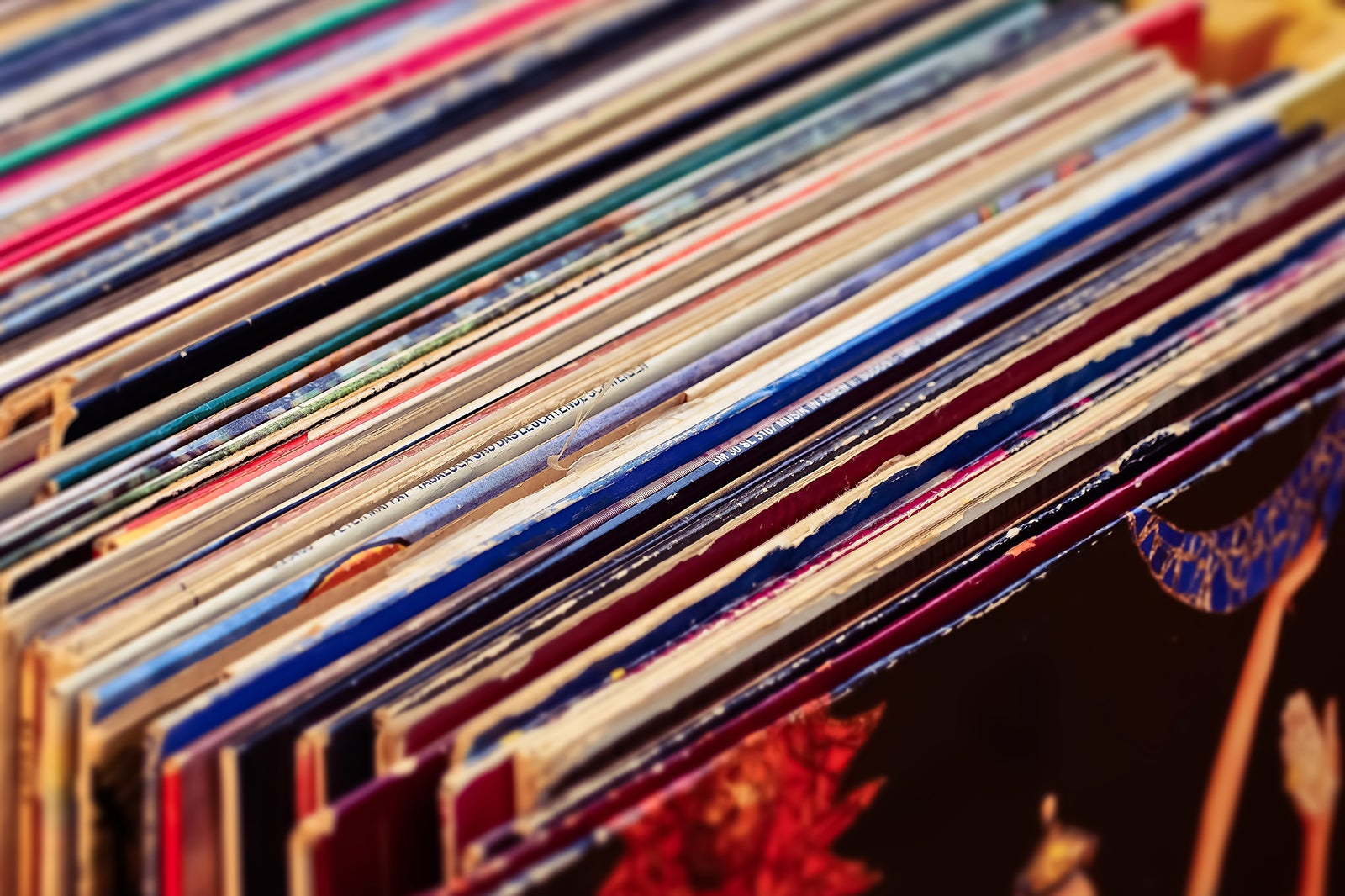 Laundry Bar is a rather funky late-night venue in Siem Reap. The bar is one among the long-established Siem Reap watering holes. You'll find mostly expats here, and usually with only a few tourists around. The relaxed vibe makes it perfect for hanging out and having fun.
The main draw here is the vast music selection of 25,000 albums. While the music is great, it's not so loud that you can't have a conversation. It has a laidback and convivial atmosphere. There are 2 pool tables if you fancy a game. You can find the bar east of the old market in Siem Reap.
地點: Street 9, Krousar Thmey Mondol Village, Siem Reap 17252, Cambodia
開放時間: Daily from 2.30 am to 4 pm
電話: +855 95 707 233
Miss Wong Cocktail Bar is a classy establishment just outside Pub Street, serving a wide range of cocktails with an Asian twist, infused gins, and imported beers. Tucked away from the bustling Pub Street, this 1920s Shanghainese bar is fitted with paper lanterns, black lacquer screens, tasteful antiques and cosy leather booths while instrumental music plays unobtrusively in the background.
Miss Wong Cocktail Bar's signature concoctions include China White (jasmine tea syrup, lychees, Tanqueray gin and Cinzano Bianco), Indochine Martini (vodka, pineapple juice and ginger cognac liqueur), and Miss Wong Punch, served tall with soda float.
Read more
地點: The Lane, Pub Street, Siem Reap, Cambodia
開放時間: Daily from 6 pm to 1 am
電話: +855 92 428 332
相片由 Barroom Universe 提供 (CC BY-SA 2.0) 經修改
Picasso Bar is a good option if you're looking for a cool place to mingle with friendly expats during your holiday in Siem Reap. A dozen bar stools surround the compact, barrel-vaulted bar section while drinks specials are scribbled on suspended blackboards.
You usually get to enjoy 2-for-1 promos for Singha beers, cocktails, martinis, and sangrias from 5pm to 9pm. Standouts at Picasso bar include chocolate cake (Frangelico, vodka, sugared lime wedge), B53 (Kahlua, Bailey's and absinthe) and Thong Slap. Located along Alley West, Picasso Bar is within a 2-minute walk of Pub Street.
地點: Alley West, Pub Street, Siem Reap, Cambodia
開放時間: Daily from 2 pm to 2 am
電話: +855 86 776 528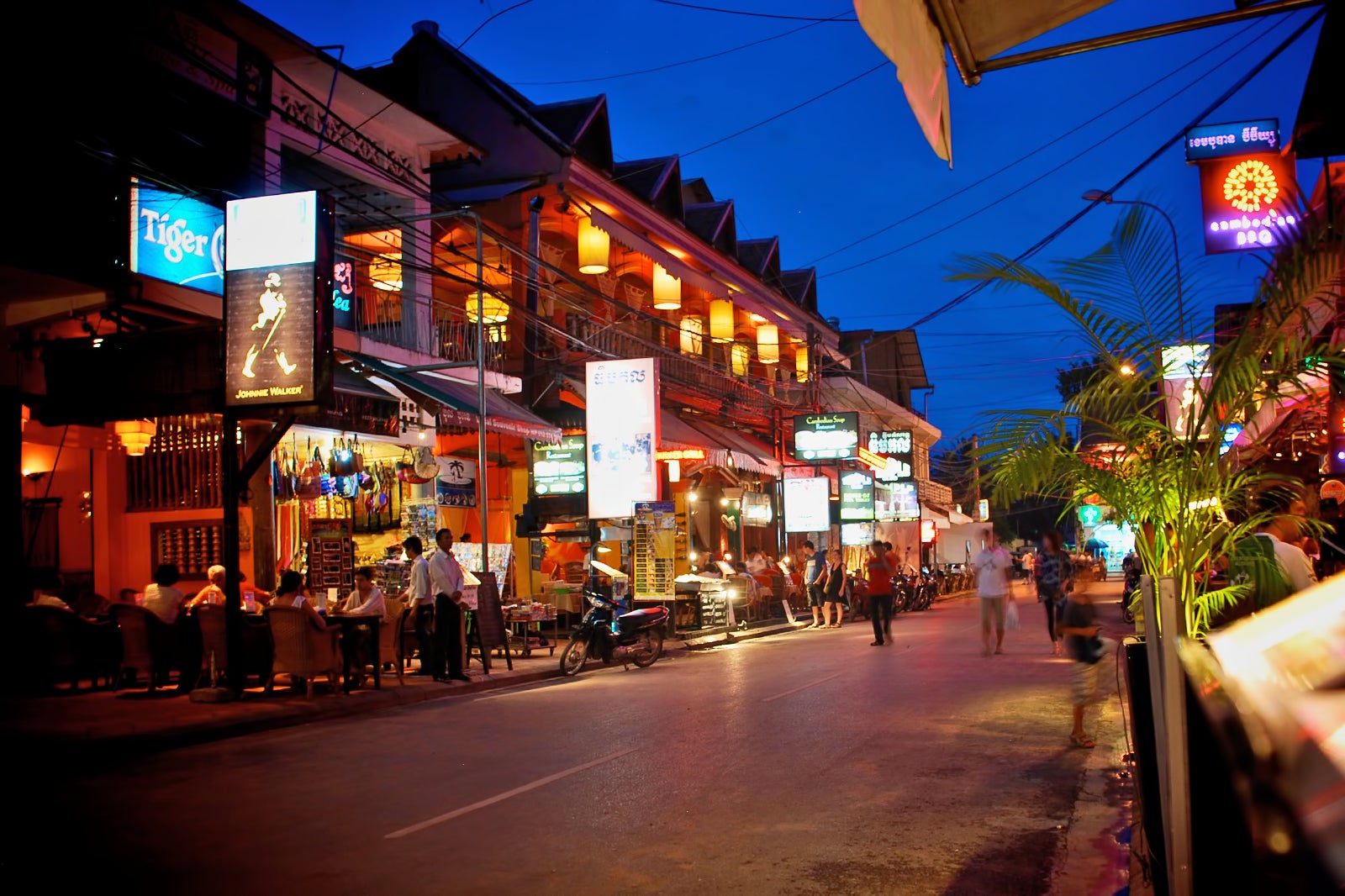 Pub Street is Siem Reap's definitive nightlife hub, where you can find plenty of bars, nightclubs, pubs, and restaurants that cater to any budget and preference. The street is a 5-minute stroll from Angkor Night Market, and is very popular among budget travellers looking to party in Siem Reap.
Not only can you find a variety of local, Asian, and European cuisine along Pub Street, but imported beers and cocktails are relatively inexpensive. Perfect for a night of bar-hopping, Pub Street's nightlife venues are within walking distance from each other, offering happy hour promos and great music until 4am.
地點: Angkor Night Market, Siem Reap, Cambodia
8
Silk Garden Bar & Restaurant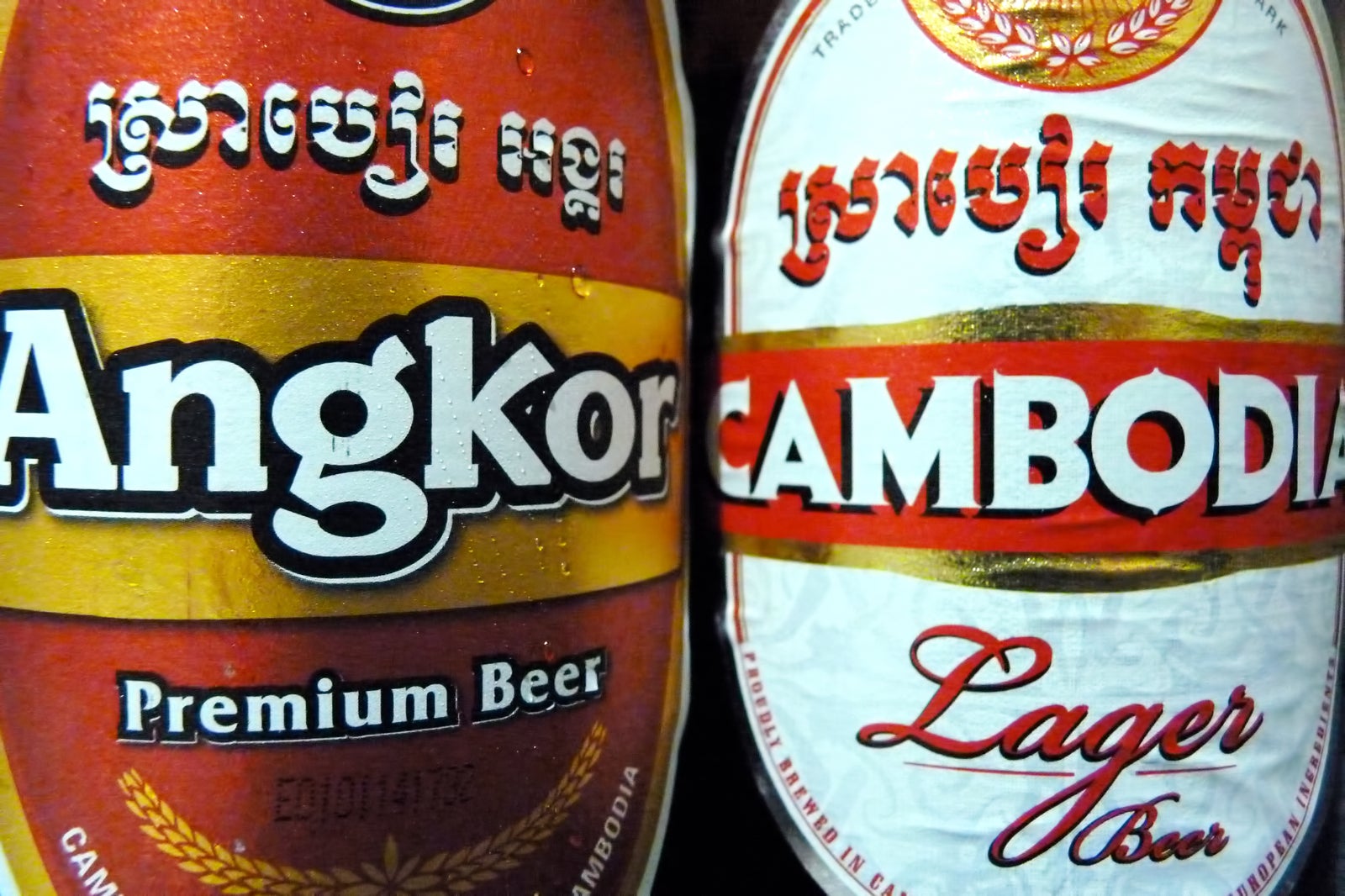 Silk Garden Bar & Restaurant is a good option if you prefer relaxing and drinking in a tropical garden setting. The acoustic at Silk Garden complements the garden atmosphere, and live bands provide great sounds several times a month. Expats, tourists, and Khmer regularly get together at Silk Garden for a fun time of good music paired with food and booze. Draft beers, cocktails, spirits, and aperitifs are all available. Happy hour at Silk Garden is usually held from 6pm to 8pm.
地點: Silk Garden Lane, Siem Reap, Cambodia
開放時間: Monday–Saturday from 5 pm to 12.30 am (closed on Sundays)
電話: +855 96 518 1908
相片由 Dudva 提供 (CC BY-SA 3.0) 經修改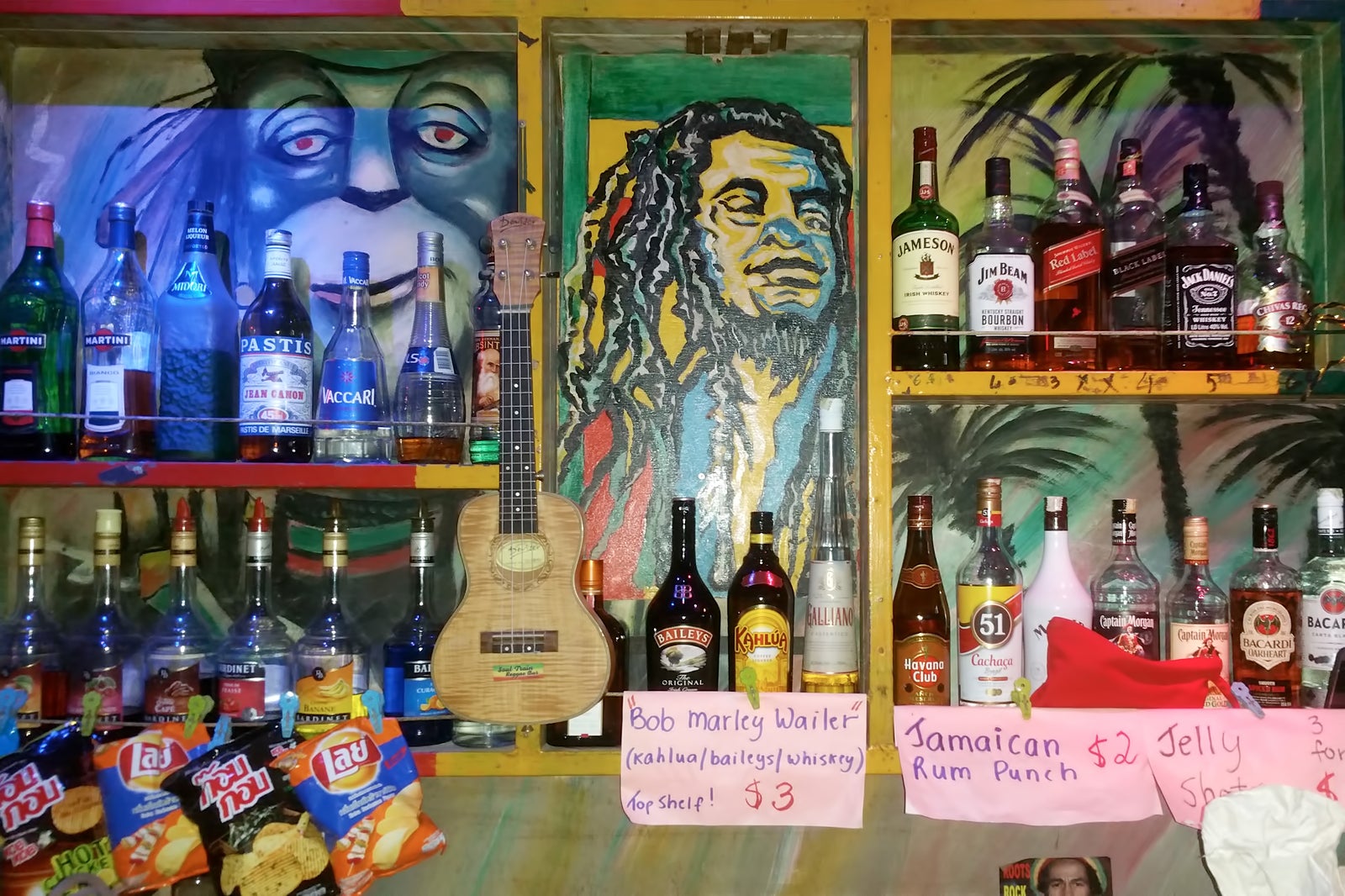 Soul Train Reggae Bar is relatively popular in Pub Street's bar scene for its charming Caribbean setting and chilled-out ambience. Soul, funk, and reggae tunes are played regularly at the bar, though you can easily request your favourite songs to be played at this friendly establishment.
Happy hours are usually from 4pm until 8pm, with signature cocktails such as passion margarita priced for $1 or less. Set along New Street A in Siem Reap, Soul Train Reggae Bar is a 3-minute walk from Angkor What? Bar, another hotspot in the prime nightlife area.
地點: 35 New Street A, Siem Reap, Cambodia
開放時間: Daily from 5 pm to 3 am
電話: +855 86 430 740
相片由 Photogoddle 提供 (CC BY-SA 4.0) 經修改
10
Yokohama Restaurant & Bar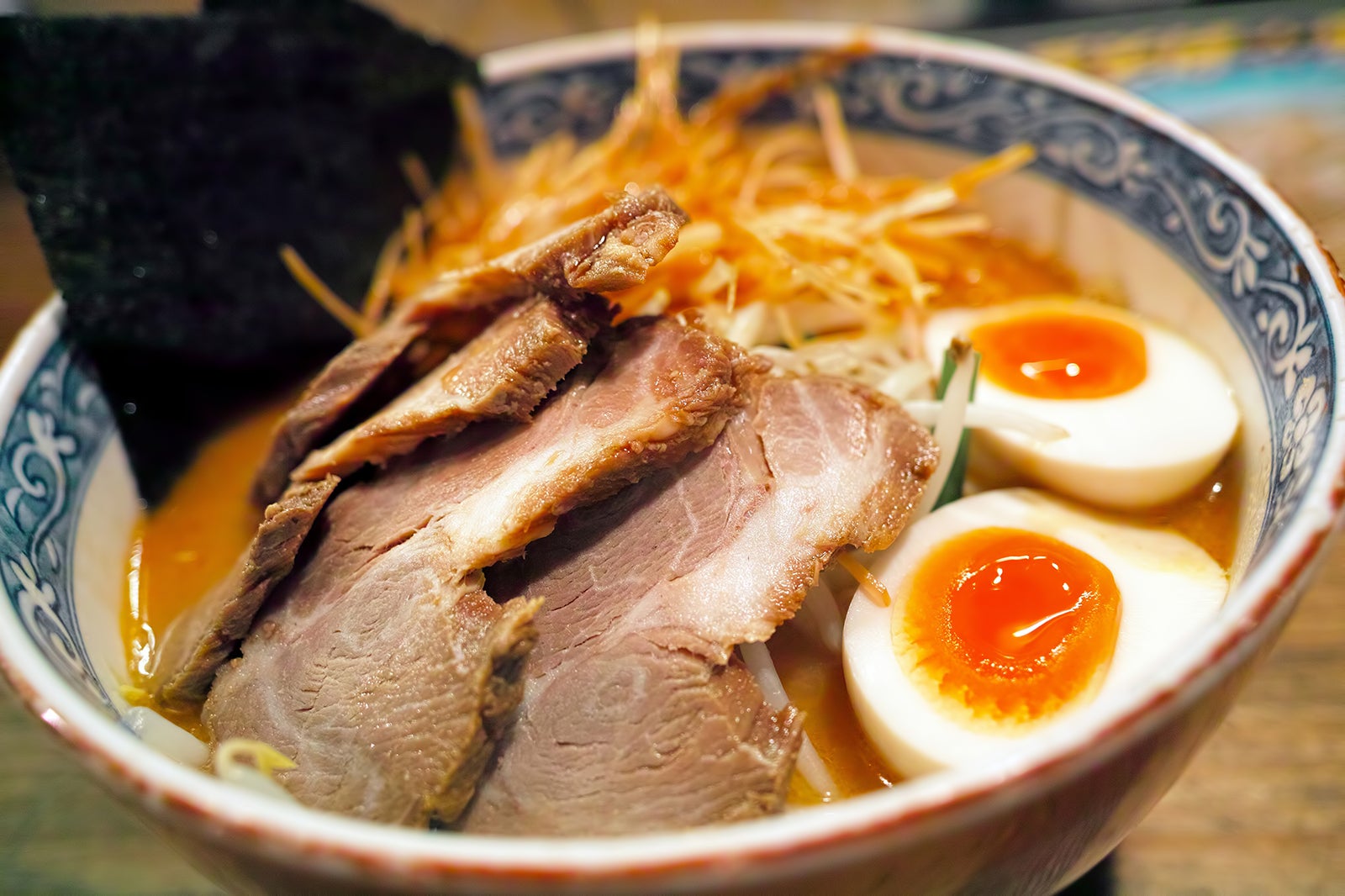 Yokohama Restaurant & Bar is on the same street as the Angkor Night Market. Its 1st floor has a bar with 2 huge fish tanks, while the 2nd is a rather minimalist sofa seating area. The highest level is the most imaginative, with a very colourful mix of silk drapery, pillows, raised seating areas, a huge bamboo birdcage to sit in, and subdued coloured lighting.
Yokohama Restaurant & Bar has a playlist that alternates between soul, jazz, and blues. The menu presents a selection of Japanese and Asian food, though many people come here for the ramen.
地點: Angkor Night Market Street, Siem Reap, Cambodia
開放時間: Monday–Saturday from 6 pm to 11 pm (closed on Sundays)
電話: +855 89 854 603
Asana Bar occupies a wooden house on stilts just off The Lane at Pub Street, serving Khmer-style cocktails and light snacks until late. The only remaining traditional Khmer house in downtown Siem Reap, patrons can opt for the upstairs lounge that's fitted with hammocks, daybeds, and beanbags or enjoy the evening breeze at the cosy garden area.
Usually, on the first Friday of each month, you can expect jazz, blues and BBQ nights held here between 7pm and 10pm. Asana Bar also hosts daily Khmer cocktail-making classes, where you get to learn how to recreate its signature concoctions and mix your very own cocktail.
地點: Street 07, Mondul 1 Village, 17252, Cambodia
開放時間: Daily from 11 am to 2 am
電話: +855 12 508 248
Barrio is one of the oldest among the restaurants and bars in Siem Reap, where you can expect a very friendly and relaxed atmosphere. The owner, Patrick, is always behind the bar ready to chat with customers in French or English. A blend of Latin, French and reggae music provides the acoustic ambience. The menu features French cuisine as well as Khmer cooking, and dining is in the quiet and relaxing patio.
地點: 170 Wat Bo Street, Siem Reap, Cambodia
開放時間: Daily from 11 am to 11 pm
電話: +855 12 756 448
13
Easy Speaking Restaurant
Easy Speaking Restaurant is one of the long-established names along Siem Reap's Pub Street. The dining and nightlife hotspot calls itself a cafe, pub and restaurant all in one. They serve Cambodian, Thai and western food, making it a good place to have a meal and watch the Pub Street crowd stroll by.
If it's your first time experiencing Khmer cuisine, particularly a Cambodian barbecue, then Easy Speaking Restaurant is one of the best places to head to. The team of waiters usually help walk you through the process and explain the many different selections available and how to pick and serve for yourselves.
地點: #178, Pub Street, Siem Reap, Cambodia
開放時間: Daily from 7 am to midnight
電話: +855 85 656 529
Mikey's Night Bar is one of the busiest and most popular late-night spots in Siem Reap. The bar serves draft beer, cocktails and spirits. The happy hour from 6pm to 10pm offers discounts on draft beer, frozen Margaritas, and 2 cocktails for the price of one. It's also popular among sports fans, as there are several TVs airing the latest sports events, such as tennis, football and basketball.
地點: Sok San Rd, Siem Reap 17252, Cambodia
開放時間: 24/7
電話: +855 97 603 5548
Temple Food n Beverage is a 2-storey bar within Pub Street, where budget-conscious travellers can watch traditional Apsara dance shows, catch the latest sports matches, play a game of pool, and enjoy a good selection of strong boozes that are offered at affordable prices.
Head up to the rooftop section for breezy chilled-out vibes which features plenty of plush beanbags, neon lighting and a full-service bar. You can also expect traditional dance performances held between 7.30pm and 9.30pm every day. Downstairs, Temple Bar in Beverage has leather booths, flat-screen TVs and pool tables. Resident DJs play song requests all night long.
地點: Street 8, Pub Street, Siem Reap, Cambodia
開放時間: Daily from 7 am to 2 am
電話: +855 96 799 0000
X Bar is one of the hippest bars in Siem Reap, with a customer base that now seems to be about 50-50 between tourists and expats. The playlist is mostly hip-hop, rap and rock, and the potables include the usual bar liquids of cocktails, spirits, wine, and draft beer.
You can find 2 pool tables and a drumset in X Bar. The spot usually starts to get busy from around 1am or 2am. One thing that X Bar stands out for among the rest of the nightlife spots along Sok San Road is that it has a halfpipe on the roof for skaters to shred on.
地點: 102 Sok San Road, Siem Reap, Cambodia
開放時間: Daily from 4 pm until 6 am
電話: +855 12 263 271